67 Things That Should Be On Your Pregnancy To Do List
This post may contain affiliate links. As an Amazon Associate, I earn from qualifying purchases.
Finding out you're pregnant is one of those life events that can make you happy and overwhelmed at the exact same moment.
I mean, you're probably over the moon thrilled to be a new mama but a bit overwhelmed by everything that should be on your pregnancy to-do list.
And, I'm not going to lie – the to-do list during pregnancy is a lengthy one but don't worry mama you can more than conquer it!
You've got 9 months of planning and preparing for baby and this post is going to guide you on your journey.
So if you find yourself searching for a good pregnancy to-do list that's going to cure your overwhelm, you're in luck – I've compiled a list of 67 essential things you need to do so that you have a great pregnancy while getting ready for your baby.
Pregnancy checklists are a wonderful thing – they help you remember all the important tasks to get done because if you've ever heard of baby brain it. is. true!
It's so easy to forget things while you're pregnant!
So, let's dig right in..I really hope you're inspired by my essential pregnancy checklist!
(This pregnancy to do list is kind of epic – there are over 5000 words in the post – so pin it for later so you can come back for reference!)
67 Things That Should Be On Your Pregnancy Checklist
1) CONFIRM YOUR PREGNANCY
You've missed your period, your breasts are sore, and you're making frequent trips to the bathroom, but it's still a good idea to confirm your pregnancy by taking a home pregnancy test and/or visiting your healthcare provider.
Just to give you peace of mind, if nothing else!
Related read: 70 Early Pregnancy Symptoms
2) QUIT SMOKING IF YOU NEED TO
This goes without saying, but if you smoke, vape, or anything else, it's time to kick the habit to the curb – where it belongs.
Smoking of any kind isn't good for you or your unborn child.
If you're having trouble (which is completely understandable!) get in touch with your healthcare provider for some help.
3) START EATING HEALTHY FOR PREGNANCY
While you may be aware of what foods you shouldn't eat during pregnancy, you also need to take stock of what you SHOULD be eating.
HERE ARE SOME FOODS TO START EATING MORE OF:
More green veggies (think broccoli, spinach, and other leafy greens)
Sweet potato
Beans
Lean meats (fully cooked)
Salmon (opt for wild salmon if possible as it's lower in mercury)
Greek yogurt
Legumes
Oats
Quinoa
Truth be told, I battled pregnancy fatigue for the majority of my pregnancy so I wanted a healthy eating resource at my fingertips when I needed it.
I didn't want to waste time searching for healthy pregnancy eating – the thought of that was exhausting on its own.
So, if you're feeling like that then I highly recommend this book because it taught me how to eat healthy every single week of my pregnancy.
4) AVOID HAZARDOUS FOODS
While you're increasing the healthy foods you eat, you also need to avoid certain foods while you're pregnant.
HERE ARE SOME OF THOSE FOODS TO AVOID:
Raw fish (yes, that means sushi, sigh).
Processed meats.
Raw sprouts of any kind.
Unwashed produce.
Unpasteurized milk and/or juices.
Foods high in sugar.
Foods high in salt.
RELATED READ: Foods to Avoid in Early Pregnancy
5) WRITE DOWN THE START DATE OF YOUR LAST PERIOD
Your healthcare provider uses the start date of your last period to calculate your expected due date.
So write it down before pregnancy brain kicks in, haha!
6) DRINK LOTS OF WATER
While you don't need to go crazy drinking water, you do need to ensure your water intake is adequate for your activity.
The rule of thumb is 8 glasses of water a day – more if you live in a warmer climate or are active.
If you're dealing with severe pregnancy fatigue (I did!), drinking water is a way to boost your energy levels. You're eliminating the tiredness felt from being dehydrated.
I carried this water bottle around with me so I could sip throughout my day. I still do, and it's helped me so much with drinking enough water – even when I'm not pregnant.
7) WATCH HOW MUCH CAFFEINE YOU CONSUME
I feel you, mama – I love me some coffee, so giving it up because I was pregnant seemed next to impossible. The good news is, you can still consume some caffeine during pregnancy, which means you just need to cut back.
Experts say you should consume no more than 200mg per day – which equates to one coffee.
(Better than nothing.)
You need to be aware of the foods you're eating too – if you're having a craving for chocolate – that will count towards your daily intake since chocolate has caffeine as an ingredient.
Check out this article if you want more information.
8) GET PLENTY OF SLEEP
No kidding right?
I'm sure you're currently trying to sleep as much as you can – pregnancy fatigue might have been a clue that you were pregnant in the first place!
My recommendation is to go to bed earlier and keep a consistent sleep schedule (as much as you can, of course, because, well, life, haha!).
Grab that nap any time you can (I used to go out to my car on my lunch break, tilt the seat back and sleep for the entire hour – mama, you gotta do what you gotta do! 🙂 )
Your body is working overtime for the next 9 months so treat yourself to as much sleep as possible!
RELATED READ: Natural Ways to Get Over Pregnancy Tiredness
9) MAKE SURE TO SLEEP ON YOUR SIDE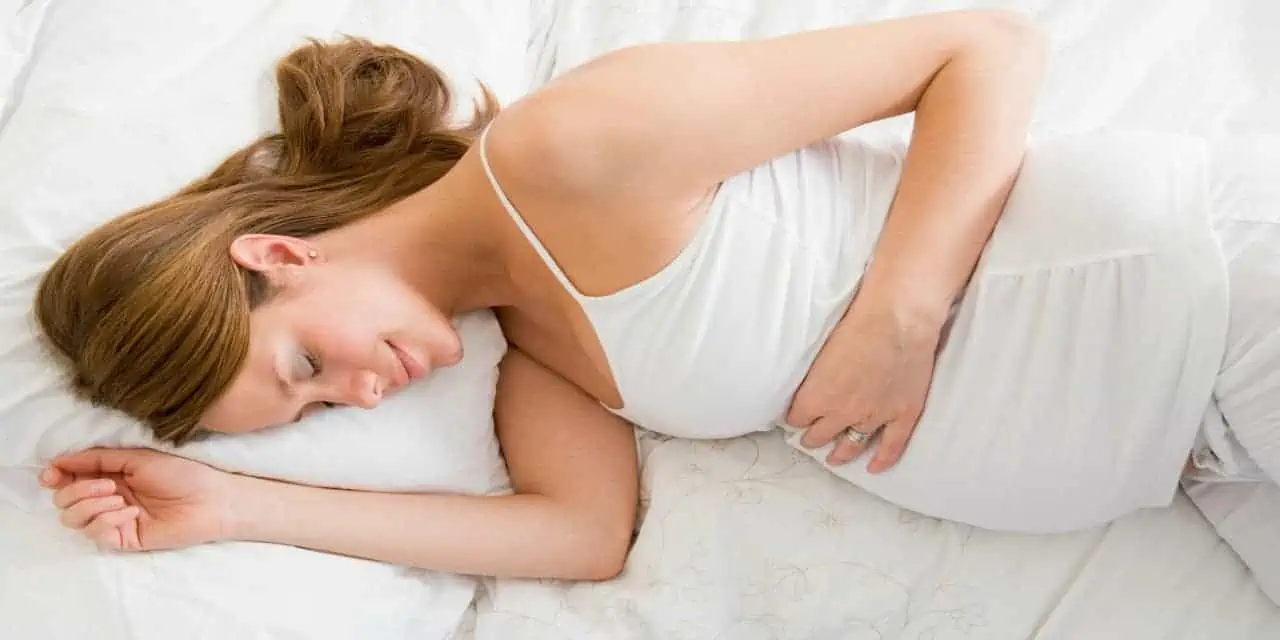 The more pregnant you become the more important it is to sleep on your side so start getting used to only sleeping on your side.
Ideally, choose your left side as it helps with blood flow to your uterus and thus your unborn baby.
Sleeping on your back puts a lot of extra weight on a major blood vessel called the vena cava which then impedes the amount of blood getting to your baby.
This can make you feel nauseated, dizzy and unwell. And, no pregnant lady needs any more of that, am I right!?
10) INVEST IN PRODUCTS TO HELP YOUR PREGNANCY
Even if you're sticking to a baby budget, treat yourself to some essential pregnancy products that will help you get comfy, your well-being and your overall pregnancy experience.
If you're wondering what the top 3 pregnancy products this mama COULD NOT live without:
This prenatal vitamin (100% digestible and organic AND I didn't get sick once during my pregnancy – NOW that says something!)
This belly support for comfy sleeping (it's amazing!)
These bath flakes (for soothing my pregnancy aches and pains!)
This list should be much longer, mama, haha! – I write more in-depth about pregnancy products in my post, Must-Have Pregnancy Products Just for Mom, be sure to check it out! 🙂
11) START TAKING A PRENATAL VITAMIN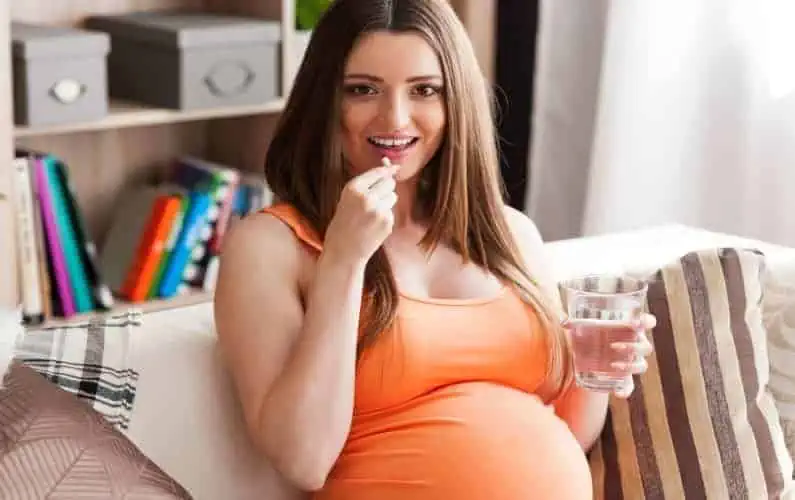 I mentioned that this prenatal vitamin was one thing I couldn't live without while I was pregnant. Why?
Because my OBGYN let me know that the baby will take whatever nutrients and vitamins it needs which could leave me depleted.
Yikes. We also (unfortunately) live in a time when the food we eat is vitamin and nutrient depleted – yes there are still some but not as much as there would be if you grew your own food for example.
Taking my prenatal vitamin helped me fill in the gaps in my diet – I'm happy to say I didn't get sick once during pregnancy – so I must have been doing something right!
So, mama, make sure to take your prenatal vitamin! 🙂
12) REMEMBER TO WASH YOUR HANDS
Pregnancy is the time to make sure you're washing your hands often.
Washing my hands is the first thing I do when I arrive home and if I'm out, I make sure to visit the restroom before eating OR if it's been a while since the last wash.
13) TAKE A PRENATAL COURSE
If this is your first pregnancy then this online prenatal course (taught by a Labor and Delivery nurse!) is a must for helping you get over any fear you have of childbirth (because who ISN'T scared of giving birth?!)
This course is a great way to learn about labor and delivery – it's not just a course about how to take care of a baby or how to breastfeed.
I took the course (if you read my post about what to honestly expect during childbirth, you will see I was terrified of giving birth – for years!) and it made me feel more relaxed about the birthing process.
The fact it's taught online was the best part – it meant I could snuggle on the couch with my hubby and learn! That's a big win in my books. 🙂
Related read: What Type of Online Birth Course is Right for You?

14) CELEBRATE WITH YOUR SPOUSE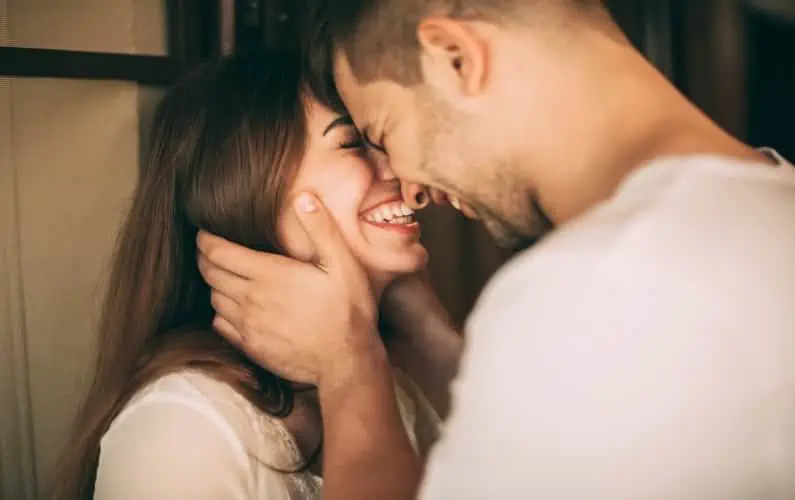 Grab your hubby and head out for some celebrations!
There is so much planning and preparing during pregnancy make sure to set aside some time for fun! 🙂
RELATED READ: Fun Date Night Ideas for Couples
15) START DOING PREGNANCY SAFE WORKOUTS
When I found out I was pregnant I was doing some pretty intensive workouts.
I stopped them immediately because I worried I was overdoing it.
Here's what I did instead:
Do your research about pregnancy-safe workouts that work for you.
I read this article and liked it.
16) PRACTICE PREGNANCY YOGA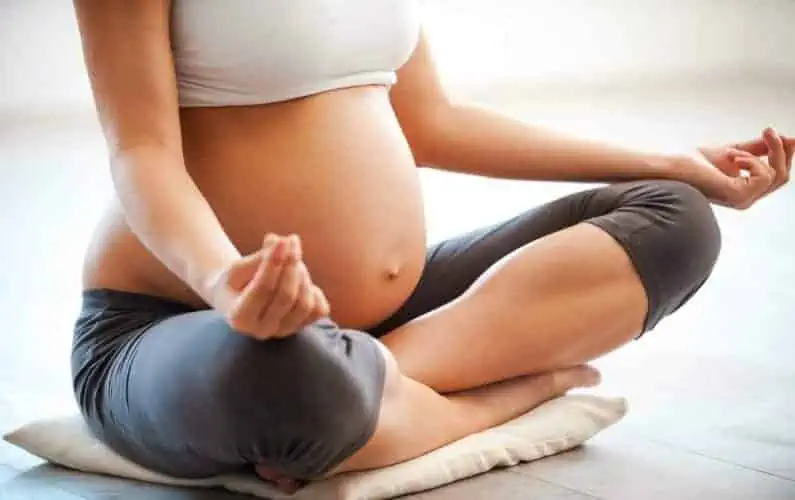 Yoga does wonders for strengthening your mind, body, and soul.
It can also reduce stress and help you sleep better at night.
I loved practicing yoga while pregnant and definitely think it should be on your pregnancy to do list!
17) CHOOSE A HEALTH CARE PROVIDER
If you don't already have a health care provider in mind, it's time to do your homework and choose one.
Will you go with an OBGYN or midwife?
18) CHECK YOUR HEALTH INSURANCE
Check out your health insurance to make sure it covers what you need for your pregnancy and delivery.
If it doesn't hold up, now is the time to research health coverage that works for your situation.
19) INVEST IN A GOOD STRETCH MARK CREAM
This is an important pregnancy to-do list items, mama.
You want to start moisturizing the skin on your tummy and hips.
Yes, hips too. (I didn't think to put the cream on my hips and I have the tiger stripes to prove it!).
I used this stretch mark cream and it was AMAZING.
I don't have a single stretch mark on my tummy (yay!) and I'm a mama who gained way too much weight during my pregnancy so that should tell you how good the cream is.
If you're looking for a cheap alternative I suggest picking up a big jar of coconut oil and slathering it on. Either way, it's time to get your stretch mark plan in place! 🙂
20) FIND WAYS TO COMBAT MORNING SICKNESS
Ugh, morning sickness. Or all day sickness because feeling nauseous can definitely happen later in the day.
I found drinking chamomile tea with fresh ginger helped me big time. I also made sure to keep drinking water and while my bladder didn't thank me my stomach seemed to.
So I guess it comes down to what's more important at the time, haha!
Check out this post for more help!
21) GET MATERNITY BRAS
One of the first body changes I experienced was the size of my breasts (yeehaw for this girl, haha!)
Do yourself a favor and get some comfy maternity bras like these ones. (I still wear mine because they're that comfy!)
22) START A PREGNANCY JOURNAL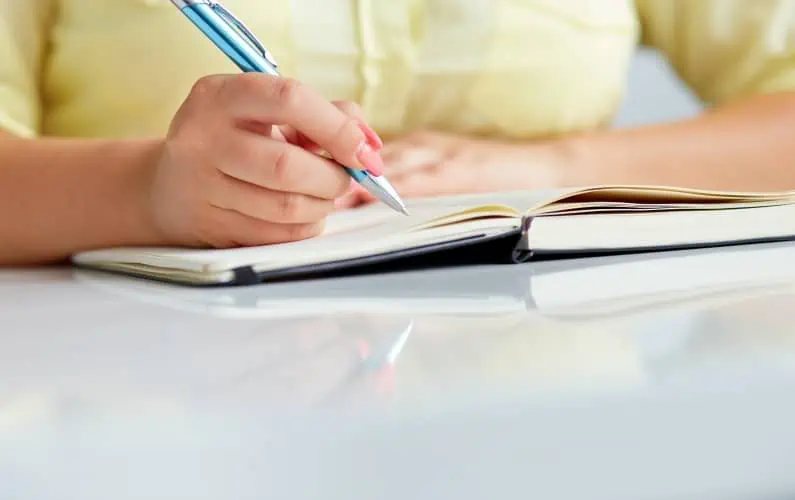 Mamas, I can not recommend keeping a pregnancy journal enough!
I picked up this pregnancy journal and started recording the good, the bad and the interesting things that happened during my pregnancy.
Mamas, I cherish this journal now.
Two years later I still find myself flipping through and I'm amazed at how much I've forgotten.
RELATED READ: First Trimester To Do List
23) FOLLOW THE DEVELOPMENT OF YOUR BABY
One of the most FUN pregnancy to-do list items is tracking the development of your baby.
There are apps you can download or you can search the web week to week (we have one too to sign up for at the beginning of this article!).
I loved this fetal tracker if you want to check it out.
24) START TAKING WEEKLY BUMP PHOTOS
I took a pic of my belly every Monday and now I have this incredible keepsake that money can't buy.
It's actually incredible to see how your tummy grows every week.
I picked up some belly stickers to add in some fun!
25) START THINKING ABOUT BABY NAMES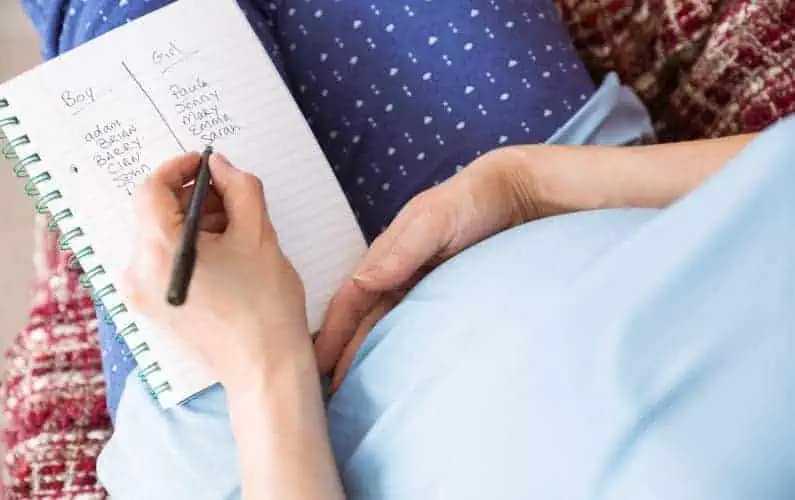 Now, this is one fun activity on the pregnancy checklist! It's time to start thinking about your sweet baby's name – although if you're anything like me you've already had a list of possible baby names for years, haha!
Now it's time to get some on the shortlist and talk them over with your spouse. Don't think you have all the time in the world to figure out a name – I've had friends who waited and then stressed out the month before their baby was due.
It kinda makes me think they may have settled on a name.
So, have fun picking out names mama!
26) SCHEDULE YOUR PRENATAL VISITS
Your first prenatal visit is normally around 8 weeks so go ahead and schedule it now.
If you've chosen your health care provider you may want to make the rest of your prenatal appointments and ultrasounds so that you can mark them on your calendar.
27) SET UP YOUR BABY REGISTRY
It's never too early to set up and start adding sweet baby items to your baby registry.
Did you know you can set up a baby registry through MyRegistry.com and place items from all your favorite stores onto one registry? Talk about convenience for your family and friends and YOU! You can also sign up for an Amazon Registry for an easy setup too.
28) DECIDE IF YOU'LL FIND OUT THE SEX
At about the 20-week mark you'll have the opportunity to find out if you're having a boy or a girl.
While it's an exciting moment have a discussion with your spouse to make sure you're both on the same page about finding out your sweet baby's sex.
29) HAVE A GENDER REVEAL PARTY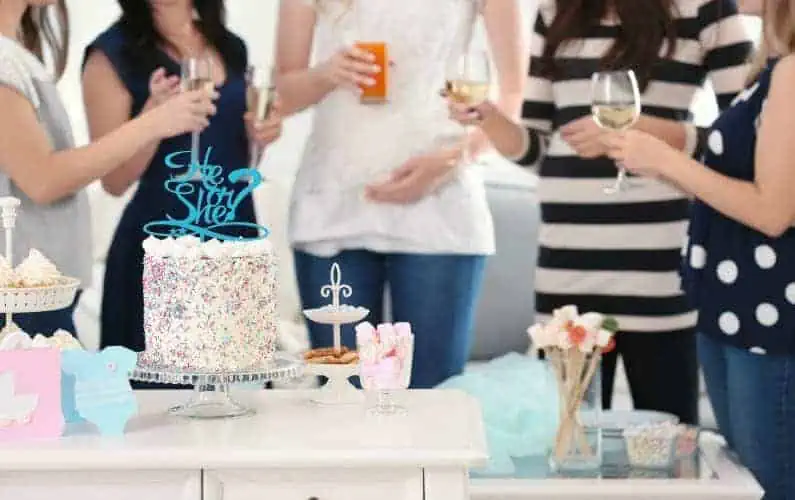 This pregnancy to-do list item is completely up to you.
Having a gender reveal party is a neat way of announcing the sex of your baby.
Here are some great ideas for how to plan a gender reveal.
30) GET YOUR SPOUSE TO HELP OUT MORE
Your body is working overtime for the next 9 months so asking for help is essential to your wellbeing.
As your spouse for more help around the house. If you have a cat, stop cleaning the litter immediately as it's harmful to your unborn baby.
The more pregnant you are the more help you'll need (wait until your belly is so big you need help putting your socks on or picking up something you dropped, haha!) so don't be afraid to ask!
(If you really think about it, when will there be another time to get pampered with all the help you need? I know the answer – NEVER.)
31) HOME BIRTH OR HOSPTIAL BIRTH?
When you envision your childbirth experience are you in the comfort of your own home? Or are you in a hospital with your OBGYN?
It's not too early to start thinking about where you want to give birth.
32) TAKE A HOSPITAL TOUR
If you go with a hospital birth then set up a time to take a tour so you feel comfortable and know where to go when you arrive in labor.
Also, this is a good time to figure out the best routes to the hospital. Have a couple of alternative routes in case the traffic is bad when you're on your way.
You just never know – your sweet baby may decide rush hour is the perfect time to join the world!

33) NATURAL CHILDBIRTH OR EPIDURAL?
Another thing to give some thought is whether or not you want an epidural.
Some women want to go completely natural and that's okay. But it's also okay if you know you want the epidural to help your pain management during labor.
If you want a natural birth but aren't sure where to start, try these birth courses.
They also have week by week pregnancy tips written from a natural perspective if you want to check it out here.
34) WRITE A BIRTH PLAN
The point of writing a birth plan is to pinpoint the important things that you want to be a part of your birthing experience.
When I wrote mine I tried to make it as flexible as possible. I chose a hospital birth, so I included instructions should something go very wrong.
I also outlined "my perfect birth process" as a guideline. There is no right or wrong when writing your birth plan – check it over with your spouse to make sure you're on the same page.
I do have to say, my childbirth experience didn't go as I planned and I'm not upset about it. It happened as it should and my sweet baby girl was delivered safely – that's all that truly matters.
Want to read more details? Check out: The Honest Truth About What to Expect During Childbirth
35) CONSIDER A WAISTBAND EXTENDER
By the second trimester, you'll notice your belly beginning to expand.
It seems it gets bigger every. single. day. If you're looking to make your jeans last longer during your pregnancy then I highly recommend this waistband extender.
It's soft and stretchy and an awesome way to keep wearing your fav pair of jeans.
36) GET SOME MATERNITY CLOTHES
And I stress the word some, haha!
Pregnancy might seem like a long time but it really isn't.
Don't go crazy buying maternity clothes – if you're preparing for baby on a budget this is a place where pregnant women waste a lot of money because, well, maternity clothes can be really cute, haha!
Build yourself a capsule maternity wardrobe.
HERE'S WHAT ITEMS I SUGGEST PICKING UP:
2 or 3 pairs of maternity leggings like these ones, because they're so comfy!
3 maternity tank tops like these ones (they're great for adding a sweater to that you already own!)
1 or 2 maternity dresses like these (again you can use them for layering)
Maternity shorts (if you're third trimester pregnant during the summer like I was!)
Yes, seriously that is it.
37) START A LIST OF ITEMS YOU NEED FOR YOUR BABY
Start a list of all the items you need for your baby.
Figure out which ones can go on your baby registry and what ones you'll need to source out yourself.
Looking to save money?
Make sure to read my post: 24 Ways to Prepare for Baby on a Budget
38) PLAN YOUR BABY SHOWER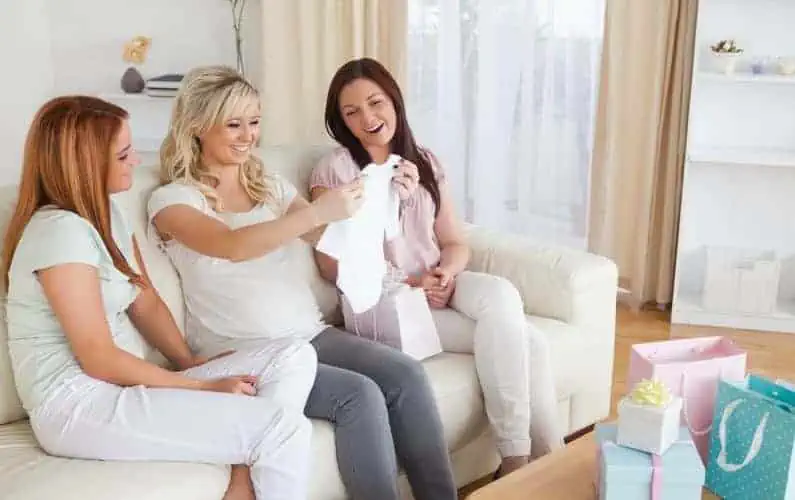 Your best friend or your mom may want to throw your baby shower for you but it's always good to start planning things as soon as possible.
We live in a world where people need plenty of notice for events! 🙂
39) WASH ALL YOUR SWEET BABY CLOTHES
This pregnancy to-do list item is for later but do make sure to wash all of the sweet baby clothes your receive and buy.
Looking for gentle, all-natural laundry detergent?
I use this one and love it – I also add vinegar to the load because it's a natural softener.
RELATED READ: Must-Have Baby Products For The First Year
40) READ ABOUT BECOMING A MOM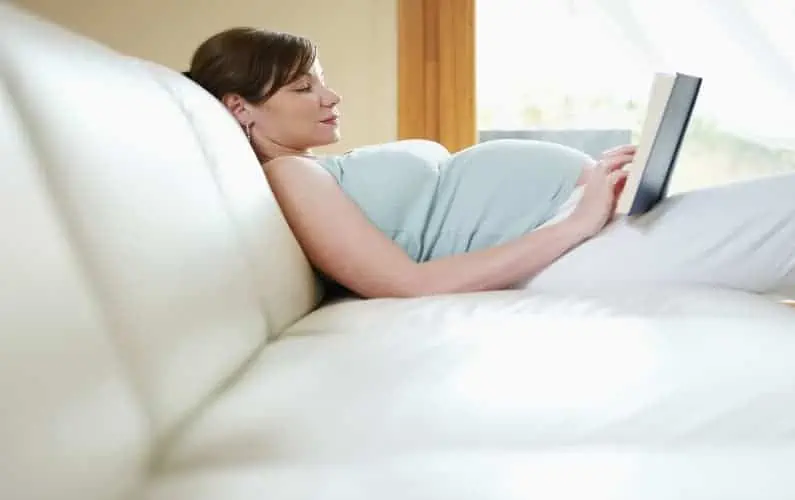 This is one of my favorite pregnancy to-do list items.
I LOVE being a mom and when I was pregnant I devoured as much information as I could.
Here are some of my favs for new moms:
41) PLAN OUT SOME FREEZER MEALS
Freezer meals are a lifesaver after you've delivered your baby but they're also good to have on hand during your pregnancy!
Ever have those days where you just don't feel like cooking? Ya, me too.
Skip the takeout (it's high in sodium anyway) and pull out something from the freezer that only needs to be heated. Viola, an easy dinner solution for those pregnancy days that you're exhausted!
Need some help with meal planning?
Here's the service I use to help our family meal plan every week.
42) LEARN HOW TO MEAL PLAN
We had freezer meals ready to go for my postpartum recovery but once we settled into family life with a newborn baby it quickly became apparent that we needed to start meal planning.
Now I'm a huge advocate for it – meal planning is such a sanity saver.
We use TheDinnerDaily.com because it's affordable (good news for this frugal living mama!) and has lots of different meal plans – which means we don't get bored with the same old same old.
The meal plans are filled with healthy foods so we don't worry about gaining weight or not getting enough vitamins and nutrients from our diet. AND we save money based on sales going on in your local grocery stores.
Check out TheDailyDinner here.
43) PLAN YOUR MATERNITY PHOTO SHOOT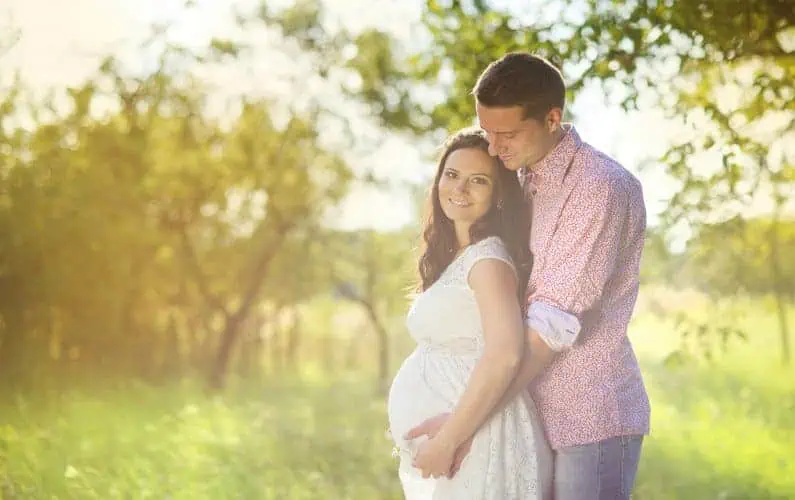 Up to you when to have some maternity photos snapped.
But it's a good idea to think about where you want to have your photos taken and what kind of style you want to project through your pics.
Need some inspiration? Maternity Photoshoot Ideas
44) SHARE YOUR BIG NEWS!
Most advice tells you to wait until you're out of the first trimester before sharing your news with the world and by that, I mean on social media.
And, it's sound advice – your chances of having a miscarriage drop significantly once you enter the second trimester. But that doesn't mean you can't share your big news with close family and friends as soon as you want!
45) WATCH OUT FOR THOSE PRECIOUS BABY KICKS!
If this is your first pregnancy you'll need to pay attention around 16 weeks to see if you're getting any sweet baby kicks!
Now, don't worry if you're not sure you feel anything at all. First-time mamas often don't feel those kicks until 25 weeks and that's perfectly normal.
It's just fun to start paying attention. It's a pretty amazing feeling when you do feel those first sweet baby kicks!
46) PRACTICE LOTS OF SELF CARE, MAMA!
I think pregnant mamas often forget themselves. We're so focused on preparing for the baby that we don't take any time for ourselves.
Once a week, practice self-care – it's good for you – it'll lower your stress which is ultimately good for your baby. And, yes mama, you deserve it!
Need some ideas? Self-Care Ideas for Busy Moms
47) TALK TO YOUR BOSS
Once you're through your first trimester, it's a good idea to sit down with your boss and share your news.
This allows your company plenty of time to figure out how to cover your maternity leave. It also lets them know why you might have to leave work to attend prenatal visits! 🙂
48) FIGURE OUT YOUR MATERNITY LEAVE
How much maternity leave do you get? It's time to ask the company you work for what their policy is for maternity leave.
That way you can decide how much leave to take and what kind of effect it'll have on your family's income (or maybe you'll decide to stay home and live off of one income).
49) DECIDE IF YOU WANT TO BREASTFEED
Most mamas want to at least try to breastfeed but the choice is ultimately yours.
A fed baby is good in my books.
50) DO SOME READING ABOUT BREASTFEEDING
If you're going to breastfeed then it's a great idea to start reading about breastfeeding now that you're pregnant.
Breastfeeding is ideal for your baby but that doesn't mean it's easy.
Here's some reading to get you started (these are especially good for first-time moms):

51) GO OVER THE BUDGET WITH YOUR SPOUSE
Having your baby on a budget is probably ideal, right mama?
Sit down with your spouse and go over your income and expenses.
How much do you spend?
How much do you want to spend on getting baby stuff?
Make sure to read my post for help: Preparing for baby on a budget
52) START STOCKING UP ON DIAPERS
It's a smart idea to stock up on diapers while you're pregnant.
That way the expense is spread over several months instead of all at once.
Don't stock up on a lot of newborn diapers though – you'll likely get lots at your baby shower and babies grow out of that size quickly.
Focus on the larger sizes and start stocking up! 🙂
We signed up for Amazon Family and get 20% off diapers and other baby items! 🙂
Related read: Essentials for a Diaper Bag
53) PICK OUT THE NURSERY PAINT COLOR
When you picture your perfect baby nursery, what color is it? Do you want to paint it based on what the sex of your baby is or would you like to keep things gender-neutral?
If you're looking for the latest trends, I've found that gender-neutral nurseries are on the rise. Mamas are also loving natural and rustic nurseries too 🙂
Want some inspiration?
Check out my Pinterest board Baby Nursery Ideas
54) PICK OUT THE NURSERY FURNITURE
Now that you have the color you can choose the nursery furniture! Or vice versa.
Some mamas may want to pick furniture first and then pick a color. Completely up to you!
RELATED READ: Everything You Should Get Done Before Your Baby is Born
55) ORGANIZE THE NURSERY
Organizing the nursery is one pregnancy to-do list item that will make you feel so good.
Hang your sweet baby clothes by size, place diapers and wipes where you can reach them easily and place your furniture!
56) DECIDE HOW TO ANNOUNCE YOUR BABY'S BIRTH
Announcing the safe arrival of your newborn baby is one of the most exciting things in life (well, after finding out you're pregnant).
Decide how you'll announce the birth of your baby before you give birth. You might not be too creative once you've given birth so planning beforehand is a good way to make sure you're happy with the announcement.
Need some help?
Check out this article about creative baby announcements.
57) TAKE CARE OF YOUR PELVIC FLOOR
Mama, your pelvic floor is working hard for the next 9 months so taking good care of it just makes sense.
How do you can you take care of your pelvic floor during your pregnancy? By doing Kegel exercises to strengthen the muscles.
58) LOOK INTO CHILDCARE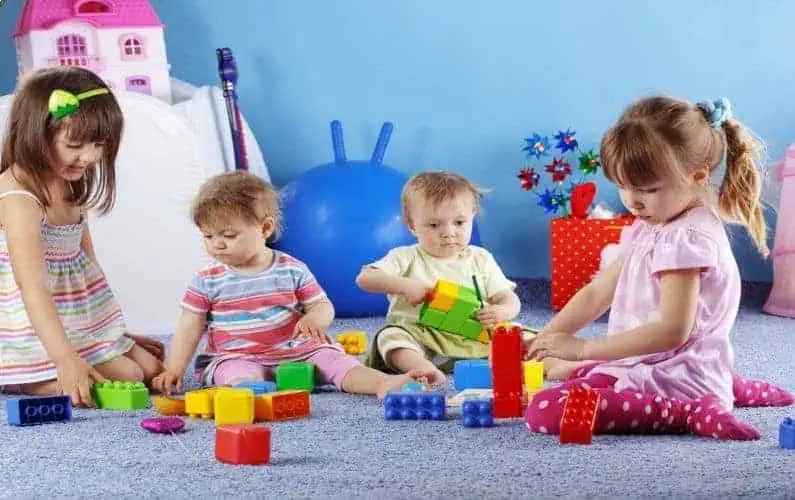 Say what? Look into childcare while you're still pregnant? Yes, mama! (That is, if you're planning to go back to work.)
Daycare spots fill up quickly and I'm sure you want to put your baby in your first choice of childcare.Start your research now, pick your three favorites and reach out to them to see how much room they'll have when you're ready for childcare.
59) KEEP LISTS
Ever heard of baby brain? It's real, mama.
Something happens and you start to forget…everything. (I was a skeptic about baby brain, but I can say it is REAL, haha!)
Do yourself a favor and carry a notepad and paper to jot down ideas and things to do as you think of them. It'll make your pregnant life so much easier!
60) PLAN SOME DATE NIGHTS WITH YOUR HUBBY
During your pregnancy make sure you plan several dates with your hubby before you become parents. You won't have as much time to go out as often as you think you might trust me.
(Yes, you'll go out without your baby (eventually) but don't count on it happening like it does now if ya know what I mean – babies are life-changing). So plan those date nights now! 🙂
RELATED READ: Cheap Date Night Ideas for Couples on a Budget
61) THROW OUT THOSE CHEMICALS
Okay mama, it's time to take account of all those chemical cleaners you have in the house. They're not safe for you while you're pregnant and they're no good for your newborn baby too.
Time to switch to natural cleaners or water and vinegar.
(If you choose to use water and vinegar prepare to be impressed by the cleaning power! I stopped using harsh chemical cleaners years ago and have NEVER looked back).
62) START DECLUTTERING YOUR HOME
Don't wait until the third trimester to start decluttering your home.
Purging and cleaning up your home can take longer than you think and since you're pregnant and low on energy it's a good idea to do it slowly.
63) IS YOUR HOME SAFE FOR BABY?
Do you have a lot of chemical-based products that need to be purged? How safe is your home for a baby? Do you have a lot of power cords that are easy to get to? Are there any items that a baby could pull onto themselves?
Do a safety check of every single room in your home as a part of your getting ready for baby process.
64) PACK YOUR HOSPITAL BAG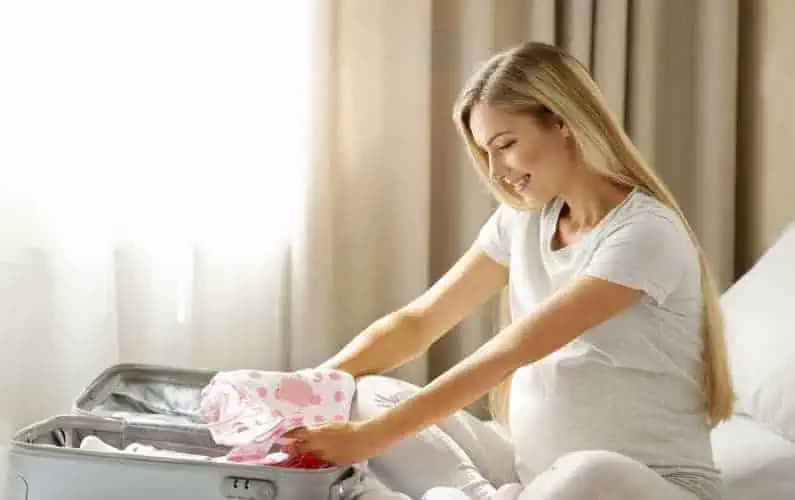 Packing your hospital bag for labor isn't something you need to do at the beginning of your pregnancy, of course, but this is a pregnancy checklist so it needs to be included. 🙂
If you're wondering what should be in your bag, check out my post What to Pack in Your Hospital Bag for Labor.
In that post, I detail everything you need for yourself, your husband, and your sweet newborn baby.
65) DEEP CLEAN THE HOUSE
I "deep" cleaned my house slowly in the last couple of months leading up to my due date. That way I didn't have to stress about cleaning EVERYTHING right before baby girl was to arrive.
And, remember, ask for help! Recruit your closest friends to help you tackle those hard to reach places.
66) GET AWAY
Planning a getaway with your spouse is a great way to spend quality time together before you become parents.
Grab a cool AirBnB rental or plan a babymoon somewhere exotic!The possibilities are endless! 🙂
67) Postpartum Care Essentials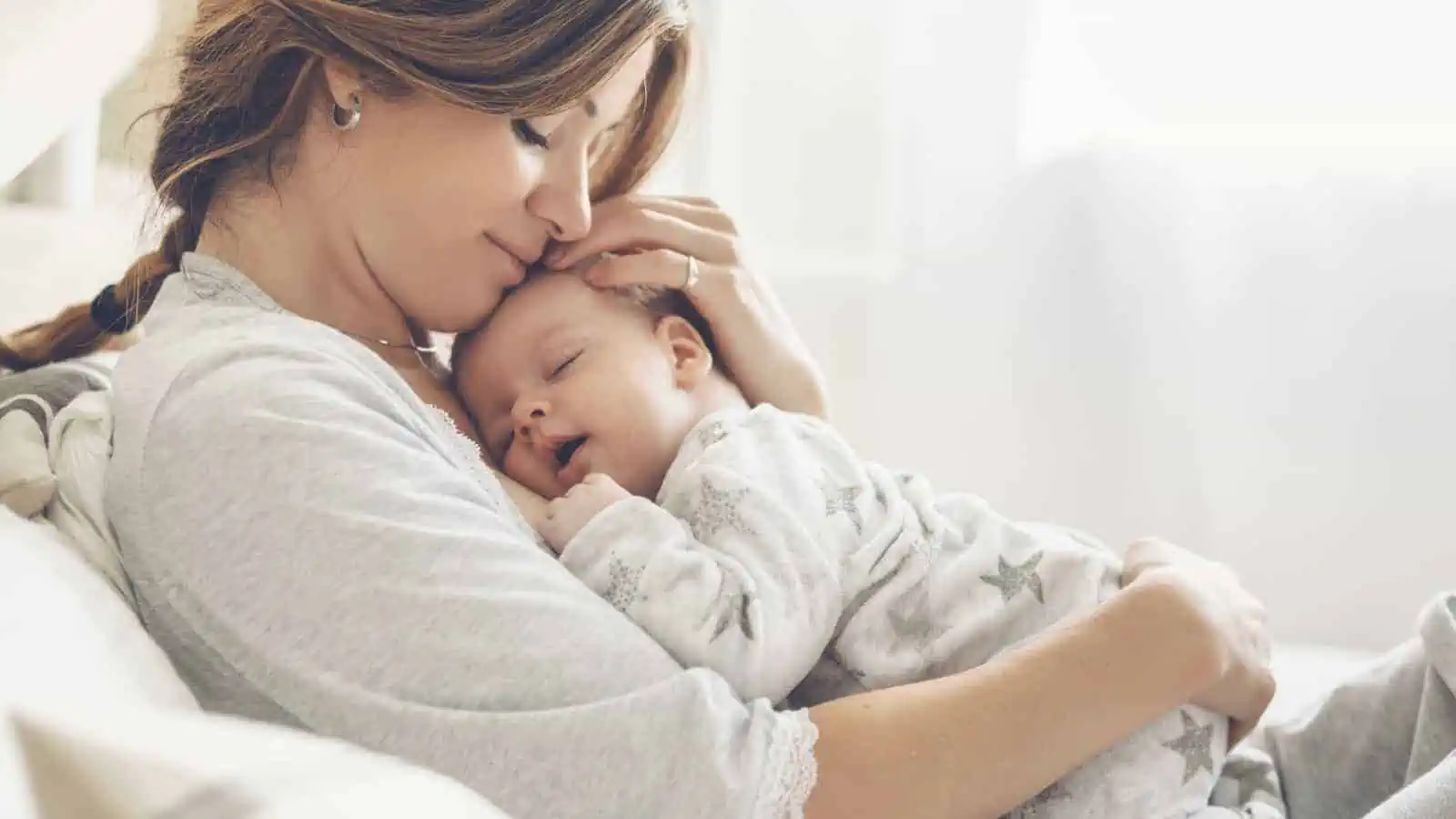 I'm not going to lie – childbirth was bit shocking (NOT trying to scare you bust want to be honest) but what was even more surprising was my postpartum recovery.
I'll admit I was only somewhat prepared (I usually "wing" things if I'm completely honest!) and that's definitely not what I want for you!
So in this section of my pregnancy checklist, I'm going to share some postpartum care essentials that you can start getting ready while you're still pregnant. It will be a real lifesaver once you're actually postpartum, trust me.
RELATED READ: How to Recover Quickly from Childbirth
Stock up on the following items to make your postpartum care and recovery much easier:
Thick postpartum pads like these ones.
Disposable, mesh underwear like this.
Stool softeners
A mattress pad like this one.
Peri bottles
Comfy clothes
Nursing nighties
Nursing bras
Nursing pads (your breasts will leak whether you breastfeed or not)
Ibuprofen or Advil
This postpartum care list gets you started.
For more information about how to plan for your postpartum care make sure you read: The Complete Postpartum Care Checklist.
There you go, mama! I know this was an epic post filled with a lot of different things that should be on your pregnancy to-do list.
Make sure to pin this post so you can reference back when you need it.
The key to completing any pregnancy to do list is to take your time – remember you're growing a tiny human and it's nothing short of a miracle. So give yourself a break and check things off your pregnancy checklist as you can.
Tell me, what's on your pregnancy to do list? Did I miss anything? Let me know in the comments!