Love On a Dime: 64 Cheap Date Night Ideas That Sparkle
This post may contain affiliate links. As an Amazon Associate, I earn from qualifying purchases.
Who says you can't plan a fun cheap date night while you're on a budget or living on one income? Truth be told, you can have an inexpensive date night without breaking the bank. The key is to use your imagination – it's part of the fun!
My husband and I love coming up with creative and fun yet cheap date ideas that we can do once a month. Because of our fun cheap date ideas, we manage to have at least one date night a month without spending too much money. Our love for creating fun cheap date ideas inspired me to write this post so you and your hubby can enjoy a cheap date night without having to worry about money.
We've done most of these cheap date ideas as we were living on one income and if we haven't, you can be sure we plan to in the future! Most of these fun, cheap date ideas are under $50.
64 Fun Cheap Date Ideas For Couples On A Budget
Creative and Cheap Date Night Ideas
1. HAVE A MOVIE MARATHON
A good old binge-watch movie marathon NEVER gets old. Pop some popcorn, grab the candy and snuggle up on the couch for some much-needed relaxation time as a couple. One of the best cheap date ideas!
2. GO TO A PAINT NIGHT
Groupon.com always has some sort of deal and they're often really cool things you can do on an inexpensive date night. We love going to paint night and proudly hang our paintings in our home. It's one of the unique cheap date ideas because no two paintings are the same!
3. GO FOR A DRIVE
Something that is so exciting is getting in the car with no plans on where to go. Drive in one direction, take a couple turns, and see where you end up! Bring a picnic with you or try one of the local restaurants you discover. Do you love our cheap date ideas?
4. START A MEMORY BOX
Grab a box like this and go around the house hunting for things you've been meaning to save somewhere safe – stuff that has awesome memories attached to it – like concert tickets, or a great birthday card. That box will become your memory box! It's so much fun to reminisce about good times – something you'll look back on as a couple for years to come!
5. HAVE A GAME NIGHT
Get ready for an enjoyable board games date that will leave you both laughing and strategizing your way to victory! Pile up the snacks, dim the lights, and let the games begin.
From classic favorites like Monopoly and Scrabble to modern hits like Codenames and Catan, there's a board game for every taste. Watch as your competitive side comes out, playfully teasing each other with cunning moves and hilarious banter. Play board games and enjoy them to the fullest!
But it's not just about winning – it's about the shared moments of joy, the friendly rivalries, and the unexpected twists that make this date one to remember. So roll the dice, draw those cards, and let the laughter fill the room as you embark on an evening of board game bliss together.
Board or video games can also be a cheap date at home if you have a few board games kicking around. You should definitely have a game night with your spouse! That will definitely lead to some laughs! It's an easy date night idea, isn't it?
6. KICK THE BALL AROUND TOGETHER
My husband and I love to be active together, and sometimes that just means kicking a soccer ball around at the local park. It gets the blood pumping, and it's a fun way to test your husband's soccer abilities. Playing soccer will boost your overall well-being while also proving to be one of the best cheap date ideas.
7. BUILD THE BEST ICE CREAM SUNDAE EVER
This is one of our favorite fun, cheap date ideas! We both love ice cream (because really, who doesn't?) so we go to the store and each pick 3 things to top the ice cream with. There are no limits! Have fun being creative with your ice cream date!
8. TEST DRIVE CARS
Test driving cars can be one of the most amazing cheap date ideas. Now is the chance to test drive a car you'd love to check out. Have fun testing a high-end car and also taking some other cars out for a spin. Then you can pick out your favorites and know what car you'll get when you're ready!
9. DO A PUZZLE TOGETHER
A puzzle date is a delightful and engaging way to spend quality time together with your partner. It brings an element of fun and mystery to your cheap date ideas, allowing you to challenge yourselves while enjoying each other's company. You can create a puzzle-themed adventure by setting up DIY gifts and activities that revolve around puzzles. One of the best cheap date ideas ever!
Whether it's solving jigsaw puzzles, deciphering riddles, or even creating your own mini "escape room," the possibilities are endless. Puzzle dates offer a unique opportunity to collaborate, communicate, and problem-solve as a team, fostering a deeper connection between you and your partner. So, grab some puzzles, ignite your sense of adventure, and embark on a memorable puzzle date that will leave you both feeling entertained and closer than ever.
When is the last time you did a puzzle? Work together at putting together a hard puzzle like these ones.
10. GO LOOK AT HOUSES
My husband and I have a favorite neighborhood that we hope to live in one day. Sometimes, we book showings of several houses for sale in the area so we can do some dreaming about the future. It's a great way to spend time together!
11. PICK UP A HACKY SACK
I'm not sure if I'm aging myself, but hacky sacks were a huge hit when I was younger and a TON of fun! Grab a hacky sack and test each other to see who can keep it up the longest!
12. GET LOST IN THE FOREST
Explore winding trails, discover hidden spots, and let the forest be your guide as you disconnect from the outside world. Enjoy the serenity of the trees, the soothing sounds of birds chirping, and the fresh scent of the wilderness. Lose track of time as you wander hand in hand, creating unforgettable memories amidst the enchanting embrace of the forest.
One of the most tranquil and calming ways to spend time as a couple is to get lost in the forest on a hike. Check out your local conservation area or hiking trails to see where you can get lost as a couple. Make sure to share these cheap date ideas with others too. You're loving these cheap date ideas, right?
13. WATCH THE AIRPLANES TAKE OFF AND LAND
Drive down to your local airport and park on the side of the road so you can watch the airplanes take off and land. Bring a blanket, and something to eat, and lay on the front of the car. You'll almost feel like a teenager! ha! It's one of the fun date ideas!
14. COOK EPIC TACOS
We LOVE tacos in our family, so that means my husband and I like coming up with epic taco combinations. It's kind of a no-holds-barred situation, LOL! Then we recreate them and have them with our daughter so she can see what we made!
15. INTERVIEW EACH OTHER
Start by writing down 10 questions you're curious about about your partner. Then go back and forth asking the questions and see what kind of answers you get! I'm willing to bet this will lead to some great conversations! Haha, the best of fun date ideas!
16. GO TO PUB NIGHT
Most pubs have trivia nights, so check out your local listings. Go have a pint and test your knowledge!
17. RENT A CANOE
If you have lakes nearby, consider renting a canoe and paddling around. You could bring fishing poles if you have them or pack a picnic to make it romantic.
18. MAKE A CHARCUTERIE BOARD
Sometimes an evening date just calls for a charcuterie board and a glass of wine. Cut up your favorite meats, and cheeses, and add your favorite olives, veggies, crackers, and spreads. This fun, easy date night idea can add up, but there's nothing wrong with splurging here and there!
19. GO TO THE DRIVE-IN
The drive-in is an awesome, inexpensive way to make going to the movies fun again! Grab some popcorn and snuggle up in the back seat of your car!
20. BUILD A BLANKET FORT
I have PLENTY of fun childhood memories of making blanket forts. Building a blanket fort can be one of the most fun and cheap date ideas! The best part is getting to sleep in it afterward. You could even challenge your husband to a blanket for face-off for even more fun!
21. GO TO THE BASEBALL GAME
There are always cheap baseball tickets to be had, scope some out and enjoy a game. Then, after the game, walk around the city holding hands and maybe do some window shopping.
22. JUMP ON THE TRAMPOLINE
Do you have a trampoline center close to where you live? You should definitely Google search that if you haven't already. Jumping on trampolines is a great way to get some exercise and a fun way to spend your next date night.
23. GO TO THE FARM
Take your date night back to the roots of all communities – your local farm. Often, your local farm will have a cafe filled with farm fresh food, different animals you can interact with, and fresh produce to purchase if you want. It's nice to kick back and relax while you get a taste of what farm life is all about!
24. ATTEND AN OPEN MIC NIGHT
If you can carry a tune (or think you can, like me, haha!) then look up local open mic nights and give it your best shot! These events are very friendly and usually attract talented people, so it's like getting a free music night! Enjoy the show!
25. GO FOR A STROLL IN A BOTANICAL GARDEN
Getting lost in a garden is a beautifully cheap way to have fun while enjoying nature. Go for a stroll, find a bench, and have a great conversation!
26. PLAY A WORD GAME
Pick a word that must not be said during the date OR one that you have to use in as many consecutive sentences as possible! Either way, it's word game time! You can switch up the words to keep the fun going!
27. TRY A CUISINE YOU'VE NEVER HAD BEFORE
Never tried Indian food? Or maybe you've wondered about dim sum. Grab your husband and make your first experience of the food a fun date night idea!
28. WALK IN AN OLD NEIGHBORHOOD FULL OF CHARACTER
I love walking in a neighborhood filled with old and historical Victorian houses and buildings. There's something magical that takes you back in time! We've found that a lot of old houses will have a sign letting you know the history of the house, like who bought it and what they did for a living. It's neat to learn some local history!
29. GO FOR A LATE-NIGHT WALK AROUND YOUR NEIGHBORHOOD
This cheap date night idea might make you feel like a teenager again. Wait until late a night and then walk around your own neighborhood, maybe visit the park and play on those swings too!
30. PLAY CARDS
There's a lot of love in this house for the card game Euchre. Did you know the way you play Euchre can be adjusted for two players? There are a lot of two-player variations, so search for the one that makes sense for you. My husband and I love to challenge each other in a best of five round!
31. UPCYCLE A PIECE OF YOUR FURNITURE
If you've been putting off refinishing a piece of prized furniture, why not crack a couple of beers and finish it together? You'll be proud of what you're able to create as a couple!
Romantic Date Night Ideas
32. FIRE NIGHT DATE NIGHT
My husband and I picked up a firepit, like this one, and now we enjoy a glass of wine or a homemade dinner with the fire going. It's perfect for snuggling and having a great conversation. It's also perfect for making smores together! The great thing is the firepit was an investment that will pay off in memories for many date nights to come!
33. CREATE A SPA AT HOME
No need to go to an expensive spa! Grab some bubble bath and hop in the tub together. Bond as you have a bubble fight! ha!
Related read: At Home Date Night Ideas
34. COOK A NEW RECIPE TOGETHER
I think every family has staples that they eat all the time. Freshen things up by cooking a new recipe. Bonus points for making a dish from another culture. This fun, cheap date night idea pairs well with a nice bottle of wine.
35. GET LOST IN THE CORNFIELD
A lot of farms have cornfields, which make for a totally fun way to have a date night! Check your local listings for farm locations with a cornfield maze and get lost together!
36. GO ICE SKATING
If it's winter, why not lace up your skates? Keep each other warm by packing some hot chocolate in a thermos.
37. GIVE EACH OTHER MASSAGES
A very sensual date night idea is to pick up some massage oil and give each other a nice, long massage. Who knows where that fun date night will lead! 😉
38. HOST YOUR OWN WINE TASTINGS
Instead of going out to the winery, why don't you both choose a couple bottles of wine, make some yummy food, and have your own wine-tasting at home? The best part? You won't need to worry about drinking and driving since you're already at home!
39. EXCHANGE REASONS YOU LOVE YOUR SPOUSE
Sometimes it's really the little things we love about our spouses. But, how often do we share what we think with them? A great date night is sitting together and exchanging the things you love about each other. It'll rekindle the spark and bring you even closer.
40. MAKE A LOADED PIZZA
And, when I say loaded, I mean LOADED. Visit your local grocery store, grab ALL of your favorite ingredients, and go crazy! Make sure you check out the produce sale section so you can save money on the groceries since you'll be using them that night!
41. CANDLES, CANDLES AND MORE CANDLES
If you've got candles, set them up in your bedroom or bathroom and do everything by candlelight. Talk about romance!
42. CAMP IN YOUR BACKYARD
One of the best cheap date ideas my husband and I LOVE to do is camp out in our backyard. You can really feel like you're camping, especially if you have a fire, like I mentioned in the fire cheap date idea above.
Cheap Day Date Ideas under $50
Looking for cheap date ideas for those occasions when the kids are with their grandparents? Day dates can be just as fun as cheap date nights.
Here are some ideas:
43. GO TO THE PARK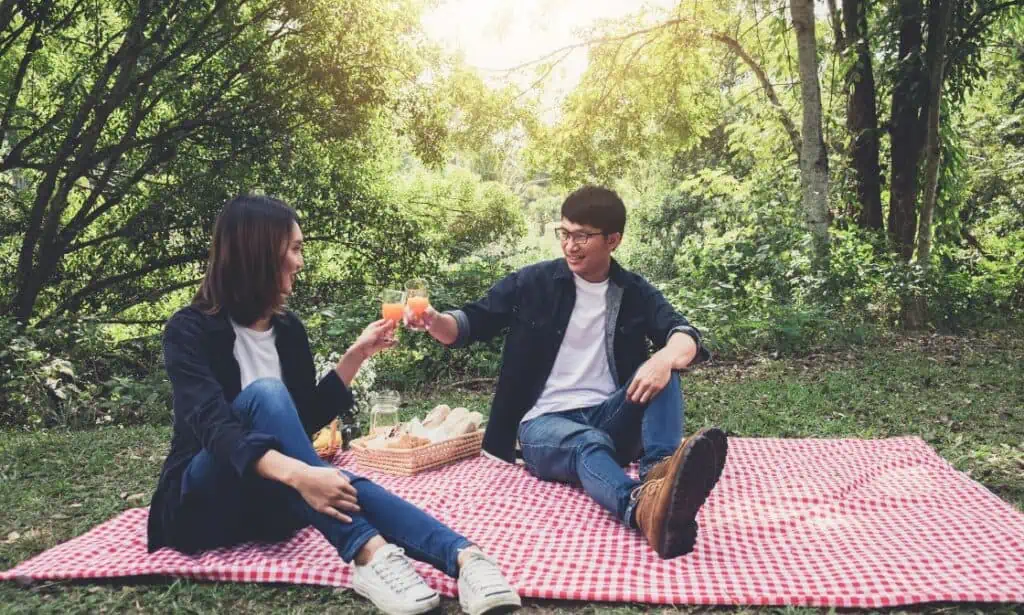 Remember how much fun you had at the park when you were little? Pack a picnic basket and head over to your local park with play equipment. Yes, play equipment. Relive that fun with your hubby and see who can swing higher! This date idea literally costs $10 if you pack a couple of sandwiches or a fruit platter.
44. HAVE LUNCH AT A CAFE
Most cafes have sandwiches, pastries, and other really yummy food. Grab one of each and a couple of hot beverages, and share each other's food! Sit back and do some people-watching together. A fun, cheap day date!
45. GO TO A FARMERS MARKET
I love going to the farmers market with my husband. We enjoy walking around picking out fresh fruits and vegetables, and usually picking up some baked goods too! Check your local listings for a farmers market near you!
46. VISIT A FLEA MARKET
You just never know what you may discover at the flea market, and that's what makes this day-date idea a lot of fun. Another person's piece of junk could be upcycled into that unique piece you've been looking for. And, the best part? Flea markets are cheap, which is perfect for your budget.
47. PHOTOGRAPH YOUR DAY TOGETHER
A great way to get new photos as a couple is to day trip to an area you love to visit and start snapping away together and of each other. You'll have new photos for frames and items for your memory box!
48. MAKE BRUNCH TOGETHER
Who doesn't love brunch? Brunch incorporates breakfast and lunch and there are endless brunch recipes to try! Get creative in the kitchen. Maybe it's a spinach egg benedict kind of day, or perhaps banana pancakes. YUM!
49. RENT A TANDEM BIKE AND EXPLORE THE CITY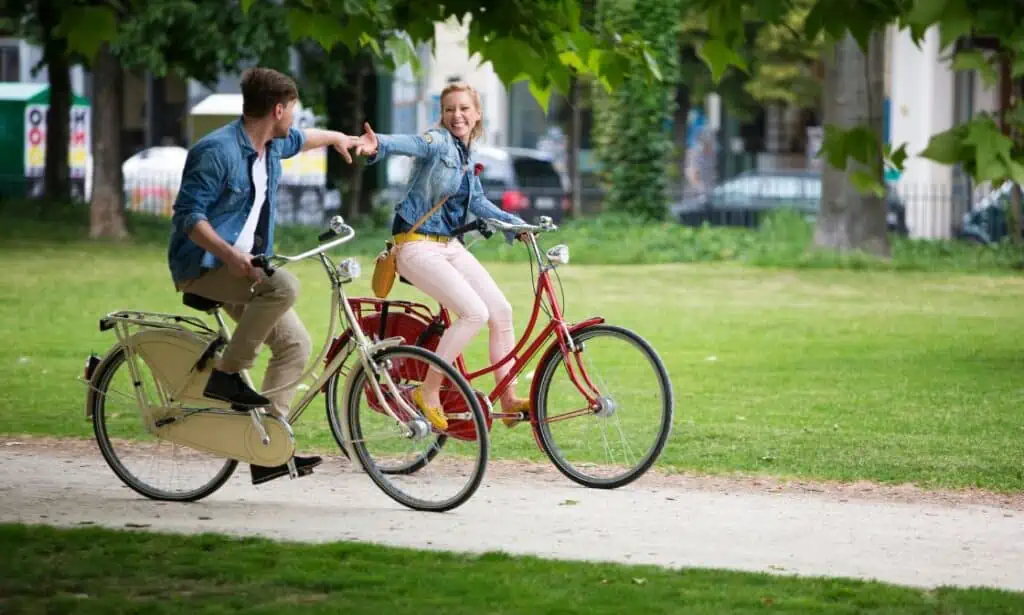 If you live close to or in the city, become a tourist for the day and rent a tandem bike to get around. Check out five hotspots in your city. You never know what you might discover! A bike ride can be very relaxing sometimes, and you also get to enjoy the fresh wind.
50. GO TO ANTIQUE STORE
I love antiques, so my husband and I go antique shopping sometimes during the day. I'm always looking for unique character pieces to add to our decor. It's a lot of fun!
51. VOLUNTEER TOGETHER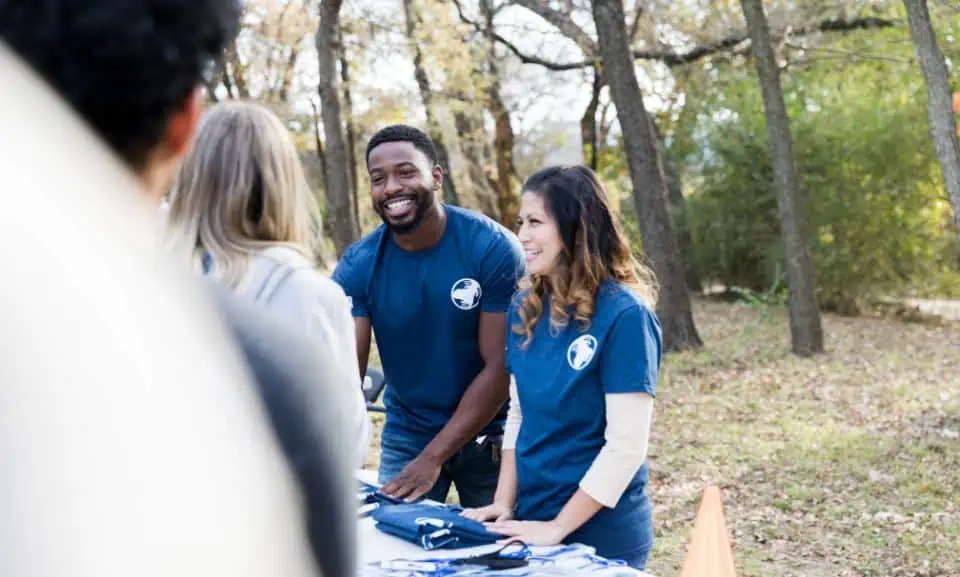 One way of bonding with your spouse is to give back to the community together, like donating your babies old items. Maybe volunteer at the local food banks or check out a volunteer of your choosing.
52. GO TO THE DRIVING RANGE
If you don't want to commit to a full golf game, why not have some fun at the driving range. See who can hit the furthest and most consistently!
53. ATTEND LOCAL COMMUNITY EVENTS OR FESTIVALS
Immerse yourselves in the vibrant atmosphere of a local community event or festival. Enjoy live music, food stalls, and various activities without breaking the bank.
54. VISIT A MUSEUM OR AN ART GALLERY:
Explore the world of art and culture by visiting a museum or art gallery that offers free admission or discounted tickets. Marvel at the exhibits and engage in thought-provoking conversations.
55. TAKE A DANCE CLASS TOGETHER
Discover your inner dancer by taking a budget-friendly dance class. Whether it's salsa, hip-hop, or ballroom, learning new moves together can be fun and romantic.
56. VISIT THE LOCAL ZOO OR AQUARIUM
Spend the day exploring the wonders of nature at a local zoo or aquarium. Enjoy observing animals or marine life while learning about conservation efforts.
57. HAVE A COZY READING SESSION TOGETHER
Escape into different literary worlds by visiting your local library. Find a cozy nook, pick out books or magazines, and enjoy some quiet time together.
58. VOLUNTEER FOR YOUR COMMUNITY
Make a positive impact on your community by volunteering together. Whether it's serving meals at a shelter or participating in a neighborhood cleanup, helping others can strengthen your bond.
59. ATTEND AN OUTDOOR CONCERT OR LIVE PERFORMANCE
Check out local listings for free or affordable outdoor concerts or live performances. From jazz bands in the park to open-air theater shows, enjoy live entertainment without breaking the bank.
60. VISIT AN ART EXHIBIT OR GALLERY
Support local artists by visiting art exhibits or gallery openings. Many offer free entry or have low admission fees. Admire the creativity and discuss your interpretations of the artwork.
61. GO FOR A SCENIC SUNSET OR SUNRISE WALK
Take a romantic stroll along a beautiful trail or beach during sunrise or sunset. Enjoy the breathtaking views, hold hands, and cherish the peaceful moments together.
62. TRY OUT A NEW COFFEE SHOP
Explore different coffee shops in your area and try out their unique brews. Treat yourselves to a cup of coffee or tea and savor the cozy atmosphere. A coffee shop can be a great place to create new date memories.
63. TAKE A POTTERY OR ART CLASS TOGETHER
Unleash your creativity by taking a pottery or art class as a couple. Many studios offer affordable classes where you can learn to sculpt, paint, or create something beautiful together.
64. GO FOR A SWIM
Beat the heat and have a refreshing time by going swimming at a local pool or beach. Pack a picnic, bring sunscreen, and enjoy a day of relaxation by the water.
There you have it – 64 fun favorite cheap date ideas for couples on a budget. You can have so much fun coming up with fun cheap date ideas with your spouse too!
Give it a try. The key ingredient is your imagination. Looking for Budgeting Advantages for Families?
If you want to make a fast decision between the suggestions made above (or can't decide), have fun trying this: Magic-8-Ball. This game provides complex, oftentimes humorous answers to questions people could have regarding minor issues that come up in daily life.
Having cheap and fun date nights does not automatically mean you have to spend a ton of money. While a couple of my easy date night ideas were slightly over $50, they weren't by much.
Going on inexpensive date nights is possible and fun too! What's the best cheap but still fun date night you and your spouse planned?