Changing Table Organizer Ideas for Baby's Nursery
This post may contain affiliate links. As an Amazon Associate, I earn from qualifying purchases.
Having a nice-looking changing table is great. But if you always leave the changing table messy, the whole nursery will also seem untidy and hard to manage. Therefore, it is important to choose a table which is not only beautiful but also practical. This way you can easily organize all the items you may need to change your baby's diaper.
Luckily, there are many great changing table organizer ideas that can make both your life and diaper changes easier. Nursery organization and changing table organization feels good in the chaos of adjusting to a newborn (at least in my opinion ha).  
Having an organized changing table will make the nursery look tidier, and diaper changes will go more smoothly too. This is because you will have every frequently used item at hand.
Moreover, it's important because of your little one's safety as well! You should always keep one hand on your baby while changing the diaper and looking for the things you need.
Today, I will give you a few useful changing table organization ideas that can help you control the clutter on your changing table and make it more organized.
The Best Changing Table Organizer Ideas
Choose a practical changing table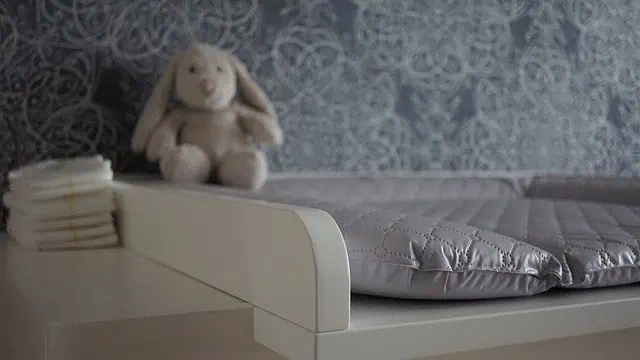 If you are looking at these changing table organization ideas and haven't bought a changing table for your baby yet, look for one that besides providing safety for your baby is practical as well. Choosing a super beautiful changing table or changing table dresser may be tempting, but don't forget that in some cases, they may be not so convenient to use.
It may be a better idea to choose a solid changing table that has multiple drawers or shelves. This way, you will have plenty of space for table organization that includes all the baby items you may need. For example, for lotions, onesies, diapers wipes, diapers, socks, etc.
No space for a changing table? No worries!
If you don't have space for a designated changing table, you can also create a changing table dresser on top of your current dresser (provided it's low enough) with a changing pad (and changing pad cover) and a few of the other ideas from the organization ideas below.
Related read: NEWBORN CARE: BABY CARE TIPS FOR NEW MOMS
Keep close frequently used items and organize them in bins or baskets
The most common reason why changing tables seem messy is that we tend to keep a lot of clutter on the surface of the table.
To avoid it, make sure to collect all the baby care items you use daily (diaper cream, wipes, diapers, onesies, socks, pajamas, cotton swabs, etc.), and place them into plastic bins or a basket separated by the type next to your changing pad. Then, you can put some of these baskets on the top of the dresser, and the rest can go on the shelves or into the drawers. However, make sure that all diapering essentials are easily accessible with one hand so that you can easily swap or pull the drawers out as needed.
If you want to make everything look more organized on your diaper changing table, when you go to buy a style of bin or basket, try to choose ones that match the colors of the nursery.
Related read: How to Organize Your Life at Home
Use drawer dividers
If your diaper changing table has drawers, you can easily take your organizational skills to the next level by using drawer dividers. These dividers are super useful as baby clothes and products are quite small, and you can quickly find a big mess in the drawers.
You can create your own drawer dividers at home, or you can also order them.
Once you have your dividers, separate all the baby and diapering essentials by type. With these soft-sided organizers, you will find everything more easily!
Related read: 18 BABY HACKS THAT MAKE MOM LIFE SO MUCH EASIER
Free up some space with a hanging diaper caddy
Let's face it, babies use a lot of diapers and we spend a lot of time doing diaper changes, and it may be challenging sometimes to store all those diapers. For me, having diapers everywhere is often the biggest mess preventing me from better changing table organization.
If your changing table doesn't have too much storage space, you can free up some extra space by investing in a hanging diaper caddy for all of your diapering essentials. These organizers are very useful and space-saving because they can be hung everywhere: on the side of the changing table or the crib as well.
Most hanging diaper caddies have a large compartment for the extra diapers, and small pockets for other essential items (diaper cream, hand sanitizer, diaper wipes, lotion). So you can have more space for other items on the diaper changing table.
Plus, a diaper caddy can come in handy when you need to change diapers in another room, or it's also great when you are traveling with your baby.
Related read: Tips For Sharing Small Bedroom With Baby
Get a hanging hamper
This next one from the changing table organizer ideas can also be life-changing for you.
Baby clothes are indeed tiny but they get dirty very quickly and have to be changed often. Therefore, dirty baby clothes can make a huge mess if they are not taken immediately to the laundry basket. Fortunately, you can keep things more organized by placing a hanging hamper in the nursery (probably near your diaper pail if you have one). This way, when you take off your baby's dirty toss, you can simply toss them into the hamper as it will be right next to you.
A hanging hamper will not only keep the changing table dresser and the nursery more organized, but it will also save you time. All the dirty clothes, bibs, blankets will be in one place, separated from the clothes of other family members.
How's that for an excellent table organization trick? (I think it's my fav on this list!).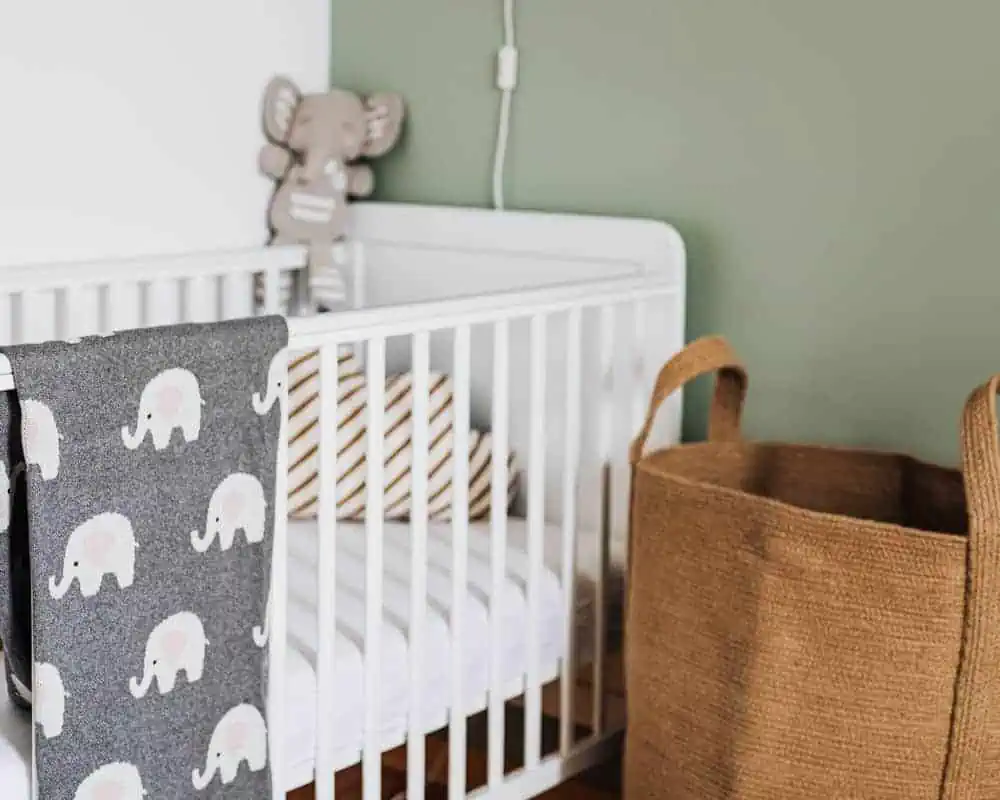 If you don't want to spend money on buying a hanging hamper, you can still use a normal hamper and place it near the changing table. Or if you have time, you can make one on your own. All you need is a few materials and a little creativity!
Related read: BABY CLOTHES ORGANIZATION IDEAS
Take advantage of the wall space
You can also win some extra space with changing table organization if you take advantage of the wall space. Just install some hooks in the wall above your changing pad, and you can hang a diaper bag or laundry sack on the hook. Just make sure they're up high enough and are safely installed.
If you are really out of storage space on your changing table, you can add some shelves above the changing table as well. It's a great way to store additional baby products.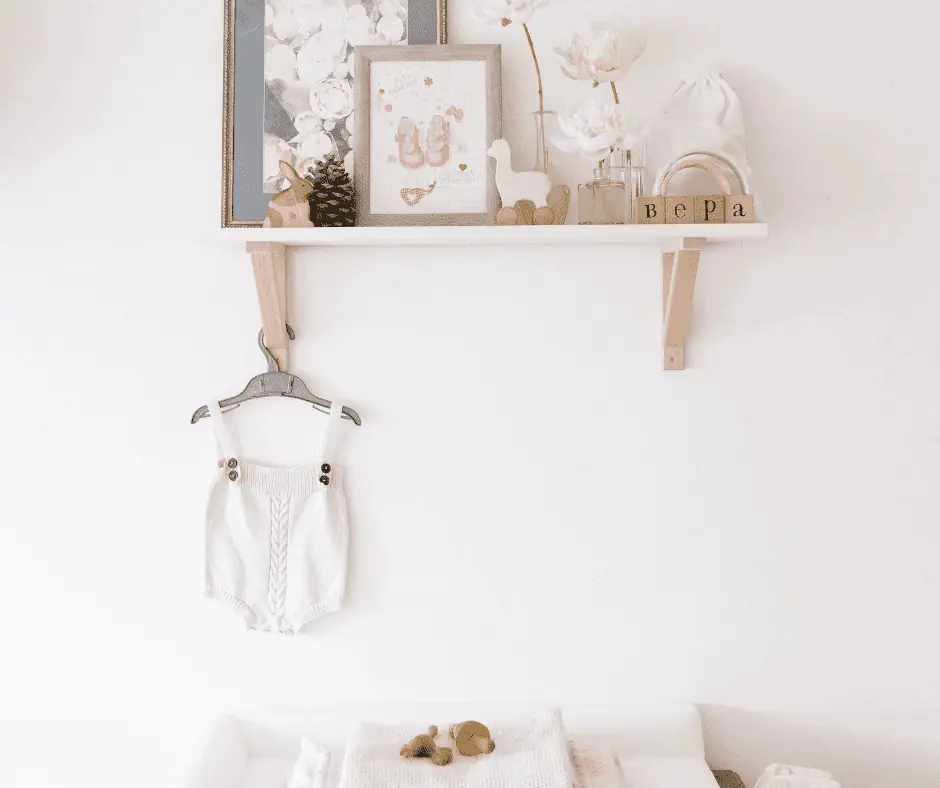 Related read: How to Keep the House Clean with Little Kids
Reuse baby wipes containers
If you like to recycle, I have good news for you. Baby wipes containers can be reused in many ways. First, decorate them, then use them to store tiny baby items such as socks, hairbrushes, creams, and nail clippers. You can place these containers on the changing table, on its shelves, or in a drawer too.
Related read: Finding Balance as a New Mom
Make a diaper station cart
One of the best changing table organizer ideas is making a diaper station cart or easily moveable diaper caddy. Don't worry, it is not as complicated as you may think. If you have a utility cart at home, you can use that one or you can also buy a new cart. Either way, get a few baskets, fill them with baby products and a moveable changing pad or mat, then place them on the shelves of the utility cart. And your diaper station cart is ready!
So much handier than a stationary spot!
What I love about this hack is that you can freely roll this changing station in the house or pick it your caddy and move it to where you need it throughout the house too. That way, your essentials will always be on hand. No need for a diaper pail or special dresser with this option either, as you can throw your diaper in a larger trash and take them out daily to keep them from getting stinky.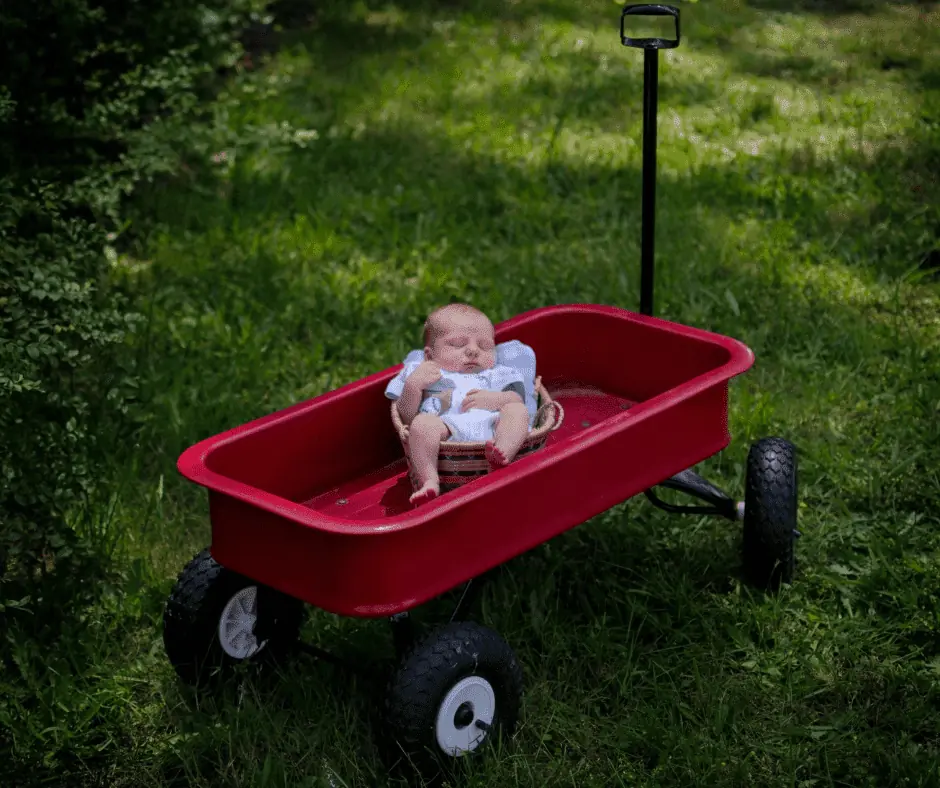 Related read: 10 QUESTIONS YOU SHOULD ALWAYS ASK WHEN SHOPPING FOR BABY PRODUCTS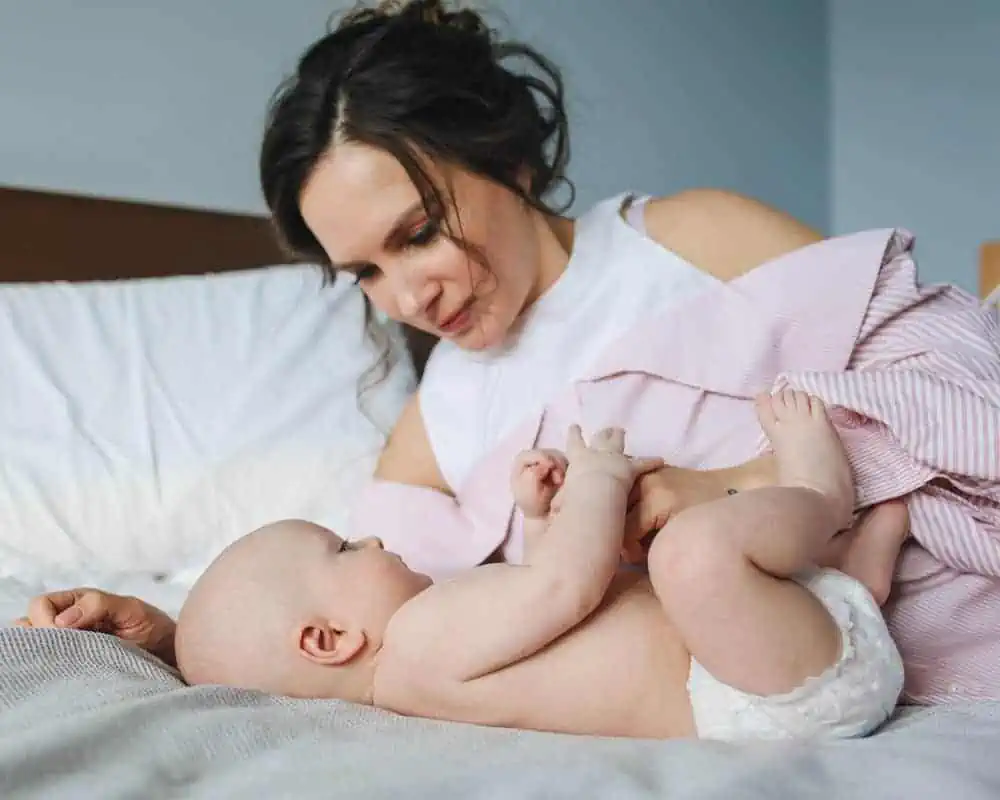 Small Steps to Feeling More Organized
Hopefully, by now you are motivated enough to maximize the storage potential of your changing table and nursery, and you will try out a few from these amazing changing table organization ideas. And remember, even a little bit of effort and small changes can make a huge difference when it comes to organization of your baby's essentials!
What do you think?
What are your favorite changing table organization ideas? How do you keep an organized changing table? Did we include everything you need to organize this space? Will you be adding any items to your baby shower list?