11 Best Breastfeeding Recliners and Chairs: A Comprehensive Guide
This post may contain affiliate links. As an Amazon Associate, I earn from qualifying purchases.
Nursing a baby can be one of the most rewarding experiences of a mother's life. It is also one of the most tiring. That is why it is important to have a comfortable place to nurse your child. A good breastfeeding recliner can provide you with the comfort and support you need to make this process easier.
In this comprehensive guide, we will review some of the best breastfeeding recliners and rocking chairs on the market. We will also discuss the benefits of using a high-quality chair for nursing and give you some tips on how to choose the perfect one for your needs!
Top 11 Best Recliners for Breastfeeding (and Chairs!)
There are a lot of different choices when it comes to a nursing chair. These include rocking chairs, nursery gliders, and swivel glider recliners.
1. Best Rocking Chair: Mid-Century Padded Rocking Chair
The sleek design and affordable price (under $300) make this our top pick!
Here are the top specs for this awesome breastfeeding chair:
A fun pop of color for any baby nursery (also available in beautiful neutral colors to fit your baby's nursery theme)
Get a $10 discount and free shipping!
Soft velvety fabric
A great look for any room
Side pockets to hold your water (staying hydrated is important), phone, or a book while you're snuggled in
Sturdy construction and support
Smooth rocking motion to help babies fall asleep for nighttime or naptime
Get the Bestselling Nursery Rocker HERE
2. Best Rocker/Nursery Glider Combo: DaVinci Piper Recliner and Swivel Glider
This reclining glider is the best of both worlds with all the options you could want. These include the ability to recline, rock, swivel- or all three at once!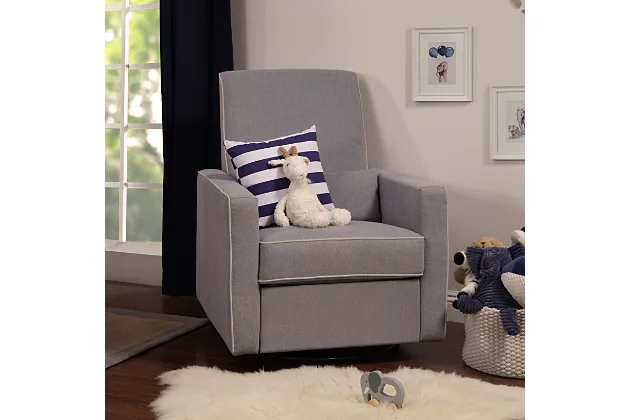 Why this Nursery Glider is Rocker is Awesome:
Fun yet simple design for a nursery
Smooth gliding motion to help baby relax (and you!)
Easy-to-use reclining mechanism
A multi-functional glider that looks great in any room in the house (perfect if you have multiple children)
Get Your Nursery Glider/Rocking Chair Combo Here
3. Best Modern Glider: DaVinci Olive Upholstered Swivel Glider Nursing Chair with Bonus Ottoman
Simply one of the best nursery gliders on the market (just check out the reviews!). Plus, it comes with a cute matching ottoman.
All the Awesome Details:
Eco-friendly sourcing
360-degree swivel motion
Smooth gliding mechanism
Free of toxic flame retardant chemicals (green guard certified)
Bonus ottoman for getting extra comfortable
Build-in lumbar pillow and neck support for maximal comfort
Padded arms (that means fewer instances of a numb arm while nursing)
Get Your Nursery Glider Here from Ashley Furniture
4. Best Classic Nursery Glider with Ottoman: Storkcraft Premium Hoop Glider and Ottoman
These traditional rocking chairs are the most trusted (and tested) nursing chairs on the market. And there's a reason they're still around and always a top pick.
All the Specs of this Favorite:
Solid hardwood frame
A classic look for your baby's room
Side storage pockets
Keeps you in a comfortable upright position
Easy to clean with stain-resistant fabric on the entire chair
A favorite among nursing mothers for a consistent relaxing motion!
5. Best Budget-Friendly Nursery Recliner: JUMMICO Recliner Chair
Who says staying on a budget means you can't get everything you want out of a nursery chair? By far, this is the best nursing chair for your bucks- and it even looks like it's straight out of a pottery barn catalog.
The perks of this recliner include:
Modern design
Just over $100
Easily pushed to a reclining position for late-night feedings
Modern colors to match any room or nursery theme
Multi-functional use (meaning you can keep using it after the baby is weaned!)
6. Best Baby Glider for the Outdoors: Harlie & Stone Outdoor Swivel Rocker Patio Chairs Set of 2 and Matching Side Table
When the weather is nice, it's great to be able to sit outside and enjoy the fresh air while feeding your little one. Plus, if you have other kids you can sit out and watch them while the baby is nursing.
Getting all the perks from this set:
Comfy cushions on a sturdy wicker frame
360-degree swivel motion + rocking
Bonus side table for your water, phone, snacks, etc.
This glider recliner chair makes breastfeeding outside easy
Since it comes with two- you can invite a friend or family member to join you for some fresh air!
A beautiful addition to your porch, patio, or any other outdoor space
7. Best Breastfeeding Chair for Camping or On the Go: GCI Outdoor Freestyle Rocker Portable Folding Rocking Chair
Do any other moms want to be comfortable no matter where they're nursing? Concerts, picnics, camping… you name it. Bring your rocker and support with you in this easy-to-tote chair.
The Benefits of a Portable Rocking Chair
Lightweight
Easy to take anywhere and set up quickly
Great for nursing on the go or in small spaces
Folds up easily to store or take with you on the go- just throw it in the back of your car!
Rocker design is soothing for both baby and mama
Get Your Rocking Camp Chair for Nursing Here
8. Favorite New Find: Ready Rocker Portable Rocking Chair
Yes, you read that right. A portable chair for the bed, dinner table, floor… anywhere! Great for small homes or travel. Reduce strain on your own body when the baby wants to be held and rocked (which is often!) If you don't want to designate a nursery room chair, this is an excellent option.
Why this our new favorite!
Innovative design
Rock your baby literally anywhere
Small and lightweight
Foldable for easy storage or travel
The perfect "nursing" chair for small homes or apartments
Can be used as a feeding chair, rocking chair, or floor seat
Portable so you can take it with you wherever you go
Easy to set up- takes less than a minute!
9. All the Bells and Whistles: AVAWING Electric Massage Recliner Chair
This chair has all the things you need, and all the things you didn't even know you need- while still looking like a beautiful modern rocker chair for your baby's nursery.
Here is what it includes:
Relaxing massage
Soothing heat
Rocker to relax baby
Easy reclining
Modern sleek style for baby's room
Affordable at under $500
10. Non-rocker Option: Ikea Poang Chair for Bouncing
This is my personal favorite that lives in our living room for feeding during the day while my toddler is running around. It's super comfortable and supports my spine. Plus, it still allows a little bounce when you're sitting too.
Best features of this chair include:
Sleek design
Affordable (ranging from $150-250)
Can be utilized in any room in the house
Great for nursery seating
Variety of colors to choose from
Excellent lumbar support
Soothing bouncing motion
Option to get a matching ottoman
Check out your Ikea options HERE
11. Splurge Worthy: Real Relax 2022 Massage Chair of Dual-core S Track Recliner
Who says you can't have your cake and eat it too? If you're looking for a chair and want to splurge, this zero gravity chair is for you. Imagine how the massage and heat will feel on your postpartum and sleep-deprived body. Ahh…. That's one serious form of self-care mama!
Why not get a massage why you're breastfeeding? It might be difficult at first with a newborn, but after that, I foresee I'd never want to get out 🙂
Here's all the fun details:
Full body massage
Full recline
Heat and vibration
Voice-activated
Soothing music
Comes with a footrest and calf massager
All I have to say is- ooh la la!
Why You Need a Breastfeeding Recliner
You may be thinking, do I really need a special chair to breastfeed? The answer is maybe not, but it can certainly make your life a lot easier.
If you plan on breastfeeding for any length of time, chances are you'll be spending a fair amount of time in a chair nursing your baby. A good recliner will help you to be more comfortable, which means you'll be able to relax and nurse your baby for longer.
Multitasking Mama Superpowers with a Breastfeeding Chair
Not only that, but a breastfeeding recliner can also come in handy if you have other children. Many models include a tray or ottoman that can hold snacks or drinks, so you can keep them close by while you nurse. This can be a real lifesaver if you have more than one child!
Feeling Your Best as a Nursing Mom
Finally, many breastfeeding recliners come with built-in support in all the right places (think thick cushion and sturdy frame), which can make it easier to get your baby into the right position for breastfeeding without hunching over and hurting yourself. Just what you need to get through all those feeding sessions!
So, if you're looking for a little bit of extra comfort and convenience while you nurse your baby, a breastfeeding recliner is definitely the way to go. And one of our picks listed above is sure to be the right one for you!
Tips for Comfortable Nursing- Avoiding the Aches and Pains
Whether you're using a breastfeeding recliner or not, there are a few things you can do to make your nursing experience more comfortable.
First, be sure to use plenty of pillows to support your back, neck, and arms. This will help you to avoid any aches and pains that can come from nursing in one position for too long.
Second, take breaks often to move around and stretch. Even if you're comfortable in your chair, it's important to get up and move every once in a while. This will help to keep your body from getting stiff and sore.
Finally, make sure you're drinking plenty of water. Nursing can be dehydrating, so it's important to drink plenty of fluids to stay hydrated.
Related read: Breastfeeding Tips and Troubleshooting
Quick Tips for Boosting Your Milk Supply
If you're struggling with a low milk supply, or simply just getting started with a brand new baby, there are a few things you can do to try to increase it.
First, make sure you're nursing frequently and on-demand. The more often your baby nurses, the more milk your body will produce.
Second, pump after nursing sessions to help empty your breasts and signal your body to produce more milk. (Talk to your doctor or consultant first).
Third, drink plenty of water and eat a healthy diet. This will help to ensure that your body has the nutrients it needs to produce milk. Try foods like oatmeal, salmon, and yogurt for an extra boost.
Fourth, consider using a lactation supplement or herbal remedy to help increase your milk supply. There are many options available on the market, so do your research and find one that works best for you.
Breastfeeding can be hard mama- so get the support you need! For many mamas, it gets significantly easier over time. Having literal support from a good chair and social support from your friends and family is essential for a positive breastfeeding journey.
How to Choose the Best Breastfeeding Chair for You
When it comes to choosing a breastfeeding chair, there are a few things you'll want to keep in mind.
First, consider the size of the chair. You'll want something big enough to fit both you and your baby comfortably. You may also want to double-check the maximum weight capacity if that is a concern too.
Second, think about how often you plan on using the chair. If you're only going to be using it occasionally, you may not need a high-end model with all the bells and whistles. On the other hand, if you plan on using it every day, you'll want to invest in something that's built for comfort.
Finally, consider your budget. breastfeeding chairs come in a variety of price ranges, so you should be able to find something that fits your needs without breaking the bank.
Additionally, you can consider the versatility of the chair too so that it's useful after your baby is done nursing too.
Once you've considered all of these factors, you'll be well on your way to finding the perfect breastfeeding chair for you!
Related read: Tips About Breastfeeding: A Full Guide
Conclusion
We hope this guide has helped you to find the perfect breastfeeding chair for your needs! Breastfeeding is a wonderful experience, and having the right chair can make it even better. Thanks for reading!
What's your favorite breastfeeding recliner or chair? Let us know in the comments below!