Mommy Bra Buying Guide: The Best Sports Bras for Breastfeeding Moms
This post may contain affiliate links. As an Amazon Associate, I earn from qualifying purchases.
When you become a mom, one of the most important things you'll need to purchase is a good nursing bra. A nursing-friendly sports bra is perfect for those times when you're working out or just running errands (or any other time!). The great thing about these bras is that they offer plenty of support and are comfortable enough to wear all day long- or even sleep in!
In this blog post, we will discuss some of the best sports bras for breastfeeding moms.
Choosing the Best Nursing Friendly Sports Bra for You
There are plenty of different nursing-friendly sports bras on the market these days, so it can be tough to decide which one is right for you. That's why we've put together a list of our top six favorites! Let's dive right in.
Top 6 Nursing Sports Bras: A Quick Review
Related read: The Best Nipple Cream for Breastfeeding
Best Overall Sports Bra for Nursing for Low Impact and All Day Wear: The Suzie Element by Avyn
This fan-favorite Suzie Element Nursing Bra comes with easily adjustable straps and top-notch elastics. Available in colors: Dark and Stormy (blackish) and Rosewood (pinkish).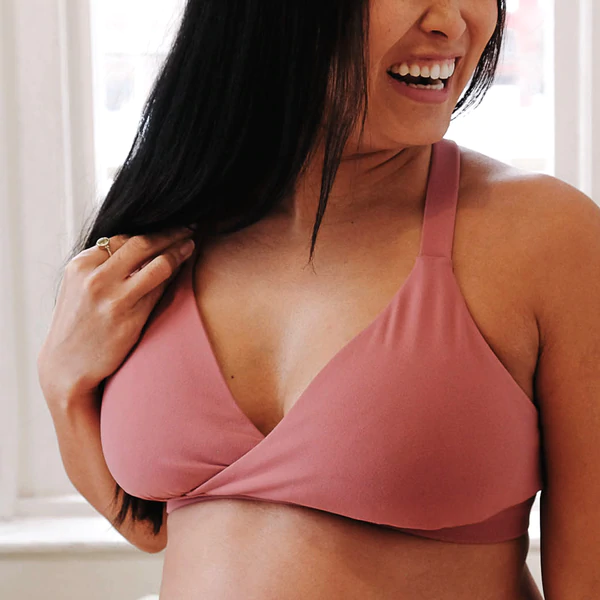 Here are all the reasons this is the top Mom Blog Life pick!
Convenient breastfeeding accessibility: The pull-aside design for the mother who doesn't want to be bothered with clips.
All-day wear. This bra is perfect for low to medium pact exercise (think yoga, walking, weights, etc.), running errands, and everything in between.
Get your mojo back: Your ever-changing breast size is held in place by breathable mesh and amazingly stretchy yet support fabric. This allows you to get moving comfortably- an important part of mommy self-care!
Feel sexy. Breastfeeding is beautiful! Our bra provides great shape to your breasts without feeling frumpy or unsupported and out of control.
Smart straps. Not only is this bra fully adjustable, but it's also made to adjust to your body temps for a perfect fit.
Silky smooth: The fabric has a smooth, buttery feel to it on both baby's cheeks and mama's sore nipples. It's wonderful.
Removable nursing pads: A high-quality pad that's perforated for greater ventilation. Soft, flexible, and lightweight with perforations for enhanced breathing comfort. Plus, ladies who don't want to wear pads can remove them.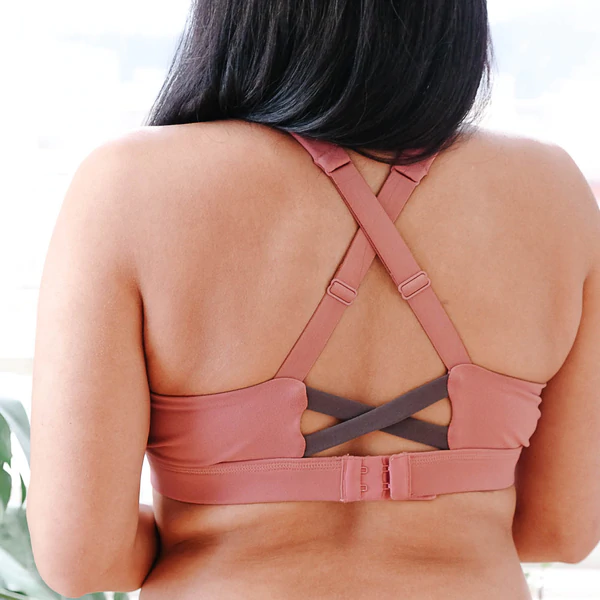 With this bra, there are seriously no caveats to discuss. It's just a great bra for nursing mothers!
Get Your Ultra Comfy Suzie Element Bra HERE
Best Sports Bra for Active Moms/High Impact Exercise: Cordaw Front Zip Sports Bra
Okay, mamas, I have a confession to make. It was HARD to find any bra that provides the right support for running, jumping, and other higher impact moves. Is there such thing as a high-impact sports bra for nursing moms? I'm not so sure!
As a smaller chested nursing mom, I can get away with running in any relatively supportive bra. However, I know this is not the case for many (most?) nursing women. Here is the best solution I've found after a TON of research.
Finding an Ultra-supportive Nursing Bra: A Unicorn?
First, consider simply purchasing a normal sports bra that you love for its support. Wear it when you plan to hit a workout hard and then change into something with a little easier access. OR try this option- it still makes your boobs easy to access. However, I can imagine it will be a major pain to use in public (to unzip and rezip with one hand discreetly, etc.).
I wanted to give you the choice and the specs and let you decide what works for you as an active mom!
Easy to put on and remove. Important when you're sweaty and have a hungry baby waiting!
Zipper locks. These keep the zipper in place to prevent unintentional exposure while getting your sweat on.
Fun strappy back design. Designed for ultra support and fashion.
Wide supportive shoulder straps. To maximize support and reduce strain on the neck and shoulders.
Moisture-wicking fabric. To keep you comfortable and dry while working out.
Soft fabric. Prevent chafing of sensitive areas, like your nipples!
Removable pads. Prevent leakage with the pads, or remove them if you prefer a less bulky feel.
Great for medium high impact workouts. Whether you want to run, jump, or do yoga, this bra will be your new go-to accessory for medium support and beyond.
Find the size you need. From XS up to 3XL, most women can find a fit that works for them.
Favorite feature. Reduce friction on sensitive nipples. Easy to get on and off when you're sore and tired.
Is there anything more vexing than attempting to get out of a sweaty sports bra (even a regular bra) after completing a hard workout? Especially when you have a hungry baby waiting! A handy zipper right between the breasts makes life easier. Plus, it's way comfier than underwire bras for support!
Best Sport Medium Impact: Go with the Flow Nursing Sports Bra
This bra is perfect for medium-impact sports like cycling, hiking, and walking. It's also great for everyday wear when you don't need the extra support of a high-impact sports bra. This nursing bra is a racerback with easy access hooks and a supportive back style. Plus, this bra is awesome for both pregnancy and post-nursing use too.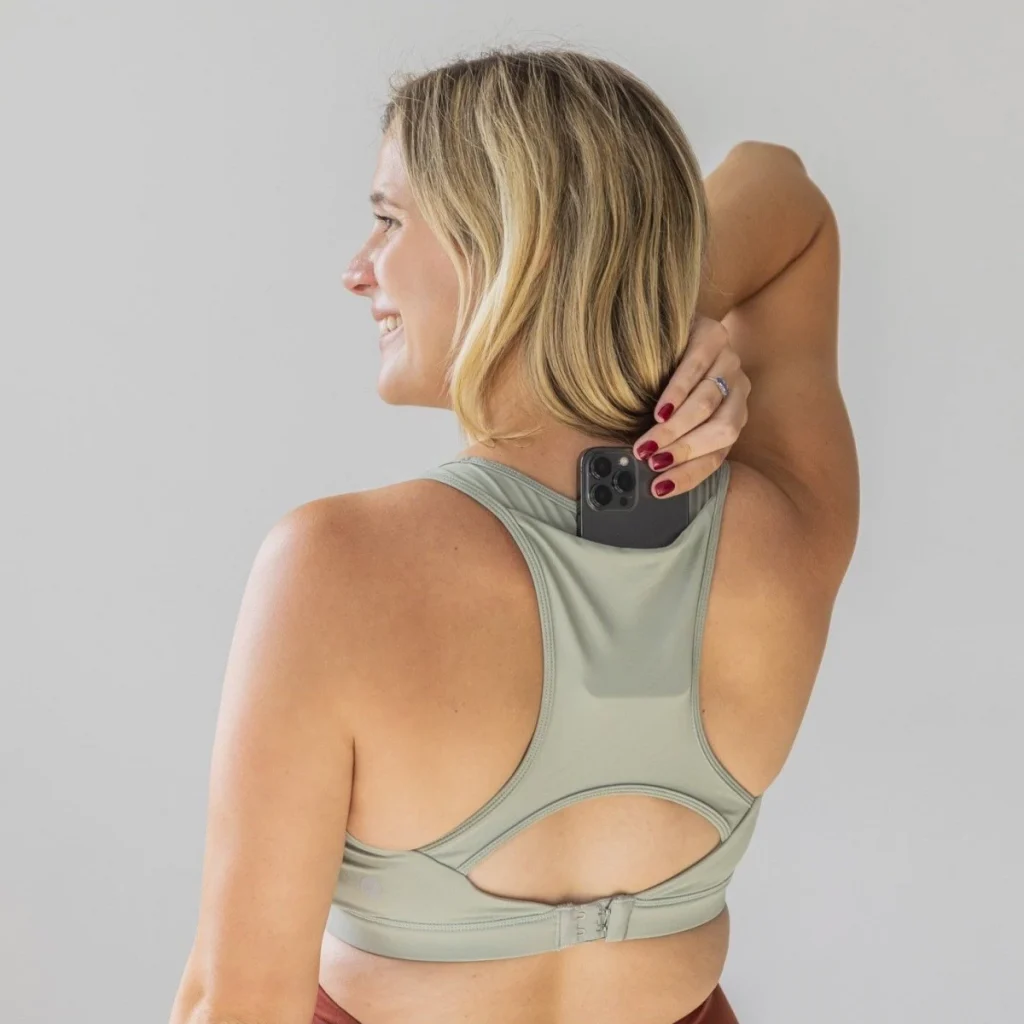 Top Product Details for this Awesome Nursing Sports Bra:
Buttery soft, stretchy, and sweat-wicking fabric, making it comfortable to wear while you work up a sweat.
This nursing sports bra features removable pads for extra leakage protection. Plus, they're removable if you want that too!
Perfect for medium-impact sports and daily wear
Easy one-hand nursing access
A large pocket on the back (big enough for a phone)- a handy storage spot when you're out and about without an extra hand!
No tags and smooth seam design to keep your skin happy
Flexible enough for changing breast size and bodies
One mom even reports using her Elvie breast pump with it for hands-free pumping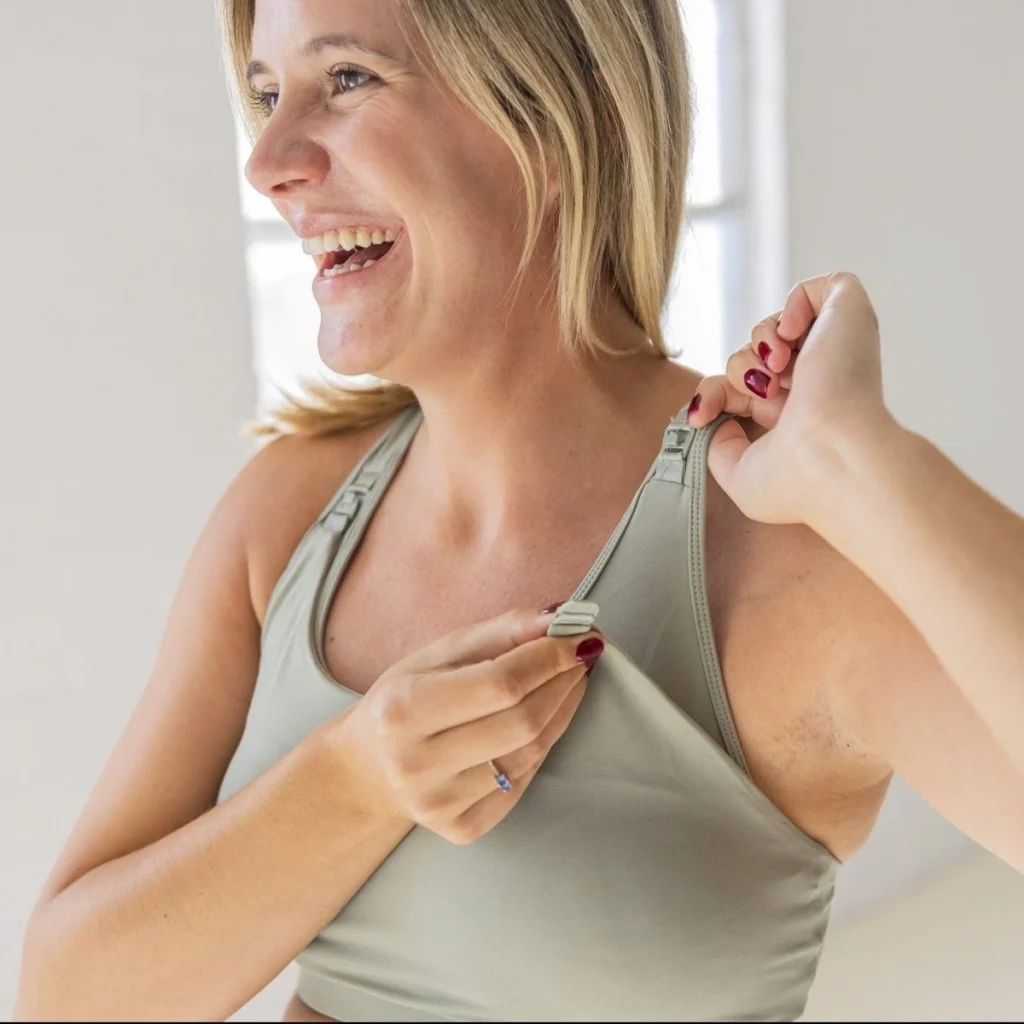 From cross-fit to the bank, without missing a beat for feedings! The only downside is that it doesn't have adjustable shoulder straps. However, overall this bra is a fan favorite for so many awesome reasons.
Get the Go with the Flow Sports Bra HERE
Best Budget Sports Bra for Nursing: Gratlin Racerback Nursing Sports Bra
This bestseller nursing sports bra is a great fit for moms of all sizes. Plus, it comes in at a steal of a deal! Great for everyday wear and low-impact exercise. Some women with smaller breasts even reported enough support for jumping or running.
All the Features:
A racerback wireless nursing sports bra
Wirefree but supportive, yet not so tight to cause clogged ducts.
Perfect for lower impact activities and daily movements like yoga, walking, pilates, barre, hiking, jogging, or cardio.
Sweat-wicking material to keep you dry and comfortable.
Easy to use nursing clips (hook and eye) for quick one-hand access anytime.
Full coverage
Built-in padding to prevent leaking through to your shirt
This low-impact sports bra comes in a variety of colors and sizes- perfect for every mom (new mom or seasoned mom) on any budget.
Get the Gratlin Racerback HERE
Best Sports Bra for Maternity and Nursing: Kindred Bravely Crossover Nursing Bra
This is my all-time favorite bra for its comfort and versatility. I got it when I was pregnant for nursing, and started wearing it in my third trimester because it was so comfy and easily fit my growing breasts.
No wonder it's a bestseller! You can get a high-quality crossover bra with a well-known, trusted brand like Kindred Bravely or at a store like Target.
Why the Crossover is One of the Best Maternity Sports Bras
Whether you're pregnant, nursing, or not pregnant at all, this is the best bra! It's also a great yoga, travel, and post-surgical bra.
Comfort no matter where you are- sleep, nighttime feedings, daily wear, exercise- great for all! For my small breasts, a tight-fitting size even worked for medium-impact exercise.
Easy access with no clips to fumble around with before nursing sessions.
The soft flexible design allows for comfort with fluctuating breast size.
A variety of options for all cup sizes
A great maternity nursing bra, an excellent nursing bra for a new mom, a good nursing sports bra for smaller chested women, and everything in between. It's very affordable too and I highly recommend it from Kindred Bravely or any reputable company!
Kindred Bravely makes the list again for the best sports bra for nursing when you have larger breasts. This bra is designed for excellent support (low impact and daily wear) for larger chested women. I know they're hard to find so this is a blessing for many moms!
Why it is the best sports bra for breastfeeding with larger breasts
Make just for bigger breasts (a fan-favorite!)- F cup and above!
This nursing bra has expanded fabric in the cups for greater coverage and is designed for women with bigger breasts.
Designed with wider adjustable shoulder straps for better weight distribution and less upper body strain
Perfect for active moms always on the go, yet comfortable enough for those days at home too.
Moisture-wicking fabric
A beautiful design with maximal function.
Removable padding for complete versatility.
The Kindred Bravely Sublime Busty Nursing Bra is a great choice for larger-busted women looking for a good nursing sports bra. It offers great support, is comfortable for everyday wear, and comes in a variety of colors.
Get Your Busy Nursing Bra HERE
Benefits of a Nursing Friendly Breastfeeding Sports Bra
There are plenty of benefits that come along with wearing a nursing-friendly breastfeeding sports bra versus normal nursing bras. For starters, they offer a ton of support. This is especially important if you plan on working out or doing any type of physical activity while wearing them. They're also comfortable enough to wear all day long, which is another huge plus. And last but not least, they make it easy to breastfeed your little one when needed.
I vividly remember my first daughter always deciding she was hungry for milk when I was in the middle of a home workout. Without proper breast access, it would feel awkward to pull my bra up to give her a quick nursing session before continuing my workout! Plus, sometimes the pressure of a normal bra band would hurt my boobs if it was morning time and they were pretty full!
For other breastfeeding tips, see our full guide! Plus, see our recommendations for other great products: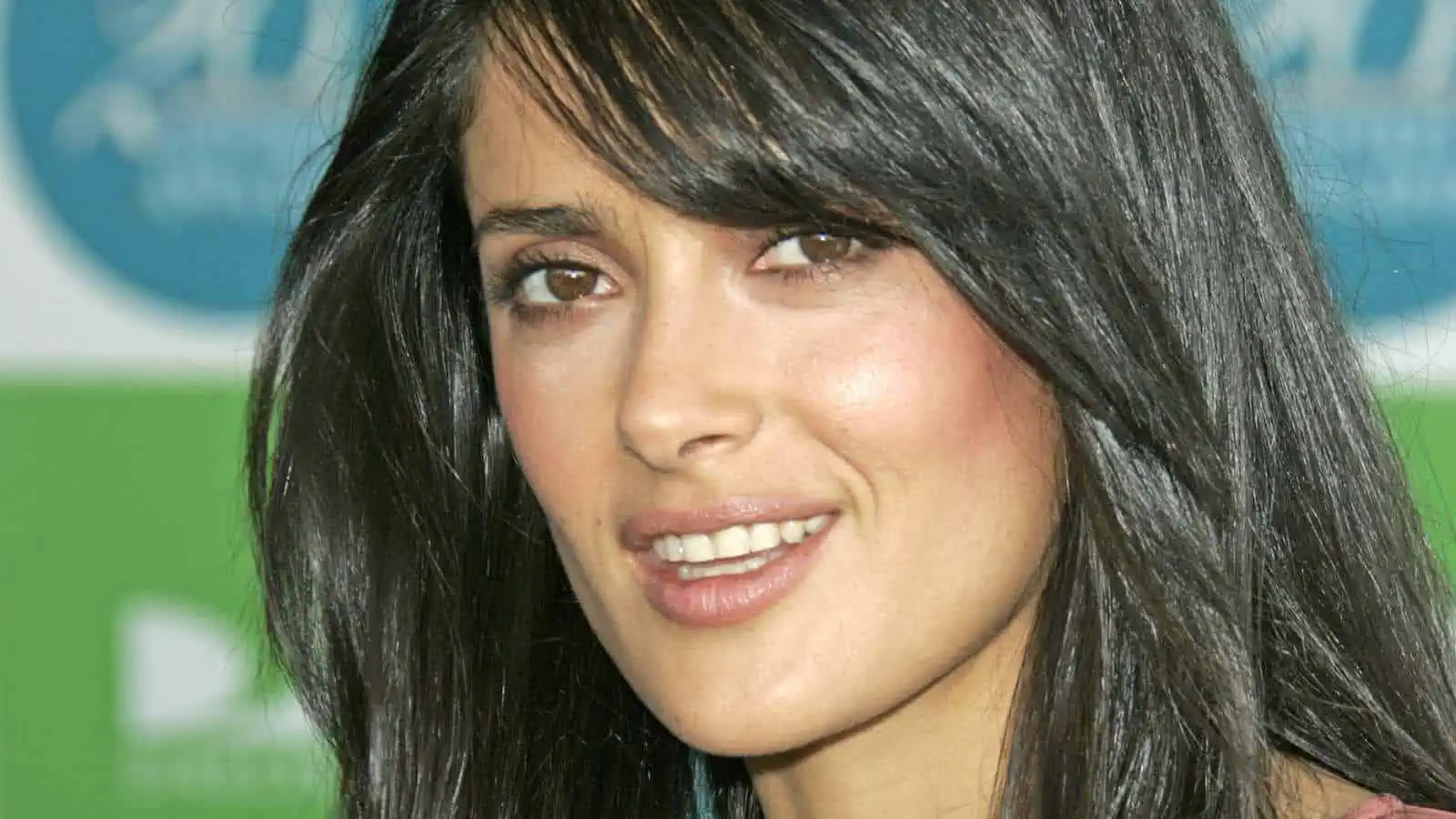 How to Choose the Right Bra for You
When looking for a nursing sports bra, it's important to keep your personal needs in mind. For example, if you're looking for something that will offer a lot of support, then you'll want to steer clear of bras that are designed for low-impact activities. And if you're looking for something that's comfortable to wear all day long, then you'll want to avoid bras with a lot of extra padding or wires.
It can be tricky to find the perfect nursing sports bra, but with a little bit of research, you're sure to find one that's just right for you. And if you're not sure where to start, the bras listed in this post are a great place to start!
So, what are you waiting for? Start shopping for the perfect nursing sports bra today! Or choose a few different options to go with your varying days, moods, and sizing! You'll be glad you did.
What are your favorite nursing sports bras? Comment below and let us know!