Best Water Bottle for Breastfeeding: Top 5 to Keep Mama Hydrated!
This post may contain affiliate links. As an Amazon Associate, I earn from qualifying purchases.
Mama, did you know that staying hydrated is especially important when breastfeeding? Not only does drinking enough fluids help keep your milk supply up, but it's also essential for your own health. I always feel like I'm drinking all day long and still barely keep up! Can any other breastfeeding mamas relate?
A good water bottle is a must-have for any breastfeeding mom. In this blog post, we will discuss some of the best water bottles for breastfeeding and why they make such a great choice. We'll also provide some simple tips for making sure you stay on top of your water intake!
Best Water Bottle for Breastfeeding
Concerned about your little one's baby bottle? What about your bottle?! It's also vital for keeping you hydrated! And a nursing water bottle by your side can help.
And the winner for best breastfeeding water bottle is….!
1. Venture Pal 32 Oz Motivational Water Bottle for Breastfeeding Moms
Straw + Tracker + Motivational Quote = A Winner!
Top reasons this bottle is the best:
Straws are a must-have for breastfeeding moms that now will be doing everything with one hand (seriously though).
A tracker is such as simple way to make sure you're getting enough daily hydration.
Motivational words makes drinking water more fun and reminds you why you're doing it in the first place!
Pick from a handy handle, tons of cute colors, a straw or open mouth, 32 or 64 oz (for a breastfeeding mom- more is usually better!)
What I don't like:
Although it's BPA free, it is still a plastic bottle (although it can save lots of disposable plastic water bottles bottles if that's usually your go to!)
The Close Seconds
2. A Simple Modern Tumbler
For moms that don't like lugging around a water bottle, this cup is easily accessible with a straw and keeps your water cold for hours
Perfect for moms on the go. Take this cup with you in the car, on a walk, or wandering around the house to stay hydrated.
3. The Tried and True Thermoflask
This highly reviewed stainless steel water bottle is an easy choice. It comes with both a straw and screw-on lid option. At 24 ounces, you will only need to refill it a few times throughout the day. Plus, it's perfect for summer to keep your drink cold and refreshing.
4. Classic Wide Mouth Bottle with a Straw: The Hydroflask
This water bottle is perfect for those that want cold water on the go (and lots of it) but don't necessarily need a tumbler. It comes with a screw-on top and a straw.
5. Best Glass Bottle: The Mama Bottle
This easy-to-clean sleek design with a silicone sleeve was designed specifically for moms (during pregnancy, as a new mom, and while breastfeeding). It's easy to tote around, super cute, and makes it easy for you to track how much water you are drinking every day! And it's even dishwasher safe for busy moms.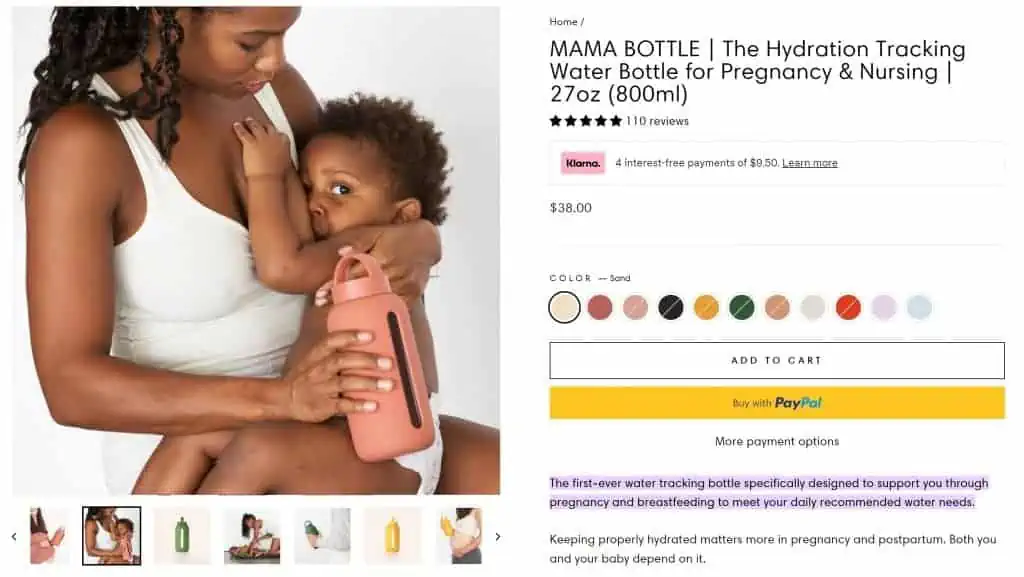 Glass bottles are always a win since they preserve the taste of the water and reduce the risk of exposure to toxic plastics. Plus, they're generally considered more eco-friendly as well.
Why Hydration is SO Important During Breastfeeding
It's no secret that breastfeeding is a demanding job. Not only do you have to feed your little one, but you also have to make sure you're taking care of yourself. Drinking plenty of water is crucial during this time, as dehydration can cause problems for both mom and baby.
Here are just a few reasons why hydration is so important while breastfeeding:
Dehydration can lead to a decrease in milk production. If you think you are experiencing a reduction in milk supply, it's best to talk to a lactation consultant!
It can cause headaches, dizziness, and fatigue.
It can make you more susceptible to illness.
It can cause difficulty concentrating and memory problems.
As you can see, it's important to make sure you're drinking enough water! Don't forget to nourish your body with breastfeeding snacks and self-care too!
Here are a few tips for staying hydrated:
Drink a glass of water with every meal.
Drink a large glass of water when you wake up in the morning. (Some recommendations are for before bed-but I prefer not to pee in the middle of the night!)
Carry a water bottle with you wherever you go.
Sip on fluids throughout the day (not just plain water-you can mix it up with herbal tea, seltzer water, lemon water, and juices- they all count!)
How Much Water Does a Breastfeeding Mom Need Per Day?
The recommended amount of water for breastfeeding mothers is about sixteen glasses per day (yes, that's twice the normal recommendation!). However, you may need more or less depending on your individual situation. If you're feeling especially thirsty, or if you're experiencing any of the symptoms listed above, then it's a good idea to drink up!
Remember, you're hydrating both your breastfed baby and yourself!
Get Your Water Bottle and Start Drinking!
There you have it, mamas! The best water bottles for breastfeeding to keep you hydrated and your breast milk flowing. 🙂 Hydration is important for both mom and baby, so make sure you're drinking plenty of fluids throughout the day. Thanks for reading!
Do you have any tips for staying hydrated? Share them in the comments below!