10 Self-Care Tips for Breastfeeding Mamas
This post may contain affiliate links. As an Amazon Associate, I earn from qualifying purchases.
This is a guest post by Jada Glover from LactationMamas.com. In this post, she shares 10 ways to practice some self-care while breastfeeding – something all new moms need help with!
Childbirth is an amazing and magical experience, and there is nothing else like it.
Sometimes though, mothers aren't prepared for the cluster feeding and ongoing attention newborns require.
Your friends and family may warn you, but until you're living it, sometimes you underestimate how much time it takes to care for an infant.
This is why self-care is so important as a new breastfeeding mother.
Nourished mothers are better able to take care of their babies and families according to research.
Nourishment takes on many forms as a new mother.
These self-care tips are sure to help you as a new breastfeeding mama.
RELATED READ: Self-Care Tips for Busy Moms
How To Take Care of Yourself While Breastfeeding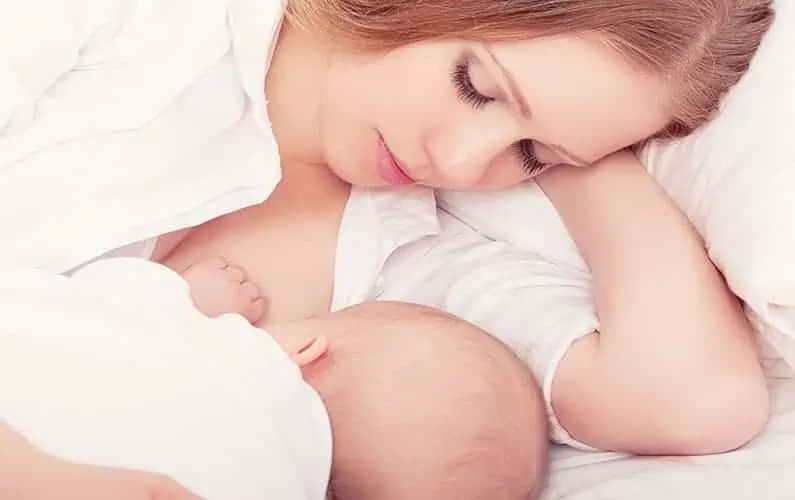 1) USE YOUR SUPPORT SYSTEM
Don't be afraid to ask your partner for help.
Your support can help you change your baby's diaper, hold the baby skin-to-skin after a feeding, give the baby a bath, or bring you water and a snack when you're nursing.
Sometimes you have to advocate for yourself and remind people you just had a baby.
Take it easy and let them do the heavy lifting for you- from grocery shopping to cleaning your home.
This is their time to shine and be your strongest support system.
2) TAKE A HOT SHOWER
The first shower after giving birth may be the best shower ever.
The weeks following your baby's birth may be difficult to fit in a shower.
Try to take one when you can, and don't feel guilty when you can't.
It will make you feel like a new person though.
RELATED READ: Self-Care Ideas That Will Make You a Better Mom
3) NOURISH YOUR BODY WITH REAL FOODS
Nourished mothers are better able to take care of their families, and that includes eating whole foods full of nutrients.
Try not to focus so much on what will upset your baby's stomach as babies are new to the outside world and it takes a couple of months for their digestive tracts to adjust to life outside of the womb.
Baby's actually preferred flavored milk according to studies.
If you do suspect issues, you can reach out here to discuss your specific concerns and get support.
RELATED READ: Top 10 Foods to Increase Milk Supply
4) HYDRATE WITH WATER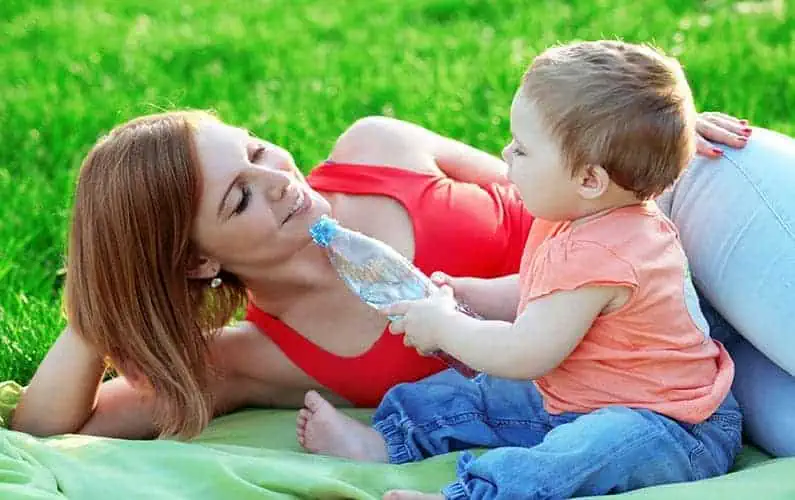 Your body requires ample water to perform each cellular function in your body, and that includes producing breast milk.
Be sure you utilize the rule of thumb, drink at least half your body weight in ounces each day.
Trust me, you'll feel thirsty when you're breastfeeding.
Make sure you have water nearby when your baby starts suckling or you'll be parched
RELATED READ: Self-Care Gift Ideas for New Moms
5) PAMPER YOURSELF
Set a monthly date with your partner or best buddy and go get yourself pampered with a manicure and a pedicure.
Go to the salon for a haircut.
Or, take your partner and go on a date night to the movies.
Doing little things like this occasionally will help cheer you up, especially if you've been at the house for 6 weeks soaking up your baby.
6) SOAK UP SOME VITAMIN D
Vitamin D is another important nutrient that your body needs for optimal cellular functioning.
Exposing your skin to about 15 minutes of sunlight without any sunscreen on will help your skin create Vitamin D for your body to absorb.
Proper amounts of this essential vitamin help with everything from regulating your mood to healing your body.
Related read: Best Breastfeeding Books
7) BEGIN A LIGHT EXERCISE ROUTINE
Wait until you're cleared by your doctor and slowly start incorporating light movement into your day.
Even walking outside for 10-15 minutes (or longer) can help boost your mood.
Fresh air will do wonders for you.
You can even take your baby for a slow stroll in the stroller.
Babies love to be outside.
If you have a fussy baby, make sure you try this for a few minutes.
It can really calm down a baby (and help improve your mood!).
RELATED READ: 3 Safe Postpartum Exercises for After Baby
8) PRAYER AND MEDITATION
Finding time to incorporate a 5-10 minute prayer and meditation routine into your day, even while your baby is breastfeeding, will offer calmness and peace in your life.
You can even incorporate deep breathing techniques to help with any moments of tension.
Sometimes people may visit you and your baby and you are left feeling overwhelmed by all the commotion.
This is totally normal.
A few minutes of prayer, deep breathing, and meditation can leave you feeling thankful and full of gratitude.
9) FIND YOUR TRIBE OR PEER SUPPORT GROUP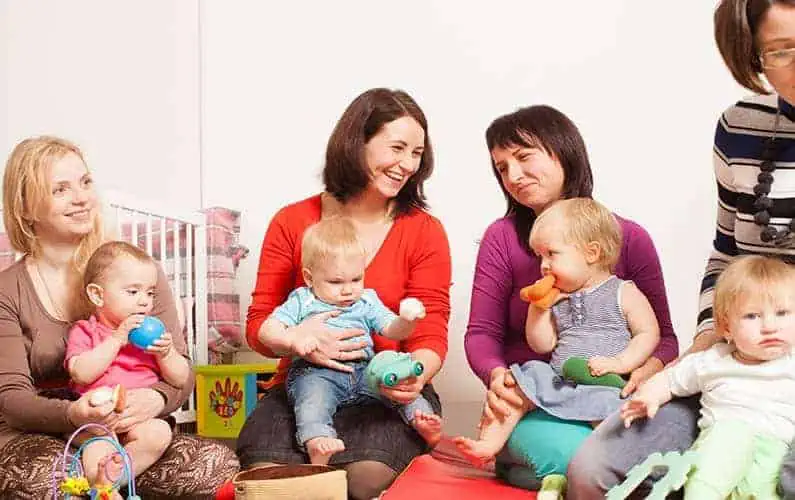 Finding the people that you can turn to after your baby is born is super important.
Sometimes you may feel alone because you may be breastfeeding a lot and everyone else is back to their normal routine.
Reach out, find other mamas in similar situations who may have just had a baby.
Look up support groups in your area.
Try to get out of your house, once you feel comfortable taking your baby out of the house.
Hospitals often have breastfeeding support groups, look up MeetUps in your area, and check where the nearest La Leche League group meets.
Sometimes the local libraries also have mom groups.
If you have older children, this is a great opportunity to let them play with other kids and you can babywear your newest little one.
Being around other people can brighten your mood and help you fellowship with mothers.
10) LISTEN TO MUSIC, YOUR FAVORITE PODCAST, OR READ A BOOK
Sometimes while you're breastfeeding, you may feel bored or feel tired of being stuck in one spot.
Try to do things you enjoy while you're nursing your baby.
Remember you won't get these precious moments back, so try to soak them up.
RELATED READ: Inspiring Breastfeeding Quotes
Sometimes as new mamas, we tend to forget that we need to take care of ourselves.
That's why these self-care tips for breastfeeding mothers are so important to remember in those times.
Remember that you need to take care of yourself well in order to best care for your new baby and family.