61 Easy Self Care Ideas For Moms Who Don't Have A Lot Of Time
This post may contain affiliate links. As an Amazon Associate, I earn from qualifying purchases.
There's a lot of talk about how important self-care is – and it is – but showing yourself self-love can be pretty overwhelming if you feel like you have no time to do it.
I get it – us moms are basically superheroes who put the needs of everyone else ahead of our own.
It's easy to think that's just the way it is or has to be but if you peel the onion back, you'll see that putting yourself first sometimes has huge benefits.
The first is that self-care affirms we are just as important as other things outside of our own lives. 
Then there are the other benefits of self-care – improved mental health, feeling happier, confidence, and generally less stress.
Reduced stress leads to more restful sleep (goodness knows we need that!) and better overall lifestyle choices (this could be another blog post so I'll leave this point short and sweet – you get the picture).
While there are so many benefits to practicing self-care, the short story is doing small things for yourself (and loving yourself!) adds up to big results.
Since you feel you don't have any time to practice small (or large) acts of self-care, I've broken the self-care ideas into manageable time blocks.
These are simple self-love ideas that take as little as 5 minutes of your time or up to an hour.
It's your choice.
Fit these ideas into your daily routine where you can.
There are no rules just that you SHOULD take the time at some point okay?
(No, it isn't selfish so don't even think that way!).
Pin these ideas so you can come back when you need to! 🙂
Self-Care Tips To Live By
There are a few basic self-care ideas that should be part of your everyday life.
(Basically, the following are self-care ideas disguised as lifestyle choices).
Think of the following as basic self-care that sets the foundation for treating yourself kindly.
You won't get everything perfect – that's not the expectation – it's more that you realize self-care is important and not selfish.
Basic self-care can be broken down into seven daily self-love activities:
1) EAT HEALTHY
Eating healthy foods tops the list for self-care.
When you fuel your body with high-energy foods you feel good.
Make sure to eat real food – fruits, veggies, whole grains, lean meats.
Processed food is low energy – it has little to no nutritional value and just drags you down – time to skip it!
(No, that doesn't mean you can't have a cheat meal, you just need to consciously choose healthy most of the time).
2) WATER, WATER, AND MORE WATER
I recently heard a meme or joke or whatever you want to call it that said water is the adult drink.
I chuckled but then realized there couldn't be a more true statement.
Water needs to be your drink of choice.
I won't go into every single detail as to why (I think you know) but I will say that you should carry a water bottle around with you to make sure you're drinking enough…water.
3) PUT DOWN THE PHONE
I get that its kind of ironic that I'm recommending you put your phone down and you're probably reading this…on your phone.
But taking social media and, really, a break altogether from your phone is refreshing.
It allows you to be present.
It allows you to stop comparing yourself.
In my own life, I set rules for when my phone gets to be with me.
If I'm hanging with my family, I put my phone in a different room to eliminate the need to check my phone all. the. time.
4) CREATE A SELF CARE SCHEDULE 
There is no prize for thinking (or saying) that you don't have time for self-care.
The easiest way to make self-care part of your life and routine is to create a schedule.
It doesn't matter what you put in the calendar, it's more about what makes you feel good.
Being consistent and following your schedule will lead you to the benefits self-care brings.
5) SAY NO
We've all heard that we should say no to things that don't make sense for us but do we put into practice?
Probably not.
Saying no is something I've been working on for about 2 years now. Yup, 2 whole years.
The power to say no and not feel like I'm letting someone else down has taken time to get my head around.
Here's a good rule of thumb to follow – if the invitation to something actually drains you as soon as you hear (or read) it, it's definitely time to say no.
Go from there, okay mama?
6) AVOID TOXIC PEOPLE
Closely related to saying no is avoiding toxic people who try to dominate your time without giving you much in return.
Do you have someone in your life who you're always trying to please?
Worried about their reaction?
Especially if you say no?
These are the people you need to remove or avoid.
7) SET MANAGEABLE GOALS
Having big goals is a good thing.
You should always be working toward something that makes you happy.
But if you're constantly overwhelmed by your goals it's better to break them up into more manageable steps.
You'll still do what you want but the process will be better on your mental health.
Now onto the self-care ideas for moms that go above and beyond the basic:
Self-Care Activities For Busy Moms
5 Minute Self- Care Ideas
Here are some self-care ideas for moms who really feel they don't have time.
READ A FICTION BOOK
I get it – you're likely a bit puzzled that reading a fiction book has made it into the 5 mintue self-care ideas section of this post.
While I know most people don't equate reading a book as a quick way to practice self-care you might be surprised to learn that you only need to read for 6 minutes a day to reap positive benefits.
According to Lifehack.org reading fiction releases tension and helps you relax.
So why not end your day doing something you love?
WRITE A JOURNAL
I use my journal as a tool to get things that are on my mind…out of my mind.
Basically, I'm organizing my brain.
And, it's wonderful – you should try it.
Recently, I came across this journal and I'll be picking it up once I'm done with my current one – listen, it might not be for everyone but I think we all need the advice – just sayin.
MEDITATE 
I first learned about meditation from Dr. Wayne Dyer (The Secrets of Manifesting).
Yes, I was skeptical until I committed to meditating for 5 minutes every day for one month.
All I'll say now is that I'm hooked so you should try it.
Need more reason?
Check out these benefits of manifesting:
✿ Less stress (who couldn't use that!)
✿ More mental focus.
✿ Reduced anxiety.
✿ Less fear of doing things in your life.
And much more but you get the idea.
(If you need to know more benefit of meditating check out this article).
STRETCH
Stretching for self-care?
Yup, you may not have thought about it but give it a try for 5 minutes.
When I was searching for ideas to take better care of myself, I kept seeing the suggestion to stretch.
Could it really make me feel better?
I started stretching right after my journal writing and has become part of my self-care routine -it's that wonderful.
(Let me know if you want me to write a post about my self-care routines – I have one for the morning and one for the night – shoot me an email: [email protected]).
RELAX WITH CANDLELIGHT
Spend 5 minutes in the glow of candlelight.
SOAK UP SOME PET LOVE
Just snuggling with your furry friend can be enough to make you feel good and relaxed.
PURGE AND CLEAN UP ONE ROOM
We all have that area of our homes that bugs us.
Take 5 and declutter and organize.
It's amazing what you can get done in a short amount of time and how it makes you just feel good.
PHONE PURGE FOR THE WIN
And, social media clean up for that matter.
I recently took a hard look at the number of useless apps I had on my phone.
Some were just sitting there unused while others weren't really needed.
It was time for me to be less connected, you know?
Take 5 minutes and clean up your phone – it's almost as good as decluttering a room!
After that, try purging your friends' list on social media – now THAT can make a woman feel good!
GRAB THAT FAV PIECE OF CLOTHING
Retire the mom uniform for a day – leggings, t-shirt, and comfy shoes can only make you feel so good.
Why not grab your favorite dress and wear it instead.
No, you don't need to be going anywhere special, okay?
Wearing something you love and makes you feel good might just change your day.
MEMORY BOX OF THE WIN
This self-care idea takes time to get going but the idea is to write down one memory from every day and add it to a memory box.
Then when you need a pick me up, grab the box and read through.
YOUR OWN DREAM LIST
Take a 5-minute break and write down things that you dream about.
DANCE BY YOURSELF
Dance like no one's watching, you know what I mean?
We live once, mama so why not get down and boogie in front of the mirror?
You'll find yourself laughing and smiling and, well, that's the best medicine, isn't it?
SIT OUTSIDE FOR 5 MINS
Grab a coffee or some water and head outside for 5 minutes.
Enjoy the scenery and just let your brain relax.
Related read: New Mom Care Package Ideas
20 Minute (Or Less) Self-Care Activities
Self-care ideas for days when you have a bit more time.
That happens right? 🙂
MAKE SURE TO MOVE
It's no secret that being active has a host of positive benefits.
It's the one self-care thing you can do that touches your mind, body, and soul.
The great thing is moving your body doesn't mean a hard workout at the gym.
A brisk walk around the block or a yoga session can be all it takes to show yourself some love.
GRAB A TEA
Sometimes choosing to make tea and just sit and relax is far more important than chasing the dust bunnies under the sofa.
Don't worry, mama – the dishes will still be there.
Choose the tea.
(I recently found this tea variety box and I'm in love – you should try it!)
THE MOM NAP
It can exist, promise.
This will probably get me some controversial feedback but I'm going to throw it out into the world anyway.
Occupying your kiddos with a bit of screen time is not a bad thing if it means you can take a nap and be a better person.
DEEP BREATHING
This could have gone under the 5 minute self care ideas section but here it is.
I was a skeptic of the power of deep breathing.
Really? Taking deep breaths is going to make me feel good?
A friend of mine challenged me to do some deep breathing every day and. oh. my. goodness I feel so much better.
Here's why: deep breathing soothes, relaxes, de-stresses, and helps eliminate toxins from your body.
The fewer toxins you have the better you feel.
Makes sense, right?
IT'S HEALTHY SMOOTHIE TIME
Lose yourself in Pinterestland for smoothie ideas.
You can try a new one every. single. day.
PAINT YOUR NAILS
There is just something about painting your nails, am I right?
Grab a new color and paint away.
SOLVE A PUZZLE
Using your brain for something not kid related is self-care, mama.
Doing a challenging puzzle is actually fun, I promise.
HAVE A PHONE DATE
When is the last time you picked up the phone to chat with a favorite person in your life?
Actually talking to the person is so much better for the soul than relying solely on text.
LISTEN TO YOUR FAVORITE MUSIC
Music is a great way to feel happy.
Put together a go-to playlist to throw on when you need a break.
EAT THE CAKE
Life is far too short to never treat yourself.
Have a craving?
Eat the cake, mama.
TAKE THE DOG FOR A WALK
Grab the dog and head for a brisk walk to the park – or around the block.
(It's a great way to get your body moving!)
LEARN SOMETHING NEW
I follow a lot of blogs and love taking 20 minutes to read about a topic I don't know much about.
ADULT COLORING
I'd forgotten how much I loved to color until I started doing it again with my daughter.
I think I actually enjoy it more than she does!
So, I've started coloring on my own – no, I don't have time to do it all the time but when I need a little TLC, it's nice to have some adult coloring books on hand.
1 Hour Self Love Sessions
For those days when you can steal some you time, momma.
BOOK A PEDICURE
Not much explanation needed here.
GET CREATIVE IN THE KITCHEN
I love cooking a new recipe when I can.
It's fun and my family loves trying something new.
Both boost my mood.
It's a sneaky way to practice self-care. 🙂
YOGA
There are many physical benefits to yoga but the boost it gives your mind and soul almost outweigh them.
You don't need to attend an expensive studio either – YouTube yoga can be your best friend.
GO EXPLORING
Have you ever gone for a walk somewhere you haven't been to before?
I've done this so many times and it is FUN.
You can either drive across town or choose to walk in a different direction than you usually take.
TIME TO PLAY A GAME
Did you know there are solo games?
Okay, you've probably heard of solitaire but – there's more.
THE SELF FACIAL
You don't have to go to an expensive spa to give yourself a facial.
Apply a mask and then moisturizer.
Viola.
(Check out this awesome mask that I'm loving right now!)
PICNIC ANYONE?
When is the last time you had a picnic in nature?
Pack your favorite lunch and grab a bench at the park or sit under a tree.
Imagine – a meal with no kids.
You're welcome.
GO TO THE FARMERS MARKET
There's something special about buying your produce straight from the farm.
Take some time for a stroll around your local market.
You'll feel good supporting local farms and filling your kitchen with healthy food.
PLANT A GARDEN
Growing a garden forces you to get outside and enjoy nice weather more often.
Then there's the sense of accomplishment at watching your garden flourish because of your hard work.
START A SIDE HUSTLE
If you've ever thought about starting a side hustle why not begin today?
(Basically, a side business is a way for you to do something creative for yourself).
Need inspiration? Check out Side Hustle Ideas for Moms
BAKING
I never baked a thing until I had a family and I can't believe how fun it is!
Grab some ingredients and get baking!
GET A NEW HAIRCUT
I realized recently that I've been rocking the same hairstyle for…years.
Can you relate?
Getting a new style might just be the self-care you need!
Self-Care Activities That Make You To Take Personal Time
Because you deserve some YOU time, mama.
TAKE 1 HOUR IN THE BATHROOM – BY YOURSELF
When was the last time you were able to take a bubble bath?
Never mind, when is the last time you were in the bathroom…alone.
Get your hubby to take the kiddos out and then lock the door.
WAKE UP EARLIER
You might wonder how the heck waking up early is self-care but give it a try.
Doing so will probably allow you to find the time to practice self-care.
Read: How to Wake Up Early Without Feeling Tired
PICK UP A NEW HOBBY
While my grandmother would roll her eyes if she knew, I have a yearning to start knitting (she TRIED to teach me for years).
What new hobby do you want to start?
ONCE A MONTH FRIEND DATE
Book your best friend once a month for a coffee or dinner.
GET LOST IN NATURE
Getting lost in the forest is one of my favorite things to do for my self-care.
I feel any stress I'm carrying around evaporate the instant I step foot into nature.
If you can't find time to go to a forest often, bring the kids along and let them run – they will have a blast!
PAINT NIGHT
Have you tried a paint night with your spouse or friends?
It's so much fun!
PLAN A FAMILY GAME NIGHT
Grab the games and make everyone's favorite snack for a night of fun!
(You may wonder if this is really self-care – it is – I don't know about you but having fun with my family is just plain good for the soul).
WATCH A MOVIE
Watch a chick flick after the kids go to bed.
JOIN A BOOK CLUB
Do a search in your local area and join a book club.
DATE YOUR SPOUSE
Sometimes life gets so busy we forget to enjoy our partners.
A simple self-care idea is to date your spouse.
Dress up for each other, take out that mom bun, spray on some perfume, and feel like a teenager again!
And, you don't need to break the bank either – Here are 52 fun and cheap date night ideas for married couples.
JOIN A SPORT
Joining a sport gets you moving and socializing – perfect for your self-care.
PLAN A CAMPING TRIP
An inexpensive way to get away with the family and enjoy nature is to go camping.
GO WINDOW SHOPPING
If you don't want to spend money why not go window shopping?
I love going to downtown locations where there are shops lining the street.
HIT UP AN ANTIQUE STORE
Even if you're just window shopping, it's so much fun to take a step back into time.
GO TO THE LOCAL BEACH
Who doesn't love a beach day?
MOVIE MARATHON DAY
Drop the kiddos off to their grandparents and treat yourself to a movie day.
It's okay to do that, promise.
Setting Up a Mom Self-Care Schedule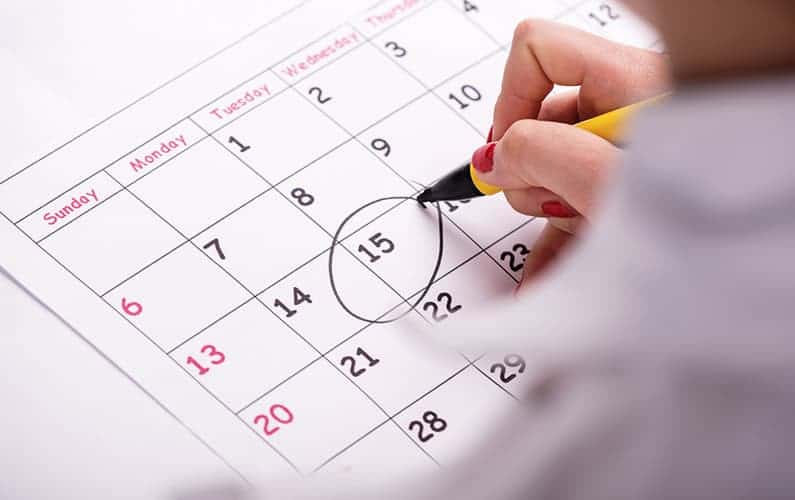 You may have read through these self-care ideas thinking there is no way you can actually practice self-love.
I hear you it can be hard to find the time.
So here's my advice:
Set up a self-care schedule.
How you might be thinking?
Sit down with your husband and run through what typical week looks like in your household.
That will help you find the pockets of time that you can take for yourself.
(And, remember – your self-care is important!)
Pick self-care activities that work well for you early in the morning before the kids are awake and at night once the kiddos are in bed.
Also, starting with small, 5-minute self-care ideas is a great way to slowly start doing things for yourself.
Trust me, it's a beautiful thing!
In my own life, I'm less stressed, more rested and generally happier.
You know what that means?
I'm a better mom (and person!) because of it.
Tell me mama what self-care idea caught your eye?
Comment and share below!