Healthy Family Meals for Summertime
This post may contain affiliate links. As an Amazon Associate, I earn from qualifying purchases.
As moms, most of us prefer easy yet healthy family meals in the summertime. Right?
Quick and easy means we can to spend as little time as possible in the kitchen on those hot summer days. Plus, the summer season is about enjoying the good weather and being together with our families. Thus, after a hot day at the beach, we don't have time – and energy – to prepare something fancy for family dinner. (Or is it just me?! ha)
Additionally, most vegetables and fruits are in season during summer. So it's the best time to take advantage of the fresh produce and make some healthy, nutritious meals!
And finally, the heat affects our appetite as well. This is why most of us want to eat light meals like salads or some soup. It's the time of year that I actually crave all those water filled fruits and veggies!
Understandably, having some easy recipes at hand can be life-saving for us moms. This is why today, I brought you a few healthy dinner recipes that are easy to prepare. Thus, they are all perfect for summertime!
Ideas for Healthy Family Meals
Regardless of whether you are planning to have a picnic, eat in the backyard or have a get-together around the dining table, these easy summer recipes will help you save some time. So you will have more time enjoying the summer with your loved ones!
Related read: Practical and Cute Summer Outfits for Moms
Salads
When it comes to healthy and easy summer recipes, salads are the absolute winners for me!
Due to the various ingredients, the possibilities for salads are countless. You can add a lot of fresh, in-season produce – both fruits and veggies – to your salads. Below you will find some of my favorite recipes regarding different categories.
Pasta salads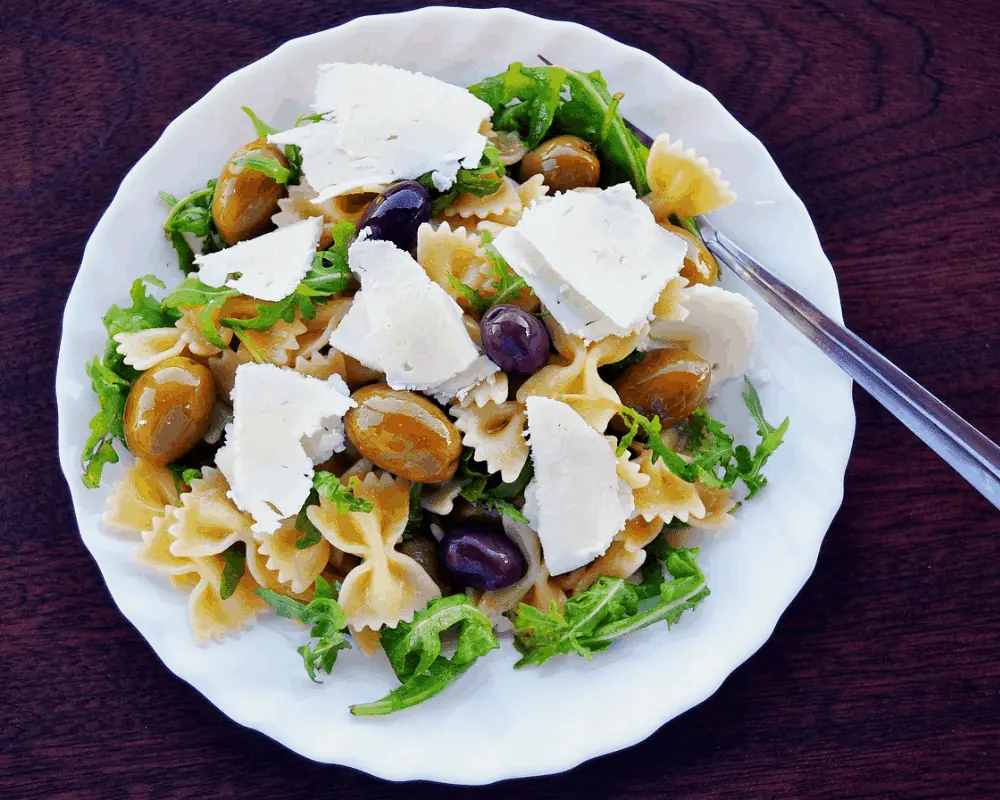 When we talk about salad recipes, you really should not leave out pasta salad from the list. Even if your kids are picky eaters, most likely, they will eat these kinds of salads since it has pasta. However, make sure to use their favorite type of pasta!
Pasta salads are also great for a summer picnic or can be served as a light dinner. (For a heartier meal, just add some meat or other veggies to the grill to add!)
Luckily, you don't have to spend hours in the kitchen to prepare an Easy Pasta Salad. It's ready in 30 minutes. Plus, it is super healthy since it's packed with fresh ingredients such as tomatoes, arugula, cucumbers, parsley, and basil. You have to try this recipe! (It's also an easy recipe for anyone baby-led weaning!)
Related read: Foods to Boost the Immune System for New Moms
Slaw salads
Do you love slaws? Then why not make some quick and healthy slaw salads? They are great meals for summer. You can use kale, cabbage, broccoli, or Brussels sprouts as a base for your salad. Then, you can add to it other produce such as tomatoes and carrots. And finally, you can top the whole with a dressing or sauce and some herbs. Yummy!
For a special but easy recipe, take a look at this Asian Slaw recipe. I love how Asian slaws combine the different flavors and textures in one single dish.
Green salads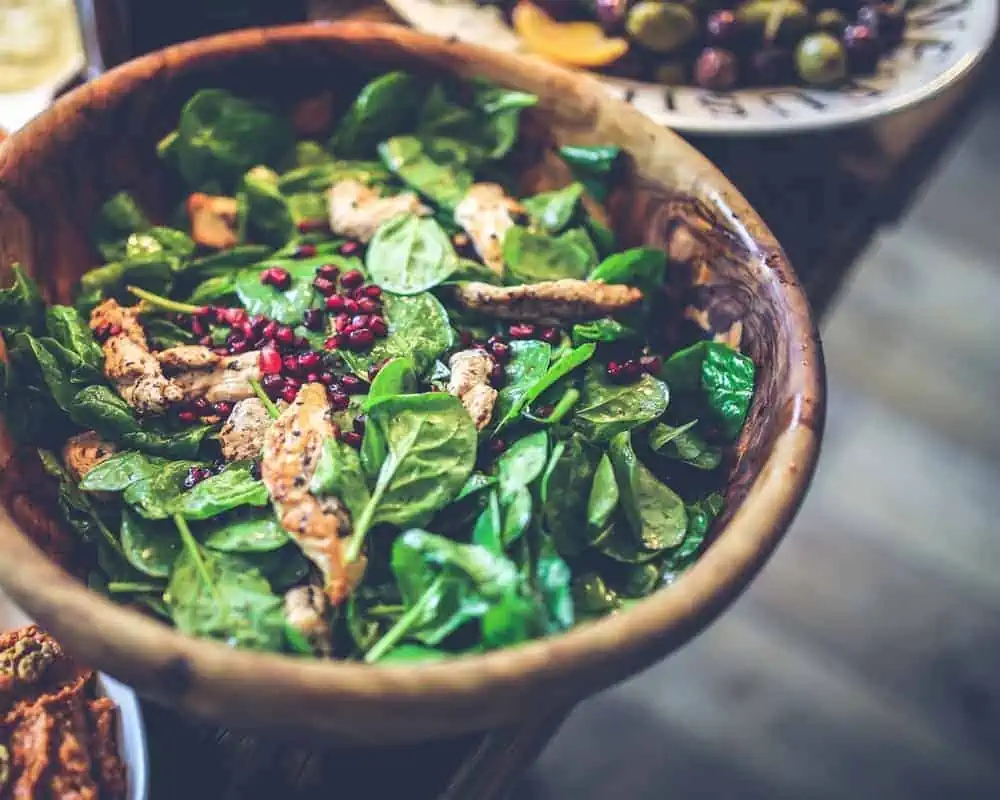 Green salads are also considered light and healthy family meals. You only need to get some fresh lettuce, mustard greens, arugula, spinach, or other leafy green vegetables from your garden or the farmer's market, and a few other ingredients to make your salad tasty and hearty. What I love about green salads is that it's one of the best and easiest ways to get more leafy greens in our diet.
These salads are great for lunch or dinner but can be served as a side dish at a cookout as well.
My favorite recipe here? I find it impossible to name just one or two since there are so many delicious recipes for green salads. However, if you need some easy summer recipes, here you will find 12.
Also- don't be afraid to get creative and add fruit. A hearty spinach strawberry salad is one of my favorite summertime recipes.
Caprese salads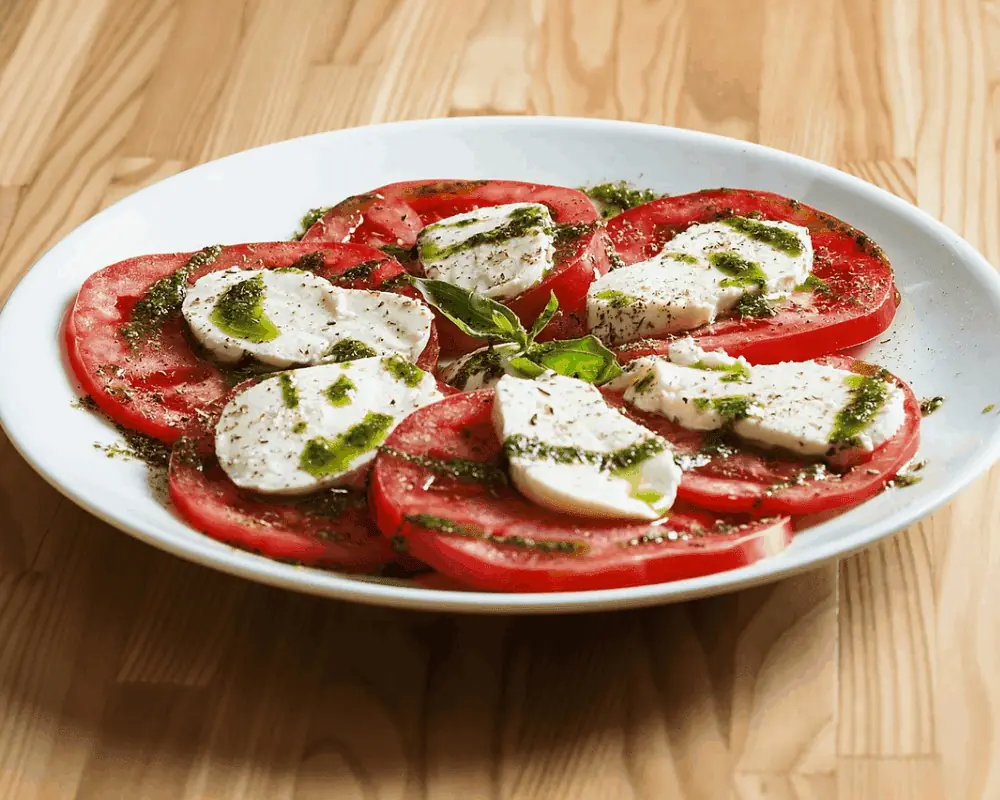 Since tomatoes are one of the biggest stars of the summer, having a great Caprese salad recipe is a must.
Just grab a few fresh tomatoes, a handful of basil, and of course, some fresh mozzarella, olive oil, salt, and pepper. – That's all you need for a classic Caprese salad.
Cut the tomatoes and the mozzarella into slices, then layer the alternating slices of tomatoes and mozzarella on each other. Add a few leaves of fresh basil and drizzle the whole thing with olive oil. Finally, season it with some salt and pepper. Easy, isn't it?
Related read: Budgeting Advantages for Families
Sushi bowls
Most kids actually love sushi. However, the seaweed can be chewy sometimes for them. This is why it's such a great idea to make sushi bowls instead of traditional sushi. The taste remains the same but they are easier to eat. 🙂
And most importantly, it's easier to make a sushi bowl. Even your kids can help you with tossing the ingredients into a bowl!
Check out this Easy Sushi Bowl recipe that takes only 10 minutes to make.
Buddha bowls
Buddha bowls are one of my favorite go-to meals. This is because they are easy to prepare, delicious, and they provide a great way to clear out the fridge.
But how can you make a Buddha bowl? I will tell you. First, add some rice or whole grain in a wide bowl. This will be the base of your Buddha bowl. Top it with some plant-based protein such as tempeh, tofu, beans, or legumes (or meat and eggs!), then add some greens and vegetables (can be fresh or roasted as well). In the end, drizzle the bowl with dressing and if you want, you can also add some nuts and seeds.
This one is a plant-based version of the Buddha bowl. But of course, you can add a little lean meat (for example, chicken) to your bowl.
Related read: 15 Frugal Tips to Save You Money at the Grocery Store
Gazpachos
If you have some fresh veggies at home, you can make a super delicious gazpacho. And the best part? This healthy meal takes only 10 minutes to make. Plus, it can be so refreshing on a hot day!
When it comes to the ingredients, you need tomatoes, peppers, cucumber, onion, garlic, cilantro, basil, vinegar/lemon juice, and some bread. Here is an easy 10-minutes Gazpacho recipe to help you out on a busy day.
Related read: How to Design a Stay-at-Home Mom Schedule for Sanity
Just enjoy the summer and stop worrying about cooking
There you have it. These were my super easy, healthy family meal ideas for summertime. Hopefully, you found a few interesting recipes you would like to try out with your family.
Keep in mind that you also deserve some fun and rest, so try to enjoy the sunshine and stop worrying about cooking. All you need is to have some easy summer recipes ready to use, so you can make healthy family meals in less than 30 minutes. This way, you can not only save time but money as well since you won't eat out. 🙂
Do you have some other recipe ideas for summertime? I would love to hear them out!