Sun Protection for Kids: Including Safest Sunscreen for Kids
This post may contain affiliate links. As an Amazon Associate, I earn from qualifying purchases.
Sun protection for kids is one of the most important things during this time of the year (although it's important anytime there's sun!). However, choosing sunscreen can be quite challenging with all the options and naysayers against sunscreen.
I know with my daughter I've had some serious mom guilt surrounding trying to figure out what's best for her- sunscreen? no sunscreen? enjoy the sun? avoid the sun? Ultimately, I had to trust my mom gut to do what's best for us- and many times that involves getting outside and applying sunscreen!
There are so many different kinds of sunscreens: sprays, sticks, creams, lotions- and we haven't even talked about SPFs (sun protection factors). Thus, most likely, you might want to know which one is the safest sunscreen for kids. Don't worry, today, we will find out together. 🙂
Besides figuring out which one is the best sunscreen, we will discuss why sun safety is important, how to choose sunscreen for kids. Plus, I will give you a few practical tips on how to protect your kids from too much sun exposure.
Why sun protection is crucial
Let's get started with the importance of sun protection for kids.
You need to protect your kids' skin (and yours as well) from the sun each day. Not only when it's sunny outside but on cloudy days as well. This is because the sun's harmful rays – the ultraviolet A (UVA) and ultraviolet B (UVB) rays – can also get through the clouds.
By applying appropriate clothing coverage or sunscreen to the skin, you can prevent sunburns and lower the risk of melanoma. According to the information found on the page of Skin Cancer Foundation, having more than five sunburns can double someone's risk for melanoma. However, in the case of children and adolescents, it's enough to have one blistering sunburn to more than double their chances of developing this type of skin cancer later on in their life.
Thus, it's crucial to take the necessary steps to minimize exposure to damaging UV rays.
Note: On the flip side, it's important to remember NOT to be afraid of the sun! Our bodies get Vitamin D, critical for daily cellular functions, primarily from the sun. Vitamin D deficiency due to lack of time in the sun is a serious issue nowadays (particularly in the winter) and can lead to emotional issues, fatigue, and body aches. Just like most things- finding a balance is key 😉
Related read: 8 DIY Lip Mask to Prepare Your Pout for Summer
What to look for in a sunscreen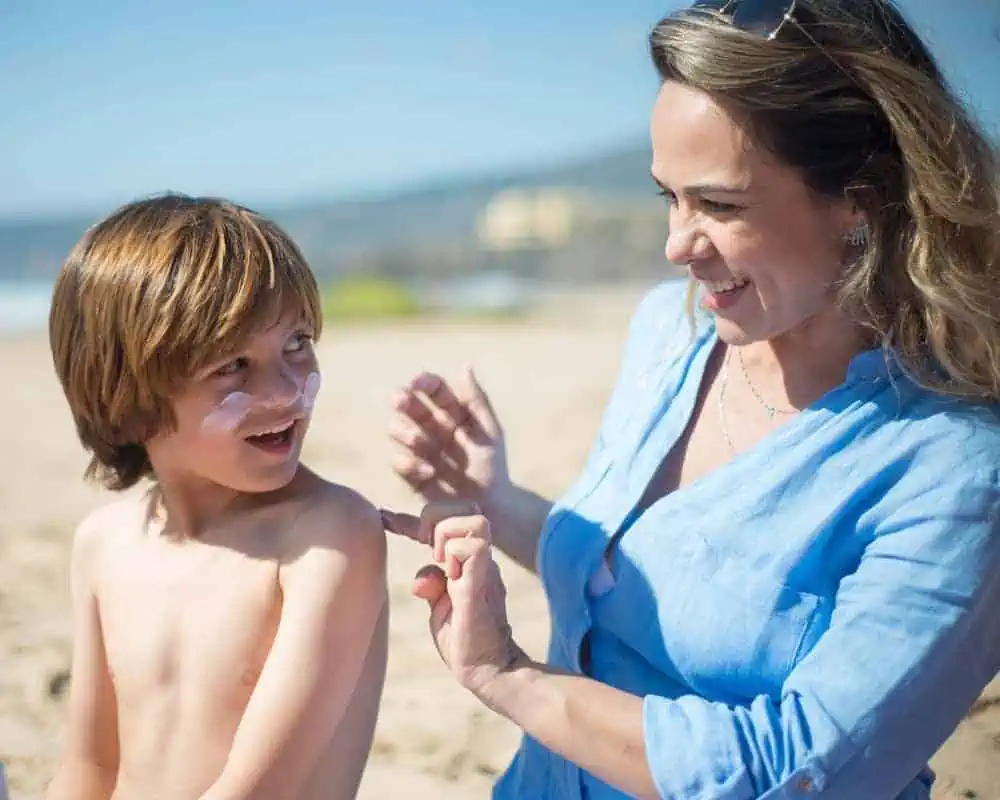 When choosing sunscreen for kids, there are many factors you need to consider. To help you find the best product for your child, let's see the most important ones.
Type
Sunscreens are available in various forms. The most common types are creams, lotions, sticks, and sprays. But which type is the best sunblock for kids?
While sprays seem easier to apply, creams and lotions provide more solid protection since you can measure how much cream you are putting on the skin. But it's also true that people find sprays more convenient, making it a very popular option these days. If using lotion will decrease your motivation to keep your child protected from the sun, of course it's totally acceptable to use spray1
This is why in the end it doesn't matter which type you choose if you use an appropriate amount of sunscreen and reapply it when needed.
SPF
According to dermatologists, the best is to choose a broad spectrum sunscreen for your kids, with at least an SPF 30 or even higher. This way, you can be assured that the sunscreen will provide proper protection against the damaging UVA and UVB rays as well.
Ingredients
When finding the safest sunscreen for kids, opt for a physical sunscreen (so-called mineral sunscreen) that has mineral actives. Mineral sunscreens, particularly those that are made of zinc oxide or titanium dioxide, can effectively deflect harmful sun rays. While on the other hand, chemical sunscreens absorb these rays.
Taking a look at the list of ingredients is also necessary because according to the U.S. Food and Drug Administration (FDA), 16 different active ingredients are allowed in sunscreens. However, only 2 of them – the above-mentioned zinc oxide and titanium dioxide – are considered safe, and once again, effective against the sun rays. Ingredients to try to avoid that are found in standard sunscreens include Oxybenzone, Octinoxate, Avobenzone, Homosalate, and Formaldehyde.
Plus, these mineral ingredients are better for someone with sensitive skin as they are less irritating.
At what age should you apply sunscreen to a baby?
If you are wondering at what age you can apply sunscreen to a baby, the best is to avoid any kind of sunscreens before your baby is turning 6 months old (although some pediatricians recommend keeping baby out of the sun for the first year of life). This is because a baby's skin is extremely sensitive to chemicals- and the sun! Thus, if you would like to use sunscreen on a baby younger than 6 months, you should consult your pediatrician.
Related read: Newborn Care: Baby Care Tips for New Moms
Safest sunscreen for kids
When finding the safest sunscreen for kids, considering all the above-mentioned factors is a vital element of the process.
I have found – and many dermatologists share this opinion – that Neutrogena's Pure & Free Baby Sunscreen Lotion Broad Spectrum (SPF 50) has everything your kids need for proper sun protection. This mineral sunscreen is a zinc oxide lotion that provides broad-spectrum UVA and UVB protection for babies and kids. Plus, it is water resistant for up to 80 minutes.
Neutrogena's Pure & Free Baby Sunscreen is also non-toxic for kids. It is free from harmful, irritating chemicals, dyes, parabens, fragrances, and phthalates. This is why it has been awarded a National Eczema Association Seal of Acceptance, meaning that it is suitable for people with sensitive skin.
For me it seems like a perfect choice, doesn't it?
Other favorites in our household and recommendations from friends include the following brands:
Think Baby (a bit pricey but this was my favorite for my daughter's first sunscreen!)
Related read: 10 Questions to Ask When Shopping for Baby Products
Other practical tips for sun protection
Besides using sunscreen, you can take some extra precautions to protect your kids from the sun. The advantage of these tips is that they can also be used in the case of newborns and babies under 6 months of age. Here is what you can do:
Seek shade
Try to keep your kids out of direct sunlight and stay in the shade, especially during the hottest times of the day when the sunlight is most intense (between 10 am and 4 pm). If you can't find natural shade, you can also create for them with a stroller canopy, beach umbrella, or beach style pop-up tent. Also, if they're in a baby swim float or life jacket, you can look for an option with SPF coverage or a canopy!
Avoid going outside between 10 a.m. and 4 p.m.
As mentioned above, the sun is the strongest between 10 a.m. and 4 p.m., so if possible, avoid being outside in the sun with your baby and older kids during this period (I know- not the most practical).
Related read: 8 Fun Ways to Teach Your Kids to Brush Their Teeth
Cover up
Dress your children in lightweight, protective clothing that covers their skin as much as possible, including the arms and legs. And don't forget to add a summer hat as well that protects their face. Consider bucket hats, long sleeved swim shirts, etc. There are tons of cute options out there these days! 
Wear sunglasses
Being exposed to the sun can be harmful to your kids' eyes as well. Thus, the best way to protect their eyes is to get some sunglasses for your kids that can provide 100% UV protection. Make sure that your children wear them whenever going outside.
Related read: How to Keep the House Clean with Little Kids
Protect your kids (and yourself)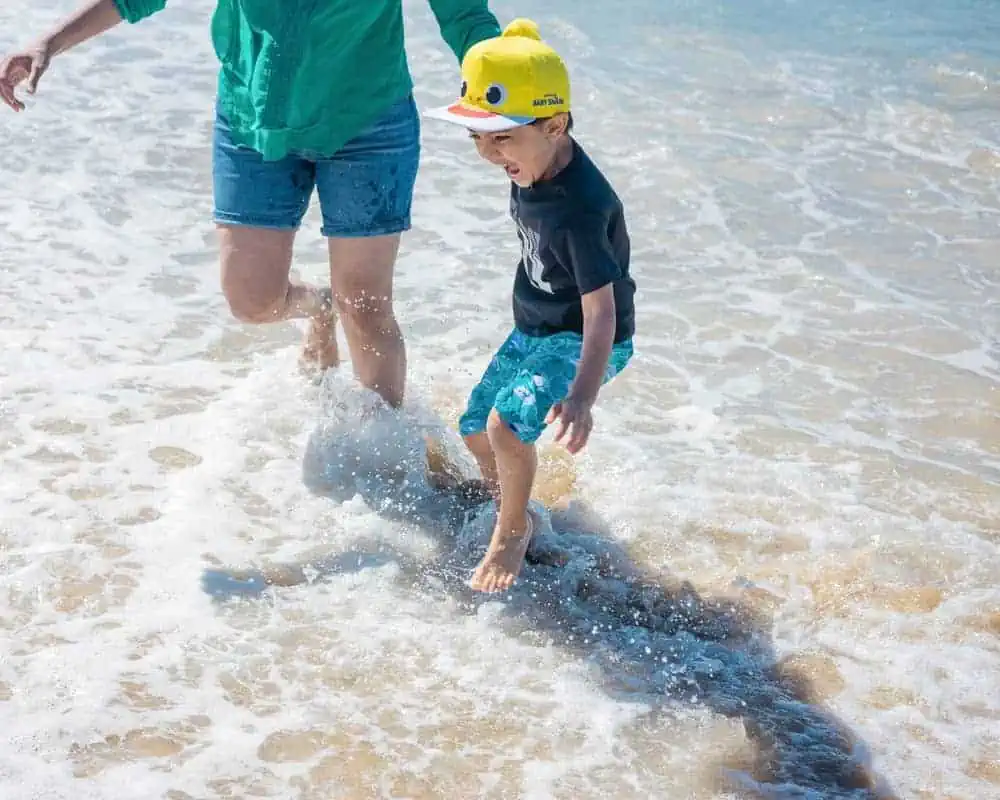 Hopefully, by now, you understand why sun protection for kids is so important. Do your best and protect your kids' sensitive skin.
However, at the same time, make sure that you also stay protected. Use the right sunscreen, avoid being exposed to direct sunlight, wear proper clothing that covers you, protect your eyes with sunglasses, and finally, hydrate. It's also a key factor when it's hot outside. 🙂
Related read: Practical and Cute Summer Outfits for Moms
How do you protect your kids from the harmful sun rays?