Shop Smart, Save Big: 40 Frugal Grocery Shopping Hacks
This post may contain affiliate links. As an Amazon Associate, I earn from qualifying purchases.
Looking to save money at the grocery store? Groceries are a big part of any household food budget, so it's a good place to learn how to save money. My family and I live in Canada, and according to this article, the cost of groceries for an average family of four is $220 CAD per week (or around $172 USD).
I wouldn't be surprised if a lot of families spent more than that. It comes down to your family dynamics and how hungry the mouths that you feed are. No matter what, groceries are expensive.
When my husband and I decided to live on one income (so I could stay home with our daughters and pursue my dream of blogging full time!) we knew we had to pay closer attention to our grocery budget now that we were feeding a family.
We worked toward reducing our spending and making the dollars stretch. BUT. I wanted our family to maintain healthy eating habits despite our efforts to save money at the grocery store. A lot of times it feels like there's a premium for eating healthy, and that's just not fair. I'm happy to say the money-saving hacks we use save us money at the grocery store every month and allow our family to maintain healthy eating habits.
In this post, I'm going to share 40 frugal tips for grocery shopping that your family can use to save money at the grocery store too. These money-saving tips are simple and can be put into action almost immediately. It just takes some discipline, organization, and planning.
15 Frugal Grocery Shopping Tips For Your Family To Save Money
1. CREATE A GROCERY BUDGET
Before you head to the grocery store, set a food budget for yourself. Knowing exactly how much you can spend will help you make smarter purchasing decisions and avoid overspending.
2. SHOP WITH A LIST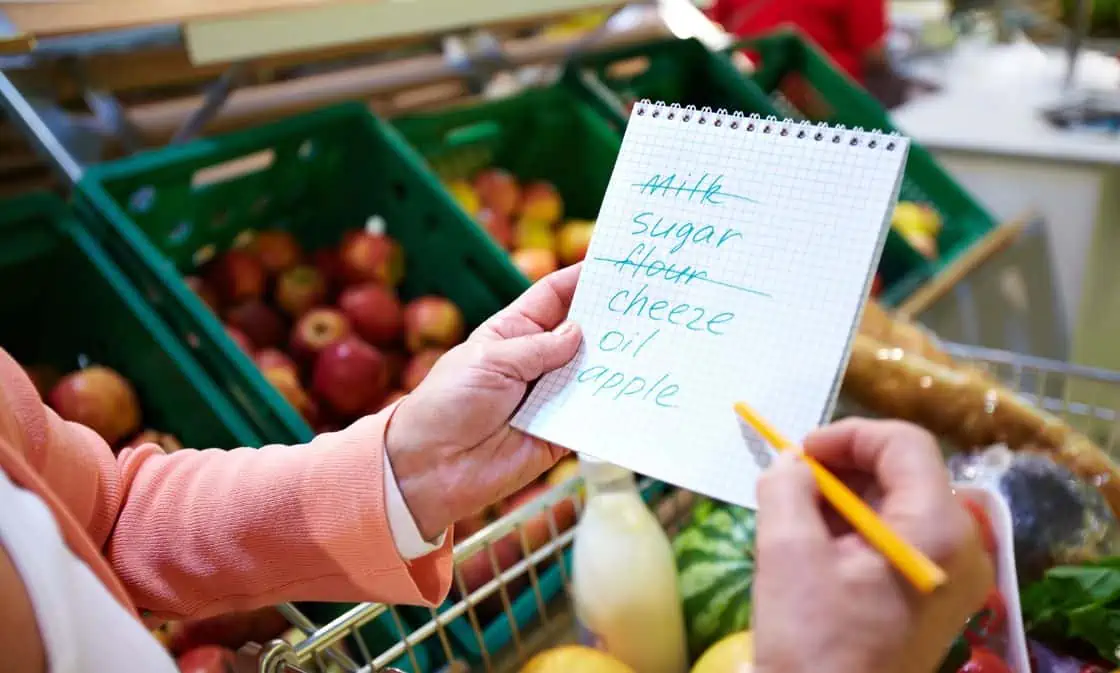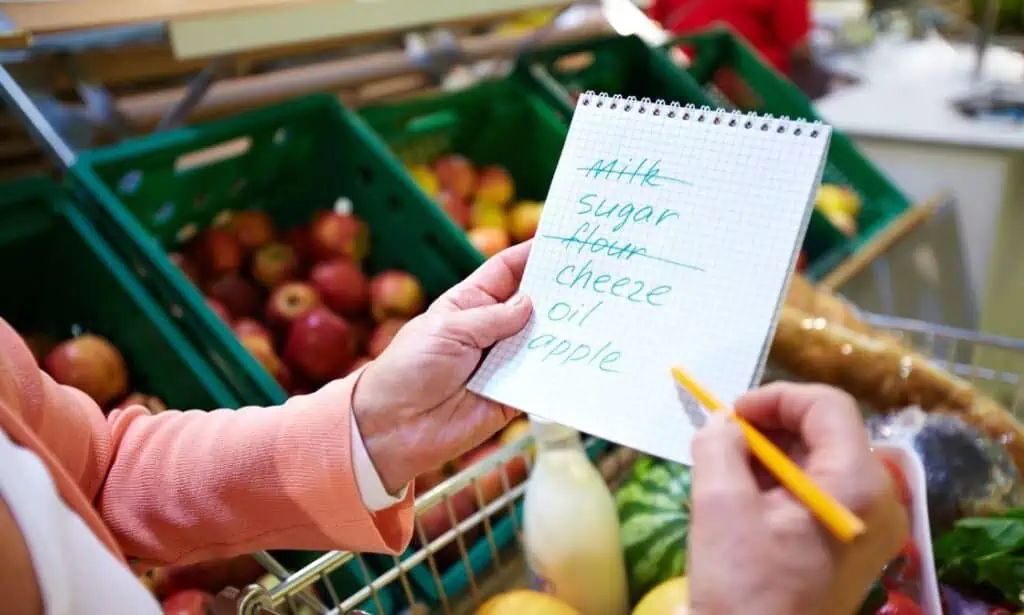 Always bring a list when you go grocery shopping. Stick to your list and avoid impulse purchases. This will help you stay focused and not be tempted by items you don't really need.
3. USE COUPONS
I know, I know— every 'save money at the grocery store' post tells you to use coupons, and, truthfully, there's no shortage of coupon sites that offer good money-saving deals.
It really is sound money-saving advice. The best website/app I've used is called Checkout 51 and I recommend you use it too.
Here's why:
✔ Sign up to receive cash back on the items you're already purchasing.
✔ Receive tailored money saving offers that you can purchase at ANY store.
✔ Take a picture of your receipt to get your eligible rewards.
✔ Once you receive $20 cash back, you can request a payout – which means FREE money to help your grocery bill!
It's truly amazing and so SIMPLE to use.
BONUS MONEY SAVING HACK: When I walk into the grocery store near me, they always have a display of current coupons. I scan to see if there's anything our family uses, and quite often there is.
4. SHOP THE SALES
We all know shopping for grocery store sales is just plain smart, but flipping through a million flyers is annoying and time-consuming. My husband and I were thrilled when we discovered the grocery app called Flipp – goodbye traditional flyers, hello convenience!
Using Flipp, we're able to:
✔ Create weekly grocery shopping lists.
✔ See all grocery store sales on items we actually buy.
✔ Access weekly flyers that we care to look at.
It's all right there on our phones. Easy and convenient.
BONUS MONEY SAVING HACK: Some grocery stores offer price matching if you show them a competitor's sale price. If you use the Flipp app, just pull out your phone at the checkout and show them the price! Viola – your family saves money and time. Check out how price matching works at the grocery store you frequent.
5. COMPARE PRICES
Take the time to compare prices between different stores. Use flyers, online resources, or apps to find the best deals on the products you need. Shopping around can save you a significant amount of money.
6. SHOP SEASONALLY
Purchase fresh fruits and vegetables that are in season. They tend to be cheaper and fresher than out-of-season produce. This is a must-include in your grocery list.
7. BUDGET MEAL PLANNING FOR THE SAVE
I feel SO much more organized now that we do budget meal planning every week. I consider meal planning part of my self-care routine because it seriously lowers my stress levels! It's almost a bonus that meal planning saves money too! 🙂
You'll be less tempted to impulse buy (looking at your bag of chips! ha!) or buy something you don't actually need, so it sits at the back of your fridge for two weeks until you throw it out.
BONUS MONEY SAVING HACK: Consider shopping the sales before you plan your family's meals for the week. That way, you can take advantage of more sale items.
8. STOCK UP ON ITEMS YOU ALWAYS BUY WHEN THEY'RE ON SALE
It didn't take us long to see which items our family consumes on a regular. They're the products that end up in our carts all the time. Those are the products we buy in bulk when they go on sale.
It's also the kind of item for which we know the price, so a good sale price can be easily identified. We make sure the items have a good shelf life before stocking up, since it makes no sense to stock up to throw out!
For example, my daughter loves the fresh fruit and veggie squeeze pouches that are easy to take on the go. We're always buying them, so we stock up on all her favorite flavors when they go on sale.
What are those kinds of products for your family?
8. DON'T BUY THE BAGGED SALAD KITS
Buying fresh produce to make a salad is more cost-effective than buying a pre-made salad kit. Generally, you get one meal out of a bagged salad, whereas buying the ingredients yields a few meals. For example, we buy leafy green lettuce as a base and get three salads per head. It's a great side dish for dinner and it's packed full of veggies 🙂
9. BUY GENERIC OR STORE BRANDS
Buying a store brand over a name brand can save you up to $1.50 or more in some instances, depending on the product you're purchasing. Our family loves peanut butter, so we buy store-brand organic peanut butter and it's actually cheaper than the non-organic.
Not only do we save money, but we also eat natural peanut butter which is much better for our health.
10. INVEST IN A BRITA WATER FILTER
We were guilty of buying bottled water for a few months (I know, terrible), but it didn't take us long to see that it's much better for our pocketbooks AND the environment to skip this expense.
Using a Brita water filter is dirt cheap and more in line with how we want to live life – not creating needless waste. Since we were buying bottled water out of convenience, we did invest in good, glass water bottles to take on the go instead.
11. MAKE YOUR FOOD STRETCH
I love figuring out ways to make the food we buy "stretch". For example, we buy a whole chicken, eat it for a couple of dinners, and then use the bones to make broth for soups. Not only do we get two dinners out of the chicken, but we also save money by not buying premade chicken broth.
It's easier to spot instances where you can save money this way if you meal plan. Can you tell I love meal planning?
12. SIGN UP FOR THE REWARDS PROGRAM
Otherwise known as the loyalty program. Does your grocery store have a points program? By shopping at one store all the time, you can take advantage of the rewards offered by the store.
We joined the program at our store and saved $75 over the last couple of months by collecting points diligently, buying products with bonus points, and then actually using the rewards. Absolutely, check to see what your local grocery stores offer.
13. CHECK THE QUICK SALE AISLE
Most grocery stores usually have a small display of 'quick sale' items in the produce and meat departments. I always check to see what's available, to see if it matches up with our meal plan for the week.
My goal in doing this is to save 50% and cook the items that day or the next. Saving 50% is a hugesavings that can add up quickly if you practice this money hack every time you go to the grocery store.
14. FREQUENT THE GROCERY STORE MORE OFTEN
You're probably surprised at this grocery store money-saving hack, right? Um, visiting the grocery store more often means you're spending more money?
I've found that buying some of my produce items later in the week when I'll actually be using them has lowered the amount of money we spend on food that we ultimately throw out because it goes bad.
The key to using this money-saving hack is to be diligent and disciplined – you're there to lower food waste, not impulse shop.
15. USE CASHBACK APPS
Take advantage of cashback apps that offer rebates on certain products. Scan your receipts and earn money back on select items.
16. BUY FROZEN FRUITS AND VEGGIES
I'm a huge advocate for buying frozen fruits and vegetables because you eliminate the chance of them spoiling before your family enjoys them. How much of your grocery dollars are wasted on fresh veggies and fruits going bad in the fridge?
Going frozen is a cheaper yet healthy way to reduce spending AND stretch your dollars. No fear of losing important nutrients since the produce is frozen at the time of picking. That's a win-win for saving money at the grocery store.
17. USE CASH INSTEAD OF CARS
Paying with cash can help you stay within your budget. It also gives you a tangible reminder of how much you're spending.
18. CUT UP YOUR OWN PRODUCE
It's no secret we pay for convenience on most things, and the grocery store is no different. It's so tempting to scoop up the pre-cut veggies from the produce area so you can quickly cook that stir-fry you're having for dinner tonight.
But, you'll pay a premium. Choose to cut up your own produce or even use the frozen version when it makes sense.
19. FREEZE LEFTOVERS
If you cook too much food, don't let it go to waste. Freeze the leftovers for future meals instead of tossing them out.
So, cook meals that can be repurposed into new dishes or packed for lunch the next day. This stretches your ingredients and saves you from buying additional meals.
20. EAT LESS MEAT
Meat takes up a BIG portion of your grocery bill when you really start paying attention. So, we started eating less meat which means our family is consuming more vegetables, grains, and other sources of protein.
The meat we do buy comes from Costco, so we can purchase it in bulk and freeze some for future meals.
21. CHOOSE FRUITS AND VEGGIES WITH A LONGER SHELF LIFE
What are some of your family's favorite fruits and veggies that have a longer shelf life? It's smart to cook recipes using these items instead of produce that perishes quickly.
For example, our family often makes fruit salad for breakfast. We use pears, apples, and grapes often instead of buying berries, which go bad quicker and are much more expensive.
22. BUY WHOLE FOODS
Opt for whole foods like grains, beans, and vegetables instead of processed snacks and convenience foods. They tend to be more affordable and healthier.
23. SHOP ALONE
Shopping with friends or family can lead to distractions and impulse purchases. Going alone to a grocery shop allows you to stick to your list and make more mindful decisions. Hence, saving money!
24. AVOID SINGLE-SERVE ITEMS
Individual snack packs and single-serve drinks are often more expensive per unit compared to larger packages. Buy in bulk and portion them yourself to save money.
25. CHECK UNIT PRICES
Compare the unit prices of similar products to determine which offers the best value. Sometimes buying a bigger package is more cost-effective in the long run.
26. AVOID BOTTLED WATER
Instead of buying bottled water, invest in a water filter or use refillable bottles. It's a simple switch that can save you money and help the environment.
27. PLAN GROCERY SHOPPING TRIPS
Minimize impulsive purchases by planning your grocery shopping trips in advance. Stick to your list and avoid unnecessary detours.
28. SHOP AT LOCAL MARKETS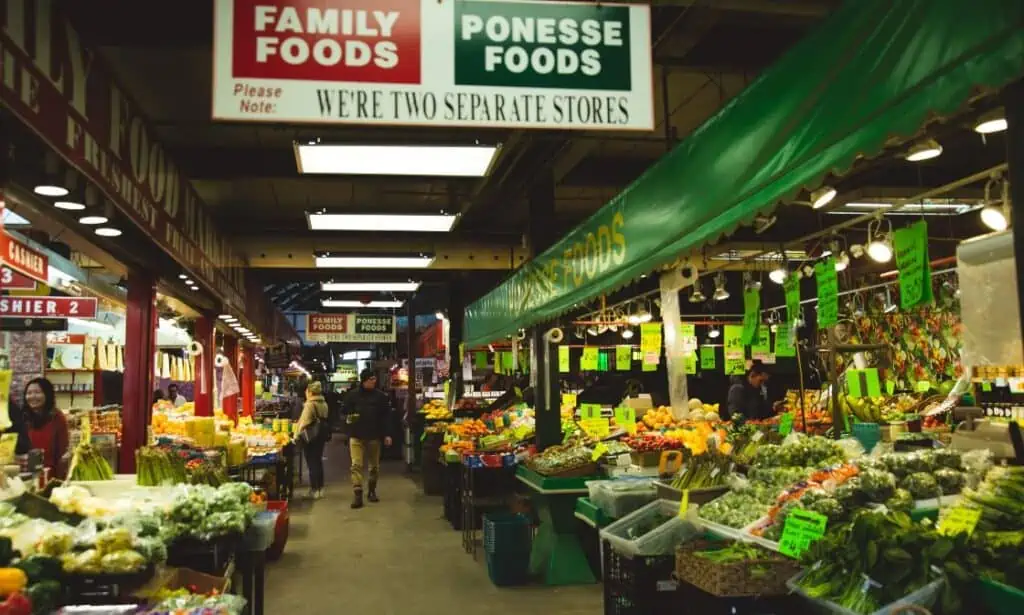 Explore local farmers' markets or independent grocery stores. They often offer fresh produce at competitive prices.
29. BRING YOUR OWN BAGS
Many stores charge for plastic bags. By bringing your own reusable bags, you can save money and reduce plastic waste.
30. SHOP AT THE END OF THE DAY
Many stores discount perishable items toward the end of the day to make room for fresh inventory. Take advantage of these discounts to save on groceries.
31. SHOP AT DISCOUNT GROCERY STORES
Explore discount stores or dollar stores for everyday essentials. They often offer lower prices compared to traditional grocery stores.
32. UTILIZE FROZEN FOODS
Frozen fruits, vegetables, and meats can be a cost-effective alternative to fresh produce. They have a longer shelf life and can be used when needed.
33. MEAL PREP
Dedicate some time each week to meal prep. This helps you avoid last-minute takeout and saves money on eating out.
34. GROW YOUR OWN HERBS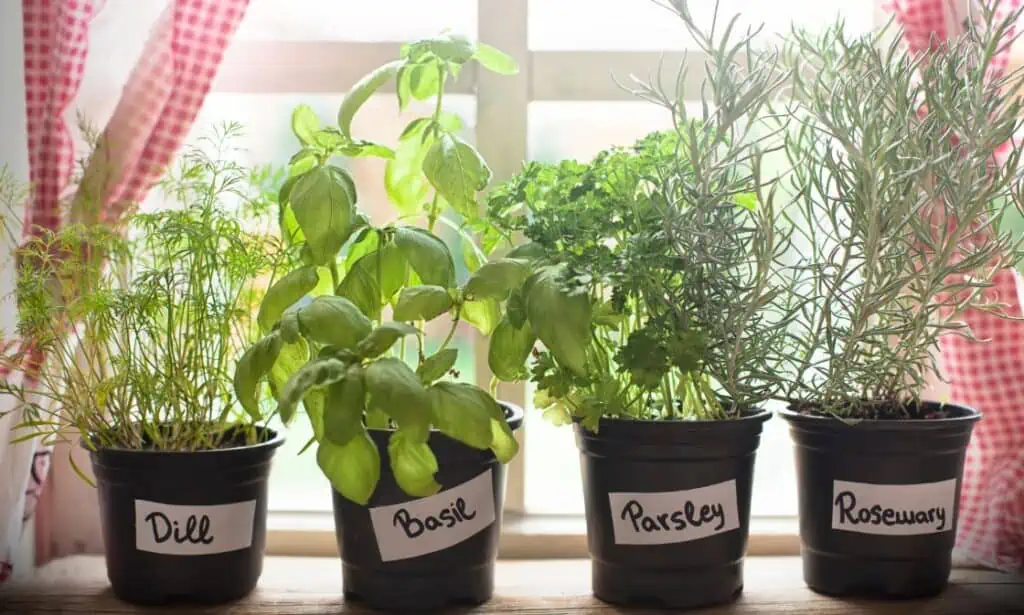 Grow your own herbs at home. They are easy to cultivate and can save you money on buying expensive store-bought herbs.
35. LOOK FOR THE MANAGERS' SPECIAL
Keep an eye out for manager's specials or discounted items nearing their expiration dates. These can be great deals if you plan to use them immediately or freeze them.
36. MAKE A PRICE BOOK
Keep a price book where you record the prices of regularly purchased items. This helps you identify the best prices and compare deals across different stores.
37. LIMIT SNACK PURCHASES
Snacks can quickly add up and impact your grocery budget. Try to limit snack purchases or opt for healthier, homemade alternatives. It will definitely lower your food budget.
38. CHECK THE EXPIRATION DATE
Always check expiration dates before purchasing perishable items. Buying products with longer shelf lives ensures less waste and better value for your money.
39. AVOID SHOPPING WHEN HUNGRY
Don't shop hungry. Hunger can lead to impulse purchases and unhealthy choices. Eat a meal or snack before grocery shopping to resist temptation.
40. CHECK OUT DISCOUNT WEBSITES
Explore discount websites that offer deals and coupons specifically for groceries. These sites may have exclusive discounts and promotions you wouldn't find elsewhere.
There you have it – 40 frugal grocery shopping tips to save you and your family money at the grocery store. I really hope you found these tips helpful and are able to incorporate some (or all!) of them into your family's grocery shopping routine. Budgeting family expenses is important because it really helps manage finances, achieve financial goals, and ensure a stable and secure future.
Let me know if you start using Checkout 51 and what you think about it! We love it! Tell me – do you have any other frugal grocery shopping tips for the grocery store?
Share and comment below!