64 Of The Best Frugal Tips For Families
This post may contain affiliate links. As an Amazon Associate, I earn from qualifying purchases.
***Updated: July 1, 2020
Finding the best frugal tips for families can be hard.
Sure, you want to save money and lead a more frugal life but you have a family to take care of and they have needs.
I've put together the best frugal living tips for families that will have your dollars going further and your family will still have fun and make memories. It's all about finding a balance that you're comfortable with for saving money! 
Our best frugal tips for families are in no particular order and are shared with the intent of helping you cut costs in areas you aren't thinking about.game
We use most of these frugal tips daily and we live comfortably and don't feel like we're missing out in any part of our lives.
Did I mention we're a one-income family?
This collection of frugal living tips WORK.
RELATED READ: 10 Tips for Living on One Income Successfully
64 Best Frugal Living Tips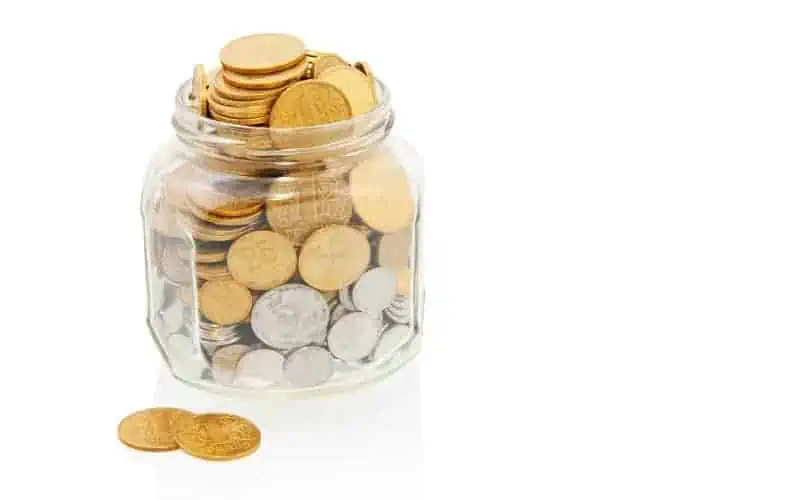 1) MEAL PLAN WEEKLY
I love to meal plan.
It limits the frustration of thinking about what to make for dinner every night and it feels good to be organized.
We bring our meal plan to the grocery store and only buy what we need – no impulse buying!
It's like the new-age way of keeping a grocery list 🙂
Grocery shopping can quickly bust a budget.
Need some meal planning inspiration?
As a busy mom, I don't have time to think about dinner or search around for healthy meals so I started using TheDinnerDaily.com and to be completely honest I've been blown away.
They meal plan for you and base your grocery list on sales at stores local to you!
I think they may be after this frugal mamas heart, haha! 🙂
Check out what I'm talking about here. 
2) COOK FROM SCRATCH AT HOME AS OFTEN AS POSSIBLE
This of course ties into meal planning weekly.
It goes without saying that cooking at home is way better than eating out often.
It's, of course, healthier, but also cost saving.
And, eating at home doesn't mean you have to put up with bland meals – check out recipe websites and blogs that feature low cost, but seriously delicious dishes (and usually healthy too!)  that feed the whole family.
It's also fun to choose a cookbook and work your way through.
Click here for a collection of our family favorites.
Or like I mentioned above if you don't want to have to think about what's for dinner, check out TheDinnerDaily.com.
(Any busy moms lifesaver 🙂 )
3) Make Your Own Pizza
In our family, we LOVE our pizza.
Does your family have a weakness for pizza?
We seriously eat pizza a few times a month.
Ordering from your local pizza parlor adds up quickly with the average large pizza around $20.
That large pizza may not even be enough to feed everyone in some families.
So, why not make it a fun family night and make your own pizza?
The dough is super cheap, whether store bought or home made, and so are the toppings.
Let your pizza imagination run wild and enjoy eating some really yummy pizza creations! 🙂
4) EAT A FILLING BREAKFAST TO MINIMIZE SNACKING
Snacking all morning adds up when it comes to a budget and can be bad for your health.
Yet, you may have noticed certain foods keep you satisfied through the morning better than others.
Skip the simple carbs (i.e. bread and cereal) and go for dishes higher in fat, protein, and whole grains.
Some of my favorites include oatmeal with nuts, a fried egg with avocado toast, or a nutrient dense spinach banana smoothie.
5) USE REUSABLE NAPKINS
(This is one of my favorite and best frugal living tips because it's often forgotten).
Nothing is worse than using paper napkins or paper towels at the kitchen table.
It's wasteful and a completely unnecessary expense.
We have reusable napkins that we throw in with the wash and keep reusing for years to come.
Not only does this save money, but it also reduces the waste coming from our home.
A great lesson for your kids!
6) OPT FOR MEATLESS DAYS/MEALS
One of our favorite family meals is a pasta mixed with olive oil and veggies  – it's tasty, easy, fast and one of the cheapest family meals we make.
The whole family eats for just under $10.
Now, that's pretty fantastic!
Because we don't add meat to the meal, we save lots of money.
Plus, since most Western countries consume too much meat anyways, it's nice to mix it up with some meatless dishes!
Leftovers are a good lunch the next day which means the meal stretches even further.
One of the best frugal tips is to figure out how to make the most of your groceries.
How can you stretch the foods you buy into many meals?
RELATED READ:  15 Frugal Tips to Save You Money at the Grocery Store
7) WASH YOUR DISHES BY HAND
Give your dishwasher a break this week!
Fill one side of your sink with soapy water and the other with clean water for rinsing.
You'll save money, water, and electricity. (Although this all depends on technique.)
It's good for the environment and your family budget.
There's also something relaxing about washing dishes by hand.
Am I the only one who thinks that? 🙂
8) CHOOSE TO DRINK WATER
It's so tempting to keep juice or soda in the fridge.
But those dollars add up, so we generally drink water.
It's way healthier and good for the bank account too.
We invested in a Brita water pitcher, which is a low-cost way to filter your water.
9) INVEST IN A GOOD DEEP FREEZER
I LOVE our deep freezer.
I love making big batches of our favorite soups and casseroles.
Once we have them for dinner, we portion them out for future meals and then put them in our deep freezer.
Having more freezer space is also a good way to take advantage of sales – you don't have to worry about wasting anything.
We picked up an energy efficient one and it's been a huge asset to our frugal living as a family.
10) GROCERY SHOP EVERY FEW DAYS
As a family, we grocery shop every few days instead of once a week.
Why you may ask?
It means we purchase what we need and use it.
It also means the fridge doesn't get overstocked, with items being pushed to the back and forgotten about.
By shopping every few days and keeping things fresh, we limit the amount of food wasted.
We generally waste NOTHING that comes into our kitchen! 🙂
Just remember to stick to your list when you do go the store- otherwise those extra trips can add up instead of helping you!
11) BUY FROZEN FRUIT AND VEGGIES
It's nice to buy fresh produce, but we found we had a lot more food waste as a result.
It's so easy to overbuy, thinking you'll make this or that to then throw the food away.
Frozen fruit and veggies are way cheaper and they're flash frozen at the time of picking which helps keep the nutrients where they should be – in your food.
I make all our casseroles and soups using as many frozen veggies as I can.
12) USE POINTS/REWARD CARDS
Does your favorite local grocery store offer a points reward card?
Sign your family up. It makes plain sense to take advantage of the savings if you shop there all the time.
Every program has different ways to collect points, but for example, we rack up extra points on things we buy often.
It adds up to free groceries.
Check out your local gas stations too – they typically have rewards cards as well.
13) GROW YOUR OWN VEGGIE GARDEN
We have a fairly large veggie garden in our backyard where we grow tomatoes, kale, cucumbers, zucchini and much more.
Starting a veggie garden is cheap and easier than you think.
Growing our own food means we don't have to buy certain items at the grocery store for months.
And you can flash freeze or can some items if you have extras too so that it can last into winter too.
I love working in the garden.
It gets me outside and connects me to nature.
I feel good knowing I'm growing FOOD for my family 🙂 Plus, I know exactly what they've been exposed to!
It's also part of my self-care routine as a busy mom!
14) GROW YOUR OWN HERBS INDOORS
Similar to growing our own food, we also keep an herb garden indoors.
A series of hanging pots, placed near a bright window.
I love having the herb garden right there ready to be clipped to season whatever I'm making!
Want to get started with your own herb garden?
15) LEARN TO FOOD PRESERVE AND CAN
This is one of the best frugal tips I can give you and one that our family has yet to fully take on.
I'm in the learning process of how to do it properly and I know once I'm finished, we will save a good chunk of change by canning some of our favorites.
For example, we LOVE a good spaghetti dinner, so crushing and canning tomatoes to make the sauce makes sense for us.
The cost is cheaper than continuing to buy tomato sauce from the grocery store.
Here's what our family will invest in to get started with canning!
Alternatively, if you are short on time you can also add some batches of pre-made sauces to your freezer.
16) CLIP/PRINT THOSE COUPONS
When I was younger, my mom would clip coupons and actually use them.
Now that I have a family of my own, I totally get it.
The great thing is, not only can you still clip coupons, there are actually coupon websites you can visit to save a ton of money.
Another unique spin on "couponing" that we recently started to use is Checkout51.
You download the app, browse your weekly offers, purchase what your family likes then send the receipt to Checkout51 and you earn money back.
Once you've reached $20 you can request a check.
That puts money back into your family's pocket.
Cool beans in my books! 🙂
Check out what I'm talking about here.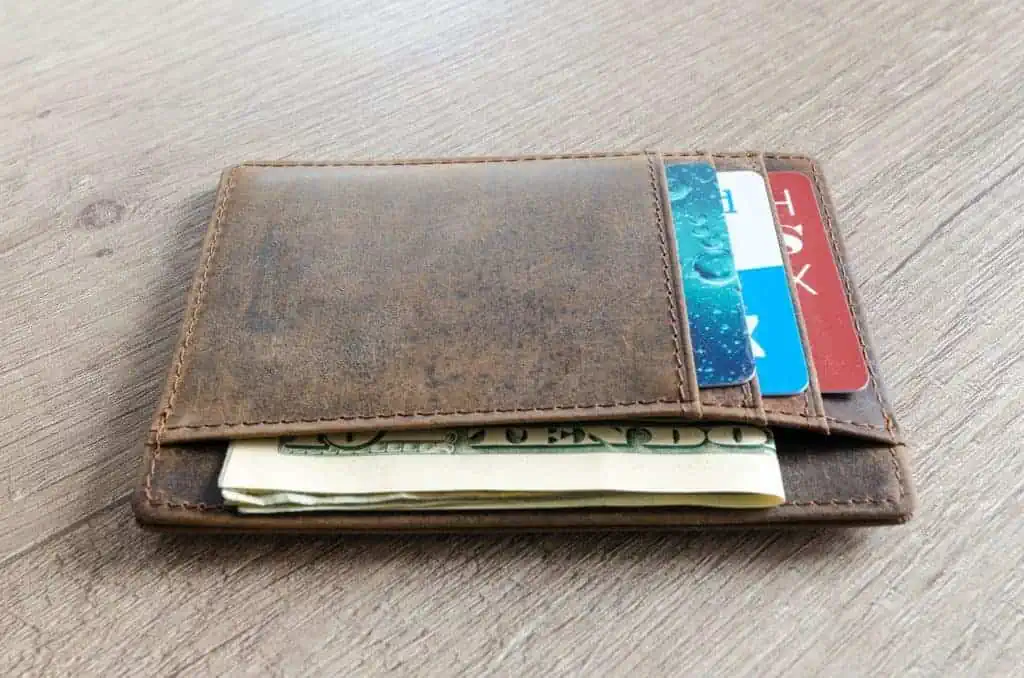 17) GET A CASH BACK CREDIT CARD
We have a credit card that has a 2% cash back on all purchases.
Needless to say, we use this card for everything we buy.
Now, I do caution, you need to have a mindset that when you spend on it, you then go home and pay it off.
Credit card debt is definitely not something you want to rack up.
If you start paying interest on your purchases you wiped out any savings you get.
But, if your family can manage the card it's a great way to save some money!
18) USE WATER AND VINEGAR FOR CLEANING
I can't remember the last time we bought household cleaners.
There is absolutely no need to! 🙂
Grab a spray bottle from your local dollar store and add 1/4 white vinegar, the rest water and voila you have a powerful, natural cleaner!
You can also add baking soda for extra cleaning power!
19) ADD VINEGAR TO YOUR LAUNDRY FOR A NATURAL SOFTENER
You may not have thought about adding a bit of vinegar to your wash as a natural softener.
But, boy oh boy, does it work!
I haven't bought dryer sheets for years! 🙂
20) USE COLD WATER TO WASH YOUR CLOTHES
There's truly no need to wash clothes with warm or hot water.
We have our washer dial set to cold and our clothes come out fresh and clean.
21) HANG YOUR CLOTHES TO DRY
When the season is right (ie. summer 😉 ) I hang our clothes outside to dry.
In the winter, I use drying clothes racks.
Either way, hanging your clothes to dry is a great frugal practice to save money on your electric bill and energy.
22) SET THE THERMOSTAT TO A LOWER TEMPERATURE AT NIGHT
If we didn't have a baby, we would set our thermostat lower all the time and add layers of clothes if we feel cold.
Instead, we lower the temp at night when everyone is snuggled in and warm under blankets.
It's better for sleep quality when your room temperature is in the 60's anyways.
23) USE YOUR FIREPLACE FOR HEATING
We currently don't have a fireplace in our home, but if we did, we would use it as another way to heat the house.
When I was younger, my parents had a fireplace in our cottage and placed fans to help push the warm air throughout.
It worked and they saved so much money on heating as a result.
24) USE LOW ENERGY LIGHT BULBS
Hopefully, you already use low energy light bulbs, but if you don't, it's one of the best frugal tips I can give you.
Low energy bulbs last longer and don't use as much energy.
A win for the ol' pocketbook and environment. 🙂
25) SNUGGLE IN FOR FAMILY MOVIE NIGHT
We love family movie night at our house.
It's an inexpensive way to spend time with the family.
Pop some popcorn and snuggle in. 🙂
26) USE ONE CAR IF POSSIBLE
When my husband first suggested we get rid of one car, I looked at him like he had 3 heads, LOL!
How on earth would we function with only one car?
He managed to convince me to at least try and I'm really happy he did.
It plain works.
My husband doesn't have much of a commute, so it's easy for me to drop him off and go about my day.
We save insurance, gas, a car payment, and maintenance which really adds up!
If your family can use one car, I highly recommend you do!
Another fun trick is to drive efficiently to save even more money, called hypermiling.
27) BUY A USED CAR
Buying new can be nice, but it's a better choice to pick up a car that's used.
A car that's a couple years old will have all the nice features and has depreciated enough to save you money.
The purchase price will be much lower.
Make sure you ask about a warranty – many car dealerships will give you a warranty even if you buy a used car.
If someone in your family is more mechanically inclined, you may go for an even older model that you know is in good condition.
My husband has found some great deals for cars, like our current 2009 Subaru, that we got for a steal of a deal at $5,000 in cash!
28) WALK TO CLOSE PLACES
We, as a society, have definitely relied heavily on our cars, even if we have to go somewhere close to home.
Try walking instead.
It's great exercise and you'll save on gas.
My daughter always loves a good adventure somewhere, even it takes some extra time 😉
29) CUT THE CABLE BILL DOWN
We recently canceled our entire cable package.
With today's technology, streaming your favorite shows is easier than ever. So why have it?
You can go to TV network sites and watch easily.
And with Netflix charging a nominal monthly fee, you'll save bundles over expensive cable packages.
Check around and figure out what works for your family 🙂
We've also decided to spend less time watching TV, instead we are focusing on high-quality family time playing games, reading books, crafting, and more.
RELATED READ: Budgeting Advantages for Families
30) CUT THE DATA PACKAGE ON YOUR PHONES
We're on a family share plan, so we both use the same data package.
We opted for lower monthly data because it made sense – we primarily use our phones at home when they're on WiFi.
Plus many stores and restaurants have free WiFi so there really isn't a good reason to pay all that money for a big data package.
Check out what the basic phone plan is with your local provider.
We save around $50/month now after making the switch.
31) BORROW BOOKS FROM THE LIBRARY
I LOVE our local library.
We spend lots of time there as a family.
Not only can you borrow books, but you can also get the latest movies on DVD/Blu-ray.
Amazing for a family movie night!
It's totally FREE. 🙂
32) TAKE YOUR TODDLER TO FREE PROGRAMS AT THE LIBRARY
As a mom, I'm always looking for ways to socialize our baby girl.
I didn't put her in daycare so I feel it's important she gets out and about.
Our local library offers amazing FREE programs for toddlers.
There's reading, playing and fun to be had at no cost.
Check out your local library for some really awesome programs.
A lot of communities offer other great free toddler time activities as well, so see what's around.
33) JOIN A MOMS GROUP
Twice a week I go to a free mom group at our local mall.
We walk a few laps around the mall, then workout for 30 mins followed by a free coffee in the food court.
It's a fantastic way to start the day, plus our baby girl gets to play with the other toddlers.
Win-win situation.
The cost of this activity?
Free. It's pretty amazing.
Dig around your local community and see what free or low-cost activities are available.
34) LOCATE YOUR SECOND-HAND KIDS STORE
I love going to a local second-hand clothing store for kids called 'Once Upon A Child'.
They sell gently used clothing from infant to kids and we save a bundle.
For example, they have sales for 10 onesies for $10.
You can't beat that price and since kids are in clothes for such a short period of time, it makes good frugal sense to find great deals.
Check out local second hand kids stores in your area.
35) BORROW BABY/KIDS STUFF FROM FAMILY
This may not work for every family, but in ours, there are a couple of us having kids at the same time.
It means we can share all our baby/kid stuff with the family that needs it at that given time.
Right now, my sister in law has our play yard and bedside bassinet.
We'll get them back when we add to our family.
Sharing these big ticket items has proven good for our family budget.
36) GO TO MOM TO MOM SALES
Another place to look for amazing deals is any local mom to mom sale.
If you haven't heard of these sales, expect other moms to be at the show selling items they don't need anymore for dirt cheap.
I've stocked up on books and toys galore.
37) USE BINS TO ROTATE TOYS
You may be surprised by this best frugal tip for families made it into this post.
But, we've found rotating baby girl's toys lengthens the amount of time she stays interested in them.
If she's not bored, then there's no reason to buy more toys for her.
I went and bought a couple of these bins and rotate them between her place spaces.
Some even go out of circulation for a little bit.
When she rediscovers them, it's like she's playing with a new toy all over again.
38) USE BUY AND SELL WEBSITES
Using buy and sell websites is good for toys, but it's also good for bigger items we're on the hunt for.
Buying second hand is definitely the way to go if you're trying to stretch your family budget.
We use Facebook marketplace, Mercari and Varagesale.
39) CHECK OUT GROUPON AND WAGJAG FOR DEALS
Living frugally doesn't mean you don't get to have fun!
You just have to be smart about it.
We always check out deal sites that offer things to do at a much lower cost.
These make for great date night ideas or family outings.
40) CHECK OUT THE CLEARANCE SECTION WHEN BUYING NEW
If you do need to buy new, check out the clearance section of the store just in case there's a steal to be had!
41) PERUSE GARAGE SALES IN YOUR NEIGHBORHOOD
I love to check out garage sales in our area to see if there's a deal.
We've upcycled items for a much lower cost than it would have been had we bought new.
42) BUY FAVORITES FROM THE BULK STORES
Have something in your pantry you use all the time?
Buying in bulk is a cost-saving way to stock up on items you use.
Check out your local bulk food store and Costco for money saving deals.
Another great option is buying an online membership for bulk items on a platform like Thrive (especially if you have special diet needs are are trying to eat more organic items)
Get up to $20 in shopping credit when you purchase a Thrive Market Membership! (1 year and 1 month memberships available)
43) DON'T JOIN THE GYM
Gym memberships are expensive.
We canceled ours, purchased some workout equipment and do all our exercising at home.
We actually find it better because we're in the privacy of our own home and have the flexibility to work out when we want.
It's a better idea to invest in the one piece of equipment or workout series once, then pay a high monthly fee.
Check out used, of course, if you really want that piece of equipment.
Check out our favorite workout videos here!
If you're missing the group atmosphere, ask a friend to join or find an amazing online community (they're everywhere!)
44) PLAN A DATE NIGHT IN YOUR OWN BACKYARD
Ah, yes – date nights that can easily turn into a $200 event if you're not careful.
My husband and I love having date nights in our own backyard. Yes, you read that correctly, haha!
We love a good campfire, so we bought an affordable fire pit and after our daughter goes to bed, we chill out and spend time together in nature.
Cost of this amazing date night idea?
Free.
RELATED READ: 52 Fun Cheap Date Night Ideas for Couples on a Budget
45) GO FOR A LUNCH DATE INSTEAD OF DINNER
Ever thought about making your next date 'night' into a daytime lunch date?
If you can make it work, it's a lot of fun!
My husband and I love doing lunch dates and they're way cheaper then going for dinner.
46) GO TO THE DRIVE-IN
I think most people have forgotten about the good ol' drive-in.
It's a really fun way to change up family fun time OR a great idea for a date night.
At our local drive -in it costs just $7 on Tuesdays!
A great, affordable way to have some fun!
47) PLAN A FAMILY CAMPING VACATION
Our family LOVES nature.
We spend as much time in nature as we possibly can.
It made sense to us to start camping as a family.
It's the best of both worlds.
Affordable and in nature. 🙂
You really don't need much to get started- just throw a few camping items like a tent, sleeping bags, blow up mattress, and camping stove in the trunk and you're ready to go!
48) SKIP THE VACATION SOUVENIRS
If you do go away for a family vacation, skip the souvenirs. (And opt for an affordable vacation rental)
They can be costly products because they're targeted to tourists and, truthfully, the best memorabilia from trips are the photos you took for free!
If you feel the need to bring souvenirs home for friends and family, consider skipping on the cheap plastic items.  Bring a local food or send a traditional postcard that your kids can help with!
49) USE AIRBNB FOR TRAVEL ACCOMMODATIONSNS
Another frugal tip I love to recommend is using Airbnb to book your vacation accommodations.
The cost of renting is far cheaper than booking a hotel.
Like wayyy cheaper!
They're also nicer than a hotel room and you have lots of space that only your family is enjoying!
Plus, you'll have a kitchen to save on some meals. (Hopefully we'll be able to get back to enjoying vacations and rentals soon!)
50) CHECK OUT LOCAL CHURCH BAZAARS FOR CHRISTMAS GIFTS
Right around Christmas time, local churches put on bazaars full of handmade items, plants, gift baskets, knitted items and so much more.
These things are made or given with heart.
They're also affordably priced, making it a great idea to get some of your Christmas shopping done!
51) MAKE YOUR OWN COFFEE
Grabbing a coffee from Starbucks adds up quickly.
The average cost is around $5/coffee.
We love our Keurig and make all our coffees to go.
If you don't own these no spill, no leak travel mugs, make sure you invest!
They'll save you money and grief!
52) USE REUSABLE COFFEE PODS
Because we use a Keurig, we bought reusable pods that we fill ourselves with our fav coffee.
Doing it this way saves money and stops unnecessary waste going into the landfill.
53) LOOK AT REFINANCING YOUR MORTGAGE TO GET RID OF HIGH-INTEREST DEBT
Have any high-interest debt sitting on credit cards?
Talk with your local bank about consolidating debt into your mortgage.
The payment will be more manageable and at a much better interest rate.
That means you'll stop paying away so much of your money on interest!
You can also consolidate debt you may have from student loans, credit cards, and mortgage into one manageable payment.
54) LIVE IN A HOUSE YOU CAN MORE THAN AFFORD
That's one thing my husband and I have always agreed on – that we would never spend the maximum of what we can afford on a house.
The last thing we wanted to be was house poor.
It isn't a good feeling.
And with the economy, you never know if and when interest rates will go up.
If they do, you might be in trouble if you borrow at your maximum.
Sure, we dream about bigger houses, but we would only make the move if it made complete financial sense.
It's always best to live withing your means!
55) MAKE YOUR OWN CLOTHES
I have yet to try this frugal living tip, but I have friends who make their own clothes and they swear by it.
My mom was a wizard at making great clothes for us as kids- something I never picked up. But they were fun, unique, and cheap!
I had to add it to this best frugal tips post because it's sound advice.
The cost of fabric and sewing tools are a lot cheaper than going out and buying something from a name brand store AND you get to create your own masterpiece. 🙂
56) DYE YOUR OWN HAIR
Now, this is one of the BEST frugal tips I can offer!
When my friends tell me the cost of their professional appointments I'm always shocked.
Take this all with a grain of salt since I don't personally die my hair, but I have several friends that now do their own hair.
I still go to get my hair cut, but you can save so much by dyeing your hair yourself.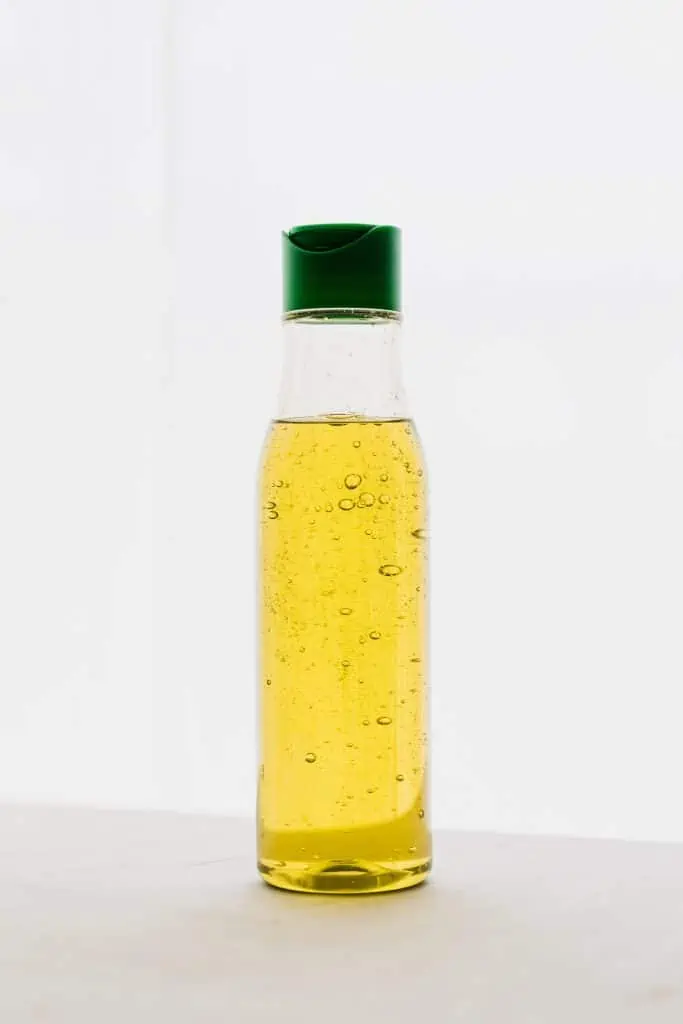 57) USE HAIR CONDITIONER AS SHAVING GEL
Another frugal thing I love to do is use my conditioner (it doesn't take much) as shaving cream. It works like a charm and softens my legs too!
58) CAREFUL HOW MUCH SHAMPOO YOU USE
A frugal tip you may not be aware of is how much shampoo and/or conditioner you squeeze out when you wash your hair.
You don't need as much as you think.
For example, a person with medium thick hair only needs about the size of a quarter, so if you have finer hair you need even less!
Getting a handle on this will help you stretch the life of your shampoo bottle and save you money.
For an extra budget boost, our whole family uses an all-in-one baby wash. YES- the whole family! It smells amazing and I now use it for face wash instead of harsh, expensive face products.
59) WASH YOUR HAIR LESS OFTEN
Another frugal option is to wash your hair less often then you are right now.
I try not to wash my hair until 3 days have passed.
Yes, by day three I often wear a ponytail, haha!
But, it's a great way to mix up your hairstyles!
Plus, it saves a lot of time for other mom activities 😉
60) PUT YOUR NAIL POLISH IN THE FRIDGE
How many times have you bought a bottle of nail polish, used it a couple of times and then thrown it out a couple months later because it's gotten all thick and yucky?
Ya, me too!
I started storing my nail polish in the fridge to keep it "fresh" and it works!
(Bet you didn't think about storing your nail polish in the fridge, haha 🙂 )
It's a great way to keep the polish fresh for longer and stop it from thickening and clumping when you try to apply it.
61) INVEST IN ONE PIECE OF CLOTHING THAT WORKS FOR MANY EVENTS
I have one dress.
Yup, that's right ONE.
I know it's not the norm for most women, but hear me out.
That dress is appropriate for any occasion that comes up.
It's a good way to be frugal, but it also helps with the decision-making process of what the heck to wear!
(That's something I used to stress about way too much!)
Since I know I have a dress to rely on, it stops me from heading to the stores every time a special occasion comes up.
I can simply change the look with accessories and viola!
If you've never heard of a capsule wardrobe, you should check them out! Such a time and money saver.
62) BUY CHEAP CANVASES AND HAVE FAMILY PAINT NIGHT
I can't pick what tip is the BEST frugal tip, but this one just might be it.
I love going to the local dollar store to pick up some canvases and paint supplies.
It's a fun, creative way to make sure the whole family has fun.
Everyone gets to create their own masterpiece.
Then we choose which one deserves to be hung somewhere!
If your get bored with your canvases, you can simply paint them white and start again too.
63) FIX YOUR OWN THINGS
This goes without saying.
If you want to find room in your family budget you need to try to fix your own things before hiring someone.
YouTube is my husband's best friend for troubleshooting all kinds of issues.  He even used a video to fix our car once!
64) SLEEP ON BIG PURCHASES
When we have a big purchase to make, we'll do the research, go and see the product, and then promptly sleep on it!
I can't tell you how many times we've changed our minds OR found a cheaper option by taking our time!
I really hope you enjoyed our collection of the best frugal tips!
It was a lot of fun putting all the frugal tips in one place.
I hope your family can benefit from the money saving tips and make your dollars stretch so you can enjoy other things in life.
So, what did you think?
Do you have your very own best frugal tips that you want to share?
Comment and share your best frugal living tips below! 🙂