Spooktacular Duos: Mommy and Me Halloween Costumes
This post may contain affiliate links. As an Amazon Associate, I earn from qualifying purchases.
What's cuter than a baby dressed up for Halloween? A matching mommy.
As Halloween is slowly approaching, I think it's time to get started and look for some great costume ideas. What do you think about some super fun Mommy and Me Halloween costumes?
You will undoubtedly stand out from the crowd by choosing a matching Halloween costume with your baby or kid. It also gives you a perfect opportunity to bond with your kids.
Whether you prefer timeless and classic Halloween costumes or you would like to go for something crazier, check out our awesome Mommy and Me Halloween costume ideas below. Who knows, you might find the perfect Halloween costume idea that will make this Halloween special and extra fun!
These are broken up into boy, girl, and baby Halloween costumes. But of course, feel free to mix and match whatever sounds fun to you for Mommy and Me Halloween Costumes!!
Mommy and Son Halloween Costumes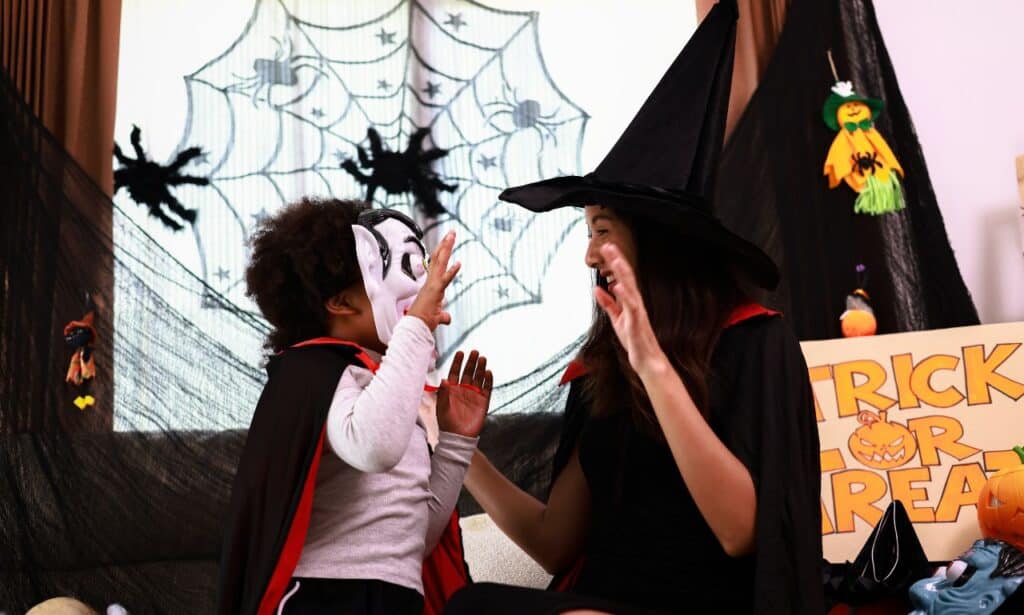 1. Ariel & Sebastian's Costume
Dressing up as classic Disney characters is always a great idea. This is why, if you loved The Little Mermaid as a child, you should consider dressing as Ariel and Sebastian with your baby boy.
Simply choose a seashell top and a sparkly skirt, or a costume tail, and opt for a super cute crab outfit for your baby boy. You don't have to make things too complicated; a pair of red pants, a red hoodie, a crab hat, and a pair of red shoes or socks would be more than okay!
Personally, I dressed my daughter up as Ariel at 5 months old. Then, I went as a flounder (I just wore a fleece hat made to look like a fish), and my husband wore a shark fin that we got in the dollar section at Target.
2. Minnie and Mickey Mouse Costume
Here is another cartoon-inspired Halloween costume idea: dress up as Minnie and Mickey Mouse with your son.
Buy yourself a Minnie Mouse outfit or create one on your own. How? Just wear a black t-shirt and a red skirt with white polka dots. Plus, add a pair of yellow high heels and a Minnie Mouse ear headband. That's all!
When it comes to your little one, add on a black onesie/t-shirt (depending on his age), a pair of red shorts, a hat with Mickey Mouse ears (or an ear headband), and yellow socks.
3. Velma and Scooby-Doo Costumes
Velma and Scooby-Doo are perfect Halloween costume options. Put together your Velma outfit using the following items: an orange turtleneck sweater, a red skater skirt, a pair of black glasses, orange knee-high socks, red shoes, a magnifying glass, and a short brown bob wig with bangs. Of course, if you find it easier, you can order a pre-packaged Velma costume so you don't have to spend time looking for all these items.
For your son, the best is to buy a Scooby-Doo jumpsuit. Don't worry; these Halloween costumes are available both for babies and older kids as well!
4. Where's Waldo Costume
Are you looking for last-minute Mommy and Me costumes? Then you will love this cute Where's Waldo outfit idea because it won't take you too much time to prepare it. All you need is a red-and-white-striped t-shirt, a matching bobble hat, and glasses for both you and your little one. Super easy, right?
Plus, this Halloween costume is an excellent choice if you are bored of dressing up like everyone else (most people stay with the classic mummy, skeleton, or witch costumes) for trick or treating.
5. Paleontologist and Dinosaur Costume
If your child loves dinosaurs, let them wear one of the dinosaur Halloween costumes. You can simply order a dino costume online, or if you think you can do it, sew one on your own.
For you, choose a paleontologist costume and carry with you a stuffed dinosaur toy or other accessories. You will look stunning posing next to your son!
6. Superhero Duo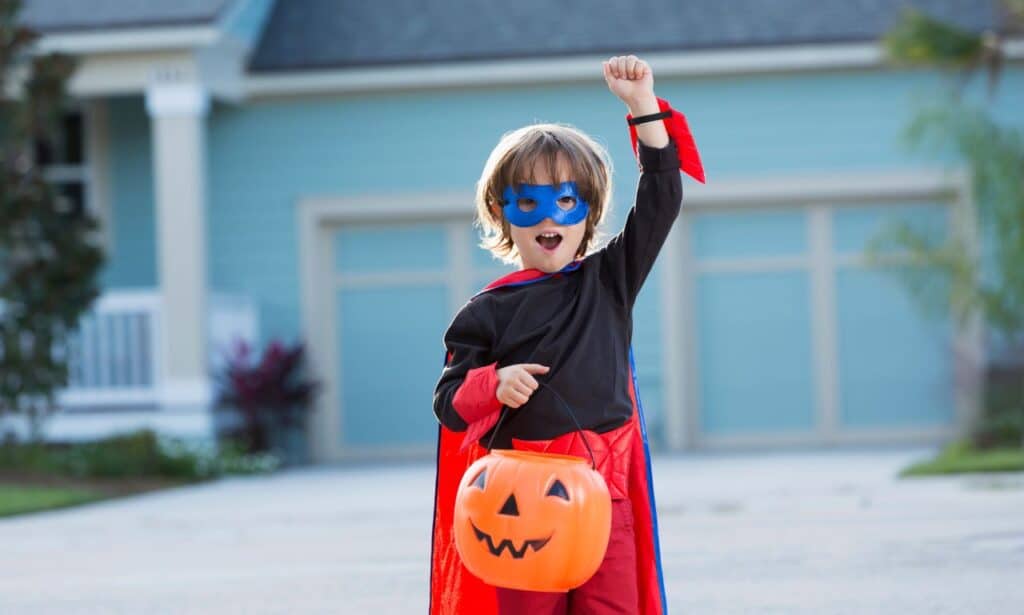 Dress up as iconic superheroes and their sidekicks. You can go for classic combinations like Batman and Robin or Superman and Superboy. Let your imagination soar and create your own unique superhero team with matching capes, masks, and emblems. You will easily find superhero costumes in your nearby stores.
7. Dynamic Sports Duo
If you and your son are sports enthusiasts, consider dressing up as a dynamic sporting duo. Whether it's basketball players, football stars, or baseball legends, this theme allows you to showcase your love for the game and bond over your shared passion for sports.
8. Adventure Time
Embrace a theme that reflects your adventurous spirit. Consider going as a pirate and his first mate, a safari explorer and a wild animal, or even a space astronaut and an alien. The possibilities are endless for creating a world of excitement and exploration.
9. Storybook Pair
Dive into the pages of your favorite storybooks by dressing up as famous literary duos. From Harry Potter and Hagrid to Peter Pan and Captain Hook, these costumes will transport you to magical worlds and ignite your imagination.
10. Star Wars Saga
Embrace the Force and become characters from the Star Wars universe. You can be Princess Leia, and your son can be Luke Skywalker or Yoda, creating your own intergalactic adventure.
The most important thing is to have fun and create cherished memories together. Get creative with DIY costumes or opt for store-bought ensembles that perfectly capture your chosen characters. Whatever you decide, the joy of dressing up together and embarking on a trick-or-treating adventure will surely make this Halloween a truly unforgettable one.
11. Jack-O-lantern Halloween Costumes
When it comes to Halloween, creating coordinating costumes for a mother and son can add an extra layer of excitement to the festivities. Another delightful and classic choice is the "Mom & Son Jack-o'-Lantern" costume theme. This idea revolves around transforming both mom and son into adorable, grinning pumpkins, reminiscent of the iconic Halloween symbol.
For mom, an orange T-shirt or sweatshirt serves as the canvas for the Jack-o'-Lantern face, which can be crafted using black felt fabric or fabric paint. Adding a green headband or ribbon as the pumpkin's stem completes the look. Meanwhile, for the little one, a miniature version of the Jack-o'-Lantern costume, tailored to their size, is equally charming.
Mommy and Daughter Halloween Costumes
1. Mermaid Costume (s)
When it comes to Mommy and Daughter Halloween costumes, mermaid costumes are a huge favorite! After all, what could be more adorable than mom and daughter wearing the same mermaid outfit?
If you know how to sew, then get creative and create two gorgeous mermaid costumes following these instructions. One for you, and one for your little girl! You will see that you will have fantastic success this Halloween if you decide to wear these mermaid outfits.
However, if you are not so good at crafts or don't have time for a sewing project, you can still buy some ready-to-wear mermaid costumes.
3. Wilma and Betty/Pebbles Costume
Do you remember the classic cartoon called The Flintstones? Go back to the Stone Age and transform yourself into Wilma Flintstone and Betty Rubble with your daughter. – If your daughter is at baby age, then she can dress even as Pebbles Flintstone! It is one of the amazing yet classic mom & daughter Halloween costume ideas.
Plus, if your husband would like to be part of the fun as well, he can choose a Fred Flintstone outfit for himself. One thing is sure: the family would look lovely together, dressed like a modern Stone Age family.
These mom and daughter Halloween costumes can be easy to make at home with the right supplies. So if you have a little creativity, here is a great tutorial to check out.
4. Professor McGonagall and Hermione's Costume
If you want to play it safe, dressing up as one of the characters appearing in the Harry Potter movies is always a crowd-pleaser. While most people think about Harry Potter, Hermione Granger, Ron Weasley, or Albus Dumbledore as the main options to choose from, there are so many other great characters in the movie you could consider as well. Just think about the amazing Professor Minerva McGonagall, the head of Gryffindor House.
Fortunately, you don't have to give up your idea of dressing as one of the Harry Potter characters just because you prefer Mommy and daughter Halloween costumes. You can dress with your daughter as Professor McGonagall (black dress, a green cloak over the shoulders, a hat, and replica wand) and Hermione. Most likely, you will have great success at the Halloween party!
5. Morticia and Wednesday Addams Costume
We all know that Halloween can't be complete without the creepy and mysterious Addams family. Thus, why not dress up in black as Morticia and Wednesday Addams?
For this mommy and daughter Halloween costume idea, consider buying pre-packaged costumes or creating your own costumes using the items you have at home.
6. Mommy and Baby Shark Costume
Is there any kid in this world who doesn't love Baby Shark? I don't think so!
Get a Mommy Shark and a Baby Shark costume for you and your daughter (or you can even dress the entire family) and show off your dancing skills at the Halloween party.
7. Superhero Team
Unleash your inner superhero by going as a dynamic duo or forming a formidable superhero team. Whether it's Wonder Woman and Supergirl or a group of mighty heroes, this theme allows you to embrace your strength and save the day together. It's also one of the easiest mom and daughter Halloween costumes idea.
8. Literary Character Halloween Costumes
You can also take inspiration from literature by dressing up as iconic literary characters. Consider going as Matilda and Miss Honey from Roald Dahl's "Matilda" or Scout and Atticus Finch from Harper Lee's "To Kill a Mockingbird."
9. Classic Hollywood Icons
Pay homage to Hollywood legends by dressing as iconic stars like Audrey Hepburn and Marilyn Monroe. It's a glamorous way to make Halloween a Hollywood affair.
10. Royal Tea Party
Host a royal tea party by dressing as queens or princesses. You and your daughter can sip imaginary tea and enjoy a regal Halloween celebration.
The key to choosing the perfect mom-and-daughter Halloween costume is to have fun and create lasting memories together. Whether you opt for store-bought ensembles or get creative with adorable DIY costumes, the joy of dressing up and trick-or-treating as a team will make this Halloween unforgettable. This is such a cute idea for your daughter's Halloween costume.
Mommy and Baby Halloween Costumes
When it comes to Halloween, there's nothing cuter than matching mom and baby Halloween costumes. It's the perfect way to celebrate your little one's first Halloween and create adorable memories together. If you're looking for inspiration for mom and baby costumes, here are some fantastic ideas for mom and baby Halloween costumes:
1. Birds of a Feather
Embrace the idea that "mom and baby flock together" by dressing up as birds. Whether you go for peacock-inspired outfits or opt for cute bird characters like owls or penguins, this theme will make you stand out from the crowd. One of the perfect baby costume ideas.
2. Peas in a Pod
Dress your baby as a sweet pea, and you can be the pea pod! This adorable mom and baby costume idea showcases the closeness between a mother and her baby.
3. Storybook Characters
Take inspiration from classic children's books. Dress up as characters like Alice and the White Rabbit from "Alice in Wonderland" or Little Red Riding Hood and the Big Bad Wolf. These costumes will transport you into the magical world of storybooks.
4. Foodie Fun
Get creative with food-themed costumes. You can dress up as a chef, and your baby can dress up as a delicious lobster or as a taco and a hot sauce bottle. These tasty costume ideas will surely bring smiles to everyone's faces.
5. Animal Kingdom
Embrace the wild side by choosing animal-inspired costumes. Whether it's a mama bear and her cub, a lioness and her cub, or any other animal pairing, these costumes are not only cute but also represent the strong bond between mother and baby.
6. Classic Characters
Go for timeless characters that never fail to impress. Dress up as iconic duos like Minnie Mouse and Mickey Mouse, or characters like Dorothy and Toto from "The Wizard of Oz." These costumes will bring a touch of nostalgia to your Halloween celebration.
7. Bakery Delights
Transform into a baker, complete with an apron and chef's hat, while your baby becomes a delightful cupcake. This sweet combo is perfect for those with a sweet tooth.
8. Toy Story Adventures:
Enter the world of Toy Story by becoming Woody and Baby Buzz Lightyear. It's a heartwarming way to celebrate the bond between toys and their owner.
9. Cocomelon Family Trip
Dress your baby as JJ, the adorable star of Cocomelon. Find a yellow onesie or pajama set that fits comfortably. You can also add a red baseball cap to complete the look. As Mommy, you'll want to wear a red dress or a red shirt paired with a white apron. This will mimic Mommy's classic outfit from the show.
The most important thing is to have fun and create lasting memories with your little one. Whether you choose to generate DIY costumes or opt for store-bought ensembles, matching mom and baby Halloween costumes are sure to make this Halloween extra special.
Time to Get Creative
Hopefully, you enjoyed these Mommy and Me costumes, and by now, you know precisely what you want to be for Halloween with your kids.
Whether you are planning to go to a Halloween party or you just want to hand out some candies and chocolates to trick-or-treaters, by choosing matching outfits with your kids, you may certainly expect to get a few compliments from others.
Do you have any other Mommy and Me costume ideas? I would love to hear them out!