Best Baby Toys 0-6 Months
This post may contain affiliate links. As an Amazon Associate, I earn from qualifying purchases.
Your baby's first six months are full of significant changes and milestones. From starting to crawl to eating solid foods, there's a lot to keep track of! And while it can be tempting to go overboard with toys and try to keep your baby entertained, choosing the best baby toys 0-6 months is essential for your child's growth and development.
Baby Milestones for 0-6 Months
Within a few weeks, your baby will begin to enjoy staring at things with high-contrast colors and being intrigued by any object that rattles and chimes with shaking (and they don't have to be toys, to be honest).
By three or four months old, your baby can hold toys – but only occasionally, more unintentionally than on purpose.
How to Choose the Best Baby Toys 0-6 Months
As a new parent, navigating the endless options for your little one can be overwhelming. I suggest starting with the basic toys with no moving parts and plain colors.
A suitable toy can eventually help your child learn letters, numbers, sign language, and even color recognition while they grow up.
However, with so many options on the market, it's hard to know which toys will be the most stimulating, educational, and age-appropriate for your little one. That's where I come in!
In this blog, I will share my top baby toys from 0-6 months.
So sit back, relax, and get ready to be amazed by the power of play!
Best Baby Toys 0-6 Months
Best Newborn Development Toys- Rattles
I know that sometimes it feels like there's a never-ending array of baby toys 0-6 months, but you can never go wrong with using a rattle. Using rattles for your little one might sound old school, but they still stand up to today's technological advancements, including adjustable see-saws, cranks, fun horns, and much more.
As your newborn is learning to use his hands, feet, and senses, rattles help build foundational language and gross motor skills. What I like most about rattles is that they are relatively simple and still make your baby overjoyed.
I started using a rattle for my newborn when she was only a week old to find it activated a baby's startle reflex (a response to loud noises). So we tried again later when she was more alert and ready at about 3 weeks. Now she still uses a few of them as a 4year old to "make music."
Baby rattles are a superb way to help your child's hand-eye coordination, stimulate their senses, and give them simple and easy entertainment.
You may find a variety of rattles in the market, such as wooden baby rattle toys, plastic rattle toys, and even more fancy ones. However, all of them shake and make a rattling sound, which are the two things that cause newborns to squeal with delight.
My Top Pick- Fisher-Price Maracas, Set Of 2 Newborn Toys
Are you looking for a toy to help your baby develop their senses? If so, the Fisher-Price Rock' n Rattle Maracas may be just what you need!
These maracas are designed to help engage and delight your baby's developing senses with their high-contrast colors, textures, and rattle sounds. Not to mention, all shaking and rattling actions give their gross motor skills a great workout.
Fisher-Price maracas are the ideal newborn toy! They help your baby develop a sense of rhythm and musicality while also being great for hand-eye coordination. These maracas are also very colorful and eye-catching, keeping your baby entertained.
Besides, If you're looking for a gift for a baby shower or new parent, these are a great choice. They're classic toys that will provide hours of fun for your little one.
What I Like the Most
Easy to hold
Keeps the baby alert
Budget-friendly
Fun colors for the baby to see the contract more easily
What I Dislike
Harder to clean
Made of plastic
You may also love
Manhattan Toy Winkel Rattle & Sensory Teether Toy
Best Baby Toys for Fine Motor Skills- Playmats or Play Gyms
When you're just getting the hang of holding a newborn in your arms, it can seem like there are very few ways to entertain him. However, No matter what I set my eyes on when walking around baby toy stores, the first thing that catches my interest is these playmats and play gyms.
A play mat or play gym is fun to encourage infant and toddler development. These soft mats are available in various colors, designs, shapes, and sizes, allowing you to find the one that best suits your home or nursery decor. You can choose traditional mat styles or a colorful set with attached rattle balls.
I love the flexibility of these mats, and besides encouraging motor skills, these can be used for tummy time, sitting up, or even playing independently. I remember putting my daughter's here often to fold laundry or quickly grab a snack when they were newborns.
My Top-Pick: Lovevery The Play Gym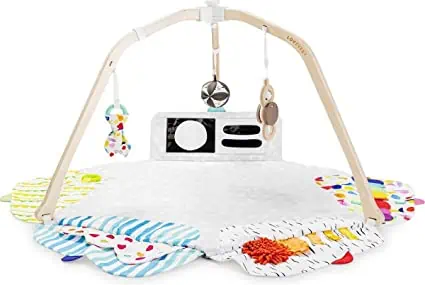 The Play Gym by Lovevery is the perfect way to keep your child delighted and engaged. With various activities and colorful toys, this gym will become your child's favorite place to play.
Plus, it's designed to help your baby develop physically, cognitively, and emotionally. From newborns to toddlers, this gym has something for everyone.
The Playmat contains stimulating activities and materials that engage all baby's senses. Every element is designed to encourage movement and promote learning, from the bouncy floor mat to the hanging toys.
What I Like The Most
High-quality materials like silicone and organic cotton reduce the risk of allergies.
Converts to play fort with Play Space Cover for imaginative play.
Play Guide with inspiration and activities.
Durable and sturdy design that will last longer
Great for tummy time and encouraging rolling (when ready)
What I Dislike
Hanging toys are non-adjustable (but they are removable)
Larger than other playmats on the market
Relatively expensive
Other considerable options
Fisher-Price Deluxe Kick & Play Piano Gym
Baby Einstein 4-in-1 Kickin' play gym and piano
You May Also Want to Read: Changing Table Organizer Ideas for Baby Nursery
Best Toys to Encourage Learning Skills- Soft Books
When it comes to learning, there's no better way than reading books to your child. Over time, it kept my daughter and me engaged for hours and helped her develop his reading skills. I believe books are one of the best developmental toys for babies 0-6 months.
Moreover, if your baby is teething, sometimes the simple act of chewing on something soft can be the most effective remedy. That's where soft books come in.
These books are specifically designed for babies 0-6 months and young toddlers who are teething. They are made of soft, durable, safe material for babies to chew on.
These soft squishy books come in a variety of styles and topics that children can engage with from infancy and all the way through preschool years.
Some of these books feature humorous rhymes, while others focus on teaching children letters and numbers.
Your child can get a lot of early learning by using cloth books which enable them to develop and expand their sensory skills.
They have lines and crinkle paper that give texture and colorful images and illustrations with themes like nature, animals, and more. These books are designed with the finest quality, ensuring they last for years.
While babies might not be ready to sit and read or listen, these are great for building their love for books!
My Top Pick-Baby Einstein Curious Explorers Teether Book
If you're looking for a fun and interactive way to keep your little one entertained while promoting their development, this Baby Einstein Curious Explorers Teether Book is all you need.
This book is packed with high-contrast images and textures that are perfect for little hands to explore and is great for newborn to toddler years. The bright colors and patterns will also stimulate your baby's visual development.
In addition to being entertaining, the Baby Einstein Curious Explorers Teether Book is also a great way to promote your baby's fine motor skills.
It's my little one's favorite book, mainly because she likes to chew on the corners, and the book is easy to grasp. She always carries this with her. And because she is at the point when she puts everything in her mouth, I am glad it makes the best teething toy.
What I Like The Most
Easy to flip soft pages
Great for sore teething gums
Value for money
What I Dislike
Cannot be sterilized (easily)
The size is too big for some diaper bags when on the go
Some other favorites in this category
Peter Rabbit Soft Book with Teether and Crinkle
VTech Baby Peek and Play Baby Book
Baby Favorites- Soft Teething Toys
I'm sure it goes without saying, but I'll say it anyway: when your little one is teething, nothing is worse than hurting them or having them distressed by a poorly designed teething toy.
Ideally, when choosing the best baby toys (0-6 months), you want to go for soft and safe toys that allow your baby to explore their world while feeling safe.
Soft teething toys can be used as a gentle way to soothe a baby's sore gums. Many parents use them when their baby starts to cut her first teeth, and others keep using them from birth until six months old.
Toys with crinkle surfaces they can grasp onto or bite into also help improve motor skills and hand-eye coordination. These soft baby toys will offer your baby hours of fun and cuddling.
Teething toys are perfect for newborns since they help condition their teeth. These new-age toys also crackle and jingle, so your little one can sway to the music with every nibble. I love that these toys are handy and can easily be tossed into a diaper bag for playing on the go.
My Top Pick-Vulli Sophie The Giraffe Teether
If you are a parent of a teething baby, you must know about this classic teething toy, Vulli Sophie the Giraffe.
My firstborn started teething quite early, and this teether was an utter God-send! For obvious reasons, it has been a favorite of parents and babies for over 50 years.
This squeaky giraffe toy has been trendy because it is made from 100% natural rubber (derived from the sap of the Hevea tree) and food-grade paint and is safe for babies to chew on. Additionally, it is a great toy for babies 0-6 months as it is easier to grasp and hold.
Like every mom, I wanted a teether for my child that was non-toxic and enjoyable, and Sophie was the clear winner because it is also phthalates- and BPA-free.
What I Like the Most
Sized right for little hands
Durable
Made from safe materials
Lightweight
What I Dislike
Relatively expensive
It cannot be sterilized (I recommend keeping it out of the bath or anywhere wet)
Other favorite options are
Infantino Lil' Nibbles Textured Silicone Teether
Frida Baby Not-Too-Cold-to-Hold Silicone Teether
Musical Toys for Babies 0-6 Months
Lastly, musical instruments are one of my favorite toys for babies 0-6 months. These are a must-have for babies from birth to toddlerhood since newborns are innately attracted to sound.
These toys are designed to stimulate their senses and encourage learning through play.
There are many benefits of playing music for babies. It improves language skills and helps develop fine motor and cognitive skills.
Some musical toys have features such as lights, sounds, and motion that promote sensory stimulation. Drums and rattles are popular toys that amuse children and allow them to interact with the world around them.
My Top Pick-Baby Einstein Take Along Tunes Musical Toy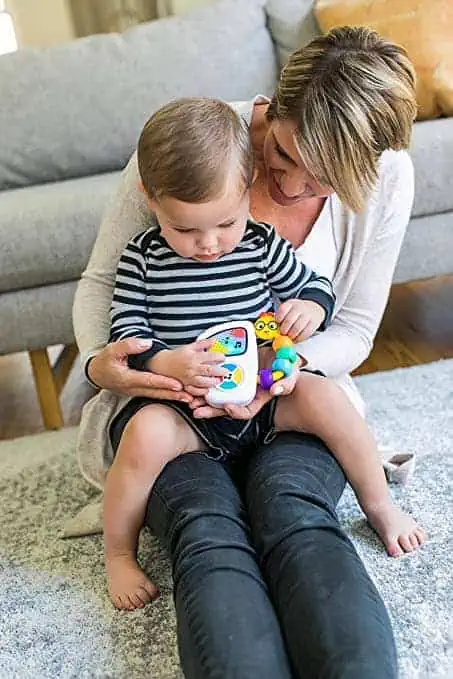 When it comes to music-related toys, look no further than this cute Baby Einstein Take Along Tunes Toy. This little toy is designed to help your baby learn about music and develop cognitive skills.
The toy comes with ten classical melodies and lights up as it plays. My favorite feature as a mom is that It also has volume control so that you can adjust the sound to your preference.
The Baby Einstein Toy is affordable and entertaining, providing your baby with hours of fun and learning.
What I Like the Most
Budget-friendly
Easy to clean
Perfect size for little hands to carry
No assembly required
What I Dislike
Need batteries to operate
It can be overstimulating for young babies (and tired parents)
Get This Baby Einstein Take Along Tunes Musical Toy Here
How to Choose a Baby Toy
Choosing suitable baby toys is an integral part of parenting. Toys are a great way to stimulate your baby's senses, help them learn new skills, and provide a fun and safe way to explore the world around them.
When choosing baby toys, safety should always be the top priority. Make sure to look for toys that are age-appropriate, non-toxic, and have no small parts.
I hope you found this guide on the best baby toys for 0-6 months helpful. Happy shopping!
What are your favorite 0-6 month baby toys?