Cute DIY Baby Shower Gift Ideas
This post may contain affiliate links. As an Amazon Associate, I earn from qualifying purchases.
Are you looking for adorable yet useful baby shower gifts? We all know that there are a lot of lovely gifts out there. But sometimes, finding the perfect one for your friend or co-worker can feel impossible. That's why today we will discuss another option: DIY baby shower gifts.
This article is for you if you love to be crafty (or even if you don't but want to be creative!). Time to get creative and thoughtful 😉
In the following, I will give you some great DIY baby shower ideas to create something totally unique. Read on for the amazing tips and tricks to make a gift that the mom-to-be will love.
Pacifier clips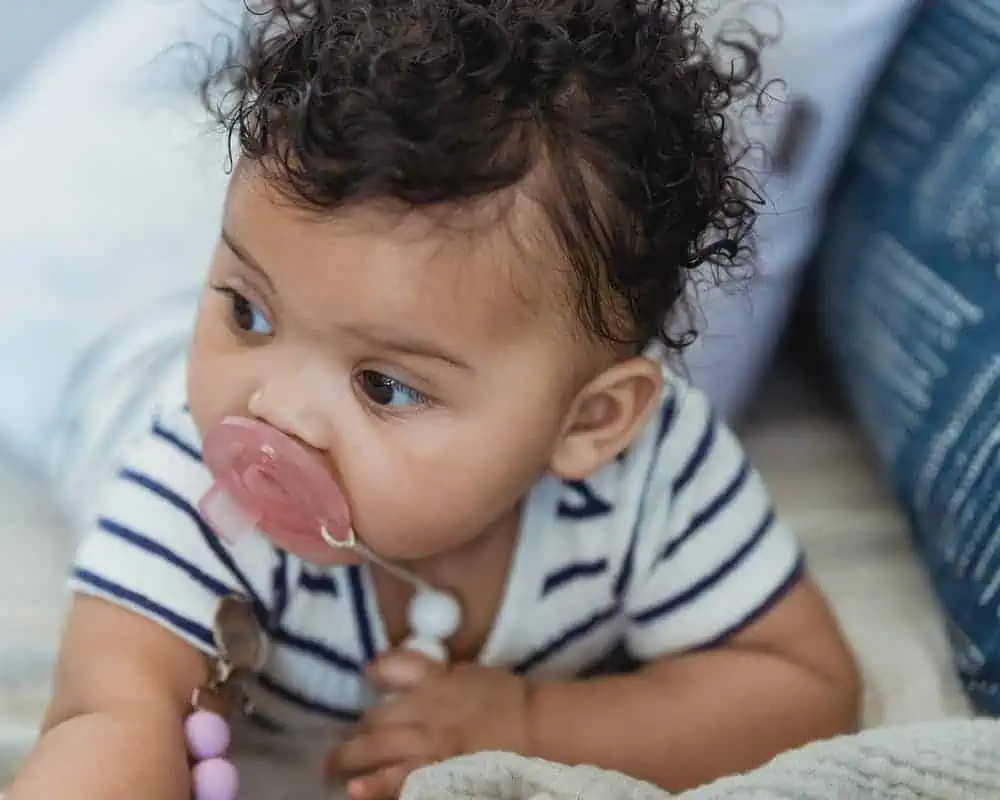 Pacifier clips are cute gifts that are easier to make than you would think. You can create gorgeous pacifier clips using only a few things, such as string, clip, wooden/silicone beads, and a teether. Don't know how? Check out this quick tutorial.
Note: Since babies chew on everything, ensure all the items are baby safe!
Related read: Baby Shower Themes Ideas
Swaddle blanket or sack
Swaddling is great because it keeps the baby warm and helps them sleep better. Thus, every mom needs a few swaddle blankets or sacks to keep their baby snug. You can make a lovely swaddle blanket on your own for the mom-to-be. Just choose a nice fabric, look for your sewing kit, and follow this guide. Don't worry; it's enough if you have basic sewing skills!
This is a fun idea since you can pick unique designs and fabrics!
Related read: The Ultimate Guide to Baby Preparation
Wooden growth chart ruler
The next baby shower gift DIY idea is the wooden growth chart ruler. Without a doubt, it is an excellent gift for every expectant mom. She can place it in the nursery, so it will be at hand to record their baby's height when they start to walk. Take a look at this amazing step-by-step tutorial and make a superb growth chart ruler. You can make it more unique by writing the name of the baby on the ruler or using colors that match the nursery.
Floral monogram
What about a beautiful DIY floral monogram to decorate the door of the nursery or the nursery itself? I think it's a lovely idea!
To create a floral letter, you will need a wooden letter (the first letter of the baby's name), a hot glue gun, string, and some fake flowers. Once you have everything you need, glue the flowers to the front side of the wooden letter. Make sure that the letter is completely covered. Then, glue a piece of string on the backside to create a handle. The letter can be hung up on the door or wall using a nail.
Diapering essentials box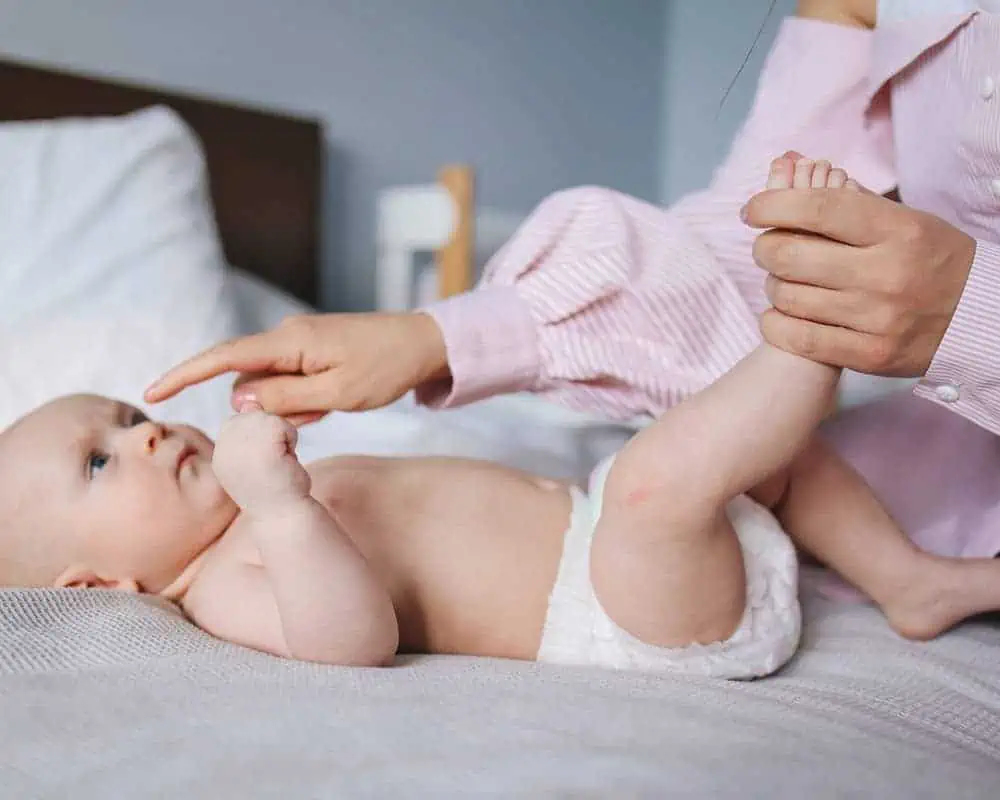 Giving a diapering essentials box to the mom-to-be is a thoughtful idea. She will certainly appreciate it! Simply collect all the essentials, such as diapers, baby wipes, onesies, washcloths, and socks, and place them in a nice-looking box. If you want to take this idea to the next level, create diaper babies (or some other fun shape) from the items before placing them into the box.
Diaper bag
If you know how to sew, you can also design a unique and stylish diaper bag for your pregnant friend or co-worker. It's best to make one with plenty of pockets to help her keep all the diapering essentials organized. For a great tutorial, take a look at this site.
Baby playmat
Every mom and baby needs a soft playmat that they can fold up and take with them anywhere.
This playtime essential is considered an easy sewing project, so don't be afraid to have a go at it. All you have to do is to follow the instructions in this tutorial, and you can be assured that this innovative gift will have great success at the baby shower.
Related read: 10 Must-Have Baby Products for The First Year
Fabric baby book
Do you have a lot of fabric scraps at home? You could use them to create a fabric baby book and surprise the mom-to-be with it. You can sew a book to learn either the colors or the alphabet. You can include blank pages or create fun journal prompt pages for the baby's first year of life (and beyond!). Make it as simple or complex as you'd like- your friend will love it!
Crocheted shoes/blanket
If you know how to crochet you can create one of the best baby shower gifts DIY: you can make a pair of crocheted shoes and/or a blanket for the baby. Just make sure to look up some cute free patterns to crochet them. It's such a lovely gift idea!
Baby girl headbands
If the person you want to gift is expecting a baby girl, then it means that you can also think about girl accessories as a gift. The best is to create a few adorable baby headbands. For example, this cute knot bow headband is easy to make.
Related read: Baby Clothes Organization Ideas
Photo album
Personalized photo albums always have huge success at baby showers. Grab some scrapbooking supplies and create an album using glitter, fabrics, colorful paper, stickers, and anything else you can find at home. The parents will love having a unique album where they can keep their adorable baby photos!
Crib mobile
Our next baby shower gift idea is a crib mobile. This accessory is very popular since it can entertain, soothe, and distract the baby in their crib. Plus, it adds charm to the nursery.
If you know the color of the baby's nursery, you can make a crib mobile in matching colors. Regarding the theme and style, your options are limitless. Use it as a perfect opportunity to come up with something creative. For inspiration, check out these adorable handmade crib mobile ideas.
Survival kit for the mom-to-be
Usually, when it comes to baby shower gifts, everything is about the baby. This is why it may be a fantastic idea to think about the pregnant mama as well and give her a survival kit. What should this kit contain? Whatever you think would help the new mom after giving birth. Take a nice box and fill it with essentials such as chocolate, energy bars, wet wipes, Advil, little cards with inspirational quotes, a book, etc. It can also help if you know what her hobbies are. Try to make this kit as special as possible!
Related read: 50 Cute Gender Reveal Ideas
As you can see, you don't have to spend a lot of money to give something unique to your pregnant friend that they'd absolutely love. Feel free to choose any of the above-mentioned ideas for homemade baby shower gifts or use them as inspiration to come up with a more special one and create an adorable gift!
Which of these DIY baby shower gifts did you like the most? Let me know in the comments below!