12 Awesome Gifts for Expecting Mothers and New Moms
This post may contain affiliate links. As an Amazon Associate, I earn from qualifying purchases.
Whether it's the holidays or you just want to shower some love on a mama if your life, this list of gifts for expecting for expecting mothers and new moms is for you!
Pregnancy and the start of motherhood are definitely an interesting time- full of the highest highs and lowest lows (so much love and so much exhaustion all at once!).
If you're a mama, you know exactly what I'm talking about. And that little extra thought that goes into a gift for your expecting mama friends and family can be so powerful.
In this guide, I wanted to include a large variety of gift ideas for every kind of mom- from self-care and comfort to products that make life as a mommy a little easier.
Let's dive right in!
Self-Care
Self-care is always an important essential for moms. It can be easy to forget when a mom is busy preparing for baby or taking care of a newborn.
When my daughter was born, I wondered when I'd have time to brush my teeth let alone do something for myself- ha. So give her a gentle reminder (and excuse!) to schedule some much needed pampering.
Organic Monthly Ecocentric Mom Box
Subscription boxes are so much fun these days because they have a exciting surprise element and always have crazy good value.
These boxes from EcoCentric Mom are the the gifts that keeps on giving, if you choose to! You can choose from one box specific to mama's situation (trimester of pregnancy or motherhood) or buy them a monthly subscription for as long as you choose.
Their boxes vary but are always full of fun organic goodies to promote pregnancy health, mama self-care and more. Gift yourself a box or send one to a friend that needs a special treat.
Get $5 of a $45+ purchase when coupon codes SAVES. Click here to shop!
Related read: 61 Self-Care Ideas for Busy Moms that Don't Have a Lot of Time
Date Night In Box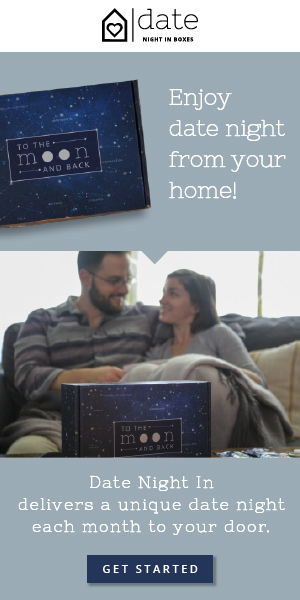 Remind your favorite mama about the importance of connection with their partner. With a baby on the mind and pure exhaustion it can be easy to forget!
That's why a totally fun, but low commitment way, to send your mama friend on a date is with a Date Night In Box. All the fun without the fuss.
This company has TONS of great reviews and has some pretty fun and unique date boxes. You can purchase one box, a gift card, or a monthly subscription depending on your budget. This is an awesome thoughtful gift that any mom would love!
Related read: 15 Self-Care Gifts for New Moms to Feel the Love
Stretch Mark Prevention Trio Gift Set
As a pregnant mama, when that belly starts to grow, concerns can start to build about how her body will respond (particularly her skin!).
While any changes her body goes through should be celebrated (because it resulted in a new life!)- stretch marks are still a legitimate worry most women have.
Spoil and gift an expecting mom with a yummy smelling stretch mark prevention kit from the Spoiled Mama. This gift set includes chocolate orange scented tummy butter, lavender scented belly oils, and sugar scrub- all designed to lock in moisture and keep the skin elastic as that belly grows.
Tons of moms swear by the Spoiled Mama Tummy Butter (including this mama!) for the positive effects it had on their skin health during pregnancy (the company's years of research show that it works too). Gift a mom with soft skin and more confidence!
Related read: 18 Must Have Pregnancy Products for Moms
"A Little Something for Mama-to-be"- Travel Size Pregnancy Must Haves by Earth Mama Organics
This awesome little gift set is the perfect thoughtful gift. What mom doesn't love to pamper themselves with organic yummy smelling products?
Earth Mama has so many great products for pregnancy, postpartum, baby, and beyond. Their gift set is specifically designed for expecting moms to keep them comfortable.
It's perfect for trying some new products, feeling fresh, and to potentially throw in their hospital bag for labor. It includes: toxin free ginger deodorant, morning wellness castile soap (with ginger, lime, and grapefruit), belly butter (stretch mark prevention), belly oil, and ginger lip balm.
Those lovely ginger smells can be such a life saver for nausea and boosting energy. So grab a gift set and any other goodies from the Earth Mama store like pregnancy tea or must have postpartum products for your mom friends.
Related read: My Favorite Eco-Friendly Gifts for Christmas
Loungewear and Breastfeeding Comfort
Pregnancy, breastfeeding, and taking care of baby are uncomfortable at times, to say the least. 🙂
Bellies are growing, postures get slouched, 6 pound babies are held for hours… you get the idea (ouch!). That's why comfort goes a long way in my book as a mom.
There's something about cozy clothing and other accessories that makes the exhaustion and discomfort just a little bit better. And it's why I've included an entire section of my favorite comfort items for expecting moms and new moms.
Under Cover Mama House Dress
Every mama deserves to have some extra comfy clothes. Between sleepless nights, feedings, and life with a baby- comfort is king for sure.
This house dress from Under Cover Mama is what comfy clothes dreams are made of. Easy boob access, soft fabric, and it even has the possibility to be dressed up for an occasion out of the house (even if it's just for groceries).
Go ahead, buy one for yourself and get one as a gift from your friends or family while you're at it 😉 I have my eye on the floral one.
Shop Undercover Mama for Other Ridiculously Comfortable and Functional Clothes too. They are also great choices for a maternity photo shoot.
Floral Drawstring Lounge Pants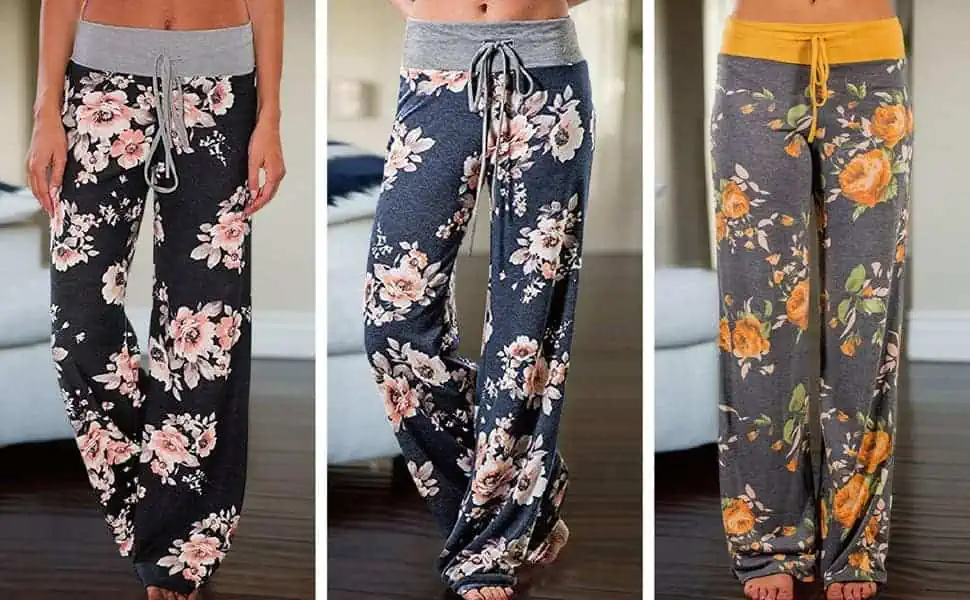 There's something about soft cotton lounge pants that make life better. I still live in mine most mornings because they're just too comfy not to wear!
I always preferred pants that went under my prego belly, so I'm including these oh-so-soft best selling pants from Amazon. That way they can be used for pregnancy and beyond.
If you prefer over the belly pants, check out these other cute and equally comfy options.
Maternity Robe with Matching Baby Outfit for Labor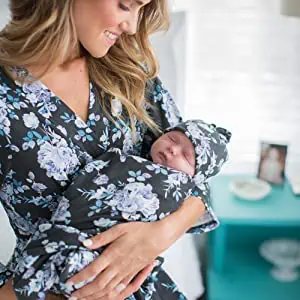 When I was pregnant with my daughter, I thought about buying a maternity robe several times but never splurged on one. Fast forward to the hospital when I was walking around in a gown and feeling exhausted- and I wish I'd had a little something to feel like myself again.
How cute are these robes with a matching baby outfit? My heart might explode with cuteness. They have floral, striped, and solid colors for any mom's preference and baby gender.
Maternity robes are so versatile for the hospital, breastfeeding, and throwing on quickly when an unexpected visitor comes to see the new baby. This is an amazing fit for any expecting mom!
Koolaburra Slippers by UGG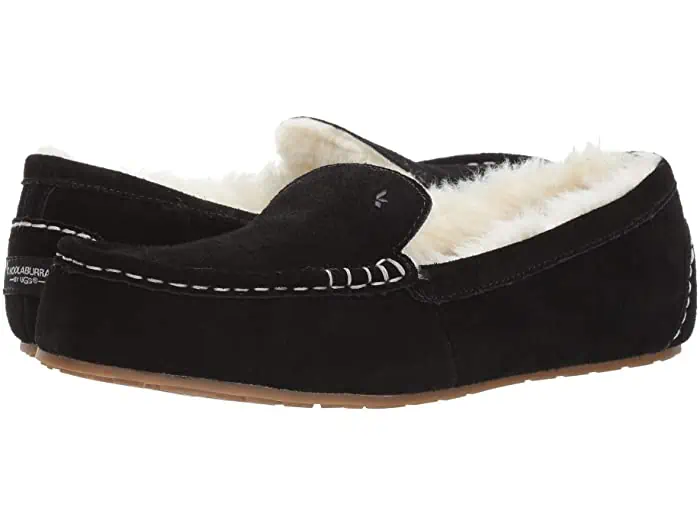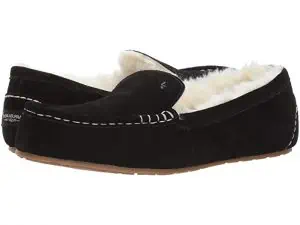 No comfort guide for moms would be complete without slippers! I picked these awesome slippers because UGG slippers are known for comfort and being long-lasting.
Plus, moms can wear them outside! (Because wearing comfy shoes outside of the house is a must as a mom- right? ha)
Keep your favorite mom's feet warm and cozy this season with a pair of UGG slippers. Their feet will totally thank you for it.
Related read: New Mom Care Package Ideas
Mom Hacks
This last section of gift ideas is simply made to make mom life easier. Pregnancy and new mom life are overwhelming enough- so all the tricks you can share with a mom are pure gold. These are great for productivity and simply sanity saving!
Give the Gift of Easy Meal Planning with Dinner Daily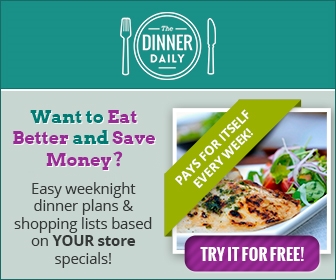 Meal planning as a mom is a game changer for feeling significantly less stressed, more organized, and healthy to boot. A new mom definitely won't have time for lots of shopping and cooking. Yet, at some point the friend meal train will stop, the freezer meals will diminish, and she will need to do something to feed herself- right?! 🙂
Dinner Daily is an amazing online service that provides weekly dinner meal plans based on a mom's preferences and even what their local store has on sale each week. How cool is that?!
What mom wouldn't love the gift of easy meal planning. You can buy them a month or an entire year at a greatly discounted price. It's super affordable, totally worth it, and your mom friend will love you for it.
(Splurge Worthy) Neato Robotic Vacuums
What mom doesn't need help with house cleaning? They can hire some cleaning help or take advantage of technology.
If you want to splurge and spoil a mom in your life, this is the ultimate mom hack gifts. Give her hours of her life back with automated vacuuming.
This D-shaped robot vacuum is the next generation of self-cleaning machines. It's patented shape, app control, and laser navigations makes for the most efficient cleaning possible- even corners and edges!
Check out Neato Robotics' different models and choose which is best for them based on a few simple questions.
Dry Shampoo
No mom hack guide would be complete without dry shampoo for day 3 (or more) hair. When your mom friend can't find time for a quick shower- they'll be grateful for your gift!
Have them try this toxin free Love, Planet, and Beauty Dry Shampoo Set.
Pregnancy and Beyond Planner
This is my absolute favorite all in one planner for pregnant moms.
Not only does it have a lot of fun sentimental prompts for pregnancy and baby, but it is also amazing for keeping mama's appointments and other scheduling essentials in a row (because baby brain and motherhood ha).
It is clear that a mom put this amazing planner together, it includes all the little details needed to have a smooth pregnancy and beyond. Pick one up for you mom friend today! She can start it anytime since they fill in the dates as they go to fit their pregnancy.
Related read: Baby Shower Gifts DIY
Get Shopping and Give Your Mom Friend Some Extra Love!
There you have it! 12 amazing gifts that any expecting mom would absolutely love. Spoil your pregnant mom friend- she deserves it as she's growing that beautiful baby!
What are your favorite gifts for expecting and new moms? What gifts did you wish you'd gotten when you were pregnant? What gifts did I miss? I'd love to hear!