18 Must Have Pregnancy Products For Mom
This post may contain affiliate links. As an Amazon Associate, I earn from qualifying purchases.
Today we're going to dive into the the best pregnancy products for moms!
Being pregnant sure is exciting isn't it?
You may have noticed, however, that pregnancy is NOT comfortable.
Morning sickness, pregnancy fatigue, weight gain, food aversions and the constant struggle to just get comfy.
The key to survival during pregnancy is to arm yourself with some key 'must-have' pregnancy products designed to make your pregnancy more relaxing and comfortable.
The items I used helped me during my pregnancy and I want to share them with you, mama.
There are different categories of pregnancy comfort – items that support that big ol' belly, others that soothe your tired, aching body before the baby comes and others that make you feel beautiful.
There's even a money-saving tip to make your pregnancy a wee bit more affordable! 🙂
9 months isn't forever, but it can feel like it's never going to end at times.
These pregnancy products will help.
Why suffer if you don't have to?
RELATED READ: What to pack in your hospital bag for labor
18 Must-Have Pregnancy Products For Mom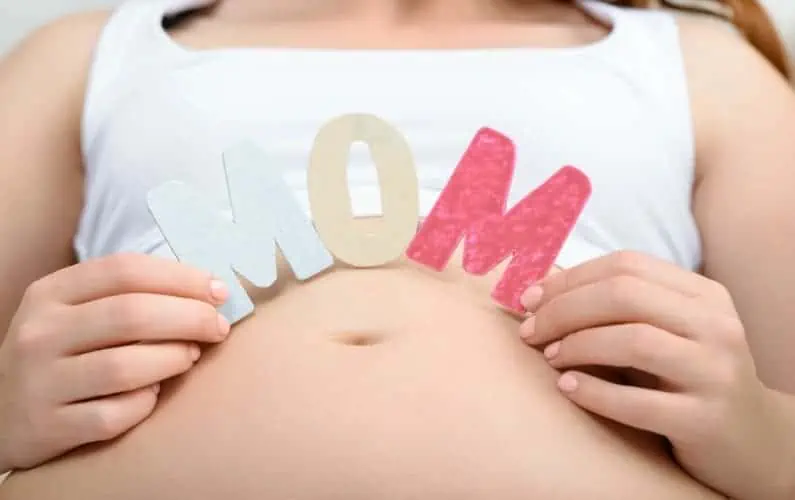 Belly Support Pregnancy Products For Mom
Supporting your growing belly properly will help reduce pregnancy-related aches and pains later on.
Belly Support For Mom's Back
This nifty little support belt is made to take the weight of your belly off your hips and pelvic floor.
And since your back is working overtime, this belt will help that too.
I loved it because it fit under my clothes and gave me that day to day support I needed.
A pregnancy must have for any mom who wants to try to minimize any pregnancy-related soreness and pain.
Pregnancy Wedge
Pregnancy wedges are almost a given for belly support.
I used mine while lounging on the couch with my husband watching a movie or our favorite shows (calling all Game of Thrones fans! haha!)
The wedge helped support my belly so I could actually enjoy watching 🙂
RELATED READ: Essential First Trimester To Do List
Healthy Eating Pregnancy Products For Mom
So, what are some healthy eating pregnancy products for mom?
Anything that will support the pregnancy AND mom.
My OB told me the baby takes whatever vitamins and nutrients it needs regardless of how much mom is consuming.
What does that mean?
You may find yourself short of important nutrients to keep yourself healthy.
Related read: 100+ of the Best Tips for a Healthy Pregnancy
Here are some recommended healthy eating pregnancy products for mom:
Healthy Pregnancy Recipes To Stay On Track
I LOVED The Whole 9 Months cookbook.
It made me feel good to have healthy eating advice and recipes right at my fingertips.
I was also trying to minimize time spent on my phone (a pregnancy-related feeling of connecting to real things instead of the virtual world – hey, pregnancy hormones are powerful, haha!) so having the book made me feel good.
This book is thorough – it covers your pregnancy week by week and is packed full of nutritious recipes.
Related read: The Ultimate Guide to Pregnancy Nutrition
A Good Prenatal Vitamin
Most mamas believe they're taking a multivitamin for the baby when truthfully, a good vitamin is needed to help YOU.
My OB let me know the baby will take whatever vitamins and nutrients it needs from your store of them.
That means it's easy for you to get run down while you're pregnant and that's the LAST thing you want.
Pregnancy is not the time to catch a cold.
I took these organic vitamins and I'm happy to say I didn't get sick once during my pregnancy.
They're 100% digestible which is perfect if you're suffering from morning sickness or any food aversions.
RELATED READ: Complete Second Trimester To Do List
Clothing Pregnancy Products For Mom
Make sure to check out The Ultimate Guide to Maternity Clothing – I go into more detail about what you actually need for your pregnancy.
Remember when I said that I would share a money saving hack?
It's here in the clothing pregnancy products for mom aka your maternity clothes. 🙂
I get it – you want to look and feel good – it's hard gaining weight and belly during pregnancy, so the answer must be to go out and buy some really cute maternity clothes to dress your bump.
That's both right and wrong.
You need to be sensible with your purchases – remember pregnancy is 9 months – not a lifetime!
Once your pregnancy is over and your postpartum recovery is done, those cute pregnancy clothes will collect dust.
Here are some recommendations to save money on your pregnancy wardrobe and still look cute:
Over The Belly Leggings
Invest in some 'over the bump' leggings in black and maybe two other colors.
They're super comfy and they look great with any top.
Pregnancy leggings will be the foundation of your wardrobe but you don't need a crazy amount of pairs. 🙂
Layering Maternity Tank Tops
The key to your maternity wardrobe is to layer, layer and layer.
These ruched tanks are perfect for throwing a sweater over that you already own.
If you're third trimester pregnant in the summer, they look cute on their own.
These ones come in 3 different colors to give you variety.
You may be tempted to buy several cute pregnancy tops, but I do caution you not to – you're pregnant for such a short period of time!
RELATED READ: Foods To Avoid During Early Pregnancy
Over The Belly Maternity Shorts
Going to be very pregnant in the summer?
Do yourself a favor and invest in 'over the belly' shorts to keep yourself nice and cool – well, as much as possible, haha!
This is the one maternity clothes item I regret not buying, to be honest.
My baby girl was born in August and I suffered on the days that I didn't feel like wearing a dress.
So, I borrowed my hubby's sports shorts and well, um, they didn't make me feel too good.
One Maternity Dress
Remember I said I had my daughter in August?
This maternity dress was something I lived in.
I got a few colors so that I felt I was mixing things up.
(It really is the small things when you're pregnant!)
During the spring I would pair it with a light sweater that I already owned.
Comfy Underwear Made For Pregnant Women
Maternity underwear was one of those pregnancy products for Mom that I was skeptical about.
I just thought the underwear I already had would sit nicely under my belly.
Yup, I was wrong.
I felt like the band on my regular underwear was digging into my belly, which made me worry about my baby (who was absolutely fine but ya know I'm a mama, haha!)
Do yourself a favor and invest in maternity underwear.
The last thing you want is your undies falling down or bunching up in weird places.
A Bella Band
Have a fav pair of jeans that aren't meant for pregnancy?
Yup, me too.
I LOVED my Bella band.
Having one in my maternity clothes arsenal meant I didn't need to buy as many pants, because I could wear the band and it held my pants up even though I could no longer button them!
Talk about money saving!
Pregnancy Waistband Extender
UPDATE: I just found this waistband extender and I am SO trying this for my next pregnancy!
It's stretchy and goes through your belt loops to extend the waist of your pants.
This is brilliant, mamas!! 🙂
RELATED READ: Third Trimester To Do List
Sleep Pregnancy Products For Mom
Goodness, getting good restful sleep is a CHALLENGE when you're pregnant!
Your abs are loose, your belly is growing and it feels like you just can't get into a comfy position in bed.
Oh to find that elusive comfy position again!
Your body needs all sorts of sleep support while your pregnant – belly support being the most important!
RELATED READ: What to get done before your baby arrives
A Pregnancy Pillow That Supports The Belly
I LOVE this side sleep pregnancy pillow!
It supports your belly AND does wonders for your back.
You lay in between the two 'pillows' and reap the benefits of full support.
The pregnancy pillow also works well between your legs because it takes some weight off your hips which can also help relieve your pelvic floor.
RELATED READ: Natural Ways to Fight Pregnancy Fatigue and Exhaustion
Full Body Pregnancy Pillow
This full body pregnancy pillow felt like a big supportive hug during the third trimester of pregnancy.
When your belly is huge it will feel next to impossible to get comfy AND you may be dealing with soreness.
Your back, hips, pelvic floor, you name it.
This pregnancy pillow allows you to find your comfy position which is so important as your pregnancy progresses.
PREGNANCY HACK: I found the pillow helped me get out of bed too (you know for all those bathroom trips) I pushed up on the pillow and that helped me sit up.
RELATED READ: The Complete Postpartum Checklist
Ultimate Pregnancy Sleep Support
By the end of your pregnancy, you may find your belly is so big, you have permanent back pain and/or pelvis strain.
To be honest, pregnancy puts a lot of stress on your hips and pelvis.
Hips widen for birth and take the grunt work of supporting your growing baby.
That's what makes this pregnancy sleep support so incredible – it wraps around your belly and fills the gap between the mattress and your hips and waist, giving your pelvis and hips a well-deserved break.
It also means sleeping on your side just got a whole lot more comfortable!
RELATED READ: 10 Must-Have Baby Products for the First Year
Relaxing Pregnancy Products For Mom
Pregnancy is 9 months and while it may feel like you have all the time in the world, you really don't.
Part of being comfortable and happy during your pregnancy is to make you practice some self-care.
That could mean a trip to the spa but why bother when you can enjoy some bath relaxation time from the comforts of your own home!
It's refreshing and rejuvenating for your body.
Pregnancy Relaxation In The Tub
I found these Pink Stork bath flakes helped my aches and pains the more pregnant I got.
They're completely organic so you won't be doing any harm to your baby.
I took a relaxing bath at least once a week and I think it really helped my overall mindset as I waited, um, patiently for our newborn baby.
RELATED READ: The Honest Truth about What to Expect during Childbirth
Relax While Coloring
This may sound silly to you but I found coloring to be so relaxing while pregnant, haha! 🙂
I picked up this coloring book and got creative.
I'm telling you being creative is a great way to relax and practice self-care, just trust me on this. 🙂
Love the idea of some relaxing coloring while having your relaxing bath?
I used this handy bathtub caddy to hold my coloring book and pencils!
Related read: 9 Easy Morning Routine Ideas for Moms
A Bath Pillow
Nothing completes pregnancy relaxation in the bathtub than a nice luxurious pillow.
I'm telling you a goal of mine was to feel like I was going to the spa weekly during my pregnancy 🙂
I picked up this bath pillow because, well, it looked comfy and it fits irregular bathtubs and has suction cups to keep it in place.
Just try not to fall asleep!
RELATED READ: 8 Ways to Speed Up Your Recovery from Vaginal Childbirth
Beauty And Care Pregnancy Products For Mom
What pregnant Momma doesn't want to feel beautiful?
I sure did.
While I don't wear makeup, I love painting my nails.
It feels like such a special touch and it sucked having to give it up while I was pregnant.
Or did I…
Pregnancy Safe Nail Polish
Yes! There is pregnancy safe nail polish!
Hooray!
I know, I know – there's a whole bunch of pregnancy safe ways to doll yourself up nowadays.
But, I loved this nail polish 🙂
Check out all the colors here.
The Ultimate Stretch Mark Prevention Product
This stretch mark cream is the best I've found.
It's perfect to help you combat those stretch marks and I recommend you start treating your skin soon after you find out you're pregnant.
If you're looking for a cheaper alternative, then try…
Coconut Oil For Stretch Mark Prevention
Grab a big tub of coconut oil and slather it on your belly AND your hips (I forgot my hips and I have stretch marks so don't make the same mistake!)
Coconut oil is miraculous and just might save you some money over the more expensive stretch mark solutions. 🙂
There you have it, mama – my must-have pregnancy products for Mom.
I hope you enjoyed the post and were inspired to treat yourself to some really awesome pregnancy products designed specifically for YOU.
Do you have any of these pregnancy products?
Did I miss any that you'd like to recommend?
Let me know in the comments!