The Complete First Trimester To Do List
This post may contain affiliate links. As an Amazon Associate, I earn from qualifying purchases.
Congrats, mama!
You just found out you're pregnant and you must be feeling ALL the feels.
Congrats, mama – pregnancy is an exciting time!
Becoming a mom is life-changing and those changes start the moment you find yourself holding the positive pregnancy test and experiencing those early pregnancy symptoms.
There is A LOT to do (and learn) while you're pregnant so that's why I wanted to write a to-do list that's all about early pregnancy – specifically your first trimester.
Keep reading to find out everything that needs to be on your first-trimester to-do list!
So, if some of those 'oh my goodness I don't know what I'm doing!' feelings have started, don't worry. (Note: I was trying to get pregnant and still had those feelings when I got a positive test- it's all part of the experience- ha!)
By the end of this post, you'll have a complete first-trimester to-do list and you'll know what the important things are to get done during your first trimester.
So, let's take a look at the items that NEED to be on your first-trimester to-do list.
Pin this post for later! 🙂
RELATED: Must-Have Pregnancy Resources for New Moms
First Trimester To-Do List Essentials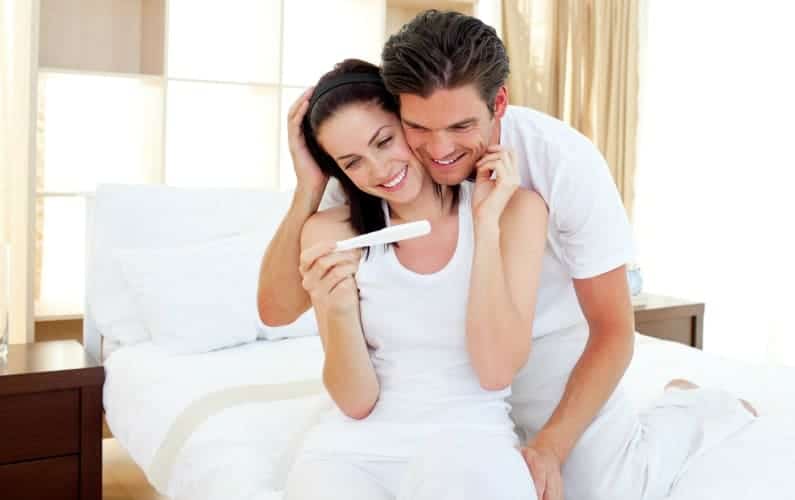 START TAKING A PRENATAL VITAMIN
Remember mamas, the baby will take whatever nutrients it needs which can leave YOU low on essential vitamins you need to stay healthy.
I took this prenatal vitamin because I liked that it was organic, Non-GMO and 100% digestible.
Whichever vitamin you take, make sure it has folate instead of folic acid- because it's more easily absorbed.
I felt good taking the vitamin because I knew I was supporting my baby and myself.
I'm happy to say I didn't get sick once while pregnant so that should tell you the power of a good prenatal vitamin!
RELATED: 11 Natural Ways to Get Over Pregnancy Fatigue 
CHOOSE YOUR HEALTHCARE PROVIDER 
Thinking about using a midwife?
Or maybe you're looking for an OB-GYN to take care of your needs.
Do some research, ask relatives or friends what their experiences were like to figure out how you would like your pregnancy care to go.
Also, talk to your health insurance company to see what doctor's and care are covered with your plan.
You can also ask your family doctor for a recommendation.
Typically, the first visit should be scheduled around the approximate 8th week of pregnancy unless you are at high risk.
START EATING A HEALTHY DIET FOR PREGNANCY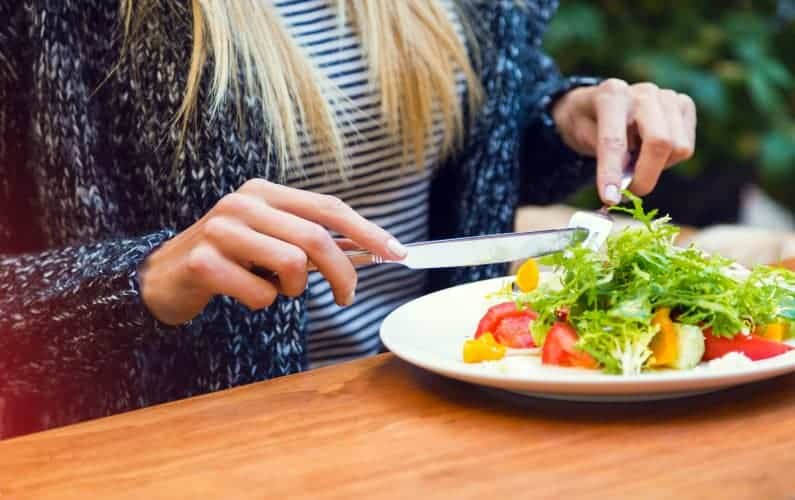 We all have those not so good for you foods that we like to indulge in from time to time.
Now that you're pregnant it's time to take a serious look at what you're eating and avoid any hazardous foods that won't do well for your pregnancy.
Foods like sushi (sigh), or seafood in general (it can be full of mercury!), deli meats, raw or undercooked meat and more.
Read this article to learn about foods to avoid during pregnancy, there are some on the list you might not think about!
Start incorporating more fruits and veggies.
If you have cravings try to opt for the more healthy option. (I know, I know that's hard, right?)
Outside of cravings, it can also be hard to eat certain foods if you've developed any morning sickness symptoms.
My secret weapon was always hiding some spinach and superfood greens in a smoothie that I could down more easily when I was feeling queasy.
Yes, you're eating for two but that doesn't mean you need a lot of extra food.
It's recommended eating an additional 300 calories a day.
That isn't a whole lot!
If you're like me, then you need a little help to stay on track, ha!
I picked up this book for my pregnancy diet and LOVED it. 🙂
RELATED: 51 Things to Get Done Before Your Baby is Born
RESEARCH PREGNANCY SAFE WORKOUT ROUTINES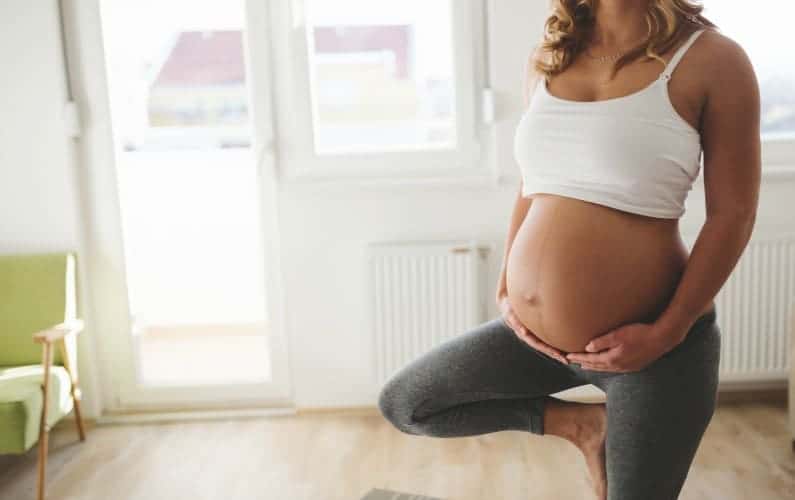 When I got pregnant I was really into high-intensity workouts.
I also enjoyed hitting the trails to go for a run.
What kind of workouts do you enjoy?
It's time to take a look and see if they're safe for your pregnancy.
The general rule of thumb is that you can continue with what you were doing before- as long as you aren't exhausting yourself.
Obviously, that's very individual for each person.
I did a lot of prenatal yoga and easy cardio, like swimming and aquatic aerobics throughout my pregnancy.
I also walked, and walked and walked, ha! (Which I THINK helped labor start when I was in my third trimester – my baby girl was 8 days early and this mama didn't complain!)
Check out this article for some great recommendations for safe pregnancy workouts. Or check out some pregnancy catered workouts here.
The biggest takeaways are to avoid ab exercises on your back and a lot of high impact exercise that will be hard on your joints!
I'm going to keep them in mind for my next pregnancy!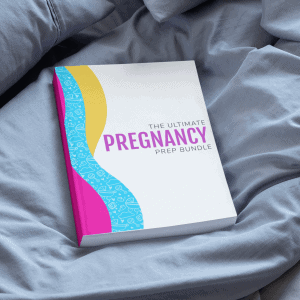 TAKE A PRENATAL COURSE
During my first pregnancy, my hubby and I took an online prenatal course while sitting in our jammies on the couch with our snacks.
We wanted to learn all the things about birthing a baby safely.
We LOVED this online course.
It's taught by a labor and delivery nurse with YEARS of delivering babies safely – that made me feel good as a new mom.
Plus we could access the course as many times as we wanted which was good to refresh on certain things before my due date.
Not sure what course is for you? See our full in-depth review of the best birth classes on the market! 
RELATED: The Ultimate Maternity Clothing Guide
MAKE A PRENATAL APPOINTMENT
After deciding what kind of birth and healthcare experience you would like to have, go ahead and book that first appointment, mama!
Generally, most pregnant women attend their first prenatal appointment around 8 weeks.
Once there you can share any concerns you may have, get advice on any medications you're taking and, of course, get confirmation you're pregnant for sure.
Yes, home pregnancy tests are accurate but it sure is nice having a healthcare professional confirm your pregnancy!
Hearing that heartbeat for the first time is absolutely magical.
GET MATERNITY BRAS
One of the first changes I noticed in my body was my breast size.
They went up a full cup size! (Hooray for me at the time, ha!)
Gone were the days where underwired bras were comfortable (although I'm not sure they ever were!) and time for some maternity bras.
I picked up this 3 pack of maternity/nursing bras and truth be told, I STILL wear them even though I'm not pregnant or nursing – they're that comfortable. 🙂
They're also lined just in case your milk starts leaking which can definitely happen before your baby arrives!
RELATED: The Complete Second Trimester To-Do List
START A PREGNANCY JOURNAL
This is one of my FAV things on the first-trimester to-do list.
I bought this pregnancy journal as soon as I found out I was pregnant so I could keep track of how I was feeling and what happened week by week.
There's plenty of room to write your thoughts and the journal comes with cute stickers to really spice things up!
Keeping a pregnancy journal helped me get excited about my pregnancy and becoming a mom. 🙂
Now, when I read through the journal (and I do 2 years later!), it's filled with cherished memories – something I'm very thankful to have. 🙂
GRAB A FEW INFORMATIVE PREGNANCY BOOKS
Outside of prenatal courses, what I found most helpful was reading up every night on a few helpful resources.
There are so many great options out there, so find what fits your needs.  Look at reviews and ask your friends.
I ended up buying a few for my Kindle and checking a few more out at the library to peruse through. I helped me feel informed and less anxious about the pending birth of my baby 🙂
Some of my favorites included Mindful Birthing, Mama Natural Pregnancy Book, and any book by Ina May.
You might also find yourself getting interested in some parenting books, since that's the next step ha 😉
START GOING TO SLEEP EARLIER
Mama, you need your rest now more than ever!
Are you feeling like you just can't beat pregnancy fatigue?
Going to sleep earlier is an important way to help your body get the rest it needs since it'll be working overtime for the next 9 months!
Go to bed an hour earlier and take naps as you can throughout the day to help combat pregnancy fatigue.
I was surprised how quickly my priorities shifted in pregnancy so that I can be in bed by 9 pm sharp every single night 😉
Getting a good night's rest also help with my morning sickness significantly.
RELATED: The Essential Newborn Shopping List With Pictures
FOLLOW THE PROGRESS OF YOUR BABY
It's truly amazing what mother nature accomplishes in those 9 months.
I had so much fun tracking baby girl's progress week by week.
I was genuinely amazed at how much the baby develops and grows weekly.
Check out this week by week guide so you can keep on top of how your baby is developing.
Alternatively, scroll to the bottom of this article and sign up for a great week by week newsletter that gives you all the essentials with no fluff!
RESEARCH HOW TO PREVENT STRETCH MARKS
Okay mama, I gotta level with you.
You're going to want to do your homework about stretch marks.
Your body is about to go through some remarkable changes and I'm sure you want to prevent stretch marks or at the very least minimize their effect.
I used this stretch mark cream and LOVED, LOVED, LOVED it (that's a lot of love 🙂 ).
I'm happy to say I have NO stretch marks on my belly.
Word of advice – if I'd been thinking clearly (darn you pregnancy brain!) I would have used the same stretch mark cream on my outer thighs.
I didn't and I have the tiger stripes to show it!
Other ways to combat stretch marks are quite simple: exercise regularly and limit any excess weight gain (outside of the essentials for baby)… this doesn't mean going on a diet  (a pregnancy no-no) but rather focusing on eating nutrient dense foods when possible!
START TAKING PHOTOS OF YOUR BELLY
Now, this is a fun item on the first-trimester to-do list!
Pick a day of the week and snap a photo of your belly!
For example, I took a photo every single Monday so I could see my belly grow.
The photos are now in a great keepsake photo album that I can use to reminisce now that I'm not pregnant.
We added these cute signs showing the progress of my pregnancy.
It was also fun to share these with our family and friends. 🙂
PLAN YOUR MATERNITY PHOTOSHOOT

Now's the time to start researching what you want for maternity photos.
Here's what you need to figure out: 
✔What photographer you want to use.
✔Where you want your maternity photos taken.
✔What to wear during your photo shoot.
✔How intimate you would like your photos.
✔If you would like any props used during your maternity shoot.
Perhaps you can find a deal that includes maternity and newborn photos once your baby has arrived (which I highly recommend).
Doing your research during the first trimester gives you lots of time to plan!
FIGURE OUT HOW TO RELIEVE YOUR MORNING SICKNESS
If you're feeling so nauseated that you just don't know what to do- I feel ya mama.  Here's some great advice from 38 awesome mom bloggers on how they dealt with morning sickness naturally.
When I was dealing with morning sickness (or all the time sickness, as it should be called) I drank a lot of chamomile tea with raw ginger (you can find it in the produce section) and always had soda crackers nearby.
I also made sure to drink lots of water – it made me feel better but my bladder didn't thank me for it, ha!
I so feel you, mama!
Hang in there! Morning sickness does eventually go away!
RELATED: The Complete Third Trimester To-Do List
HOME BIRTH OR HOSPITAL BIRTH?
Deciding how you would like your birth to be is an important first-trimester to-do list item.
I remember going to my first 8 week appointment and feeling a bit overwhelmed by the questions the nurse was asking me regarding what I wanted for the birth.  I honestly hadn't thought of it yet…
Where do you envision giving birth?
Do you want to be surrounded by the comforts of home?
Or would you like a traditional hospital birth?
These things need to be considered during your first trimester as they can set the tone of how your pregnancy care will go.
If you opt for a home birth, then you'll want to get a midwife and/or doula.
If you're more comfortable with a hospital setting then you'll need to choose which one and get in touch with a doctor who can assist you.
Here is a great article about the pros and cons of home birth and hospital birth.
RELATED: Essential Baby Items to Have for the First Year
GO OUT AND CELEBRATE WITH YOUR SPOUSE
This is a definite must-have first trimester to-do list item!
And one you've probably overlooked after all the excitement of getting pregnant.
Grab your spouse and head out to celebrate.
Check out these fun, cheap date night ideas for couples on a budget if you need some inspiration!
Because if you weren't on a budget before you will be now that you have a baby on the way!
RELATED: Pregnancy Announcement Ideas for the Whole Family
START A LIST OF WHAT YOU NEED FOR YOUR BABY
It is NEVER too early to start writing a list of items that you need for baby!
I share a lot of great ideas and tips in my post about things to get done before the baby is born.
Plus you need to get ready to register for your shower! (Get ready for a cuteness overload!)
I also started looking at baby names too (anyone else?) Since we planned to keep the gender a mystery I figured I might as well start looking around!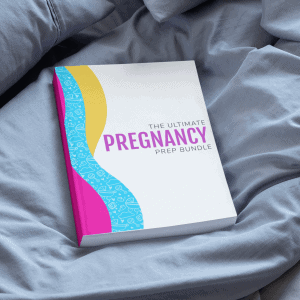 TAKE A LOOK AT YOUR MONEY SITUATION
I saved this first-trimester to-do list item for last because it may not be the most exciting thing you have to do to get ready for baby but it's pretty important.
Sit down with your partner and go over your finances.
How will you afford the extra expense?
What will you be paid during maternity leave?
Will you be a stay at home mom?
If you want more information about becoming a stay at home mom, check out my post that's about how to live on one income successfully.
How much is daycare?
Are there any costs you can cut to make room in your family budget? You might find there are a lot of current "necessities" that can be cut when your life priorities start changing rapidly with preparation for a baby.
There you have it, mama!
The complete first-trimester to-do list!
Make sure to pin this post so you can refer back to it later 🙂
Tick these items off your first-trimester to-do list as you can.
Remember the first and foremost thing to do is take care of yourself.
Practice some self-care, eat well and get lots of rest!
Are you excited to be pregnant?
Did I miss anything?
Would you include anything else in your first-trimester to-do list?
Comment and share below!