The Necessary Guide To Maternity Clothes
This post may contain affiliate links. As an Amazon Associate, I earn from qualifying purchases.
Your body is going to go through a lot of changes during pregnancy (make way for that cute baby bump!) but that doesn't mean you should buy needless and endless maternity clothes.
I've seen so many mom friends rush out and buy a whole new pregnancy wardrobe and it makes me cringe a little.
I get that it's pretty tempting to buy all the cute bump clothes but it's needless and sure to break your budget.
There are a lot of baby products that aren't needed and the same is true for maternity clothing – they're marketed to new moms but aren't actually needed.
I've been through two pregnancies now so I'm going to share with you what maternity clothing items are necessary to get you through the next 9 months or so.
Remember you're only pregnant for a short time (even though it will feel like FOREVER, haha!).
Here is the Necessary Maternity Clothing Guide to help you set up your maternity wardrobe without breaking the bank.
The key is finding the balance between maternity clothing essentials and going overboard (which means you're spending too much on pregnancy clothes and that's not what we want, okay?)
(Click the pictures to shop this post)
Figuring Out Your Maternity Clothing Size
A lot of women have no clue what their size would be in maternity clothing.
When I was first pregnant I was told that your maternity clothing size is the same as your normal size.
So, if you're a medium then you're a medium in maternity clothing.
Turns out it was sound advice.
I never had to return clothing items due to choosing the wrong size – so staying with your current sizing is a good rule of thumb.
RELATED READ: Everything You Should Be Doing During The First Trimester
Must-Have Maternity Clothing
These are the must-have maternity clothing items to get now (even if you're only beginning your pregnancy) that will lay the foundation for your entire pregnancy and beyond (yes, you will still wear maternity clothing during your postpartum recovery).
I'll be honest – if this is your first pregnancy you probably won't need any maternity clothes until around 12 weeks of pregnancy but you should start planning now because it's actually a bit shocking at how fast your pants start to get a little snug.
Here are the necessary and must-have maternity clothes you'll need (no matter the season):
OVER THE BELLY MATERNITY LEGGINGS
One of the first maternity clothing items to get is over the belly leggings in a couple different colors so you can create multiple looks.
I suggest getting the over the belly leggings because they are so darn comfy.
While you may want to live in leggings (I sure did) you'll want to add a pair of maternity jeans so that you do have options.
Again, the over the belly jeans are best to grow with your bump and remain comfy.
I found leggings and jeans that sit under your belly can feel like they're digging into your lower belly and no pregnant mama wants to worry about that trust me.
I suggest grabbing some tank tops for a few reasons.
One – you can layer them with a sweater so they work for any season.
Two – they're comfy and that's pretty important during your pregnancy.
Three – most are nursing tanks so you can keep using them after your baby has arrived.
A LITTLE BLACK MATERNITY DRESS
We all need that dress in the closet that works for any kind of event that might come up.
It's the same during pregnancy too, mama.
Grab a little black maternity dress like the one above.
Why is it necessary?
Because it works for all occasions, is a tank dress for layering, and has ruching which is flattering and comfy.
It's never too early to start relaxing and sleeping in a comfy nightgown.
Truth be told, I wear my gown even when I'm not pregnant – yes, it's that comfy.
Pick up 2 so that you have one to wear while the other one is in the wash.
.
Having a maternity robe is nice for when you first get out of bed.
You'll also wear it post-pregnancy when the last thing you're worried about is getting dressed for the day.
Maternity bras are the same as nursing bras and I highly recommend going wire-free if you can.
I understand some mamas won't be able too but if you can, nursing bras are pretty comfy.
Pick up 3 nursing bras to start and add more as needed (if at all).
Maternity underwear is something I was on the fence about but now have to admit they're pretty necessary.
I tried getting underwear I always wear in a larger size but it wasn't long until I felt the elastic band was digging into the lower part of my belly.
As a mama, I worried it was cutting off my blood supply (it probably wasn't but still) or something else that was equally bad.
Plus it was very uncomfortable.
Pick up 2 packs of maternity underwear.
RELATED READ: Everything You Should Be Doing During the Second Trimester
Maternity Clothing Hacks
If you want to prolong getting your maternity wardrobe then check out some of these items that you can use with your regular clothes.
This band is made to keep your pants up when they no longer do up.
Pair it with a flowy tank top (like above) and you can stay in those jeans you love so much for a little longer.
Another option for extending the life of your fav jeans is to get a waistband extender that will keep your pants fastened instead of having to wear another item (the band).
What you use really comes down to preference.
Comfy Maternity Clothes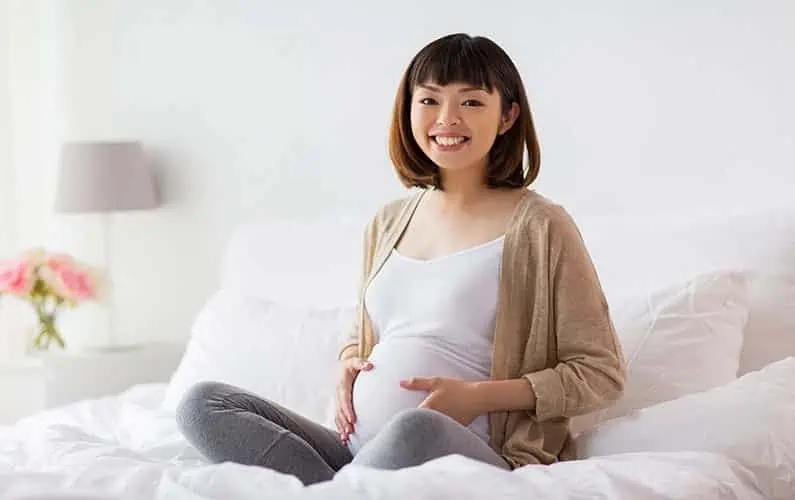 Pregnancy can get, um, uncomfortable so you'll want to have some extra comfy maternity clothes on hand to help out.
These are optional pregnancy clothing items so don't get them if can make it through without.
Consider grabbing a pair of pregnancy sweat pants for those days you want to curl up in something loose-fitting.
Honestly, one pair should be more than enough when used in combination with your other must-have maternity clothing pieces.
Pair your comfy maternity pants with an awesome sweatshirt for those nights you just want to veg on the couch watching a movie.
(Oh, and if you can do that mama, do it often before your baby comes, haha!)
RELATED READ: How To Deal With Pregnancy Fatigue
Spring and Summer Maternity Clothes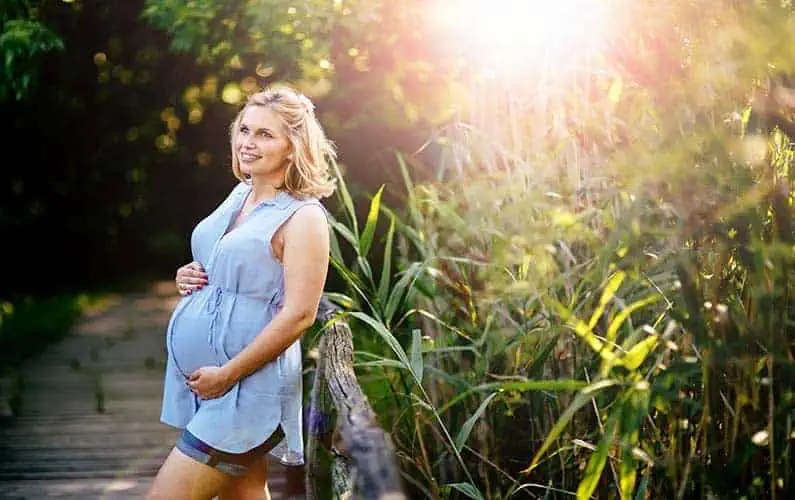 There are some spring and summer essentials to add to your maternity wardrobe but really there are only two (maybe three) necessary pieces that you won't be able to live without.
Here they are:
Shorts are a summer maternity clothing essential especially if you'll be in your third trimester during the hot summer months.
You'll need at least two pairs to get you through.
Capri leggings are a must for the warmer months and when you need to switch it up from your shorts or dresses.
You'll likely run warmer during your pregnancy so having a pair of capris on hand will be helpful in keeping you cool.
Another addition to consider adding to your maternity wardrobe is a bathing suit.
Not only is having one on hand a great way to stay cool during a summer pregnancy, but swimming is also a great way to stay in shape.
RELATED READ: Practical and Cute Summer Outfits for Moms
Fall and Winter Maternity Clothes
You don't need to go crazy buying all sorts of warm maternity clothes no matter what stage of pregnancy you're at during the colder months.
In this maternity clothing guide, you've probably noticed it's all about buying pieces that can be layered and this section is no exception.
You'll notice no maternity sweaters have been included in this guide.
If you own cardigans and flowy sweaters you are set, mama!
Layer the following underneath:
Similar to the tank top suggestion for the warmer months, pick up long-sleeved maternity tops that can be used to layer or do well on their own.
You need 3 in general colors – accessorize with jewelry and scarves.
Depending on where you live, you'll need to invest in a maternity winter coat.
I love the one pictured above – I still wear it!
It's perfect for cool Fall and Spring days so it's pretty versatile.
RELATED READ: How To Get Ready for Baby on a Budget
Maternity Work Clothes
If you have an office job you'll need to adhere to whatever the dress code is.
When I worked my 9-5 I was able to get away with leggings, a nice top and sweater if needed.
Again, don't go too crazy.
If you have a more formal dress work environment, I suggest 3 dresses, 2 pairs of pants, and a few tops – I do suggest getting tops that can be layered.
And, don't bother with maternity sweaters since you can layer the ones you already own.
Here are some suggestions:
Remember a little black maternity dress is under must have pregnancy clothing pieces and that will add some versatility to your wardrobe.
You can change the look of your dresses with accessories, scarfs, and sweaters depending on the season and need.
Hopefully, you can get away with your leggings from the must-have maternity clothing section but if not here are some great pairs that won't break the bank.
Remember the pregnancy clothing hacks?
I would see if you can use a bella band or waist extender to stay in the pants you already own.
The only thing you may notice is that they're a bit snug once you hit the third trimester and your hips have widened further to prepare for birth.
Add a couple work tops to your maternity wardrobe to give yourself options.
Labor and Delivery Maternity Clothes
The only reason I'm including labor and delivery maternity clothing is for the mamas out there who are grossed out at the thought of wearing a hospital supplied gown during birth.
I'm going to be honest though – labor is not exactly clean so it would make sense to wear something you really don't care about and then change into your comfy maternity clothing once your baby has arrived.
But if you would like to wear your own gown here is my suggestion:
Want to know what essentials to bring with you for delivery? Read: The Essential Hospital Bag Packing List
Maternity Clothing Advice
Here is some advice to help guide your decisions for maternity clothing.
✿ Use your flowy sweaters and cardigans to layer.
✿ Add other accessories to create different looks with your basic pregnancy wardrobe.
✿ Invest in a band or waist extender to stay in your own pants longer.
✿ Remember that you are only pregnant for 9 months so while you may not have as many options as your normal wardrobe it really is a short amount of time.
✿ Talk to other friends who have been pregnant recently and see if you can steal some of their maternity clothes instead of buying new.
Need help knowing which pregnancy support items to invest in? Read: Must-Have Pregnancy Products for Moms
That's it, mama!
The items in this maternity clothing guide are all you really need during your pregnancy.
Of course, if you feel differently, add pieces you think you need but, seriously, don't go too crazy buying a lot of clothes.
The point of this guide is to show you don't need to break the bank and invest in a whole new pregnancy wardrobe.
Be choosey and only buy what's necessary.