10 Must Have Baby Products For The First Year
This post may contain affiliate links. As an Amazon Associate, I earn from qualifying purchases.
Mama, if you're a new mom who is pregnant for the first time, these must-have baby products are going to make life with your newborn baby a whole lot easier!
You're probably busy getting ready for your baby and a post about must-have baby products surely caught your eye because what mama doesn't want to make her life easier?
Easy = sanity-saving. 🙂
Here are 10 must-have baby products that need to be on your baby shopping list or your baby shower registry!
Here are 10 must-have baby products you can't live without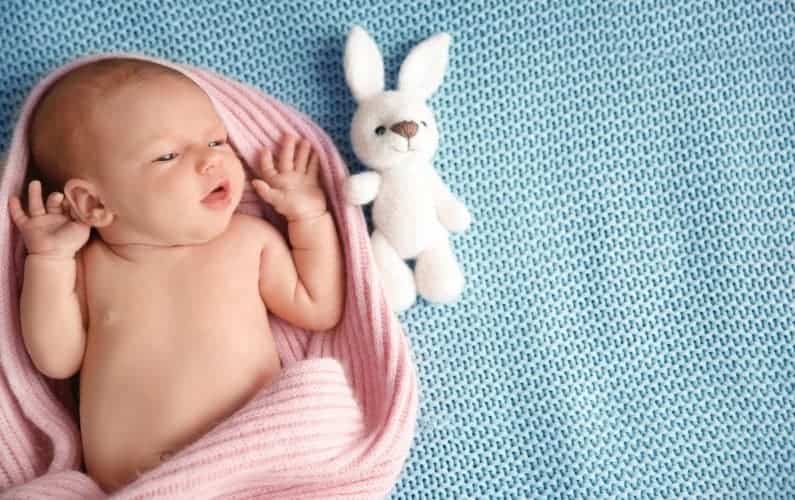 Aden + Anais Swaddle 4 pack – Fairground
These muslin baby blankets are just plain awesome.
They're completely breathable and light so your sweet baby won't overheat or suffocate if they happen to get the blanket on their face.
I used these blankets for numerous different functions and I gotta tell you it made new mom life so much easier.
I covered the car seat if baby girl fell asleep while we were out (it also allowed me to sneak her back into the house without waking her up!).
The blankets made excellent (and clean!) tummy time areas if we were out visiting family and friends, and, of course, they were great at keeping baby girl warm.
YOU MAY LIKE: Newborn Baby Shopping List with Pictures
Fleece Footed Sleepers with Zippers
Zippered sleepers are the BEST!
If there's a single must-have baby product to make your first year with baby easier this is IT.
Picture it – it's 2am (ugh) and your little bundle of joy is crying because you need to change their diaper – again.
Imagine having to play around with a million buttons trying to get the sleeper done up again so you can either put the baby back down or feed.
Trust me it sucks and keep in mind that in a few short months it gets worse because your baby now moves, wiggles and crawls so that makes things, um, interesting to say the least.
The point is to save your sanity.
Just trust me and pick up some zippered sleepers.
YOU MAY LIKE: 18 Must-Have Pregnancy Products for Mom
Braun Thermoscan Ear Thermometer
When you're a new mama it isn't hard to worry about your baby.
That first time (and every time) you think your baby might be running a fever you'll want to make sure you can figure out what's going on and fast.
That's why choosing a reliable thermometer will stop you from stressing needlessly.
We picked up the Braun Thermoscan Ear Thermometer and have been very pleased.
It's easy to get a reliable temperature reading even if baby girl is wiggling around.
This is one of those must-have baby products that you will use for years.
Tadpoles Moses Basket and Bedding Set
During the first few months, your baby will (hopefully) sleep a lot.
With a Moses basket, you can keep baby close to you while you do other things.
Need to take a shower?
Bring the basket in.
You'll know the baby is safe while you shower.
Nice weather so you want to sit outside?
No problem, grab the handles and take the baby with you.
Grab one of those muslin blankets I mentioned so your baby will be cozy.
We purchased the Moses basket after baby girl was born and it became one of the best decisions we made.
It was great to have when we went visiting too.
We could put her down for a nap in something she knew and was comfortable in.
A Moses basket is one of those must-have baby products you probably haven't thought about getting!
I found an informative post about how wonderful Moses baskets are that I think may help you decide.
Check out ThinkBaby's post on Moses baskets.
YOU MAY LIKE: The Honest Truth About What to Expect During Childbirth
Baby Swing
You'll need places to put the baby and nothing beats using a baby swing.
It provides entertainment, stimulation, and a comfy spot for your baby to nap.
This one plays music, vibrates, has a mobile, and you can set the swing speed PLUS it's WAY cheaper than the others but still good quality.
NOTE: Don't leave your baby unattended while using the swing especially if they fall asleep. It's dangerous.
A Good Glider with Ottoman Set
Glider & Ottoman Set
A comfy glider with ottoman is one of those must-have baby products that you'll be glad you bought.
I can't tell how many hours baby girl and I spend in that chair.
I'll admit the glider and ottoman were one of those baby products we were on the fence about.
We debated using our Poang chair from Ikea and just bouncing baby girl while we were in it but that would have been a ton of work.
And, during the first year, you don't need anything to make you even more tired than you already are, haha!
It's much easier to sit, put your feet up and 'glide' with almost no effort.
That way all the focus will be on those sweet baby cuddles that seriously don't last long enough (so take them in while you have them).
YOU MAY LIKE: 51 Things to Get Done Before Your Baby is Born
Ergonomic Multi-Position Baby Carrier by Ergobaby
The Ergobaby carrier is a must-have baby product that will have you feeling normal again.
When you get out of the house, you'll be able to wear baby which means you'll have use of both hands!
(Yes, it's the little things that will make a huge difference as a new mom, haha!)
Looking to get your new mom bod into the best shape you can?
Wear your baby as you go about your day and you'll be amazed at the workout you get!
(Just remember to take it slow – you just had a baby after all!)
YOU MAY LIKE: What to Pack in Your Hospital Bag for Labor
Fisher-Price SpaceSaver High Chair
Why get a big, bulky, separate high chair when you can get a space-saving high chair?
It's one of those must-have baby products you didn't think you needed.
You already have chairs at your table so strap the high chair on and you're done.
Your house is full of big baby items so here's a way to eliminate one of them! 🙂
Graco Pack 'N Play Playard with Changer
Getting playard was one of those baby products I was completely on the fence about.
Did we REALLY need it?
Turns out we did.
Our home is a two-story and baby girl's nursery was on the second floor.
The thought of walking up and down our stairs to change her was something I dreaded especially since my postpartum recovery was harder than I expected.
We put clothes, blankets, diapers, and wipes in the big part of the playard so we would have what we needed at our fingertips.
So I turned a must-have baby product into a sanity saver.
Life was SO much easier!
Playards are also good for a napping baby and to keep baby contained later on when they're on the move! 🙂
YOU MAKE LIKE: Quick Recovery from Vaginal Childbirth
Columbia Outfitter Messenger Diaper Bag, Black
Why the heck am I suggesting a diaper bag as one of the must-have baby products?
Isn't it OBVIOUS you need a diaper bag, haha!
Well yes, but what I mean is that you need this one.
Yup, it's practical (new mom best friend is what that means) and fits EVERYTHING you need for a newborn baby easily.
When I go to my mom group (we get together and chat over coffee and it's wonderful!) my practical diaper bag is one that other moms envy.
Why?
Because other "more fashionable" (haha!) bags can't fit everything in.
Some moms even have two diaper bags.
No thank you – the point is to make your new mom life easier!
(PS. my hubby doesn't get embarrassed carrying around this diaper bag either, which is another plus – I don't have to hear any complaining! 🙂 )
So, there you have it – the 10 must-have baby products that will help you survive the first year and that you probably didn't think about.
The idea is to make your new mom life easier and save as much of your sanity as you can.
So as you're planning and getting ready for baby make sure you keep these must-have baby products in mind!
Tell me, what did you think about my suggestion?
Have any other ideas?
Let me know in the comments!