The Complete Third Trimester To Do List
This post may contain affiliate links. As an Amazon Associate, I earn from qualifying purchases.
Welcome to the third trimester, mama!
You may be feeling like your pregnancy will never end but you are so close to meeting your sweet newborn baby!
Since you're in the home stretch it's a good time to work on your third trimester to do list to make sure you're as ready as you can be.
Your goal is to get the final things ready for baby and start preparing for your postpartum recovery.
Since you clicked on this post, you probably want to know what should be on the third trimester to do list.
The last thing you want is to feel like you may be missing something as you get ready for baby.
If you're feeling unprepared, don't worry!
I've compiled a thorough third trimester to do list that will check off the last things you need to get done before baby, prepare you for childbirth and get you organized for postpartum recovery.
The third trimester to do list is all about taking care of yourself, getting as much sleep as possible, getting ready to recover after giving birth, and having some fun too!
The third trimester to do list will make your life SO much easier when you bring your baby home.
If you want to read what should be on your first trimester and second trimester to do list, check out:
The Complete First Trimester To Do List
The Complete Second Trimester To Do List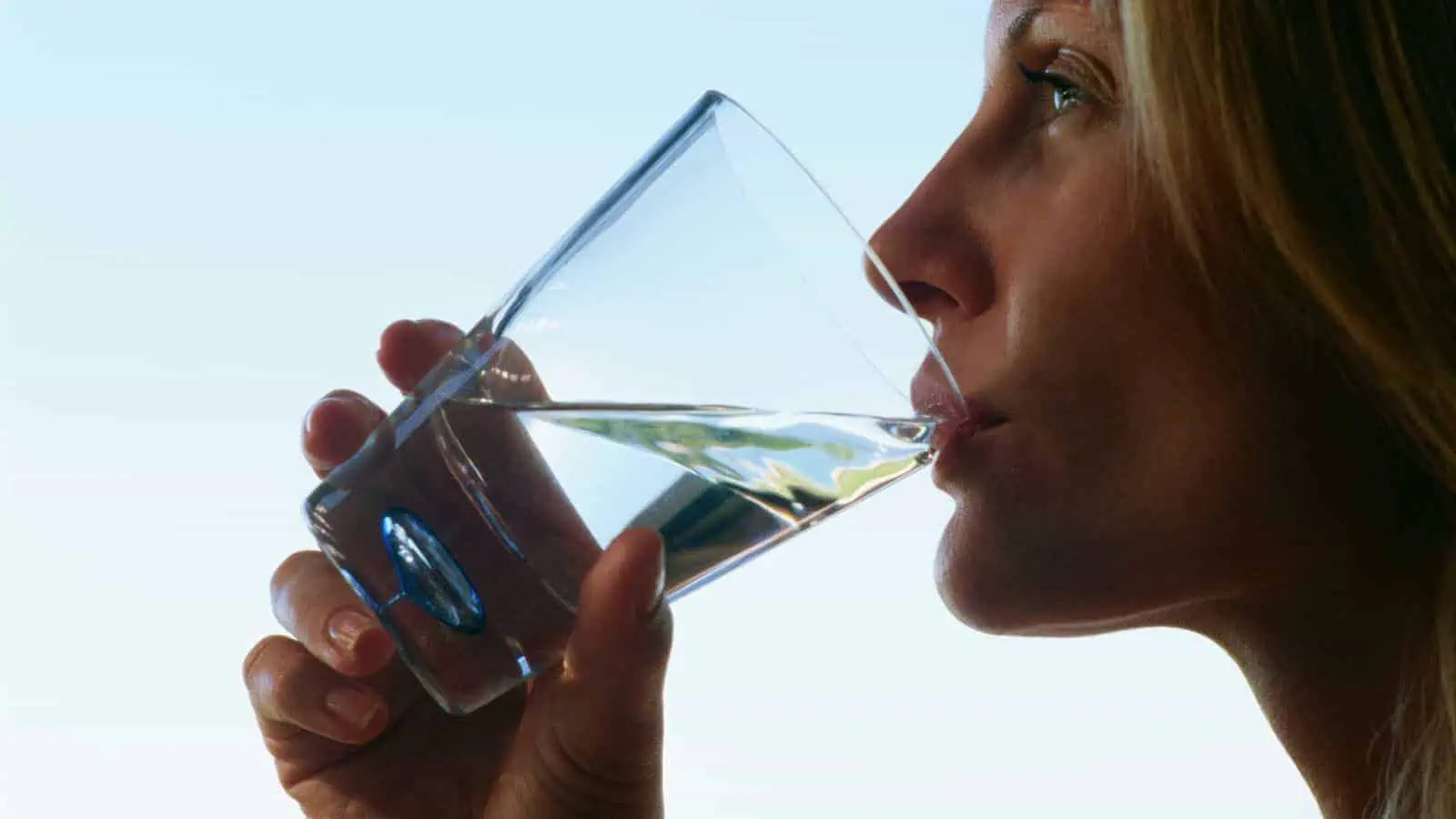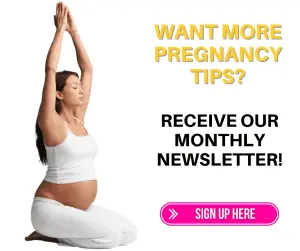 RELATED READ: The Honest Truth About What to Expect During Childbirth
LET'S DIG IN AND SEE WHAT SHOULD BE ON YOUR THIRD TRIMESTER TO DO LIST:
WASH ALL OF YOUR NEW BABY CLOTHES
You want your sweet baby clothes to be clean and fresh for the arrival of your newborn baby.
Go ahead and wash all of them!
You may find you do this as part of your nesting but don't wait until too close to your due date just in case sweet baby comes early!
Since baby clothes need to be washed with care and without harsh chemicals, I chose to use this eco-friendly laundry detergent and I still do to this day.
Truth be told, I use it to wash our clothes too!
DIAPERS, DIAPERS, DIAPERS
Seriously, you can't have enough diapers, ha!
Watch for diaper sales at your local store and check out Amazon's deals on diapers.
There is nothing like having diapers delivered right to your door!
If you don't know which diapers to use, I can't recommend Pamper's Baby Dry enough.
They were the only diapers that kept our baby girl dry and comfortable.
Check them out here.
Related read: Essentials for a Diaper Bag
ORGANIZE THE BABY'S NURSERY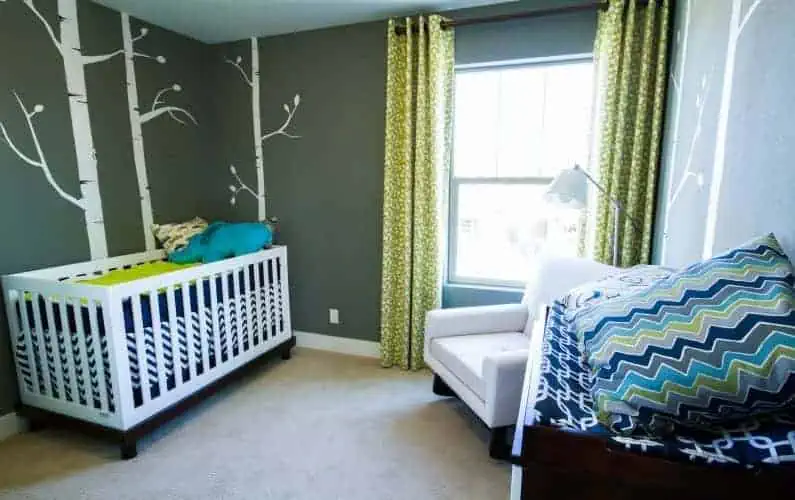 During the second trimester, I recommend putting together the nursery furniture because you'll likely have the energy to do so.
Now that you're in your third trimester, it's a great time to make sure the nursery is organized and things (like diapers, wipes, fresh clean baby clothes) are placed where you can easily access them for those times when you won't have two hands to grab things.
RELATED READ: 10 Must-Have Baby Products for the First Year
PACK YOUR HOSPITAL BAG
Don't wait until you're close to your due date to pack your hospital bag for labor!
I decided to pack mine early in the third trimester and I'm so thankful I did.
Our sweet baby girl was 8 days early and I was actually shocked that I was in labor.
(Yes, I frantically looked around the house to make sure we were, in fact, ready for a baby to start living with us! Hence, why I've created such a complete third trimester to do list – I never want to have that feeling again!)
RELATED READ: What to Pack In Your Hospital Bag for Labor
TAKE A GOOD PRENATAL COURSE IF YOU HAVEN'T ALREADY
You're already busy enough (and tired) when you're pregnant so when I figured out you can take an online prenatal course I nearly jumped for joy!
I took this prenatal course for couples in pajamas snuggled up on the couch with my hubby (yes, my exhausted pregnant self was RELIEVED to not have to leave the) to learn what we needed to know about bringing our tiny human into this world safely.
I spent the majority of my pregnancy exhausted (except for brief few weeks during the second trimester) so when I found this online prenatal class it meant I didn't have to leave the house AND I could still prepare for childbirth I grabbed it.
The course is taught by an actual labor and delivery nurse so that made me feel warm and fuzzy. 🙂
If you're interested, check out the course here.
She also has a FREE class if you aren't sure and want to check her out first.
PREPARE YOUR POSTPARTUM SUPPLIES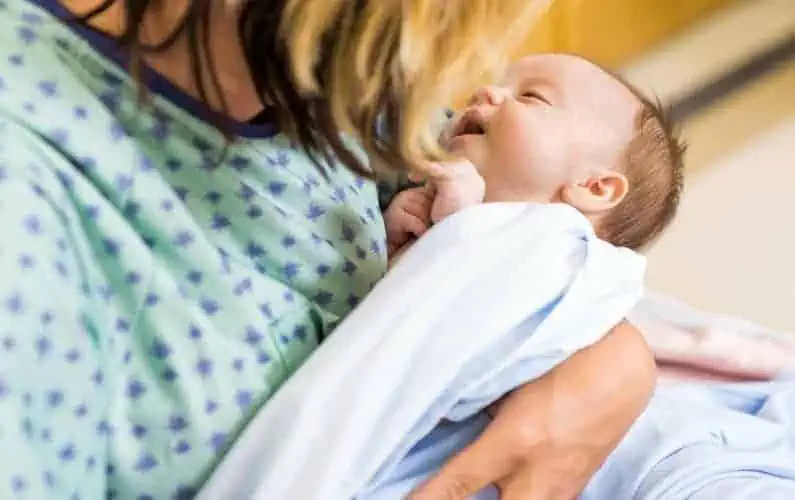 Preparing for your postpartum recovery will ensure that things go more smoothly.
I, for one, was not ready for my postpartum recovery!
The second time around I will be more prepared.
Here's what I suggest you stock up on for your postpartum care:
Postpartum pads like these ones (all natural and cooling which you will LOVE during your recovery)
✔Disposable mesh underwear (because who wants to ruin their good underwear with all that blood)
✔This washable bed pad (I don't care how good your pad is, you have a very good chance of leaking)
✔Peri bottles (just trust me you WILL need them – put one in every bathroom)
✔Comfy nursing bras like this one (Okay, I admit it – I STILL wear them because, well, they're comfortable! 🙂 )
✔Comfy and stretchy postpartum pants to lounge in.
✔Nursing nighties like these ones (I lived in them – Okay FINE – I still do, ha!)
✔Stool softeners (just trust me on this please – even if you're "regular" you will still need them!)
✔This perineal spray is a must (you'll thank me, ha!)
✔Pelvic floor therapy (research to see if they offer it in your area, make an appointment if you do!)
✔Nipple cream if you're breastfeeding (it doesn't take long for those to get sore believe me!)
✔Belly wrap to help your abs heal (I didn't get one after my first pregnancy and I regret it big time! Let's just say that two years later I'm still working on flattening my tummy – so please consider getting one!)
Want more postpartum recovery details?
READ MY POST: 8 Ways to Speed up Your Recovery from Vaginal Childbirth
FINALIZE YOUR BIRTH PLAN
The third trimester is a good time to review your birth plan and discuss it with your healthcare provider.
The only piece of advice I can give to you is to be flexible about what happens during your childbirth experience.
I had a plan that we primarily stuck to but there were some changes because you can't ever really predict what mother nature will do!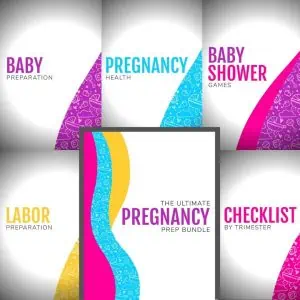 MAKE FREEZER MEALS AHEAD OF LABOR AND DELIVERY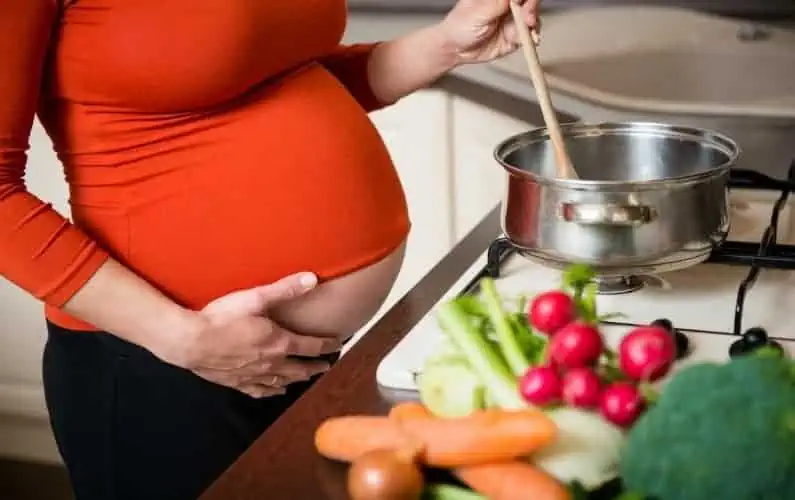 The last thing you're going to want to do during your postpartum recovery is to worry about what's for dinner or actually cooking said dinner.
Meal plan now and cook a couple extra meals every week during the third trimester.
Don't know what to cook?
Check out TheDinnerDaily.com – they feature easy meal plans and actually link to store sales through your grocery list which means you'll be less stressed about what's for dinner AND you save money.
A win-win in my books. 🙂
I'm pretty impressed so far and I know having this kind of service will be so helpful the next time I'm recovering postpartum.
RELATED READ: The Complete Postpartum Recovery Plan
TAKE A HOSPITAL TOUR 
If you plan to give birth in a hospital, you should schedule a tour so that when that day comes to meet your new baby, you know where to go.
SLOWLY DEEP CLEAN YOUR HOUSE
This is a third trimester to do list item that needs to be done slowly when you have the energy.
(Energy? What's that again?!)
The last thing you want to worry about is the dust balls under the couch or the clutter in the basement.
Give yourself peace of mind by tackling house cleaning as you can.
You might find you clean close to your due date – it's often called "nesting" but I've also talked to other pregnant friends and they never experienced it.
They let me know that feeling like the house wasn't clean or organized was a great source of stress for them postpartum.
Enlist the help of your spouse, friends, and family if deep cleaning the house sounds like a lot of work.
(Because it IS a lot of work!)
GET SUPPLIES NEEDED FOR A HOME BIRTH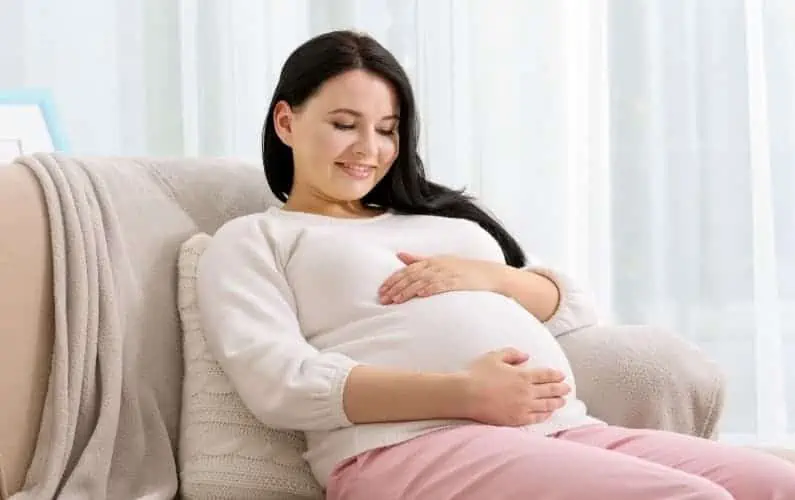 If you plan to have a home birth, then the third trimester is the perfect time to make sure you have the supplies you need.
Your midwife will likely give you some items but it's a good idea to be prepared by having:
✔6 old washcloths.
✔A few old, clean towels.
✔A couple of stainless steel basins (for the afterbirth).
✔Old sheets you no longer care about.
✔A plastic mattress cover like this one.
✔A few pillows for your comfort.
✔Plastic covers for your pillows (you can use garbage bags and then place the pillow in old pillowcases).
✔A few old blankets for your comfort (surprisingly you can actually get cold during birth – I did!)
✔Painkillers of your choice. (Tylenol, Advil, etc.).
✔Newborn baby clothes for when the baby arrives.
✔A newborn hat for baby's head.
✔Baby blankets to keep baby warm upon arrival.
✔Comfortable nightgown for birthing (something you don't mind getting dirty).
✔A change of clothes that are comfortable (you won't want to stay in what you were wearing).
✔The other postpartum supplies listed earlier in this third trimester to do list.
RELATED READ: 51 Things to Get Done Before Your Baby is Born
GO ON A DATE WITH YOUR SPOUSE
One of the first things I noticed after we welcomed our baby girl into the world was that my hubby and I didn't have as much time for us.
Duh, right?
So a big third trimester to do list item is to plan as many fun date nights before the baby arrives.
If you need some date night inspiration, check out my post 52 Fun Cheap Date Night Ideas for Couples on a Budget.
INSTALL THE BABY CAR SEAT
It might seem silly to install the baby car seat when you have several weeks to go but you just never know what might be in store and, so, it's best to be prepared.
This way it's ready to go and you won't be scrambling to do things in case you go into labor earlier than expected.
IS YOUR HOUSE SAFE?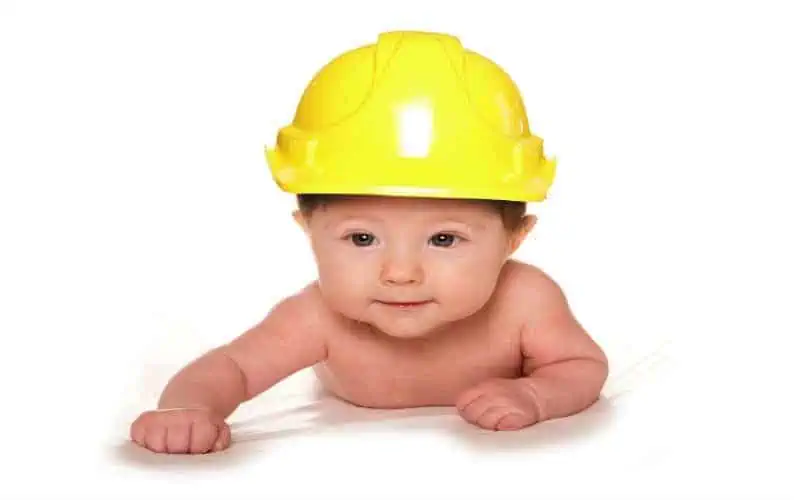 This is a big third trimester to do list item.
Once you're in the third trimester you need to look at your home with a critical eye and make sure every room that your baby will be in is baby proofed.
You may think your baby won't be on the move for awhile (I thought the same thing) but it happens seemingly overnight and the last thing you want to do is worry about safety when you're probably exhausted.
For example, hubby and I kept cleaning products within reach in our kitchen so we needed to reorganize and store things at a higher level where our baby girl could reach.
(We've also moved to all-natural cleaners in order to eliminate as many dangerous chemicals in our home – good for our family overall).
So, mama, what rooms need a safety makeover in your home?
KEEP GOING TO BED EARLY 
This probably seems pretty obvious but keep going to bed as early as you can during the third trimester.
Sleep will become precious once baby arrives so being as rested as possible is always a good idea.
RELATED READ: 18 Must-Have Pregnancy Products for Mom
GET A PREGNANCY MASSAGE
I swear pregnancy massages helped me survive the third trimester.
It was part of my self-care routine and I can't recommend it enough.
It's SO worth the money!
If you can schedule a few pregnancy massages throughout the third trimester to help you feel less stress and relaxed.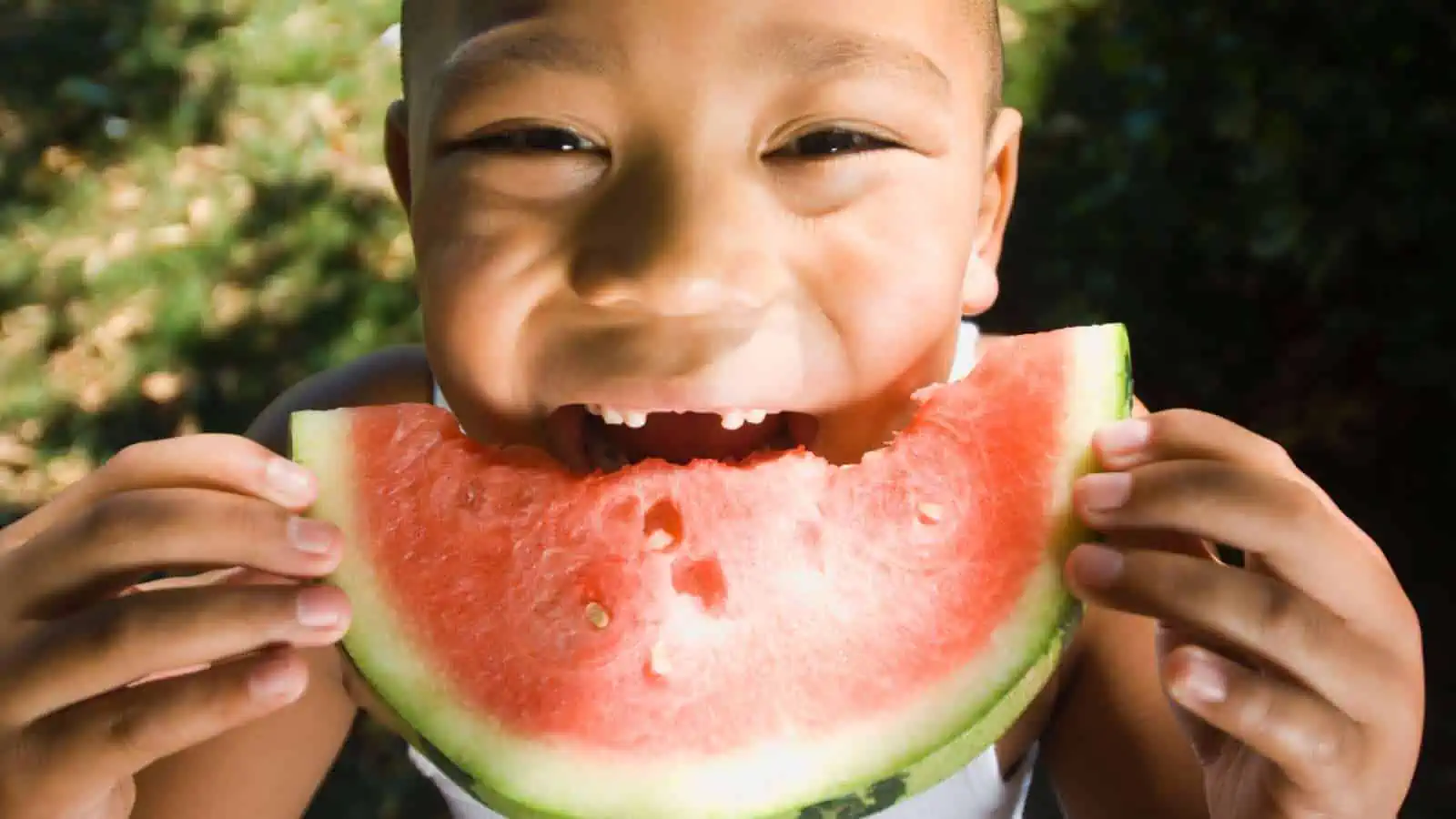 CHOOSE YOUR BABY'S COMING HOME OUTFIT
This is FUN third trimester to list item!
Pick an outfit for your sweet baby to come in.
This is a photo opportunity to add to your memories so make sure it's cute! 🙂
ARRANGE CARE FOR OLDER KIDS
You'll need to plan who will take care of your older children while you deliver your new bundle.
Will it be grandparents or a trusted friend?
Ask now and get a plan in place – it'll put your mind at ease!
ARRANGE FOR PET SITTING
Pets often get overlooked.
For myself, I was so busy getting ready for baby that I completely forgot to arrange pet sitting for our dog.
I completely blame baby brain! 🙂
Luckily, my dad was available at the last minute.
Ask a friend or look into boarding to make sure you have your pets covered.
RELATED READ: The Complete Postpartum Care Checklist
KNOW THE ROUTE TO THE HOSPITAL 
I thought I'd throw this on the third trimester to do list because it's pretty important.
Pick a main route to the hospital and figure out alternatives in case traffic is bad.
You never know when mother nature will decide your baby is coming – it could be in the middle of rush hour!
RELATED READ: 11 Ways to Combat and Beat Pregnancy Fatigue
There you have it, mama!
Your complete third trimester to do list!
Check off items on your third trimester to do list as you can – the most important thing is to take care of yourself first.
Make sure to pin this post for reference later 🙂
What are your plans for the third trimester?
Is there anything else you feel should be on this third trimester to do list?
Let me know in the comments 🙂
Missed my other pregnancy to do lists? 
The Complete First Trimester To Do List
The Complete Second Trimester To Do List