Essentials for a Diaper Bag
This post may contain affiliate links. As an Amazon Associate, I earn from qualifying purchases.
Keeping a diaper bag ready to go, packed with everything you and your baby may need when going out can be convenient and may give you peace of mind. But what are the essentials for a diaper bag?
I always had my diaper bag near me when my daughter was young (and not potty trained). Yet, I was always battling a war between bringing too many things and not having enough backups- like extra clothes, diapers, etc. (Anyone else?!)
Deciding on what to pack in a diaper bag can take some time at first because you need to think of all the possible scenarios you might encounter when outing with your baby- while also not bringing your entire house with you in your bag- ha.
Today, I will help you collect all the diaper bag essentials that helped me feel prepared with my littles. That way hopefully you don't have to worry if you have everything you might need for going out.
Choose a practical diaper bag
Is anyone else amazed by how much stuff a baby needs on a daily basis? I mean of course all they really need is love, food, and a frequent diaper change- but then there's all the other things that make life easier, right? 🙂
So first of all, choose a diaper bag that has a lot of easily accessible pockets. It won't only provide enough space for the baby essentials but you will also spend less time looking for something. (Seriously thought- you will thank me later!)
Plus, if you don't want to carry a purse with you in addition to the diaper bag , it may be practical to have some extra space for your stuff (keys, phone, wallet, and more).
The best is if you buy the perfect diaper bag in the second or third trimester of your pregnancy. Thus, you can use it right after you give birth to your baby and you don't have to spend your precious time looking for one later.
Here is a quick list of some customer favorites:
Related read: 10 Must Have Baby Products For the First Year
Essentials for a diaper bag
So now that you have a practical bag that can store all the essentials for the baby, it's time to figure out what to actually pack in a diaper bag. You can make a list quite easily if you sit down and think about all the things you would like to do with your baby when you are out and what you may need in the meantime.
To help you decide what are the essentials for a diaper bag, here is a list of what most moms need when they are leaving home with their baby:
Diapers: You always need to carry with you a few diapers (these are my favorite brand because they're eco-friendly). In the case of a newborn, the best is to calculate at least one diaper for every 2 hours while you are outside. However, consider adding some extra diapers just to be safe.
Baby wipes: Here you can opt for the smaller travel packs that are easier to carry, especially if your baby is already a few months old and you don't need to change the diaper so often. Although, wipes are also great for stick finger, hands, and any other messes the manage to happen while you're out 😉
Portable changing pad: Always keep a portable changing pad in the bag. Sometimes even the diaper bag comes with one.
Diaper rash ointment: You can save some space if you get travel-sized tubes. But when baby's skin get's sore and irritated you'll be glad to have it on you.
Plastic bags: You will need them for the dirty diapers, particularly if there is no trash bin nearby or you use cloth diapers. You may also use them for storing wet clothes. Even better- opt for eco-friendly options. I got these cute reusable dry bags for dirty diapers and clothing and they worked perfectly.
Pacifiers: If your baby takes a pacifier, make sure to keep the sterilized pacifiers in a clean box or bag. This way, they will stay clean.
Burps cloths, bibs: Pack a few of them in the bag. You may need them.
A spare set of clothes: You never know what will happen. So it's better to keep some extra baby clothes with you. Pro mom tip: keep an extra shirt (and any other clothes you want) for yourself too- because, blow outs 😉
Food/snacks: Depending on the age of your baby, you should take with you pumped breast milk/formula (or of course just your boobs-ha), bottles, baby food, snacks, and water.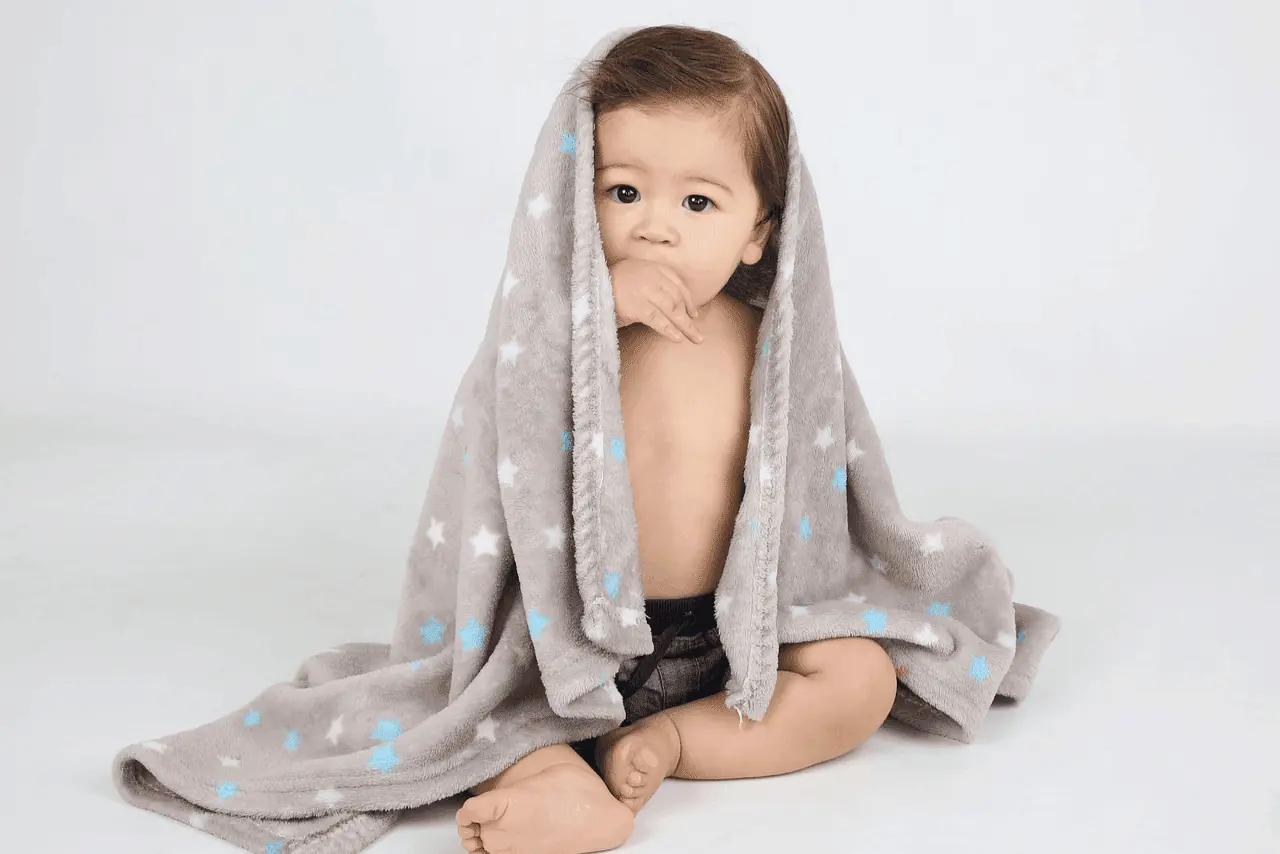 Light baby blanket: Regardless of the season, keep a light blanket in your bag. You can use it to cover your baby when the weather gets cold. Plus, it can also be used for shielding your baby from the sun.
Hat: Keep a hat with you both in summer (sun hat) and wintertime (winter hat).
Sunscreen: Protect your baby's precious skin from the sun with sunscreen. (For babies over 6 months – or more- talk to your pediatrician)
First aid kit: Injuries can happen at any time. So carry with you a basic first aid kit, or at least some band-aids.
Essential things for breastfeeding/pumping: Anything you may need to breastfeed or pump. For example, a nursing cover, a portable breast pump, nursing pads, etc.). Although all your truly need is your breasts of course.
Toys: It's always a good idea to have a few toys with you that can keep the baby entertained. Which ones will depend on your baby's age and development.
Hand sanitizer: Because you need to keep your hands clean.
Some items for you: If you don't take a purse with you, put some essential items for you in the bag. For example, your keys, earphones, lip balm, phone, money, ID card, etc.
There you have it, these are the essentials for a diaper bag. Make sure to have at least these items on your diaper bag checklist.
Related read: A Step-by-step Guide to Clean Your Baby
Additional items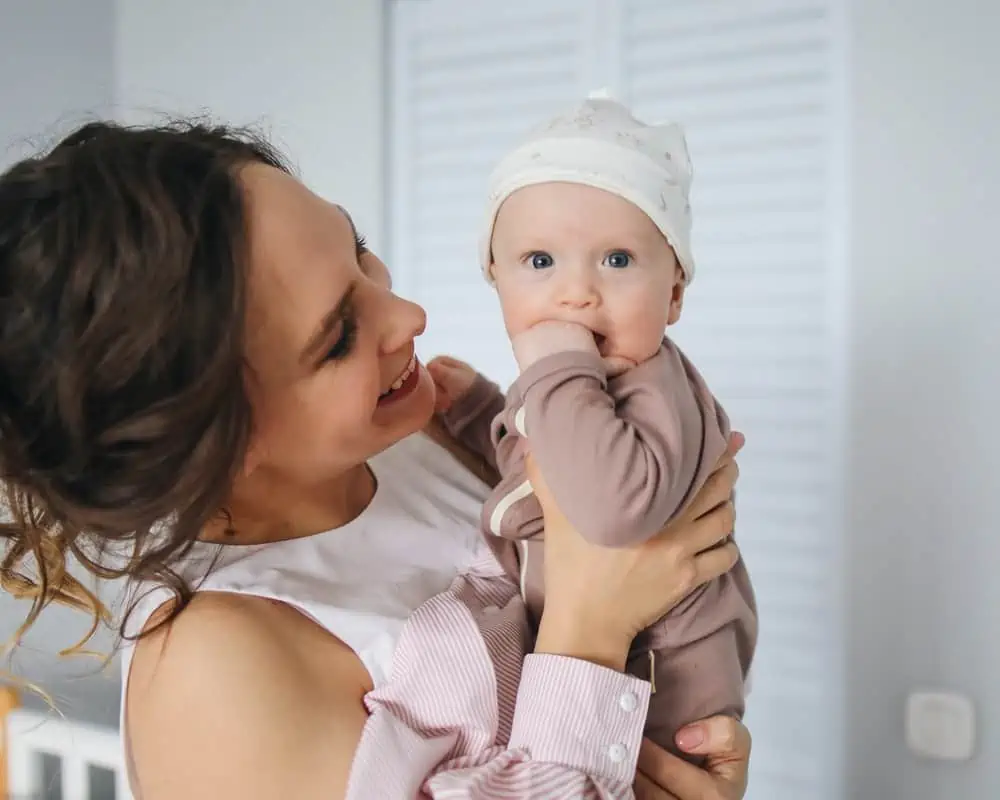 Although with the above-mentioned diaper bag essentials you are good to go, some additional items can come in handy in certain situations. Therefore, if you want to be an extra prepared mom or will be out for a longer period of time, consider adding some of the following items to the diaper bag:
Nasal aspirator: It can be useful when your baby has a stuffy nose.
Extra shirt: This one's for you in case your baby spits up on your shirt or some other incidents happen.
Pads: Especially if you still have postpartum bleeding.
Water and snacks for you: Moms need to eat as well 🙂
A book: in case the baby falls asleep, you can read a little.
Related read: Newborn care: Baby Care Tips for New Moms
How to pack in a diaper bag
Sometimes you may need to act quickly, so it's better to keep the diaper bag essentials organized. Here are a few tips on how to pack a diaper bag:
Use smaller bags for storing the different categories of essentials (feeding items, diaper change items, your stuff, and more) inside the diaper bag. This way, your bag won't look like a black hole when you are looking for something. If you use different colors or labels for each category, it's even better!
When it comes to the bottles, do some preparation. This means that if you use formula, then measure the water before leaving the house and pour it into each bottle. Then, add the pre-measured formula to the bottle only before feeding your baby with it. If you are using breast milk in a bottle and you are planning to spend a lot of time outside, make sure to place the pre-filled bottles into a portable breastmilk cooler bag (especially when it's hot outside).
Double-check that everything that contains liquid is properly closed such as the bottles, sunscreen container, etc. You can even pack everything in sealed plastic bags to prevent any leaks.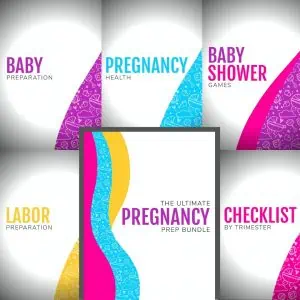 Here you go, momma. Now you know everything about the essentials for a diaper bag. If you put all the items mentioned above into the bag, you are well-prepared for any kind of outing with your little one.
Plus, you also got a few useful tips on how to pack in a diaper bag. So next time you don't have to spend hours looking for your baby's favorite toy or cleaning after an accidental leak.
Did you find our list of diaper bag essentials useful? Is there you anything you would add or not include?