Fun Winter Activities for Toddlers to Keep Them Engaged
This post may contain affiliate links. As an Amazon Associate, I earn from qualifying purchases.
Ah winter… after a HOT and busy summer, I am always ready for the cooler weather and shorter days. Anyone else?!
Just because it's cold outside during wintertime, it doesn't mean that you can't do anything fun with your kids. There are many great winter activities for toddlers (both indoors and outdoors) that they would definitely enjoy doing with you.
I've put together an amazing list of options for you to check out. With the help of these super fun activities, you can be assured that you will be able to keep your kids (and yourself as well) entertained and busy (if you want to be!) throughout the whole winter season.
Are you ready? Then let's dive into the best fun winter activities for toddlers!
Indoor Winter Activities for Toddlers
First, we will start by reviewing some fun winter activities for toddlers indoors. All these activities for toddlers mentioned below are safe for toddlers and preschoolers (and beyond). Thus, don't hesitate to try them!
Bake together
So much fun! Undoubtedly, baking is one of my favorite winter activities. And do you know what is best about baking? That kids enjoy doing it as well. Plus, it's a great opportunity for them to pick up some important skills that may be useful later in their lives. So in my view, it's a rewarding activity!
If you want to introduce your toddler or even your older kids to baking, just simply choose an easy recipe you can make together. Whether you select a cake, cookie, or muffin recipe, you will certainly have fun baking them. Just make sure that everyone is being safe during the whole process!
If you are wondering which recipes your little one(s) can help you out with, here are a few great kid-friendly recipes worth mentioning:
Extra fun tip: When you're done baking, curl up with a cup of tea or hot chocolate while you wait for it to be finished.
Related read: What Are Examples of Play-Based Learning that You Can Do at Home With Your Toddler?
Have an indoor picnic in your living room
Is it too cold to have a picnic in a park or your garden during winter? Then have one indoors!
All you need is to prepare some healthy snacks and drinks for your toddler and spread a blanket or rug out in your living room. Sit on the blanket/rug comfortably and enjoy the delicious snacks together! Sounds great, doesn't it?
Make a hut/tent indoors
The next in our list of activities for toddlers and preschoolers is making a hut/tent indoors. Since kids love to hide in huts, it's a brilliant idea! You probably also enjoyed building some tents at home during your childhood. If so, why not give the same joy to your kid as well?
If you want to make a hut, simply use some things you can find in your home: rods, blankets, sheets, cushions, chairs, etc. Even with cardboard, you can make a hut!
Make sure to be creative and make the hut/tent as comfortable as possible on the inside (for example, fill it with cushions and blankets). Your toddler will love playing in the hut!
Create a squishy snowman sensory bag
Sensory play is among the best winter activities for toddlers and preschoolers. A winter-themed sensory activity, such as a squishy snowman sensory bag, allows kids to learn in a fun way about all the things that winter brings for us (pretend snow and all) and boosts their fine motor skills. If you want to know how you can create a squishy snowman sensory bag with your toddler, check out this tutorial. However, make sure to be careful of the small objects!
Engage in an easy snowman art activity
Crafts for toddlers are the best- in winter or any other time of year. You can easily create a bubble wrap-painted snowman with your toddler. What will you need? Some white tempera paint, bubble wrap, a brayer, blue paper (try to cut it into a snowman shape), felt scraps (to create a scarf), and something for making the eyes of the snowman (it can be a sticker, or you can buy a few pairs of googly eyes at any craft store). For a step-by-step tutorial, visit this page.
Note: There are SO many fun crafts for toddlers that you can do with your little one any time of the year. We love to go to our local library and pick up some winter or holiday-themed craft books for inspiration. My daughter likes this more than looking online since she can flip through the pages and pick her projects on her own 🙂
Related read: Language Activities for Toddlers
Teach them classic (and new) paper games
Have fun playing games with paper. Turn squiggles into animals, teach them tic tac toe, and create your own game board or any other creative way to play with paper as a fun and cheap tool.
Outdoor Winter Activities for Toddlers
Now that we have reviewed a few amazing indoor winter activities for toddlers, it's time to see some outdoor winter activities for toddlers as well. Understandably, when it's cold and wet outside, most people prefer to stay inside in the warm. However, it doesn't mean that your kids think the same! I remember that when I was a kid, I spent a lot of time playing outside. And I loved it, especially when it was snowing!
Below you will find a few fun winter ideas you can try with your toddler. Just bundle those toddlers up and get out there in the snow and cold to play 🙂
Go sledding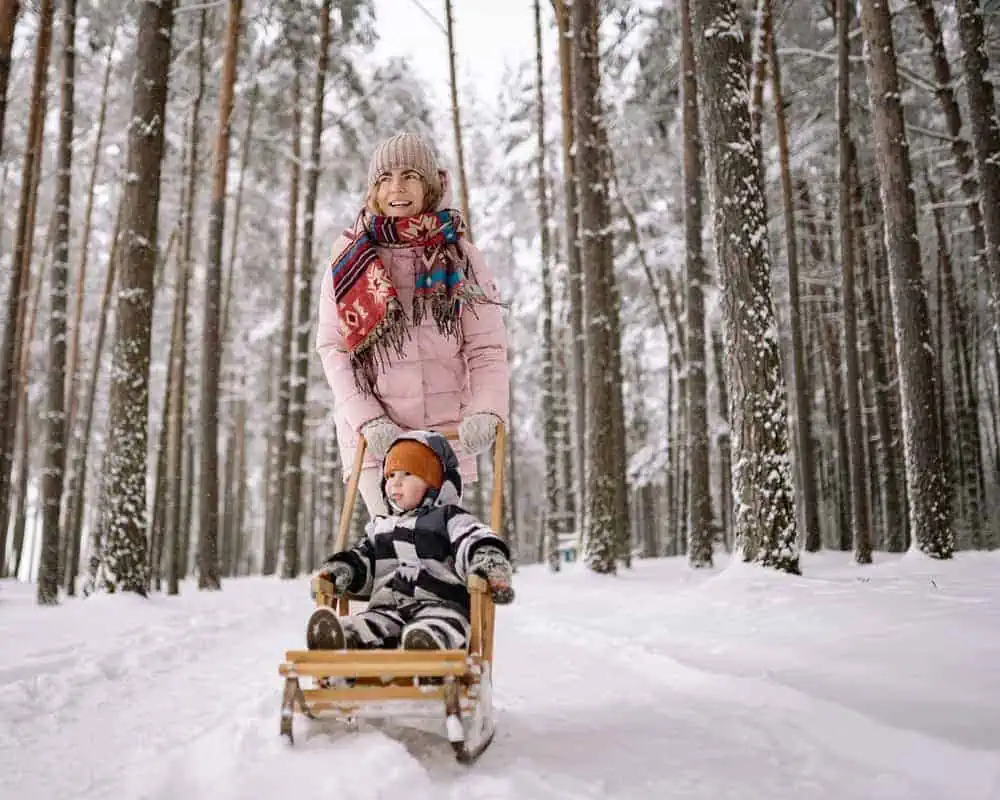 When there is snow outside, there is nothing better than going sledding and playing in the snow with the kids in the winter. If you have a sled, it's great. Just dress your toddler appropriately for the cold and the snow (here layers are the key), and the fun can begin!
However, if you don't have a sled, don't worry. You can make one out of household items in a few minutes that'll be ready to slide down the snow in a jiff.
Make a snowman
If you have snow, take your toddler outside and teach them how to make a snowman- the perfect winter activity. You can make this snow activity more exciting for them if you let their creativity run wild when it comes to decorating the snowman. Add any accessories they want when making the arms, and face and adding the clothing (hat and scarf). Or have them make their favorite animal or object out of snow instead.
Decorate the yard
Your toddler can help you decorate the yard with some lights and fun decorations for Christmas. They would enjoy choosing the colors and showing which decoration should go where.
Related read: 21 Fun Christmas Gift Ideas for Toddlers
Go on a fun color hunt
Show your little one the beauty of wintertime by going on a color hunt. All you need to do is to make a list of colors with your toddler, and then go to find each color in nature. Obviously, it will be more difficult to find them than at other times of the year, but it's still doable!
This outdoor activity is not only fun but also an exciting way to help your child recognize the different colors.
Make some snow angels
This winter activity also requires snow. However, if you have some snow outside, don't hesitate to head outside and make a few snow angels with your toddler. Consider taking some photos as well to preserve these memories!
Bored with snow angels? Have then write their name or trace objects- either with their hands or walking with their feet.
Have a snowball fight
I think we can agree that no childhood can be complete without some snowball fights (one of my daughter's favorite snow activities). Therefore, if you have the opportunity (and snow of course!) have one with your kid outside. However, make sure to play carefully as chances are that your toddler is not ready yet for an intense fight.
Related read: Fearful Toddlers: Expert Advice on How to Help Your Child Through Insecurities
Don't let the cold stop you from having fun
After all, we can say that there are plenty of exciting winter activities for toddlers. You should just find which ideas you would enjoy the most. I hope you got some inspiration from our collection of activities and this winter you won't let the cold stop you from having some fun with your little one. Whether you prefer indoor or outdoor activities for toddlers, make sure to make it extra fun for your kid.
Which winter activities for toddlers would you try? Do you have some other great ideas to keep the kids busy during winter? Let me know in the comments!