23 Of The Best Toys For Kids This Christmas
This post may contain affiliate links. As an Amazon Associate, I earn from qualifying purchases.
Mama, it's time to start our shopping lists for the best toys for kids this Christmas!
I know, already!
Kinda feels like Christmas is sneaking up on all of us, wouldn't you agree?
I can't believe I'm putting together the hottest toys for kids gift guide already!
I know you're searching for the best toys your kids will love to get on Christmas morning – the ones that light up their faces or that one toy they haven't stopped talking about for months.
Even though toy gifts aren't the only way to have a good Christmas – let's be honest – it sure is nice to get our kids something they really want. 🙂
So, what are the hottest and best toys for kids this Christmas?
I've broken this gift guide into 3 sections to help you navigate the gift guide and find the best toy gifts for your kids.
THE BEST TOYS THIS CHRISTMAS FOR BOYS AND GIRLS (these are the best toys suitable for both)
THE BEST TOYS FOR GIRLS THIS CHRISTMAS
THE BEST TOYS FOR BOYS THIS CHRISTMAS
So, happy shopping, mama!
Let's get ready for Christmas 🙂
Need some other shopping ideas? Don't forget our other resources!
23 Of The Best Toys For Kids This Christmas
Best Toys for Kids This Christmas – Girls and Boys
Classic Lego brings us back to our childhood, doesn't it mama?
We didn't have premade Lego kits in those days – we used our imagination and creativity to build our visions in Lego.
Bring it into this year and boys and girls alike will have hours of fun with the Classic Lego – building with their imagination or using some of the "idea cards" supplied in the box.
Either way, Classic Lego is definitely one of the best toys for kids this Christmas!
(I have a feeling there will be a lot of parents creating with Lego on Christmas morning too, haha!)
If your little one still can't be trusted around small parts- try the Duplo set instead- also made by Lego!
AGES 4+
HARRY POTTER HOGWARTS GREAT HALL
Do your kids love Harry Potter?
Hard to find a kid who doesn't and now they can build and have their very own Hogwarts Great Hall made out of Lego!
The set comes with 878 pieces and is stunning once completed – this Lego set just might be the best toy gift for your Harry Potter fan! 🙂
If you want something other than leg- 3D Puzzle Kits are great too. Here is a gift favorite: The Weasley Household.
AGES 9+ (although I think kids younger would enjoy too!!)
Okay, calling all Harry Potter fans – again, haha!
If you're wondering why the Harry Potter coding kit makes it on the best toys for kids list this year, it's because of the coding element of the toy.
In today's world (and future) the importance of learning to code will become more and more important so why not start your kiddos off young?
Kids learn how to code a wand that responds to their movements – how cool is that!
AGES 6+
Does anyone else have fond memories of playing in the house and backyard with these bad boys? I do-ha! Let your kids interact in a fun new ways with these talk radios.
Plus, you can use them to communicate with your kids for fun or checking in for safety too if you're not ready for a cell phone and they will be playing outside.
AGES 5+
MELISSA & DOUG WOODEN FRESH MART
In my post 21 Fun Christmas Gift Ideas for Toddlers, I mention that kids LOVE to mimic what they see adults doing.
So if your kids always come to the grocery store with you, they're going to love pretend playing with their very own supermarket checkout.
The supermarket has all the things kids would want – conveyor belt, bagging area, card swiping machine and cash drawer!
Kids can use their imagination and engage with each other in pretend play where they will learn about how to grocery shop.
Make your own items to fill the store with our add the companion set.
AGES 3+
Want other ideas?
VTECH KIDI STAR KARAOKE MACHINE
Your kids will have fun singing and dancing with the Vtech Kidi Star Karaoke Machine!
It comes with tons of cool features like light effects, voice changer, a built-in recorder and more!
If I were you, I'd get ready for some awesome concerts put on by your kids! 🙂
AGES 5+
If your kids are into science and growing things, then the Grow n' Glow Terrarium is one of the hottest toys this Christmas.
The idea is that kids are able to grow their very own living habitat in a contained jar (which might be a relief for you, haha!).
The kit comes with everything needed to get started – all they need to do is add water and watch their habitat start growing!
AGES 6+
Continuing with toys that are great for kids who love science and experimenting, Crystal Growing allows kids to grow 7 different crystal experiments and keep the results in display cases.
Imagine the results they'll get!
If they have show and tell at school, this would be a really cool thing to feature! 🙂
AGES 10+ (Which I think is a bit high because I think younger kids would enjoy this too!!)
Every so often Monopoly rolls out a new edition but this one looks interesting and well, different!
In Monopoly Cheaters Edition you can bend or break the rules all while trying not to get caught or else you face the consequences!
This is a refreshing take on Monopoly because I'm not sure what your experience is but someone always gets accused of cheating and it's not very fun for everyone else.
In this edition, cheating is encouraged which means everyone will have the same chances to take advantage of things.
This could be a great game to add to your family game night! 🙂
AGES 8+ (although I think younger kids can learn to play too!)
RELATED READ: 21 Fun Christmas Gift Ideas for Toddlers
Best Toys for Girls This Christmas
Here are some of the hottest and best toys for girls this Christmas:
This tent is where magic is made. It can be set up in a little girl's play room, bedroom, or anywhere else you want her to have hours of imaginative play.
Just set it up and let her imagination go wild with blankets, teddies, dolls, and more! Let her customize the tent to her liking with decor and toys. She'll love this.
I kind of want one for my own room too- forts are always fun, ha!
Who doesn't love jewelry?! These fun pieces can be popped together over and over again for endless designs.
Let your little fashionista have some a ball with these.
AGES 3+
DON'T STEP IN IT – UNICORN ADDITION
It's no secret that little girls have a fascination with Unicorns and it doesn't seem like that love is going anywhere anytime soon!
Don't Step In It Unicorn addition is perfect for your unicorn obsessed daughter – it just might be one of the hottest toys for girls this Christmas!
The idea is to place the "unicorn poop" on the floor mat, spin the wheel and take the number of steps that show up but make sure you don't step in the poop! haha!
This game will be hours of fun for girls and their friends.
AGES 4+
Continuing on little girls love for unicorns, here's a cute Christmas gift idea for younger girls – Peek-a-Boo Unicorn is a great way for girls to enjoy taking care of a unicorn while carrying a little purse (which is something most girls LOVE to do)
Just a warning – the toy is smaller than it may look – so if you're shopping for an older girl, it may be a good idea to find something else that compliments her Unicorn love.
AGES 3+
Seems interactive toys are all the craze for Christmas this year!
(And, to be honest, I can totally see why – it's pretty cool!)
A Pomsie is a lovable, furry toy that can wrap around things like your daughter's backpack or her wrist.
Their eyes change color so you know what mood these furry guys are in and there are 50 different reactions so your little girl won't get bored playing with them any time soon.
AGES 3+
POLLY POCKET TRANSFORMATION PLAYSET
Don't you remember Polly Pockets from your own childhood?
Seems they're making their way back into the limelight as one of the best toys for kids this Christmas!
The newer version is bigger than the one from days past but you can use the switch on the playset and viola the smaller Polly Pocket is revealed.
How cool is that?
The new version won't fit into a pocket but can easily be added to your girl's backpack or a little purse.
(Is it okay that I'm pretty excited about this toy, haha!)
AGES 4+
Girls love to take care of things.
It didn't take our baby girl long to show her love for taking care of her stuffies.
That's what makes Melissa & Doug's Vet Playset one of the best toys for girls this Christmas (and, yes, boys would love the set too!).
It comes with a dog and cat stuffy, and all the pretend vet equipment needed to take care of the pets.
AGES 3+
This fun tracing pad includes over 100 traceable images, 10 sheets of paper to get started, and colored pencils.
What a great way to boost drawing confidence and have some fun.
AGES 6+
RELATED READ: 25 Christmas Gift Ideas for Busy Moms
Best Toys for Boys This Christmas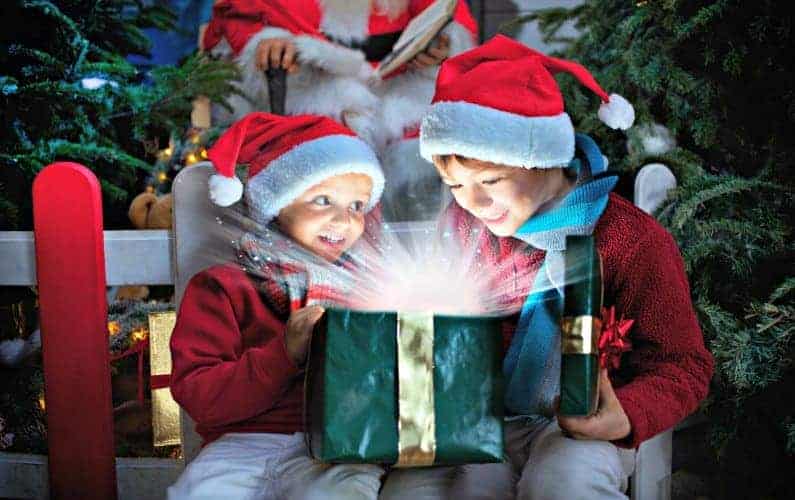 Here are the best toys for boys this Christmas:
INTERACTIVE DINO PLAYSET WITH MAT
If the boy on your Christmas shopping list loves dinosaurs then this Dinosaur Play Mat with Toys is a great gift idea.
Boys will have hours of fun building and imagining their very own dino world!
AGES 5+
POKEMON SHINING LEGENDS ELITE TRAINER BOX
If your son is begging for anything Pokemon, then grab the Pokemon Elite Trainer Box.
It's the way your son can become a Pokemon master and have him singing your praises on Christmas morning, haha!
AGES 5+
BIONIC BLAST ROLLER COASTER BUILDING SET
The Bionic Roller Coaster Building Set is one of the best toys for boys this Christmas!
After your son (or daughter!) is finished building the roller coaster (which stands at about 2.5ft high!), he'll be able to ride it using the virtual viewer that comes in the kit.
This hot toy is perfect for boys who love thrill and adventure.
(I also think some girls would love to get the toy this Christmas so that's something to consider).
AGES 7+
Since interactive toys seem to be the best toys for kids this Christmas, here's one more.
Crate Creatures come in their own crate and need to be set free – and once they're free there are endless things you can do with them!
Boys are able to record a message and have it said back to them in a creature voice!
Knock the toy around to see what kind of reactions happen.
AGES 6+
Standing over two feet tall, the Paw Patrol Lookout Tower is the BEST toy gift this Christmas if the little one you're shopping for is all excited when the pups come to the rescue.
It comes with interactive lights and authentic sounds sure to thrill any boy on Christmas morning!
The tower also comes with a couple of the Paw Patrol figurines which means you don't have to buy those on top!
AGES 3+
How cool would it be to receive a robot for Christmas?
Super cool I bet!
The best thing (for the parents, that is) is the Lego Creative Robot Toolbox teaches kids how to code and be creative with a super cool toy at the end – the robot!
So, if you have a boy (or girl!!) who loves science and building things, this kit would make a great gift this Christmas!
AGES 7+
There you have it!
23 of the best toys for kids this Christmas!
I hope this gift guide inspired you and please make sure to let me know what you plan to put under the Christmas tree this year!
I would also love to hear about how your kids reacted when they saw what toys they got! 🙂
Comment and share below!