Cradlewise vs SNOO: Which Smart Bassinet is Better?
This post may contain affiliate links. As an Amazon Associate, I earn from qualifying purchases.
It can be tough to decide which baby bassinet is best for your little one. Do you want something that will simply keep them in one place, or do you want a smart bassinet something that will mimic the feel of being in the womb? Cradlewise and SNOO are two of the most popular smart bassinets on the market with different key features.
In this blog post, we will compare and contrast these two products and help you decide which one is right for you!
My Own Experience with Sleep Deprivation
As a new mom, I always worried about whether my daughter was getting enough sleep, drinking enough milk, having adequate wet diapers, etc. It was exhausting (literally and figuratively).
How did I combat this? I eventually learned to let go and trust my new mama's intuition. But also, I learned that sometimes it's worth experimenting and splurging on the right baby gear!
Key Takeaways
Top Features of the SNOO Smart Sleeper
The SNOO smart sleeper is a high-tech baby bassinet that soothes and rocks your baby to sleep with the help of white noise and gentle movement that mimics a mother's womb.
The SNOO costs $1,695 (buy, finance, or rent)
The SNOO is the safest sleep option for newborns to 6 months old thanks to its built-in swaddle technology.
Top Features of the Cradlewise Smart Crib
The Cradlewise 3-in-1 Smart Crib is a baby bassinet that can be used as a traditional bassinet, co-sleeper, or full crib for up to 33 lbs.
The Cradlewise is innovative, featuring sleep sensors that predict when your baby might wake, a mobile app for tracking and monitoring, music, and an intuitive bouncing motion for soothing babies and helping them stay asleep.
Cradlewise is for sale starting at $1,399 (depending on financing) with a 100-day risk-free trial.
Can a Crib Help Parents and Baby Get More Rest?
The answer is YES! A baby crib, whether it's the classic wood style or a more modern and "smart crib" version can help both parents and baby get more rest.
How? Well, for starters, a good quality baby crib will be comfortable and sturdy. It will have a firm mattress that doesn't sag in the middle, and the slats should be close together so that baby can't wiggle their way out or get stuck.
In addition, a good crib will have features that help your newborn sleep more soundly and peacefully. For example, many modern cribs come with white noise machines built in, which can help to soothe and lull babies to sleep.
Cradlewise vs SNOO: A Comparison
Now that we've quickly reviewed the benefits of a good quality baby crib, let's compare two of the most popular smart cribs on the market: Cradlewise and SNOO.
Both Cradlewise and SNOO are designed to help baby sleep more soundly, but they have different key features. Cribs, in general, are great for giving babies a safe and comfortable place to sleep. But what sets Cradlewise and SNOO apart is that they both have features that help babies sleep even better- which means parents sleep even better too (yay!).
I will review the top features of each to help you decide which model of smart crib would fit your needs best.
The SNOO Smart Sleeper by the Happiest Baby
The SNOO Smart Sleeper is a smart bassinet that does more than just rock and play white noise to put your baby to sleep. To help you keep your baby secure in its crib, it also responds directly to a baby's cries with a gentle rocking motion and sound stimulation.
The revolutionary safety support swaddling on the SNOO prevents rolling, and the bouncing motion mimics a mother's womb.
Dr. Harvey Karp, a recognized expert on children's sleep and writer of "The Happiest Baby on the Block," created the SNOO to simulate the feelings of the baby being in the womb so they would be more at ease to sleep blissfully.
What Moms Like About The SNOO
The SNOO bassinet was designed by an expert dad (Dr. Harvey Karp) and has thousands of hours of research to support it
When a baby starts to cry, SNOO bassinet detects it (depending on what level of sensitivity you set it to), and the self-rocking crib responds by playing progressively louder white noise and swaying movements to calm the crying and help the baby to sleep.
If the baby is not lulled back to sleep after three minutes, the SNOO will time out.
Three baby sacks and adjustable swaddling closures let you keep your infant sleeping on their back for the safest sleep possible. In fact, not one report of SIDS has occurred with this bassinet despite its millions of logged hours of sleep.
An intelligent mobile app tracks the baby's sleeping patterns and lets users control the bassinet's rocking and music.
There is a preemie and weaning option to transition to the baby's new bed.
What Moms Don't Like About the SNOO
It only serves as a bassinet, meaning once your child outgrows this bassinet at roughly 6 months, you'll need to purchase a crib.
The SNOO does not have a baby monitor built-in.
There is no sense or gesture control to alter the bassinet's motion.
Why We Love This Model
Most importantly, the SNOO is the safest bassinet on the market since it is designed to keep babies on their backs at all times. The benefits of good sleep are just the icing on the cake.
For peace of mind and good sleep, you can't go wrong with this smart sleeper.
For more information, check out their website here– where you an buy, finance, or rent the SNOO.
The CradleWise
The clever 3-in-1 crib, bassinet, and baby monitor- called the Cradlewise Smart Crib- is intended to give parents a safer sleep environment for their infants.
It has a built-in baby monitor that keeps track of the child's sleep and automatically calms the child with music and a natural bouncing motion when it notices that the child is about to wake up.
What Moms Like About Cradlewise
It is a bassinet, crib, and baby monitor in one.
It has a built-in baby monitor with audio and night vision.
It is made from non-toxic components.
It has a height-adjustable bassinet.
It has smart sensors and cry detection that can predict when your baby will wake up and help in soothing them back to sleep with natural movement and music.
It makes use of the sleep tracking data of the baby and gives recommendations for improving sleep habits.
It can be controlled using gestures or a smartphone app.
You can try this crib for 100 days risk-free
What Moms Don't Like
It is the newest smart crib on the market and lacks the validated research that SNOO has
It does not include a swaddle or a harness to prevent your baby from turning over like SNOO
Both smart bassinets come at a steep price- but truly are the best on the market
Why We Love This Model
Unlike the SNOO, the Cradlewise is a multi-purpose crib for infants and toddlers, so parents will not have to worry about purchasing a crib once their baby has outgrown a bassinet. Plus, you don't need a white noise machine, swing, or baby monitor- it's all in one unit.
Overall, Cradlewise has taken the smart bassinet marketplace by storm with tons of awards for its innovations. Plus, many consider it a lifesaver for getting a good night's rest.
Order Your Cradlewise Crib NOW
How to Choose the Best Crib for Your Baby
Now that you know a little more about the two top-of-the-line baby bassinets, it's time to decide which one is right for your family.
Here are some factors to consider:
Price: The SNOO is more expensive than the Cradlewise, but it does come with a 30-day trial period.
Size: The Cradlewise is larger than the SNOO and can accommodate infants and toddlers up to 33 pounds.
Versatility: The Cradlewise will grow with your child and has a lot of built-in features that you can take off your baby registry.
Safety features: Both cribs have safety features that are important to consider. The SNOO has a five-point harness that prevents your baby from turning over, and the Cradlewise has smart sensors that can predict when your baby is about to wake up and help them back to sleep.
Motion: The SNOO bassinet features a swaying motion meant to mimic the womb, while Cradlewise offers a bouncing motion that mimics how many parents soothe their unsettled babies back to sleep
Ease of use: Both bassinets are relatively intuitive to use and have great customer service to help you when needed.
Ultimately, the decision of which crib to choose comes down to personal preference (for you and baby). Both the SNOO and Cradlewise are great options for parents who want a safe sleep environment for their babies.
My Personal Recommendation as a Mom of Two
I love a product that provides a ton of value all in one product. I'm the mom that looks for the 5 in 1 must-have baby items to put on my registry to save on space (and money in the long term too). This is because I don't like clutter and I have a small bedroom to share with my babies.
For all these reasons, I LOVE all the features of Cradlewise! Plus, since you can try it risk-free it's a no-brainer. You can get more information or order one here today.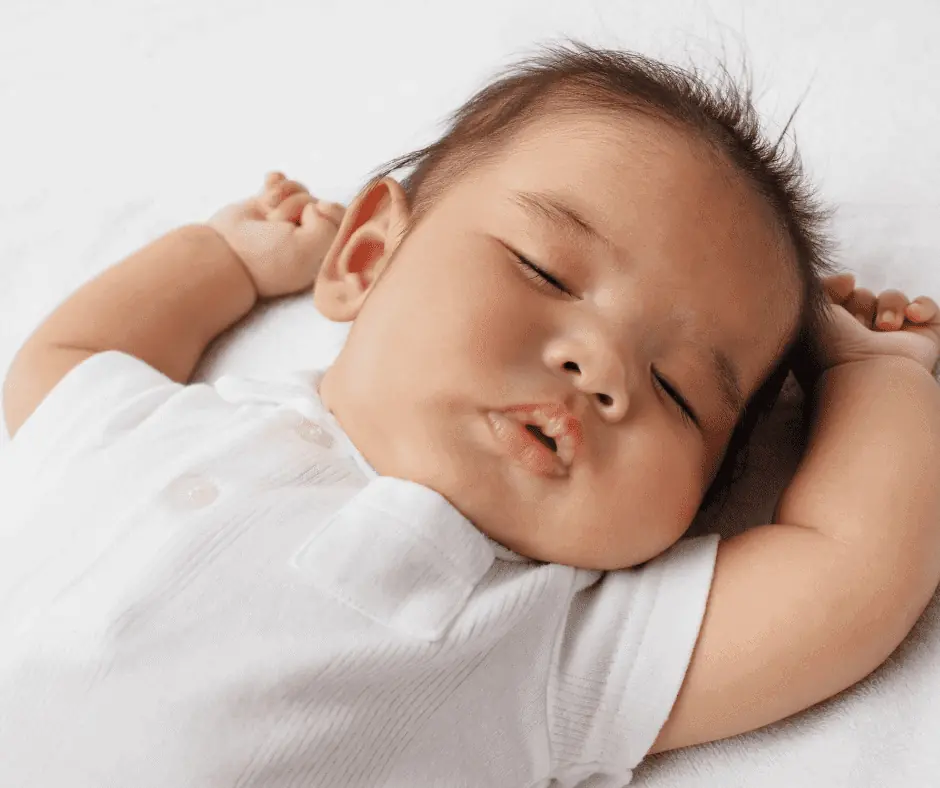 The Benefit of a Good Night's Rest: A Quick Review
Of course, both babies and parents benefit from a good night's sleep.
For babies, sleep is essential for healthy brain development. A lack of sleep can lead to problems with attention, behavior, and learning down the road. In addition, studies have shown that infants who get less than 12 hours of sleep per day are at an increased risk of obesity and type II diabetes.
As a parent, getting a good night's sleep can be the difference between a productive day and a complete disaster. A lack of sleep can lead to irritability, poor decision-making, and an increased risk of accidents.
So, if you're looking for ways to improve your baby's sleep, a smart bassinet is a great place to start.
Other Bassinet Options
Want to see what other bassinets are on the market at lower price points? I have a full review of my favorite bassinets here (written for breastfeeding moms or any mom that needs their newborn close by). It includes options from well-known brands like fisher price and halo.
Other Ways to Optimize Your Baby's Sleep
Cradlewise and SNOO are two of the best smart bassinets on the market, but there are other ways to optimize your baby's sleep environment.
Here are a few things to consider if you don't have the space or budget for a smart bassinet (or need something to try NOW):
White noise: A white noise machine can help drown out any household noises that might wake up your baby and helps in soothing them.
Room temperature: The ideal room temperature for a baby's bedroom is between 68 and 72 degrees Fahrenheit.
Sleep schedule: A consistent sleep schedule is important for both babies and parents (although for a newborn- allow for flexibility of course). Try to put your baby down for naps and bedtime around the same time each day. For me, trying to put baby down after 90 minutes of awake time was the biggest game changer.
Blackout curtains: Investing in blackout curtains can help make your baby's bedroom as dark as possible, which can lead to longer and more restful sleep.
Swaddle: Cradling your baby in a swaddle can help them feel safe and secure, which can lead to better sleep.
Conclusion
There is no one-size-fits-all answer when it comes to choosing the best bassinet for your baby. However, if you're in the market for a smart sleeper, I hope this article has helped you make a decision.
What is helping your baby sleep? Have you ever tried either of these bassinets? Or heard anything about either model? Please share below!