11 Best Bassinets for Breastfeeding Babies: How to Choose the Right One
This post may contain affiliate links. As an Amazon Associate, I earn from qualifying purchases.
If you are a new mom, you may be wondering which bassinet to buy for your little one. There are many different options on the market, and it can be difficult to decide which one is right for you.
In this blog post, we will discuss the 8 best bassinets for breastfeeding babies and provide tips on how to choose the right one. We will also talk about the benefits of using a bassinet for nursing babies and why it is important to choose a model that is specifically designed for this purpose.
Top 11 Choices from MBL:
Here is our summary list of the best! I hope it'll help you decide on the best bassinet for breastfeeding.
Note: While we're focusing on a bassinet for breastfeeding moms in this post, all moms deserve easy access to their babies for late-night feeds and snuggles. Whether you're bottle-feeding, pumping, formula feeding, or breastfeeding- these bassinets are all great choices!
Related read: Tips About Breastfeeding: A Full Guide
Our Top Bassinet for Breastfeeding Pick: Halo Bassinet Swivel Sleeper
The Halo Bassinet Swivel Sleeper is our top pick for the best bassinet for breastfeeding moms. This unique bedside bassinet for breastfeeding allows you to bring your baby close to you while you are sleeping, so you can easily nurse them during the night. For any tired nursing mom, this is a major win!
Top features of this bassinet and bedside sleeper:
Makes it easy to get in and out of bed
Swivels 360 degrees to easily access to your baby, great for feeding and bonding
Reduce strain from reaching for the baby after childbirth, particularly during a c-section (there's no way around it- you'll be a sore mama!)- the sides now bend down for easy reaching too!
Award-winning design from a trusted brand!
Has a built-in nightlight and music player
Can be used as a standalone baby bassinet or bedside sleeper with the use of a bedside wall that lowers
Adjustable height and 4-way legs for maximal stability
Accessible storage for baby's essentials (great for middle-of-the-night changes!)
Includes a waterproof mattress and sheet for easy washing
The latest version can easily turn into a bassinet for the floor too!
The halo bassinest swivel sleeper is the best bassinet for breastfeeding moms to make those nights of nursing a little more comfortable, particularly moms that just had a c-section!
Get Your Award Winning Halo Swivel HERE!
Best Budget Bassinet: Dream On Me Bassinet
Not only is this bassinet budget-friendly, but it also has tons of awesome benefits that moms love. It is a best-seller bassinet for a reason!
Top specs of this bassinet:
Solid aluminum frame
Lightweight for easy transfers from one room to another
A quick fold mechanism for travel or storing
Adjustable covers/netting to keep pets, bugs, and/or sun off baby
Breathable mesh sides
Great for newborns up to 25 lbs (as long as they aren't sitting up on their own)
Available in a variety of colors to go with your nursery
Comes with a 1-inch foam mattress recommended for safe baby sleep
Best Travel Baby Bassinet: Dream On Me Traveler Portable Bassinet
This is an awesome choice for moms who travel often or who want a bassinet that can be easily moved from room to room.
Top specs of this bassinet:
Lightweight and portable- only weighs 7lbs!
Bassinet folds up quickly with easy snap legs- great for travel or storage
Breathable mesh sides to keep baby safe
Easy to clean with a detachable zipper
Comes with a carrying case for easy portability
Great for newborns, and a weight limit up to 25 lbs (as long as they aren't sitting up on their own)
Available in a variety of colors to go with your nursery
Comes with a comfortable mattress that is easy to remove and clean
Also a very affordable price under $100!
Splurge-Worthy Bassinet for Breastfeeding Moms: Cradlewise All-in-One Smart Crib
Coined as the world's smartest crib, this is the ultimate pick for any parent who is looking for a top-of-the-line bassinet and crib (fully adjustable for either). The Cradlewise Crib is designed to help babies (and parents) get the best sleep possible. Plus, it has award-winning features that make it even better than the coveted Snoo Bassinet (SNOO Smart Sleeper)- such as its smart tracking technology (which also helps parents sleep!). (See a full review of the Cradlewise vs SNOO here)
Which leads to an all-important question? How much is a good night of sleep worth to you?!! (assuming your baby likes this product, of course- ha).
Top specs of this luxurious bassinet:
Airy mesh sides to keep it breathable
The moving sleeper bassinet softly lulls babies when they start to stir and wake with rocking and music- then stops when they fall asleep
Automatic response to crying (if needed)
Rocking motions made to mimic mom and dad! (vs. sideways gliding motion like the SNOO smart sleeper bassinet)
An essential personal helper for when you're so tired you can't think straight and/or your arms will fall off from pacing the halls!
It can be used into toddlerhood, with a higher weight limit and adjustable sides (also making it a smarter way to spend a lot of money than on the SNOO smart sleeper that is only good for 6 months)
Smart monitor that can be accessed via your phone with the Cradlewise App
Founded and designed by two tired parents that wanted peace of mind and more sleep!
Wow! That's a lot of really cool features! Not sold on the price? Companies out there rent this crib to try first, too!
Add This Luxurious Bassinet HERE!
Best Co-sleeping Combo Bassinet: Arms Reach Cambria Co-Sleeper
This bassinet is a great choice for moms who want the option to co-sleep with their baby but also have a bassinet that can be used as a standalone.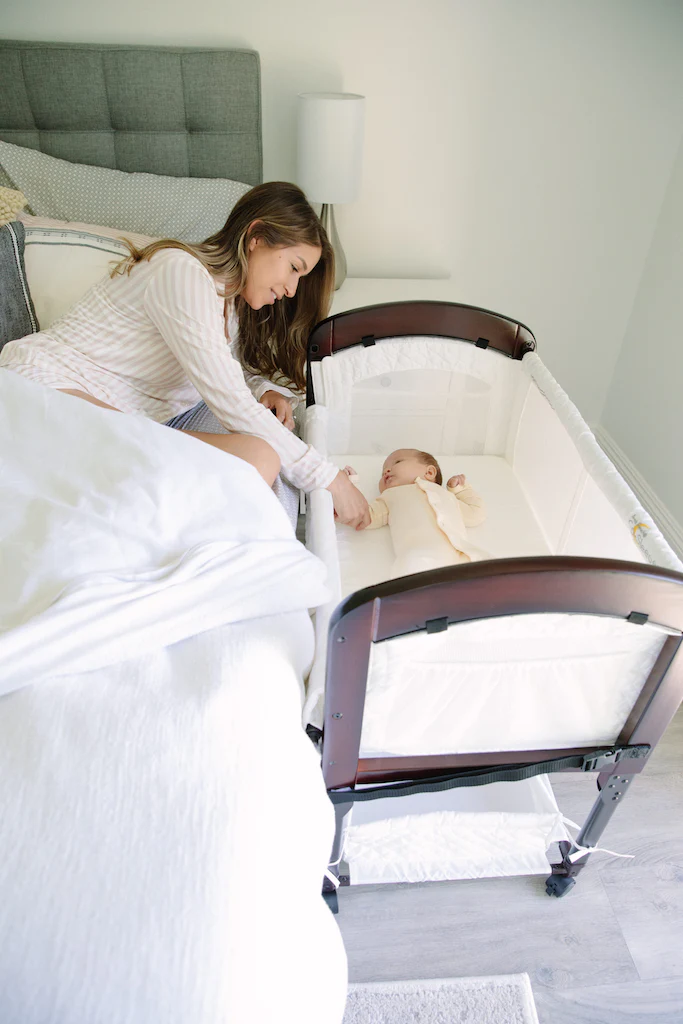 Top specs of the Cambria Co-sleeper Bassinet:
Thousands of happy customers for this best co-sleeper for breastfeeding (and beyond!)
Can be used as a bedside sleeper or standalone bassinet
Beautiful wood finishes
Breathable mesh walls so you can see the baby and they won't overheat
Easy to open side panel for bedside mode (aka co-sleeping without actually having them in bed!)
Easy to clean with a removable and washable cover
Comes with a firm mattress
Sturdy and durable design that holds up to 33 lbs
Storage underneath
Wheels to easily move your baby around the house while napping
Get Your Co-sleeper Bassinet HERE
Best Bedside Bassinet/Co-sleeper Bassinet: RonBei Baby Bassinet Bedside Sleeper
A bedside bassinet for breastfeeding like this one is a great choice for moms who want to be able to see and access their baby easily during the night. Plus, it's a top-selling pick (and top-rated) with many happy customers!
Top specs of this bedside bassinet:
Can be used as a bedside sleeper or standalone bassinet
Best of both worlds with a side panel that can be unzipped halfway- this keeps baby separate for sleeping, but you can still see and reach them!
Fully unzip for co-sleeping or easy diaper changes
Essential breathable mesh sides
Easy to clean with a removable and machine-washable cover
Easy to assemble and move around the house for use
Adjustable legs to fit your bed, couch, and anywhere else you need it
A firm and comfortable mattress is included
So many great reasons to love this co sleeper bassinet!
Get Your Bedside Bassinet HERE
Close Reach Bassinet: Halo BassiNest Glide Sleeper
The Halo Bassinest is a great choice for moms who want a bassinet that can easily move around the house. Plus, your baby is always within arm's reach with the unique gliding design.
Top specs of the Halo BassiNest:
The Halo Bassinest is a versatile bassinet for breastfeeding moms
Breathable mesh sides so you can see the baby, and they stay a comfortable temperature
Lightweight and easy to move- this means easy access to baby in the middle of the night
Easy to move out of the way when you need to get out of bed
The closest you can have to a co-sleeper for breastfeeding without having an open panel (some moms prefer this as they worry about the baby being too close or rolling)
From an award-winning and highly trusted brand
Adjustable height
Convenient storage pockets
There's a reason that HALO products are routinely voted as the best bassinet for breastfeeding moms. The HALO bassinest swivel sleeper is no different.
Co-Sleeper for Breastfeeding: Mamibaby Baby Lounger Baby Nest for Co-Sleeping
This is a great choice for any mom who wants their baby in their bed but wants them to have their own designated space. While co-sleeping isn't recommended due to SIDS, the reality is that many cultures and families choose to do so- and this lounger is a great option. It is also a great alternative spot for napping if you'll be keeping a close watch on them.
Top specs of this alternative sleeper:
A versatile and multifunctional product that can be used as a co-sleeper in bed or baby lounger/nest
Keeps baby close and easy to breastfeed during the night but also gives them their own little space with a 360-degree ridge
Soft and portable
Double-sided and adjustable
A great travel option when you don't have space to bring a bassinet or crib
We have a large co-sleeper like this that we got for our daughter when she was 9 months old for an RV camping trip we took. At 3, she still sleeps on it when we travel!
Best Bassinet for Breastfeeding- For Fussy Sleepers: Graco Sense2Snooze Bassinet with
This is a top pick for any mom who has a fussy sleeper. The Graco sense-to-snooze bassinet is one of the newest options on the market and it comes with some high-tech features to help soothe your baby back to sleep- without the hefty price tag that some of these options come in at.
Top specs of this techy bassinet:
Airy mesh sides
Canopy for keeping light out
Locking wheels for easy movement
Easy storage underneath for baby's essentials
Smart soothing technology is activated when the baby cries
3 different motion speeds are included to provide the right pace to fit the baby's preference
2-speed vibration helps to further soothe and comfort baby
Plus, choose from white noise, music, or nature sounds to help soothe your baby to sleep
Easy to clean
A great new and affordable option for parents that need more sleep, especially breastfeeding moms!
Classic All-in-one Combo: Graco Pack n Play Travel Dome LX Playard
The Graco Pack n Play is a great option for parents who are looking for an affordable all-in-one that they can use from infancy through toddlerhood. It can be used as a bedside bassinet for breastfeeding at first and SO much more!
Top specs of the Graco Pack n Play:
Airy mesh sides for good airflow and visibility- no matter where the baby is
Three different attachments with endless uses, including a dome bassinet, full-length bassinet, changing station, travel crib, and playard
Easily adjust the bassinet and crib as baby grows
The dome bassinet is removable and has its own travel case
Keep baby at an arm's reach, no matter which choice you and baby prefer
The bassinet has a cozy fabric lining and a removable, full-size mattress pad
Perfect for home or travel
The Graco Pack n Play is everything you could need for your baby's sleep needs in a budget-friendly, clutter-free package!
Combo for Small Spaces: Ingenuity Dream and Grow Bedside Baby Bassinet
This bassinet is a top pick for parents who want the best of both worlds but are limited on space or don't want to have to transition to a big crib in baby's first year (since most bassinets will need to be removed after 4-6 months). The Ingenuity Dream and Grow bassinet easily transitions from a bedside bassinet to a small crib as baby grows!
Top specs of this combo product:
2 modes of use for baby's first year of life: crib and bassinet
Airy mesh sides with soft fabric panels
Storage panels
Rolling wheels (that lock) make it easy to move around the house
The height is adjustable to fit any bed
The bassinet has a cozy fabric lining and a removable, full-size mattress pad
Soothing sounds for helping baby sleep
This choice is definitely the best bassinet for breastfeeding when you want a combo option that lasts more than the first months.
Other honorable mentions for best bassinet for breastfeeding:
Baby Delight Beside Me Dreamer Bassinet
Fisher Price Soothing Motions Bassinet (some features of the smart bassinet without the price tag- or all the bells and whistles)
4moms Mamaroo Sleep Bassinet (some people love these products, but I'm personally not a fan)
Chicco Lullago
Baby Bjorn Cradle
The Benefits of Bassinet for Breastfeeding: Why Use a Bassinet?
There are several reasons you might want to use a bassinet instead of (or in addition to) a crib. These include:
Are smaller and more lightweight than a crib, making them easier to move around the house as needed
Take up less space in your room than a crib, giving you more room to move around
Some bassinets come with features like storage pockets and wheels, making them even more versatile
Many parents find that bassinets create a cozier environment for their baby- making it easier for them to breastfeed and bond with their little one
The American Academy of Pediatrics recommends keeping the baby in the parent's room until 1 year; the best bassinets help baby to sleep comfortably close to mom to reduce the risk of SIDS.
Bassinets are typically only recommended for the first few months (up to about four or six months), so you won't have to worry about your baby outgrowing it too soon
A great option for a modified co-sleeper or side-sleeper to keep baby close by at night while giving them a safe sleep surface
A portable bassinet is easy to travel with!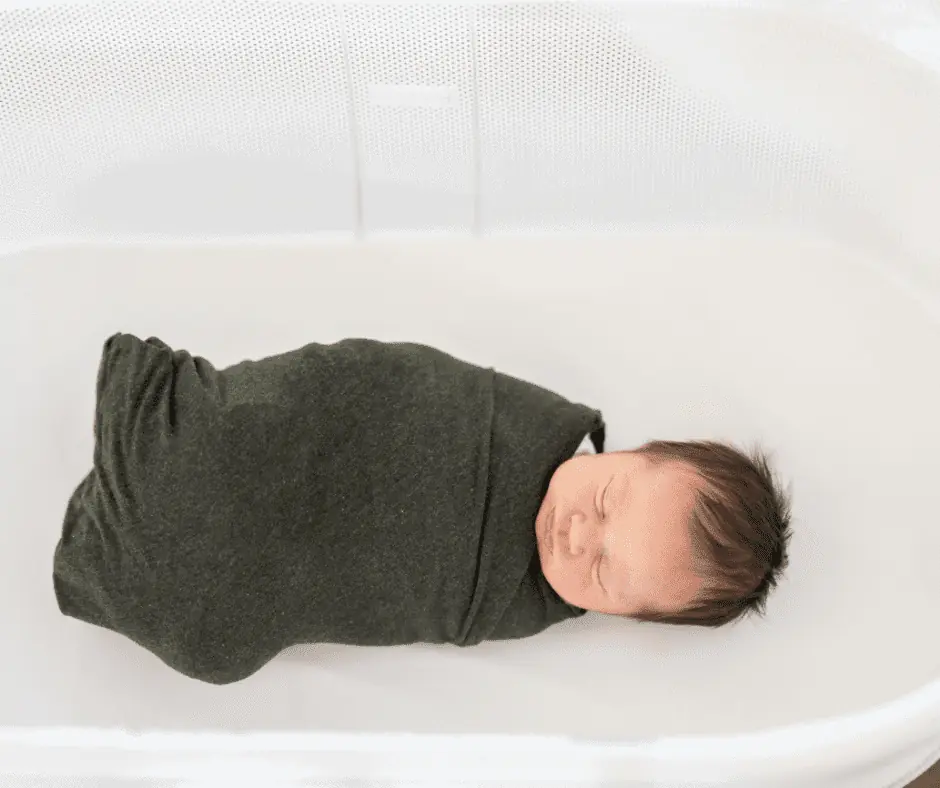 Safety Considerations for a Bassinet
Here are a few safety considerations for sleep to keep in mind when using a bassinet:
Bassinets should always be placed on a firm, level surface
The baby should always be placed on their back to sleep in the bassinet
You'll want to make sure the mattress and sleep surface is firm and fits snugly in the bassinet so there are no gaps where the baby could become stuck
Never use pillows, blankets, or any other soft bedding in the bassinet with baby- this increases the risk of SIDS
Don't use a bassinet that is broken or missing parts
Make sure the mesh sides are tight and secure so baby can't wiggle through and become stuck
Only use per the manufacturer's instructions and weight restrictions
A bassinet is best for babies from birth to 5 months (approximately)- when a baby can sit up, get on their hands and knees, or reaches the weight limit- it's time to transition
If you choose to co-sleep, consider the safety risks carefully for your little one
Other essentials to consider for better sleep with a newborn:
White noise or comforting music box
Waterproof mattress pad for easy blow out clean-ups
Night light
Related read: How Can I Help My Baby Sleep?
How to Choose a Bassinet for Breastfeeding
When making a choice, consider these factors:
Breathable mesh
Firm sleep surface
Adjustable height to match bed heights
Easy access to your baby in the middle of the night
Easy to assemble
Storage space for late-night diaper changes
Lockable wheels to easily move around the house
Travel friendly
Storage bag
Budget
Brand
Bonus features like music, vibration, or rocking
Versatility
Get the Bassinet That Fits Your Needs!
There you have it, a full list to help you decide the best bassinet for breastfeeding. I hope this was helpful. I know I looked at enough bassinets to make eyes go crossed when I was expected with my first! Best of luck mama!
Do you have a favorite bassinet? I'd love to hear in the comments below!