KOPA Birth vs. Mama Natural Birth Class: Which One is the Best for You?
This post may contain affiliate links. As an Amazon Associate, I earn from qualifying purchases.
When you are pregnant, one of the most important things to do is to prepare for childbirth. There are a lot of different ways to do this, and two popular methods are KOPA Birth and Mama Natural Birth Course.
In this blog post, we will compare and contrast these two classes to help you decide which one is the best fit for you!
My Personal Experience with Birth Classes
I'll be honest, with my first I did NOT take a birth class. However, I did read a ton of books. I learned a lot and felt I was prepared for my first labor. Of course, it's hard to anticipate something that you've never experienced before. But in hindsight, I'll admit I could have prepared better! My daughter's birth was amazing but could also have been better for sure.
This changed with the pregnancy of my second daughter. I wanted to improve upon my first experience! Plus, I wanted to try out different classes to recommend for you guys too- so I took ALL of them 🙂 KOPA and Mama Natural were by far my two favorite childbirth classes- and I will probably review both of them again if we ever have a third baby.
I'll explain exactly how they helped me have a positive second birth experience in the reviews!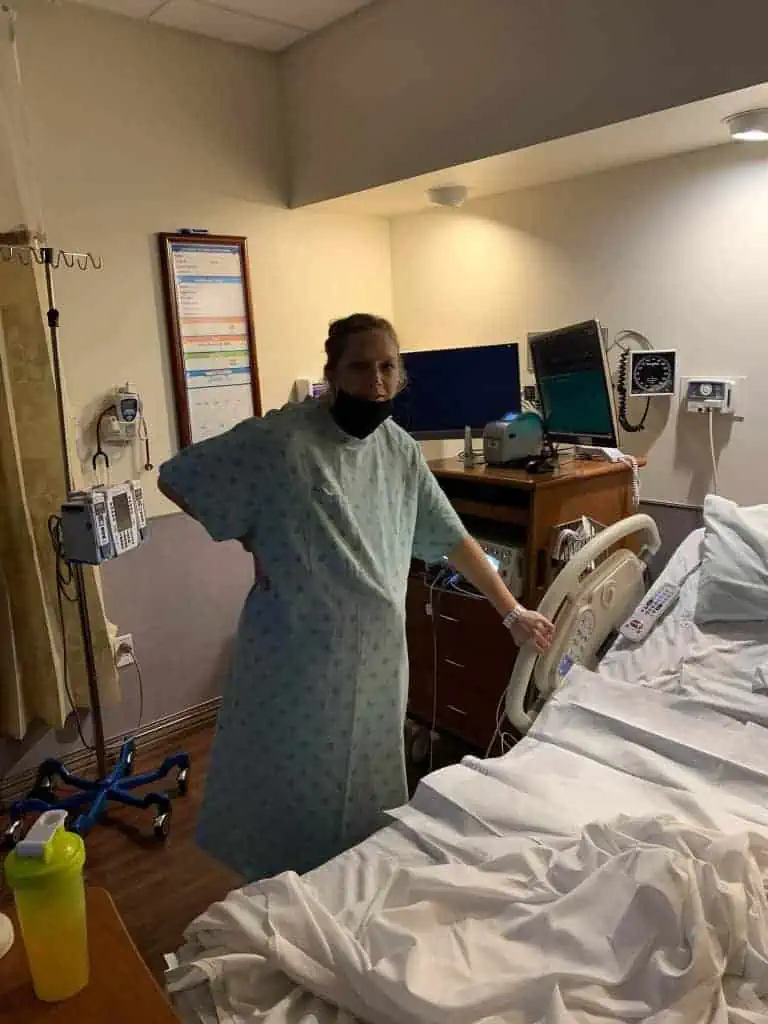 What to Expect from a Birth Class
When you take a birth class, you can expect to learn about the different stages of labor, how to manage pain relief options, what to do during delivery, and how to care for your newborn baby. You will also learn about postpartum recovery and how to take care of yourself both physically and emotionally after giving birth.
Most classes are packed with all the information that might help you with the labor process (and beyond!). This takes an experience that our culture has conditioned us to be scared of, and helps us feel calm and empowered! (How cool is that!)
Why You Need a Birth Class
There are a ton of awesome benefits to taking an online birth class. The primary one is simply feeling prepared. Of course, there is no way to be 100% prepared- but understanding the birthing process gives you a HUGE hand up on feeling less anxiety toward your upcoming birth experience.
Additionally, birth classes help you understand your pain management options and what to expect during the different stages of labor. This way, you can be an active participant in your own birth- rather than feeling like things are happening TO you.
Last but not least, postpartum recovery is HARD and often not talked about. Birth classes will give you the tools and knowledge you need to take care of your postpartum body and heal properly. This is important stuff, mamas!
KOPA Birth vs. Mama Natural Birth Course
So now that you understand the importance of taking a birth class and what you can expect from one, let's compare our two absolute favorites: KOPA Birth and Mama Natural Birth Course!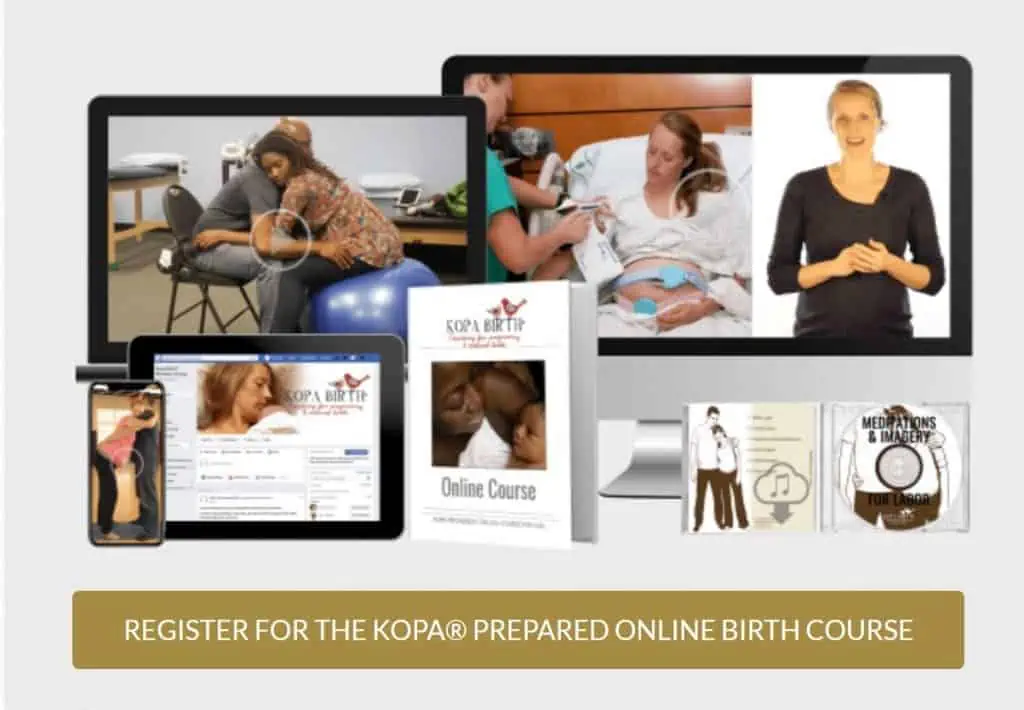 KOPA Birth
KOPA Birth is an online educational childbirth class that focuses on helping you have a positive birth experience. The birth course is taught by an experienced labor and delivery nurse that specialized in Lamaze. Plus, she has SIX of her own children- most of which she had a natural birth with! This class covers everything from early and active labor to postpartum recovery.
One of the things I loved about KOPA Birth was that it really emphasized having a positive birth experience with practical tools to get there. This was so important to me because I knew from my first birth experience that I needed to "practice" my pain reliving techniques more before my second birth.
My favorite features of KOPA Birth:
Step-by-step guidance from the beginning of labor to newborn care to help you prepare
An exact and sequential checklist to follow during labor to stay in control of your pain for every stage of labor
Tons of videos to utilize for practicing the techniques throughout the course
A full mock practice of labor (seemed silly to me at first but was VERY helpful!)
Tons of resources for your support team too (aka your partner)
Taught by a laid-back, supportive mama that's been there
I recommend splurging on the KOPA Prepared Plus Course for support throughout pregnancy, birth, and postpartum! It even includes an introductory class on breastfeeding. It's worth it if you are considering giving birth naturally (an unmedicated birth)!
Here is what's included in this birth course:
ONLINE STREAMING, 24/7 AVAILABILITY
7-month access (vs. 3 month access with the basic option)
8 COMPREHENSIVE VIDEO CLASSES
12+ HOURS OF INSTRUCTION
MOCK LABOR EXPERIENCE
MEDITATIONS & IMAGERY FOR LABOR AUDIO DOWNLOADS
100+ PAGE DOWNLOADABLE COURSE MANUAL
100% RISK-FREE, 30-DAY, MONEY-BACK GUARANTEE
PRIVATE FACEBOOK GROUP
BONUS: NATURAL HOSPITAL BIRTH VIDEO (one of my favorite bonuses)
BONUS: KOPA® POSTPARTUM CARE CLASS
KOPA® MEAL PLANS
RELAXATION TRIGGERS CLASS
PRENATAL FITNESS PROGRAM
NEWBORN BABYWEARING BASICS
3 PARTNER LABOR GUIDES
"POSITIVE AFFIRMATIONS" AND "TOUCH RELAXATION" AUDIO DOWNLOADS
What I Didn't Like About This Class
Honestly, there wasn't much I didn't like! It definitely helped me give birth that way I wanted!
Primarily, I wasn't a fan of the meditations scripts. I couldn't relax to the lady's voice. So I practiced all the techniques I learned with my own meditations that I found on YouTube.
Additionally, I'm not of fan of the limited access. Unfortunately, both of these courses are only offered for a certain amount of time, which I found frustrating. I plan to have more babies and I'd like to be able to reference this course again in the future! I imagine this is done to prevent sharing between families that are prepping? However, I loved it enough that I will just buy it again if I feel I need to!
Not ready to sign up just yet? If it's too early or you're just not sure- go to their home page and sign up for their free newsletter to gets a ton of free tips for your pregnancy and birth!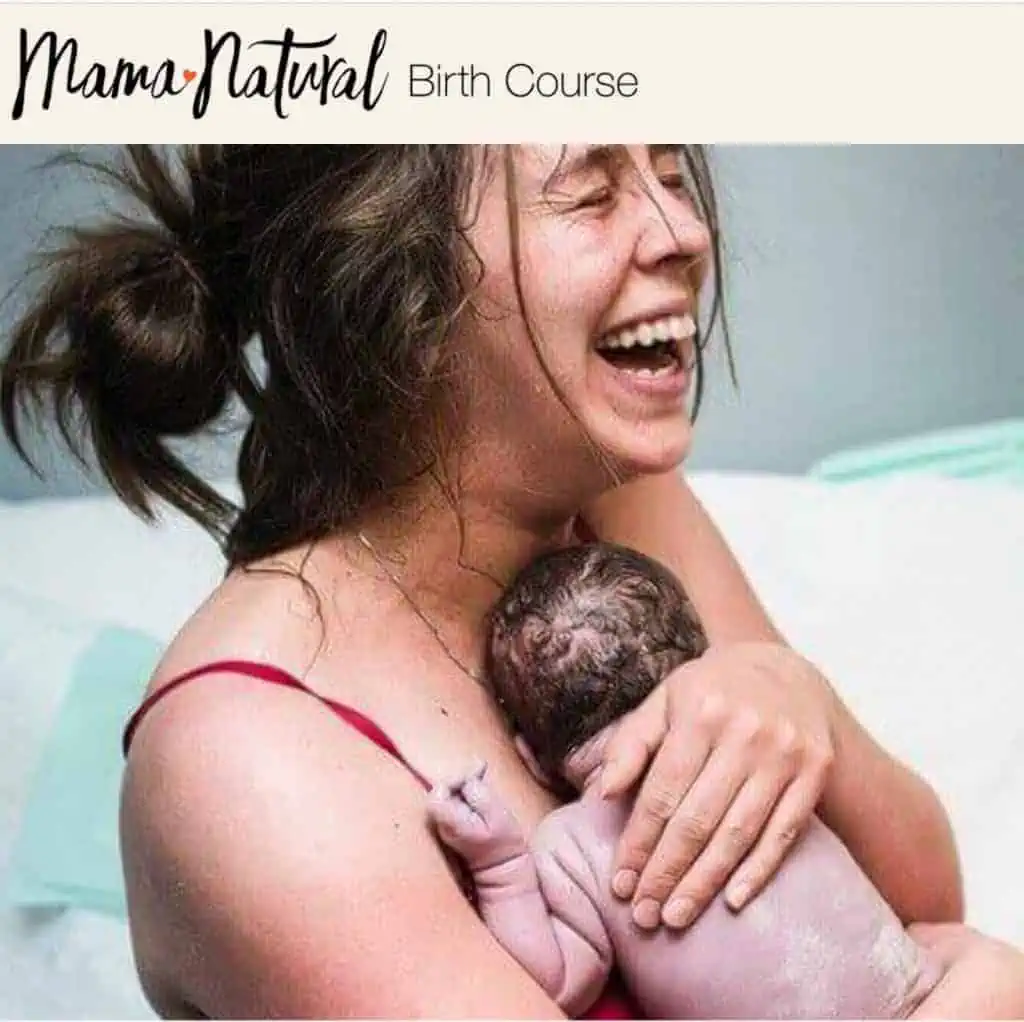 Mama Natural Birth Course
Mama Natural Birth Course is an online childbirth education class that focuses on helping you have a natural birth experience. The class is taught by an experienced mama that is passionate about natural birth, Genevieve Howland. Plus, she's joined by an amazing woman Maura Winkler, who is a mom, certified nurse midwife, doula, and lactation consultant.
My favorite part about this class was it brought all the feels. A lot of couple's stories were shared, making it feel more like a fun and interesting documentary than a dry class. I found myself laughing, crying, and throwing my fist in the air at the end as if to say "I'm ready." (I know so cheesy- but embarrassingly true). Overall, these women- Genevieve and Maura- are a great pair and the dynamics in their videos are perfect for this course.
My favorite features for Mama Natural Birth Class:
Emotional support with real-life birth stories to help you prepare for an unmedicated birth
Practical information for every stage of labor on how to have a natural birth
Taught by passionate and experienced mamas Genevieve and Maura
Well-rounded view since it's taught by a midwife, doula, and lactation consultant
A light, fun, well-produced class that will leave you feeling empowered, calm, and confident for giving birth!
A class that a man can appreciate too- my husband even watched it with me!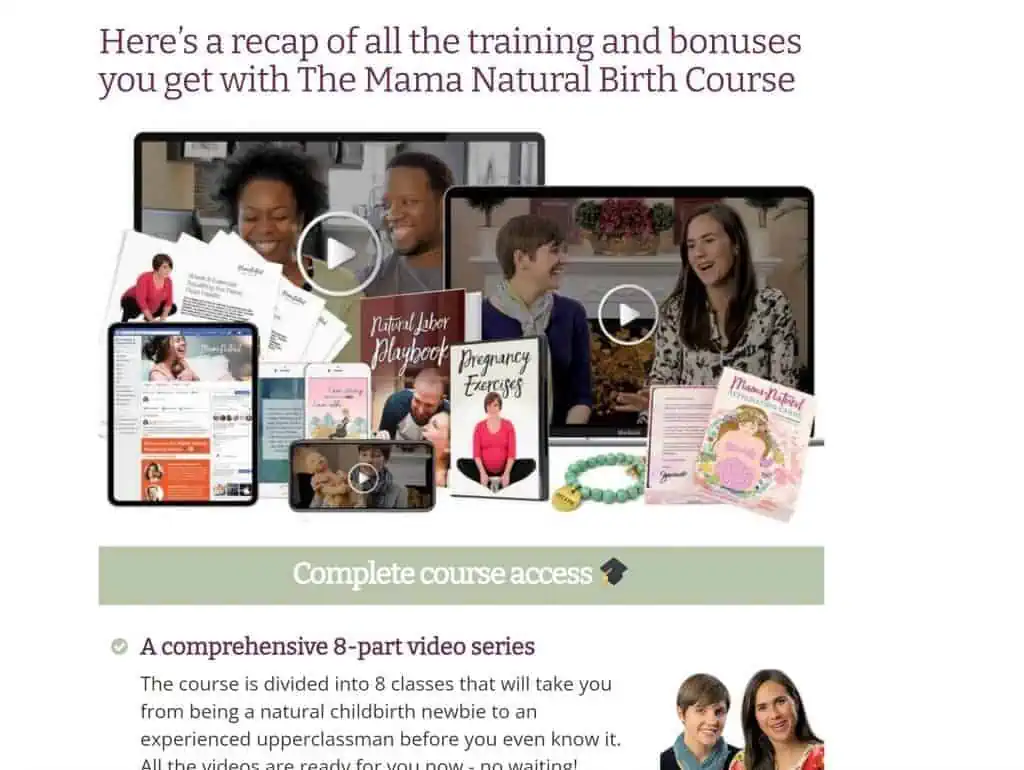 Here's exactly what's included with the Mama Natural Birth Course:
Discover the "secret" to achieving natural childbirth (and how to avoid accidental self-sabotage!)
Tips for pregnancy nutrition, exercise, back pain, and many other pregnancy-related isssues
Learn how to have a peaceful birth with powerful tools
A comprehensive 8-part video series that covers all the things in digestible pieces
Practice videos for you & your partner- to get some practice in!
Natural childbirth videos- so empowering!
Printable cheat sheets and resource guides- such as a birth plan
Student groups moderated by a Certified Doula
Special training class for VBAC birth
Master class on breastfeeding with Maura Winkler to help connect with your new baby
Natural pregnancy affirmation cards
What to expect if you need any medical interventions
Childbirth affirmations audio recordings
Natural labor playbook
Prenatal exercise videos
Handmade bracelet from our charity partner
What I Didn't Like About This Birth Course
Again, this natural birth course has a limited time frame of one year. However, I feel one year is plenty of time to explore this class and get everything you need from it! Other than that, I loved the production of this class but felt it could have focused a little more on practical tips that KOPA offered. On the other hand, Mama Natural Birth Course did an excellent job of being thorough in every aspect of pregnancy care and birth. For me, it's honestly a toss-up!
Not ready to sign up just yet? Sign up for a pregnancy week by week email series for tons of free information. Plus, you just might catch an awesome sale (they happen every so often!).
How to Choose a Class
It really depends on what you're looking for! If you want a more emotional and personal experience, go with Mama Natural. If you're wanting a class that is heavier on the practical tips, then the KOPA natural birth course is your best bet. Both classes offer a well-rounded view of pregnancy and birth but each has its own focus.
Primary Similarities and Differences (Weighing the Pros and Cons):
Budget wise both are at similar price points around $250 (for the recommended plus online birth course options)
Both cater primarily to natural birth– Mama Natural covers what you need to know for all settings (home, birth center, hospital), while KOPA focuses on hospital birth
Time length for access differs, with Mama Natural Birth Course at 1 year and KOPA Birth Course at 7 months
KOPA's access includes a newborn care course and postpartum care course that is significantly more in-depth. Whereas the Mama Natural Birth Course offers a separate newborn care class (also a lovely class!)
Both come with a ton of in depth information and bonuses (see the lists above)
Not sure about these classes? I review more birth classes that may be better suited for a medicated birth so you can decide which is best for your needs.
My Surprise Choice
If I could have only picked one class prior to my second birth, it would have been Mama Natural Birth Course hands down. However, when I was actually in labor, all the techniques I learned and practiced with KOPA were what truly gave me an amazing birth experience. So although I got all the warm fuzzy feels from Mama Natural Birth Course, I would personally have to recommend KOPA Birth.
Honestly? Either of these courses are excellent and will put you light years ahead in birth preparation, whether you choose to have a natural birth or not (or whether extenuating circumstances choose for you!)
If you want to splurge and have time for both, you just might go through both courses like me. I found they actually complimented each other nicely 🙂
Have you taken a birth class? Do you agree with my natural birth course review? What was your favorite one? Let us know in the comments below!