Nursing on the Go: The Best Packaged Snacks for Breastfeeding Moms
This post may contain affiliate links. As an Amazon Associate, I earn from qualifying purchases.
When you're a nursing mother, it's important to keep your energy up. This is especially challenging when you're on the go and don't have time to prepare a meal. That's why it's important to have a stash of healthy snacks handy. In this blog post, we will discuss some of the best packaged snacks for breastfeeding mothers. These snacks are perfect for keeping you nourished and energized while you're out and about!
Top Healthy Breastfeeding Snacks:
These easy breastfeeding snacks are all packed with essential nutrients and are great for busy moms.
Beef jerky
Lactation specialties- cookies, bars, balls, etc.
Smoothie
Squeezable- Mama Chia and almond butter
Bars (see our full list of favorites!)
Granola
Crackers, rice cakes, and popcorn
Trail mix, dried fruit, and nuts
Snack packs- hummus, guacamole, and olives
Single-serve containers to grab from the fridge- string cheese, cottage cheese, eggs, greek yogurt, fresh fruit
If you're like me, you're always on the go. Whether I'm running errands or chasing after my toddler, I don't always have time to sit down for a full meal. That's why snacks are essential for breastfeeding mothers (especially since I'm starving all the time!). Not only do they keep us nourished, but they also help us maintain our milk supply. Let's dive into the specifics!
Beef Jerky for Breastfeeding Moms:
Beef jerky is a great source of protein and nutrients to keep your energy up. It's also an easy snack to take on the go. When choosing beef jerky, look for a brand that uses grass-fed beef and doesn't contain any artificial ingredients.
Our favorites are CHOMPS Beef Jerky Snack Sticks. They come in a variety of delicious flavors to check out.
Don't forget you can also try out turkey, pork, or even venison. Just ensure that they are from a high-quality source!
Lactation Specialties
Many companies make lactation-specific snacks that are designed to help nursing mothers boost their milk supply. These snacks usually contain ingredients like oats, flaxseed, and Brewer's yeast, which are all known to support lactation.
There are many different brands of lactation cookies, bars, balls, and other snacks on the market. Our favorites include the following:
***Boobie Bar Superfood Lactation Bars. Made by a lactation specialist with Moringa, Turmeric, Cinnamon, Shatavari, Flaxseed, and Whole Grain Oats for milk-boosting lactation support.
Munchkin Milkmaker's Lactation Cookies. Made with oats, flax, and brewer's yeast to support milk production. (A little more processed than some other options!)
Nunona Mama Balls. Love this company for providing a snack that is more focused on postpartum recovery with nutrient-rich real ingredients, like cashews, oats, dates, brewer's yeast, and flaxseeds (that's all!).
***Our top favorite for lactation-specific snacks that can help increase milk production!
Smoothies and Drinks
What's an easier way to quickly get some extra calories and nutrition in you than with a drink? Whether you make a smoothie before you head out the door or want a premade version, smoothies are awesome snacks for breastfeeding moms. Here are our favorites:
Noka Superfood Smoothie Pouches. No need to refrigerate! Organic and filled with wholesome ingredients. These are the ultimate snack pouches for moms.
Orgain Organic Nutritional Shake. Get a big dose of protein while also satisfying your chocolate craving. Yum! An excellent source of vitamin A, vitamin C, vitamin D, vitamin E, vitamin B12, calcium, phosphorus, riboflavin, niacin, folate, iodine, pantothenic acid, magnesium, zinc, and copper
Ora Organic Vegan Protein Powder. If you keep water and a shaker bottle in your car or bag, all you need is a little protein powder to supplement a missed meal or snack. This top-rated protein powder comes in a variety of flavors and is safe for nursing moms (and even kids!).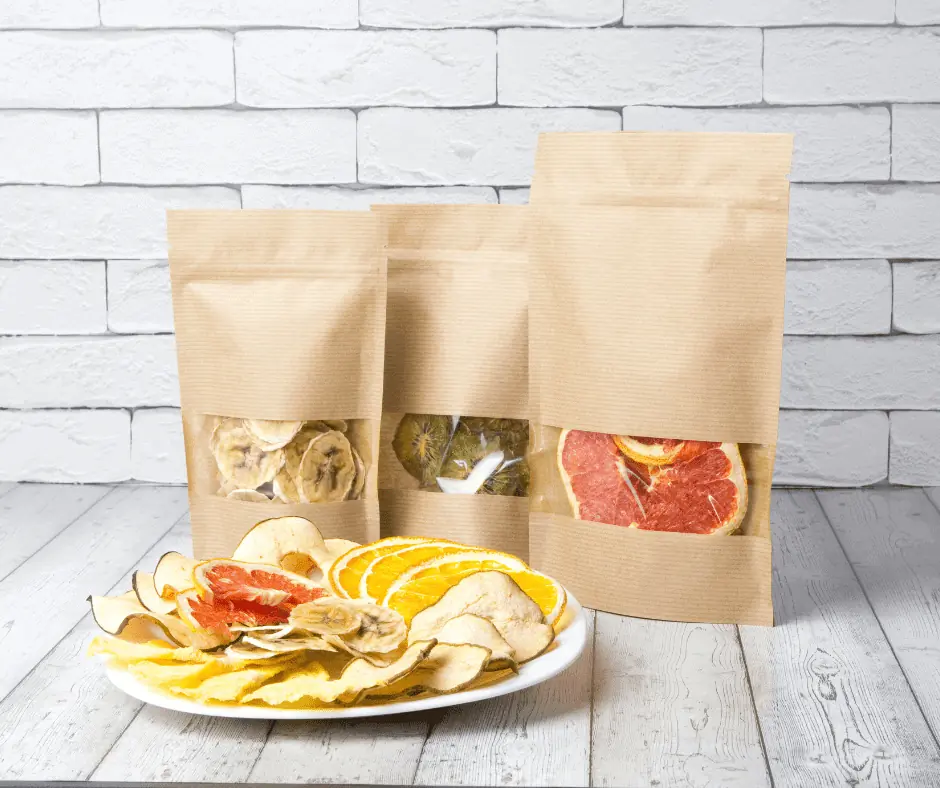 Squeezables
Babies and kids love squeezable pouches, why not moms too?!! Many options for kids are surprisingly tasty, but here are some other options to try too.
Mama Chia Pouches. These tasty pouches have more of a jelly consistency and are filled with chia seeds (which are great for milk production). They come in a variety of flavors, including strawberry banana and blackberry bliss.
Justin's Classic Almond Butter Squeeze Packs. These little nut butter packets are filled with healthy fats and great on their own or with a piece of fruit, crackers, vegetables, etc. Nut butter is one of my favorite go-to's for sure, with no sugar added!
Finally, don't be afraid to snack on one of your child's fruit pouches in a pinch. They're surprisingly delicious! 🙂
Nutrition Packed Bars
Bars are another easy snack that can really help a breastfeeding mom out. Here are some of our favorites:
Granola
Granola is a great snack for nursing moms because it's easy to grab and go, and it's packed with nutrients that can help increase milk production. Plus, it's versatile – you can eat it by the handful, add it to yogurt, or even make a quick trail mix. Here are some of our favorites:
MadeGood Granola Minis. Perfect for on-the-go breakfast or snacks food for kids and moms alike. Plus, they hide an entire serving of veggies in each pack!
Purely Elizabeth Keto Granola. This grain-free granola is perfect for moms following keto or that simply want a snack packed with healthy fats. It's made with almond butter, pumpkin seeds, and coconut flakes for a delicious and nutritious snack.
Crackers and Chips
Crackers are another easy snack that can be taken on the go. They're perfect for when you need a little something to tide you over until your next meal. Plus, they pair well with cheese, nut butter, or fruit for a more complete snack.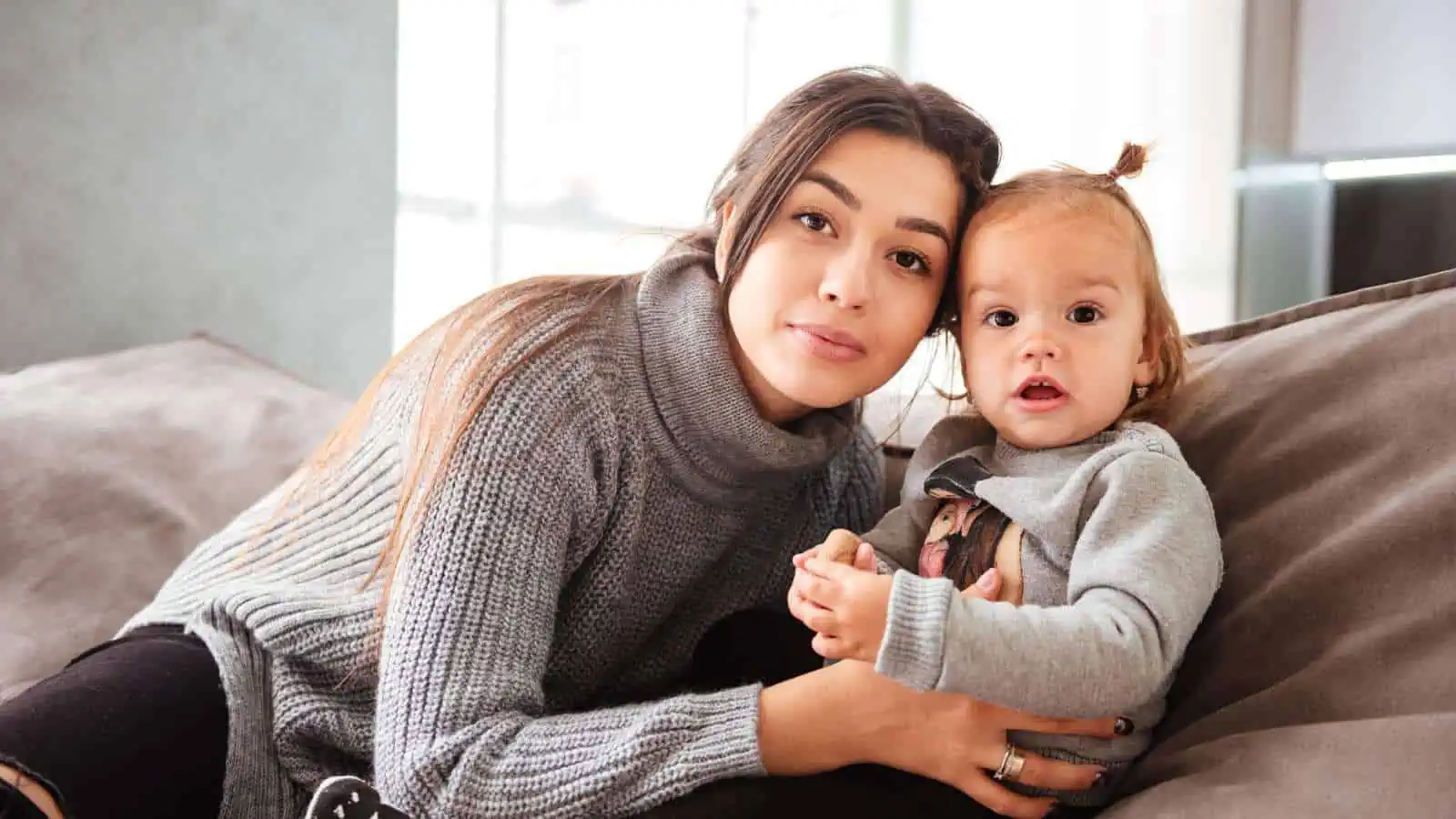 Dried Fruit and Nuts
Dried fruit and nuts are another great snack for breastfeeding moms. They're easy to grab and go, and they provide a good mix of nutrients.
Nature's Garden Healthy Trail Mix Snack Packs. These little packs are perfect for on-the-go snacking. They contain a mix of dried fruit, nuts, and seeds that will give you a boost of energy. For a sweet tooth, add a square of dark chocolate (or two) to go with it!
Sunny Fruit Dried Figs, Prunes, and Apricots. Organic and unsulfured, these tasty fruits will satisfy your sweet tooth while providing you with important nutrients.
Daily Fresh Original Nut Mix. This mix contains a variety of nuts that are perfect for when you need a little something to tide you over. It's also a great source of protein and healthy fats.
Snack Packs
If you're looking for something a little more substantial, snack packs are a great option. Combine them with crackers, nuts, vegetables, or fruit on hand for a complete picnic lunch anywhere!
Guacamole singles. These are perfect for when you want a snack that's savory and satisfying. Eat them on their own or with your favorite crackers and feel satisfied for a long time thanks to the fats in each serving.
Hummus singles. Another great option for a savory snack. These are perfect for dipping vegetables or crackers into. (We get both our gauc and hummus packs in bulk at Costco!)
OLOVES Natural Whole Pitted Olives. Perfect for when you're craving something salty. These little packs are a great way to get your olive fix on the go while getting all the amazing benefits that olives have to offer.
Kirkland Cheese, Fruit, and Nut Packs. If you're looking for a snack that's a little more substantial, these are perfect. They contain everything you need in one easy-to-grab package. Plus, they're a great source of protein and essential fats.
Grab and Go Fridge Options
Last but not least, classic options that you can keep in your fridge to quickly grab on your way out the door, on the way to your favorite breastfeeding chair, or for nighttime snacks, that can't be skipped! Here are our top favorite quick snacks:
String cheese
Cottage cheese
Whole fruit
Chopped vegetables
Boiled eggs
Full-fat whole milk greek yogurt
Need more ideas? See our post on 10 Quick and Healthy Breastfeeding Snacks in Under 5 Minutes!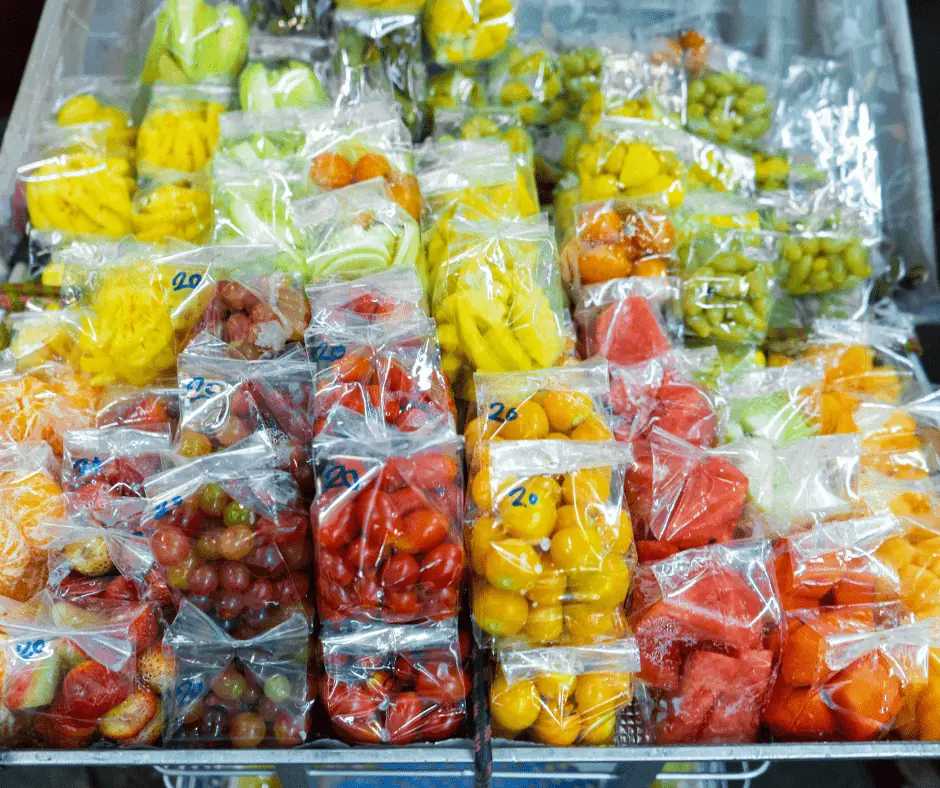 How to Pick a Healthy Packaged Snack
When you're looking for a healthy snack to take on the go, there are a few things you should keep in mind.
Choose a snack that is high in protein and fiber. This will help you feel fuller longer and provide sustained energy.
Look for snacks that are low in sugar. Too much added sugar can cause a crash in energy levels.
Choose snacks that are easy to eat and won't make a mess. You don't want to have to stop and wash your hands every time you take a bite! (Or if you're nursing, drop it all over your baby's head!)
Look for clean ingredients. Read the ingredient list to make sure there aren't any additives or names you can't pronounce.
Look for ingredients that boost milk supply. Galactagogues can ensure you are keeping your body well equipped for milk making. Examples include fennel, oatmeal, whole grains, and nuts.
The Benefits of Packaged Snacks for Breastfeeding
Keep a stash in your car, purse, and diaper bag for when hunger strikes (or you realize you haven't eaten in a while)
Great for life when it gets busy
Can be eaten one-handed, an essential during feeding sessions!
There are tons of options that are clean and include ingredients that can nourish your body and milk supply
For moms that want to eat clean but don't have the time or energy to prep snacks and meals all the time- aka a sanity saver for sure!
Boost your postpartum recovery by keeping your body well-nourished mama!
Other Options for Breastfeeding Snacks
It doesn't have to be all or nothing! If you have extra time or motivation for one week, you can also include the following.
Fresh whole fruit, such as apple slices
Fresh pre-peeled and cut vegetables
Homemade lactation bars or cookies
Freshly made smoothies
Whole wheat toast with grass-fed butter or almond butter
And beyond!
Additionally, don't forget to keep a water bottle on hand to stay well-hydrated as well!
Related read: Tips About Breastfeeding: A Full Guide
Keep Your Body Nourished Mama!
We hope you enjoyed this post on the best-packaged snacks for breastfeeding mamas! The foods you choose to eat, whether homemade or packaged, should support breastfeeding and help you feel your best!
Of course, if you have any questions regarding what foods you should be eating as a nursing mom, tap into more breastfeeding resources or ask your doctor.
Do you have any favorite snacks that we missed? Share with us in the comments below!