At-Home Date Night Ideas for Parents
This post may contain affiliate links. As an Amazon Associate, I earn from qualifying purchases.
When was the last time you had a romantic date night out? You can't recall it, can you? It was the same for me. As a mom going out for a date night might be a real challenge for many reasons (finances, the ages of your children, family support, childcare support, etc.). But not having any alone time with your partner can leave you feeling burned out and disconnected- and it doesn't have to be like that! You just need some home date ideas.
Luckily, I figured out that we don't necessarily need to leave the house for a great evening. The idea of dating at home helped me bring life back into my marriage. And more than this, at-home date night has many advantages.
First, I don't have to spend a lot of money on a babysitter because we enjoy our time at home while the kids are in bed. Also, my husband and I have a hectic lifestyle, so it's hard to find time for date nights and organize them. Thus, having flexibility is important!
So for me, home date nights are the winner! If you are wondering what to do during these nights, check out the best at-home date night ideas for parents below.
The Best At-Home Date Night Ideas for Parents
There are many fun date night ideas to choose from below. Let's dive into ideas for the indoors first. Then we will look at fun activities that you can do outdoors in the backyard or on the terrace. You'll also find that most of these are budget-friendly date night ideas, which makes for a double win.
Indoors
Home-made pizza night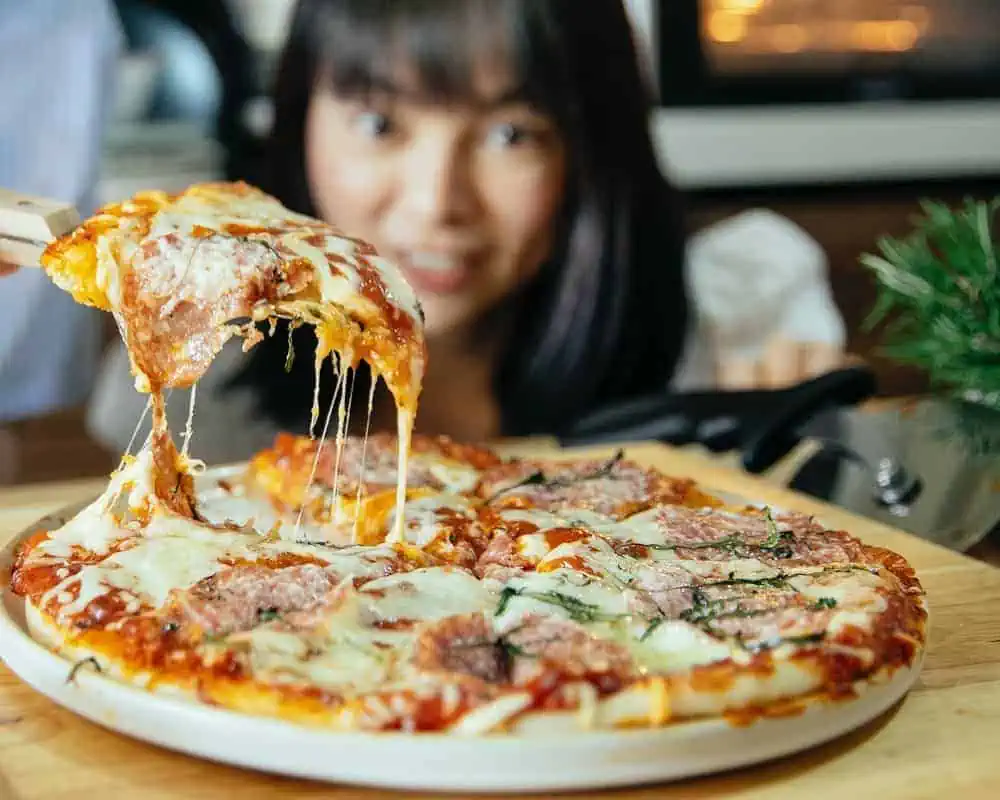 We all love pizza, don't we? Then why not make a fun night with homemade pizza? If you don't know how to make pizza at home, don't worry. Just do a quick research about the best recipes, and start to prepare your own pizza with your partner.
If you want to push the easy button here, many grocery stores have premade dough balls and your favorite pizza toppings. Simply roll out your dough and follow the directions. Not a fan of pizza? Try a new recipe together!
It's also a great activity for the kids, so you can let them participate (if you want).
Related read: THE NEW USDA DIETARY GUIDELINES REPORT: 7 THINGS EVERY FAMILY SHOULD KNOW
Tasting party
Having a tasting party is one of my favorite ideas for a romantic date night. What I love about it is that you can try so many options: wine tasting, chocolate, ice cream, cake, smoothie, or cheese tasting.
You can even make it more fun by creating tasting notes. This way, you will see how similar your taste is to your husband's.
Massage
After a long day at work, giving each other massages might feel great (and surprising). If you would like to take your massage skills to the next level, watch a few YouTube videos beforehand. Your partner will definitely appreciate it if you learn new techniques! Grab some massage oil, coconut oil, lotion, or anything else on hand too!
Want to splurge? Did you know massage therapists do house calls in many areas? I've never tried it, but it sounds magical. 🙂 
Romantic dinner
If you can't go out for a fancy, romantic dinner- simply make it at home. All you need is a few candles and some flowers to set the atmosphere with good food. If you don't want to cook, you can also order in. The important thing is to spend some nice time together and eat by candlelight. 
Related read: 52 FUN CHEAP DATE NIGHT IDEAS FOR COUPLES ON A BUDGET
"Would you rather"
Playing "Would you rather" is always a fun idea because it is not only super entertaining, but these questions can also help us learn a lot about each other. Here are a great collection of "would you rather" questions. The fun is guaranteed!
It's a great way to feel like a giggling teen again with your partner 😉
Theme night
Are you looking for something special? Then organize a theme night! There are so many opportunities to choose from. You can pick a country where you always wanted to travel.
Here are a few ideas for inspiration:
Italy: You can cook Italian pasta or make pizza with your partner, then eat your favorite gelato.
Mexico: Center your at-home date night around Mexican cuisine. You can prepare tacos, burritos, or nachos.
Japan: Sushi night!
Greece: Make a Greek salad and eat it with hummus and pita.
France: You can taste various kinds of cheese, then drink some wine (my personal favorite and love language!)
Morocco: Make a traditional Moroccan tagine and drink Moroccan mint tea.
The list is endless; you can try several cuisines! Don't forget to find some fun music to set the scene!
Series/movie marathon
This one is a classic at-home date night idea. Watch a chosen TV series or movie all night long. You can pick a new series/movie to watch or turn it into a nostalgic night and watch your all-time favorites. Another idea is to make it thematic and choose movies from your favorite actor or the same genre. Don't forget your favorite snacks! 
Related read: 10 Quick and Healthy Breastfeeding Snacks in Under 5 Minutes
Karaoke
If you are looking for fun date night ideas, I'm sure you will love the karaoke night (if you have a soundproof space, that is)! All you need is YouTube (make a playlist from lyrics videos) and a microphone and the fun can begin. Personally, I'd need a glass of wine, too, hah. 
Board games
Board games never go out of fashion. Play some of the classic board games such as Monopoly, Uno, Backgammon, Risk, or Scrabble. Or pick a new game that you've always wanted to try for your game night. You can make playing more interesting by adding rewards to the winner or punishment to the loser of each game. For example, the winner gets a free massage, or the loser has to make dinner the next day. Be creative and enjoy the games.
Spa night
Do you like going to the spa? Then, why don't you organize a spa night at home with your partner, but for much cheaper? Make a bath for two with your favorite bath bomb or bubble bath, and enjoy each other's company while relaxing after a long day at work. Don't forget candles and your favorite rejuvenating drinks. You can even massage each other and apply face masks. After this spa night, you will feel refreshed and energetic.
Related read: 33 SELF-CARE TIPS THAT WILL MAKE YOU A BETTER MOM
Cook-off
You can turn simple tasks like cooking into a competition. Challenge each other to cook the most delicious and creative dishes you can. You can make it more difficult by choosing a particular ingredient you must incorporate in the dishes. Let's see who will be the chef of the house, you or your partner?
What I love about this cook-off is that every competition can bring you closer to each other. They are very effective relationship boosters!
Bucket list
During your at-home date night, create a bucket list together. Think about all the places you would like to visit and which experiences you would like to have, and write them down on paper. If you want to make it to the next level, you can even create a plan for each item on the list. (Because a plan is even more fun than a dream when it's possible!)
When writing the list, you will learn many new things about each other and get to know each other's dreams. This can make your bond only stronger!
DIY project
Choose a DIY project that you would like to make together. For example, you can create a scrapbook, restore old furniture, decorate mugs, or you can also make paintings. These projects can be super fun when done together, and they are also amazing bonding activities.
Related read: HOW TO ORGANIZE YOUR LIFE AT HOME
Outdoors
Camping in the garden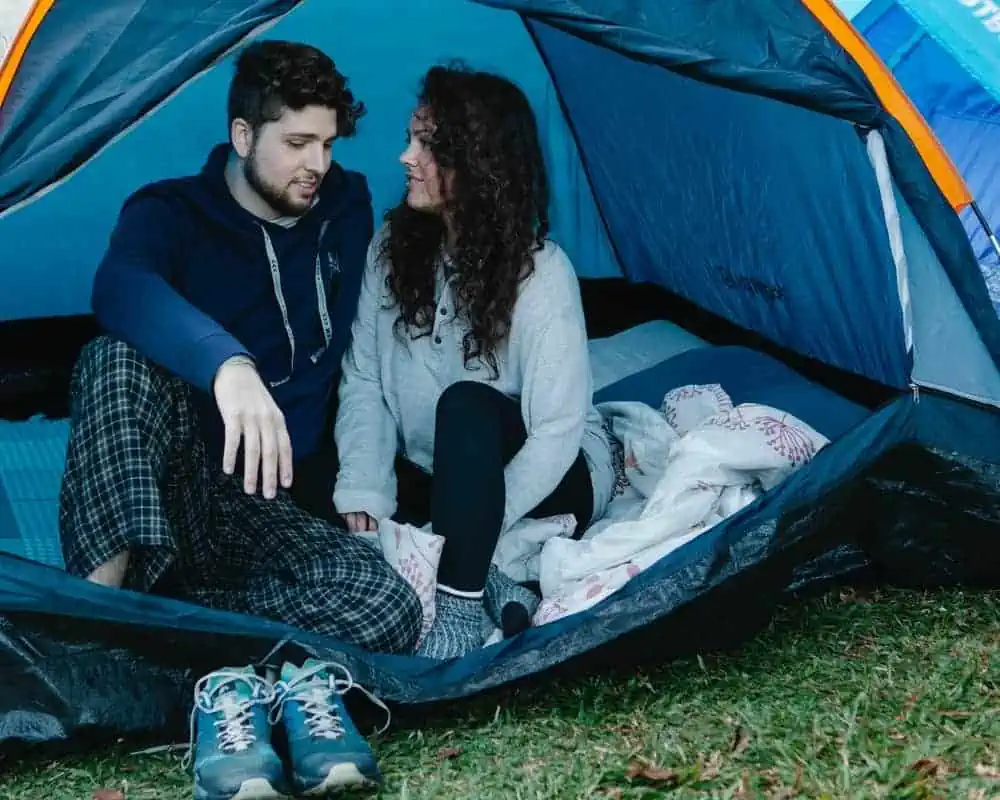 You don't have to give up on camping just because you don't have time for it. Go and get a tent and some sleeping bags, and spend the night outdoors. Or just sleep under the stars it's appropriate for where you live!
If the weather is bad, you can still have a fun campout in the living room. I think your kids would also love this idea!
Picnic
If the weather is nice, you can have a picnic in your backyard. Prepare a blanket, some snacks, and a bottle of wine/champagne, and enjoy being "out" on a date. Afterward, grab a kite or some golf balls and create your own course of mini golf for an extra boost of fun. 
Movie night – outside
On a hot summer night, there is nothing better than sitting outside on the terrace. Create a nice, cozy atmosphere with candles and comfortable pillows, then take your laptop outside and watch a movie with your significant other.
If it's cold, you might also try snuggling up near an outdoor fire pit with food, drinks, or a movie. 
Related read: STAYING SAFE WITH OUTDOOR ACTIVITIES FOR KIDS
I hope you liked our at-home date night ideas. I would love to hear about other great ideas in the comments if you have other great ideas.