Staying Safe with Outdoor Activities for Kids
This post may contain affiliate links. As an Amazon Associate, I earn from qualifying purchases.
This week's guest post is from Angela Petteys. I'm grateful she provided this awesome safety article- I learned a lot from it and hope you do too! Angela is a Michigan-based writer who spends her time working with a wide range of companies in the Metro Detroit area, such as The Law Offices of Goodwin & Scieszka. When not writing, she enjoys antiquing and being a very amateur gardener.
After a few months of shutdowns caused by the coronavirus pandemic, one thing lots of parents can relate to is how difficult it is to find new ways to make staying at home fun.
By now, all the games have been played, all the books have been read, all the movies have been watched, and the kids are eager for something new and exciting. Which, in turn, means parents are spending more money on home entertainment and outdoor activities for kids.
Related Article: 6 Toddler Activities to Keep Them Busy and Learning at Home
2020 is seeing record sales on kid's play equipment
For some people, extra home entertainment purchases might be as simple as new books, puzzles, and board games. But others have been working to upgrade their yards with things like fire pits, portable swimming pools, and trampolines, so that their families have more options for fun that doesn't involve leaving the house.
If you're one of the many people who has had to cancel their plans for a family vacation because of the pandemic, it's important to get some fun in through other means. And taking your backyard to the next level is a great way to make it feel more like a retreat. But at the same time, it's very important to keep in mind that many popular backyard features can potentially be dangerous if you aren't careful.
As we continue dealing with this health crisis, the last thing anyone wants is to have to take a trip to the emergency room for any reason. If you're planning to upgrade your backyard, here's how you can make sure your family stays safe while enjoying your new backyard additions and other outdoor activities for kids.
Related Article: Mom Hacks for Building Routines- that actually work!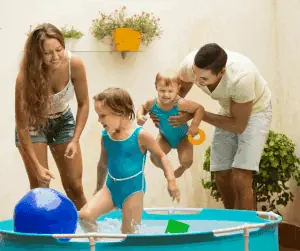 Portable Pools
Demand for at-home swimming pools has seen an increase during the coronavirus pandemic. But with so many people being financially impacted because of the outbreak, portable pools have become a popular way to have fun without spending too much money, whether it's a small wading pool or a larger pool that can easily accommodate multiple adults.
Remember, just because a pool isn't a full-sized, in-ground pool, that doesn't mean it's less dangerous. Children can very easily get hurt in a small amount of water. If your kids will be in the water, it's very important to make sure they will be fully supervised at all times.
Drowning is the leading cause of accidental death among children age 1-4. And in children under the age of 5, 87% of deaths caused by drowning occur in home pools and hot tubs. Since drowning is often a much more quiet process than people realize, it's important to keep children within eyesight while in the water, not just within earshot.
For pools that are large enough to be a semi-permanent fixture in your backyard, putting a fence around it is an important part of pool safety, just like it would be for a regular in-ground or above-ground pool. When choosing a fence to go around a pool, make sure it's at least four feet tall, designed in a way that can't be climbed, and includes a self-closing gate. In some areas, fences and/or alarms may be mandatory for larger inflatable pools. Don't forget to check your local regulations to see if there are any specific requirements for fences around pools.
In the case of small wading pools, draining the water after each use is one of the best ways to make sure everyone stays safe. Not only will this help prevent kids from trying to get into the pool when they're not supposed to, it will ensure the water is clean each time since wading pools aren't equipped with filtration systems.
If your pool requires a ladder to get into, make sure the ladder is stored in a place where children won't be able to access it when you aren't looking. Pool toys should also be securely stored out of sight to prevent kids from being tempted to get in the pool without your permission.
Related Article: 64 of the Best Frugal Tips for Families
Trampolines
Lots of kids (and adults) love trampolines, but if you're planning on getting one for your yard, safety needs to be taken very seriously. Strong ground rules and supervision are essential.
Every year, over 200,000 children need medical treatment for trampoline-related injuries and many of those were the result of multiple people being on a trampoline at the same time. Even though having more than one person on a trampoline can seem like fun, a strict "one person at a time" rule is one of the simplest ways to avoid injury. Tricks like flips and somersaults can also seem like a lot of fun, but can be very dangerous, so a strict "no trick" rule can also go a long way in reducing the risk of injury.
As is the case for swimming pools, trampolines should be kept in a fenced-in area and children should be fully supervised while using them. If a ladder or steps are needed to get onto the trampoline, make sure they are securely stored in a place where kids won't be able to get to them without your permission. Additionally, netting should be placed around the trampoline with mats covering the trampoline springs.
A big part of trampoline safety is making sure it's set up properly from the very beginning. Make sure it's placed on a level surface over a type of material that can absorb the shock of a fall, such as wood chips or grass, rather than cement or asphalt. Trampolines should also be placed away from things like walls, trees, and hedges, with several feet of space open on all sides of the trampoline.
Related Article: Finding Balance as a New Mom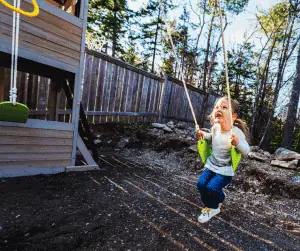 Home Playgrounds
Between many playgrounds being shut down because of stay-at-home orders and a general reluctance about coming in contact with high-touch surfaces in public places, home playground equipment has become an attractive option to many parents. But whether a playground is in your own backyard or at the local park, you need to make sure the equipment is reasonably safe for your kids to play on. You know how easy it can be for kids to get hurt while playing, so the last thing you want is for playground equipment to make it even easier for injuries to occur.
Safe backyard playgrounds are created from the ground up. Make sure some type of shock-absorbing material, like wood chips, sand, or shredded rubber, is placed underneath the playground. As you choose a shock-absorbing material to go underneath your playground, make sure you create a thick enough layer for it to adequately protect your kids. A home playground safety checklist from the US Consumer Product Safety Commission has some good guidelines to follow.
As you choose a location for your home playground, make sure there will be at least six feet of space open on all sides of the equipment. If your playground includes a swing set, take the height of the suspending bar and double it to figure out how much space should be open in front of and behind the swings. Also, make sure the playground will be set up away from trip hazards, such as tree roots, tree stumps, or large rocks.
When you look for playground equipment, inspect it to check for any potential hazards. For example, you might be surprised how often sharp edges can be found on brand new playground equipment so you'll want to check to see if any sharp spots either need to be sanded down or covered up. It's also important to look for things like exposed bolts and openings that a child's head, neck, arms, or legs could get stuck in.
And, of course, make sure children are fully supervised while playing on their backyard playground. It's also a very good idea to make sure children do not wear clothing with drawstrings on them while they use the equipment since drawstrings can easily get caught on equipment.
Related Article: 12 Tips to Wake Up Earlier Without Feeling Tired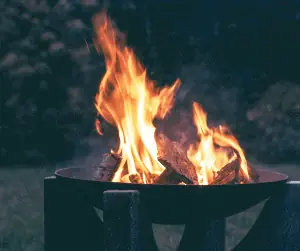 Fire Pits
When the sun starts going down for the day, it can be a lot of fun to sit around a nice warm fire with your family, relax, and maybe make some s'mores. But, as is the case for playground equipment and trampolines, finding the right location is a big part of fire pit safety. Make sure it's placed at least 10 feet away from your house, garage, or any other structures. You also don't want to be too close to things like trees, shrubs, wooden decks, and other things that could potentially get dried out and ignite. Don't forget to make sure you'll have a clear space above the firepit, free of things like power lines and overhead tree branches.
Once you've found an ideal spot for your fire pit, you'll want to make sure you have a way to keep the fire under control. Spark screens are a great way to prevent sparks from getting out and softer types of wood, such as pine and cedar, should be avoided because they tend to create more sparks. Make sure you have access to things like a hose, a bucket of water, or a fire extinguisher nearby.
When you arrange seating around the fire pit, make sure the seating is at least three feet away from the fire. Never allow children to be around a fire without supervision and if you plan on roasting marshmallows, be sure the kids use skewers with heat-resistant handles, keep their sleeves rolled up, and hair is pulled back if necessary.
At the end of the night, don't just pour some water on the fire and assume that will be enough to fully extinguish it. If there are some unburnt materials left, there's a chance they could end up igniting if the fire isn't fully extinguished. Before you try extinguishing the fire, spread out any remaining kindling and ashes to create a thin layer before pouring water on it to make sure the water fully reaches everything.
Safety with Outdoor Activities for Kids is Always the Top Priority
Whether you're having fun in your backyard or heading out to do essential errands like grocery shopping, stay safe out there!
What toys have you added to your backyard this year to keep your kids entertained? Did you know about all these safety details?