6 Toddler Activities to Keep Them Busy and Learning at Home
This post may contain affiliate links. As an Amazon Associate, I earn from qualifying purchases.
When you have one or more toddlers in the home, you know that things can quickly become quite hectic. Coming up with creative and fun ways to keep toddlers busy can help. The following toddler activities will keep your little ones entertained and excited while teaching them valuable lessons that they can use when they get to pre-k or kindergarten. You can complete most of these activities with items you likely already have around the home.
Having ways to keep your toddler(s) engaged and active at home is even more crucial right now. Even as some parts of the world are re-opening in the midst of the COVID-19 pandemic, you may be feeling a little anxious to expose your kids in public. Yet, many parents are stoked to be getting back to occasional play dates, park time, and friend activities. This will all depend on your child's health, your comfort level, and what part of the world you are living in. It's okay mama!
Related article: Here are other ways to give yourself grace and build self-care into your day.
Follow your instincts and do what's best for your family. In the meantime, keep your kids busy with these fun home activities. Best of all, these ideas are easy, fun, and cheap!
1. Sponge Painting
Sponge painting is one way to make painting more exciting for toddlers. Some people like to use sponges and paint on the walls of their home (I had a sponge painted wall in junior high that I loved!). Instead of having the kids painting on the walls, you can supply them with a blank canvas or construction paper.
Purchase a few sponges, cut them into different shapes, and place them on a table.

After spreading the sponges out for your toddlers to see, you can squirt a few different paint colors onto a paper plate, allowing the children to dip different sponges into different colors.

Once your toddlers have dipped the sponges into different colors, you might want to have them press down on a large canvas or piece of construction paper to make a beautiful design.
You can join in on the fun to make things even more exciting. Encourage your little one to get as creative as possible and use as many colors and sponge shape (or their fingers for that matter) as he or she might want to use. After giving the finished piece time to dry, hang it up on the fridge or frame it and put it on the wall. Your little one will love to see his or her artwork hanging up.
2. Foam Painting
A simple, fun, and affordable way to provide a sensory activity is to allow your toddlers to start painting with foam and their fingers instead of a traditional paint and a paintbrush. Here's how you can try this new twist on painting to elevate the fun factor.
You would need a bottle of shaving cream and food dye to get started.

Simply spray some shaving cream into a few separate containers until you have emptied the bottle.

Add a few drops of food coloring to each container of cream.

Make sure you are using different colors, such as pink, green, and orange.
Encourage your toddlers to help you add the food coloring to the shaving cream and assist with mixing the ingredients together. When the foam paint is colorful and ready to use, you can let your children use their fingers to paint shapes, numbers, flowers, and all kinds of cool designs on the kitchen table or any other flat surface (don't forget a protective layer of paper or plastic!). You can also put the colored shaving cream in a Ziploc and cut off the end to use like icing, if your toddler is coordinated enough!
While you cannot save the artwork, you can always take photos of it before finishing for the day. Some people add plain glue and flour to the mix when they want the paint to stick to the paper. For more inspiration, just Google "DIY foam paint" or "DIY puff paint."
3. Matching Games
Toddlers can benefit from playing matching games throughout the day. The goal is to get your little ones to find matches of different pictures or objects. This gets their amazing little brains ready for problem solving and recognizing similarities and differences between objects. While you can purchase matching games or puzzles that consist of cards with images printed on them (here is one of my daughter's favorites), you can also put your own matching games together using household items.
Some of the items you can use when setting up a matching game include beads, leaves, pine cones, buttons, mini figurines, colored candies, printed pictures and more.

Switch up and use different items each time you play to motivate your toddlers to get more involved in the matching game.

Not only will the game keep your little ones occupied and entertained, but it will also help your child focus and become a

critical thinker

.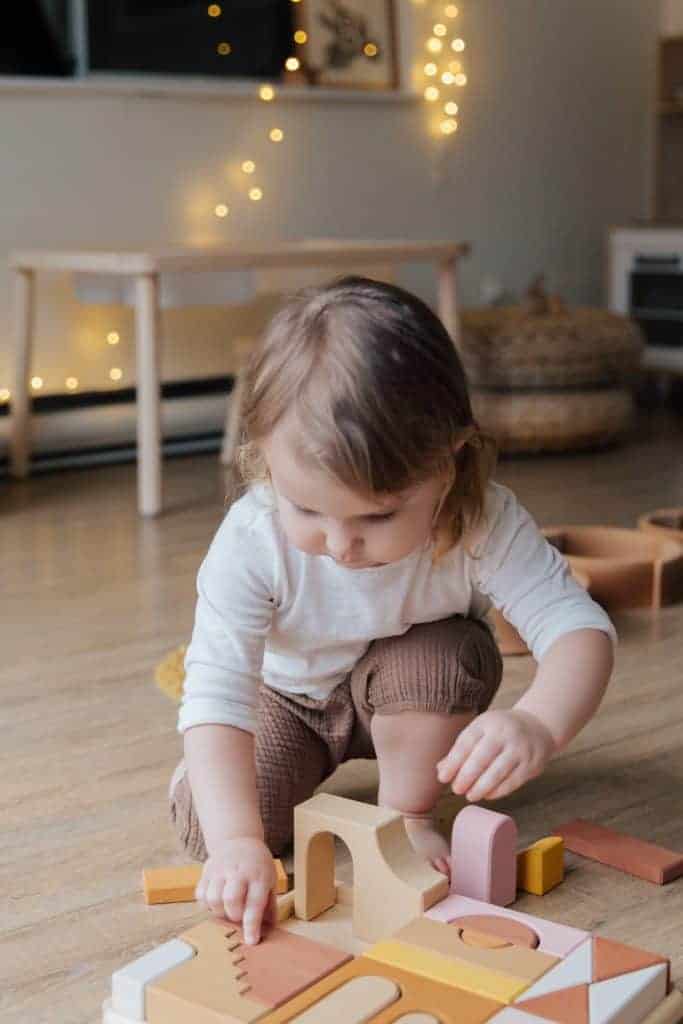 Related article: Language Activities for Toddlers
4. Block Sorting
Turn the process of sorting blocks into a fun game for your toddlers. You may have a lot of different blocks around the house that come in different colors, shapes or designs, such as animals or ABCs.
The goal is to get your toddlers to sort these blocks by color, shape, or themes. However, if you want to make it more exciting, you can set up little baskets and try to get your children to throw the right blocks into the baskets of the same color. For example, you would have a yellow basket for the yellow blocks, a purple basket for the purple blocks, and so forth.
Sorting blocks is an educational and entertaining activity for toddlers. It is a sensory activity that requires children to use critical thinking to solve a problem.
5. Sand Digging and Exploration
Does it seem like all kids love the innate messiness of sand, or is it just me? Create an exciting adventure for your toddlers by filling a large plastic container up with sand and then burying different items inside the sand. Some of the items you might want to place inside the sand include miniature seashells, coins, plastic figurines, blocks, and beads. You can let your toddlers dig in the sand with a shovel or their hands. It is the perfect sensory activity that provides hours of electronic-free entertainment. Things might get messy, so consider putting a plastic tarp or garbage bag down before getting started with the sand.
If you need sand, go to your local landscaping or gardening shop. Alternatively, I just learned that you can literally buy a 50 lb. bag of sand on Amazon (of course, why not). We recently bought a small plastic pool on sale at Ace hardware that we use for fun sand activities.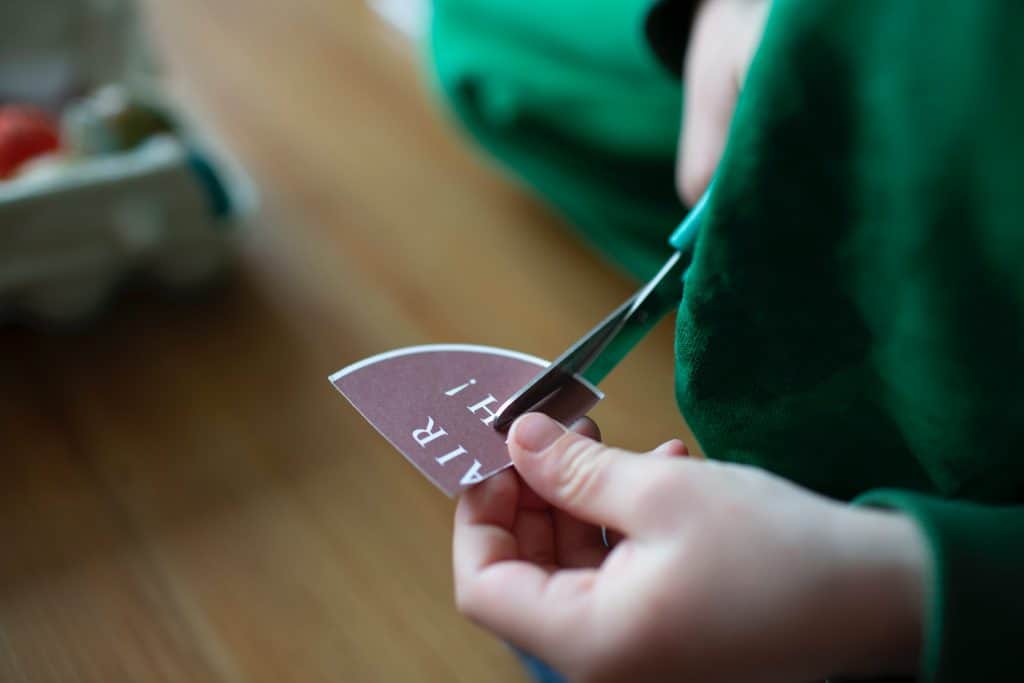 6. Cut and Pasting
Your children will likely spend a lot of time cutting and pasting when they get to kindergarten, so why not get them ready for that by creating cut and pasting activities? Print out different pictures and ask your toddlers to cut them using safety scissors. You can find toddler-friendly scissors online or at the dollar store.
After getting your little ones to cut out images to the best of their ability with their scissors, provide glue sticks, and have them paste the images to a blank canvas or piece of construction paper.

They can construct their own characters and designs using the images they have cut.

You might even want to have them go through magazines and cut out images of different things, such as animals and flowers.

For bonus points, let your toddler collect items outside that they can also glue to their page, such as leaves, grass, feathers, or small rocks.
Who knows, all these activities might give you a moment to get some work done if you work from home. 😉
Related article: Easy handmade gifts for mom
Anything to keep them happy and active!
When you have toddlers at home, you know they are often rambunctious and can easily start getting into everything (and mean everything!). If you want to keep your children busy, entertained, and learning all at the same time, try these fun toddler activities. You do not have to leave home or spend a lot of money to have a good time with your toddlers. And all they will remember is the great fun they had with mommy. Plus, you can have a lot of fun participating in these educational and exciting activities with your little ones too.
What are your favorite toddler activities? I'd love to hear!