The Complete Postpartum Care Checklist
This post may contain affiliate links. As an Amazon Associate, I earn from qualifying purchases.
Good for you mama – you're either nearing your due date and getting your postpartum recovery plan in order or you recently delivered your sweet newborn baby and are shocked by what's going on.
Your postpartum care is very important and a lot of moms don't prepare for the 4th trimester enough.
By the end of this post, you will know exactly what you should include in your postpartum care checklist.
My goal is to assist you with your postpartum recovery so that you can heal quickly and properly from childbirth.
That's the key.
My postpartum care checklist will arm you with products, recovery methods, and resources you need to start feeling normal again.
Postpartum care and recovery are so much more than the first few weeks after delivering your baby and that's why this postpartum care checklist is mom focused.
Those first few weeks postpartum are important but sometimes it takes longer than that to truly recover from childbirth!
Your body has gone through lots of changes over several months so postpartum recovery taking some time is normal, okay mama?
Phew, with all that out of the way let's dig into what should be on your postpartum care checklist…
RELATED READ: The Complete First Trimester To Do List
RELATED READ: The Complete Second Trimester To Do List
RELATED READ: The Complete Third Trimester To Do List
The Complete Postpartum Care Checklist
Postpartum Care Necessities For Mom Right After Childbirth
POSTPARTUM PADS
Get ready mama for the heaviest and longest period of your life.
When I was postpartum, I used these pads and I do have to say they absorbed well which is exactly what you need.
I never worried about leaking so that's a good thing!
The next time I'm experiencing postpartum recovery, I actually have two choices that I'll need to look at as I check off my postpartum care checklist.
These postpartum are all natural and cooling – that sounds dreamy!
Why you might ask?
Because you'll be a bit swollen down there and anything cooling will help with that.
The other option is using Depends during the first six weeks.
They act as underwear and a pad so that's checking off two things you need for your postpartum care.
The other thing I like about going the Depends route is that everything will stay where it needs to which will make things SO much smoother postpartum.
DISPOSABLE MESH UNDERWEAR
If you don't opt to give the Depends a try, then you should pick up a pack of disposable mesh underwear.
Here's why I loved them:
✔They have a loose fitting waistband which made me feel comfortable as I adjusted to not having a baby in my belly.
✔They weren't overly tight around the really sensitive body part if you know what I mean. (This was perfect especially during the first 2 weeks postpartum!)
GRANNY UNDERWEAR
I'm going to level with you.
No one wants to pick up a pack of granny underwear.
Even as I write this I cringe so I get you.
But, to be completely honest, there will come a time when you will want to feel remotely normal and part of that is wearing underwear.
I recommend granny panties because you'll need something high waisted and a little bit lose to feel comfortable (that's the biggest goal of postpartum recovery – well that and recovering properly, more on that later in this post).
It'll be a little while before you get back to the undies of your choice so please don't hesitate to pick up some good old granny panties until then.
And no worries – you won't be wearing them forever. 🙂
RELATED READ: What to Expect During Childbirth
MATTRESS PAD
I picked up this mattress pad to protect our bed.
Completely up to you but it sure did give me peace of mind!
PERI BOTTLE(S)
There is a lot of items that need to be on your postpartum care checklist but none are more important than a peri bottle.
These are an absolute must-have on any postpartum care checklist!
Why?
Because you will not want to wipe, wash or even touch your sensitive lady parts for the first few weeks postpartum.
Peeing postpartum is also difficult because you're swollen and you may have stitches – which means you'll get a burning sensation.
Not enjoyable at all.
I stashed these in every bathroom and took them to go when I finally started venturing outside the house.
Fill the peri bottle with lukewarm and spray gently. I found lukewarm water also helped convince my bladder to let go and then I sprayed some more when I needed to clean up.
Peri bottles are an essential postpartum care checklist item!
(NOTE: I found this peri bottle and love the idea of the angled head. I didn't use it the first time around but they've been added to my postpartum care checklist for the future).
COMFY CLOTHES
Despite what we see in the media, it's likely you'll need some comfy clothes that are larger than your regular clothes for awhile.
Don't expect to be back in your skinny jeans! (And, mama, that's perfectly normal!)
Pick out your comfy maternity clothes, have them washed and accessible for those first few weeks of postpartum recovery.
NURSING NIGHTIES 
I lived in this nursing nighty for almost a full two weeks before getting back into my maternity clothes. (Yes, I have more than one, haha!)
They're a nice length and have a lot of give so you won't feel self-conscious as you adjust to your postpartum body. 🙂
RELATED READ: How the Heck do You Start Loving Your Mom Bod?
NURSING BRAS
Hands down these are the best nursing bras you can buy.
No uncomfortable underwire and easy to unclip and clip.
Truth be told, I still wear them! Not all the time I swear, haha! 😉
NURSING PADS
Whether you decide to breastfeed or not, your milk will come in a couple days after giving birth and, yes, you will most likely leak.
It's not fun and why I totally recommend you pick up some nursing pads that absorb well.
ROBE
It amazed me how many unannounced visits we got when baby girl was born. (This is a topic for another blog post, haha!)
I was thankful to have this robe on hand because it covered everything and I felt good in it.
Perfect for those first few weeks postpartum when you DON'T feel like getting dressed.
(And, you shouldn't have to 😉 )
STOOL SOFTENERS
Stool softeners are an essential postpartum care item.
No matter how regular you are, you will need some help after you deliver.
I'll spare you all the details (you can read them in this post if you really want, haha! 8 Ways to Speed Up Your Recovery from Vaginal Childbirth) but I had what I call a baby brain slip and didn't take them.
Don't do that.
Pick up stool softeners – your postpartum life will be way easier!
SITZ BATH ESSENTIALS
One thing I regret not putting on my postpartum care checklist was the items needed for a sitz bath.
I will not be making that mistake again!
A sitz bath can make your recovery from childbirth a whole lot easier by giving you better hygiene and reducing swelling.
Which means your lady parts will be back to normal faster.
If you want to take a sitz bath postpartum here's how you do it:
PICK UP THE FOLLOWING INGREDIENTS:
✔Epsom salts (I like this organic one)
✔Witch Hazel (reduces inflammation)
✔Baking soda
✔Olive Oil
✔A sitz bath for your toilet
If you don't want to get the sitz bath for your toilet you can also make sure your bathtub is clean and fill it with enough water to soak your lady parts.
Personally, I couldn't imagine lowering myself into the tub during those first few weeks postpartum. (I was too sore and exhausted!).
Choose whatever feels comfortable for you. 🙂
Check out this short article on Parenting.com for exactly how to make your postpartum sitz bath.
(NOTE: Earth Mama Organics also has a sitz bath package – everything done for you which can be very nice when you're recovering! Check it out here.)
PERINEAL SPRAY
I picked up this postpartum perineal spray and oh my did it do wonders to help me heal.
Remember when I loved the idea of cooling postpartum pads? (Definitely trying those next time around!)
This perineal spray does just that and let me tell you it feels amazing after everything your lady bits have been through!
You can add it to your peri bottle or spray directly on your parts.
It's 100% organic which means you'll have no fear of spraying ANYTHING bad down there. (I cringe at the thought!)
IBUPROFEN 
Mama you are going to be sore and it might not just be your lady parts.
I was surprised at how much my body ached after giving birth.
I took ibuprofen – it helped ease the aching and allowed me to sleep (when I could!) as comfortably as possible.
Have some ibuprofen on hand (it's safe to take while breastfeeding) for those moments when you just need some relief.
BELLY WRAP
One of the biggest things I left off my postpartum care checklist was a belly wrap like this one.
Belly wraps help begin the process of reminding your abs of where they're actually supposed to be.
I regret not getting one big time, so I wanted to mention it so you don't make the same mistake!
RELATED READ: Your Postpartum Recovery Plan
Postpartum Care Essentials Around The House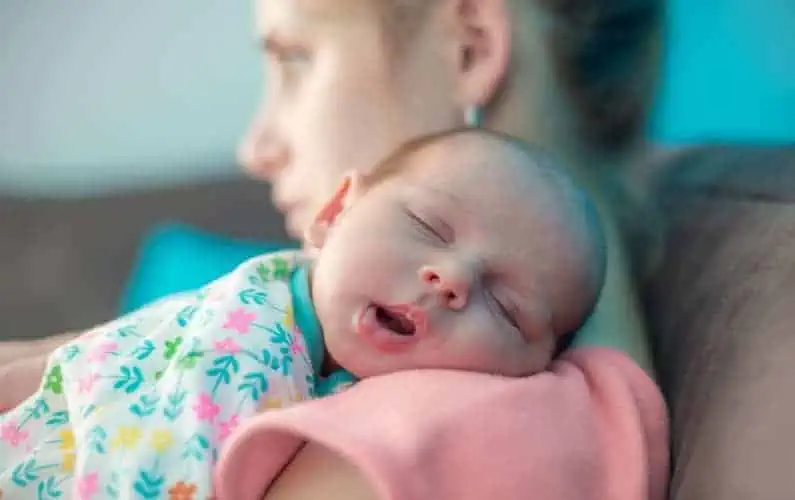 I'm going to share with you some postpartum care essentials around the house that will make your life so much easier while you recover from giving birth.
FREEZER MEALS
A few weeks before your due date take the time to cook some freezer meals.
You will be so happy you did!
You don't want to have to think about what's for dinner and then have to cook it while handling everything that comes with being a new mom.
MEAL PLANNING
Take it a step further and start meal planning.
I use TheDinnerDaily.com and it has literally changed my life. (I'm almost willing to pay anything to not have to come up with dinner ideas, haha! 🙂 )
They give you meal plans and shopping lists for a ridiculously affordable price.
Meal planning is the perfect way to strike a balance between learning to be a new mom and getting a healthy dinner on the table!
CLEAN YOUR HOUSE
What I mean is tackling the areas of your house that need a deep clean.
This is another task to cross off your list before you have your baby.
I've had plenty of mom friends who admit they never got all that nesting cleaning done and they regretted it big time.
Do your postpartum self a favor and clean, purge and declutter those areas of the house so you won't worry about it postpartum.
A PLAYARD
This postpartum hack is for all my mom readers who live in a two-story house.
If you've been on the fence about getting a playard because you wonder if you'll use it I recommend you get one for sure!
I placed ours in the living room and it was a complete lifesaver during my postpartum recovery.
I chose a playard with the "napper" part (this one) so I could change baby girl's diaper and then placed her in the bigger area for naps.
She was safe, I could store all the necessary baby items close at hand (diapers, wipes, etc.), and I didn't have to climb a bunch of stairs all the time to get to her nursery.
I can't even begin to tell you how much easier this made life while I was recovering postpartum.
RELATED READ: Postpartum Recovery Tips and Tricks
ALLOW FRIENDS AND FAMILY TO HELP YOU
One of the biggest things you can do for your postpartum care is accepting help from family and friends.
Have your mom stay with you for a couple weeks, accept help cleaning up and if someone says they'll make dinner, let them.
We may be super moms but we still need help during postpartum recovery.
RELATED READ: Things To Get Done Before Your Baby Is Born
Postpartum Care After The First Six Weeks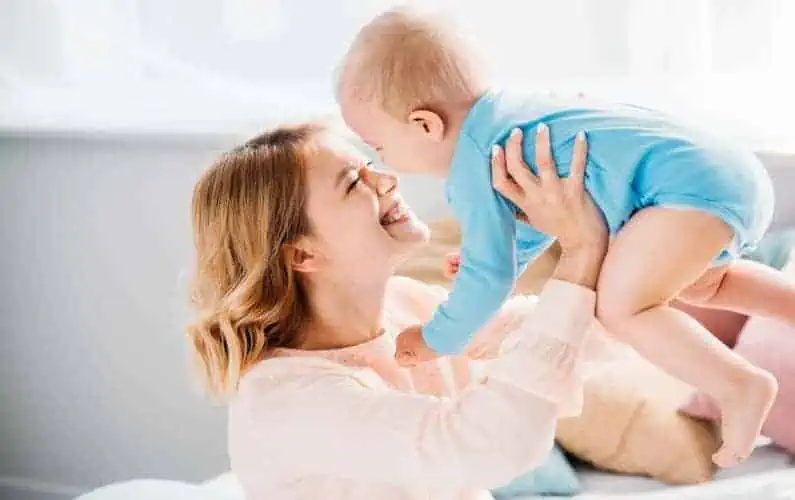 I mentioned before that postpartum recovery is generally longer than six weeks.
What do I mean by that?
I mean healing long term.
Your pelvic floor, ab muscles, and body, in general, have taken on a lot over the last several months. (Well, 9 months to be exact, haha!)
It amazes me the number of new moms who have no idea how to heal their bodies fully.
It's so much more than losing the baby weight, mama!
In my post, 8 Ways to Speed Up Your Recovery from Vaginal Childbirth, I mention seeing a pelvic floor physiotherapist and I'm still a firm believer of doing so.
Research options in your area and book an appointment if you can.
If pelvic floor physiotherapy isn't feasible for you, then I'm excited to share a holistic healing and weight loss program that I'm currently working through myself. (Yes, even at two years postpartum!)
It's called The Postpartum Cure and, so far, it's absolutely amazing!
Katie just recently rolled out the program but I so wish I could have found something like this two years ago!
If you've wondered any of the following, then The Postpartum Cure is for you:
✔How to lose weight without losing your milk supply.
✔How to heal your pelvic floor.
✔How to heal diastasis recti (separation of your abs – this needs special care to heal!).
✔What healing foods to eat.
✔How to get rid of that lingering mommy belly.
Mama, this course is simply one of a kind and it works! (I'll be posting a full review in the future).
I wanted to mention it to you because I really think it'll benefit your postpartum recovery long term. 
You want to heal fully.
You want to heal properly.
And, you want to heal naturally.
Join me in working through this program here.
Want to know what's inside The Postpartum Cure?
✔An app to track your postpartum progress.
✔Eating guidelines – in other words, exactly what to eat!
✔60 unique meal ideas (and shopping list!)
✔20 of the most healing postpartum foods (yum!)
✔Guide to milk boosters (yay no losing your supply!)
✔Ab rehab. (this is a biggie!)
✔Pelvic floor help.
✔Safe postpartum workouts to start losing the baby weight (something I'm working through myself!)
✔A Facebook Group community to help keep you motivated.
It's up to you, of course, I just wanted to mention it.
I so wish I had this two years ago, mama!
Interested? Check the program out here.
There you go, mama!
Every single thing that needs to be on your postpartum care checklist in order to feel comfortable and heal properly.
Every childbirth experience is different but the advice in this post will definitely set you up for a good postpartum recovery.
Make sure to pin this post for future reference! 🙂
What's on your postpartum care checklist?
Let's chat about it!
Let me know in the comments! 🙂