7+ Delicious Freezer Meals for New Moms to Nourish Their Souls and Save Their Sanity
This post may contain affiliate links. As an Amazon Associate, I earn from qualifying purchases.
Freezer meals for new moms? I love the idea, and most likely, you will love it too!
Preparing postpartum freezer meals is one of the greatest and smartest things you can do before your baby's birth. I have personally been scouring the internet for the past few months for the best ready-made recipes. Having gone through the newborn stage with my first daughter and preparing to go through it again soon, I know how hard it is to find time to use the bathroom, let alone cook a nourishing meal! So these recipes are lifesavers!
The first few weeks (or even months!) after giving birth are extremely difficult for new moms as they have to take care of their little ones 24/7. They are busy with feeding schedules, changing diapers, soothing the baby, etc. This also means that most moms don't get enough sleep, may need to skip some showers, and can't use the bathroom in a timely manner. So anything that can make their life easier is appreciated. Freezer meals provide a genius solution to make cooking extra easy and save time for moms (plus, don't be afraid to ask for help-mama!).
Today, we will talk about the benefits of meal prepping before your baby's arrival, and I will also share some amazing freezer recipes with you.
The benefits of meal prepping prior to baby's birth
Meal prepping prior to a baby's birth has plenty of benefits. Therefore, it's worth spending some time preparing a few delicious yet healthy freezer meals that you can be prepared before the baby's arrival. Let's see a few of the great benefits of freezer meals for new moms:
Saves you time – and when I say this, I mean a LOT of time! Thus, you can focus on taking care of your bundle of joy and your postpartum recovery.
You can eat your favorite meals even when you don't have time to cook.
Most meals last up to 3 months or more in the freezer.
You just need to defrost and reheat these meals, and they are ready to eat.
Saves you money (and often your health) as you don't need to order food from a restaurant when you can't prepare anything for dinner.
Preparing freezer meals is a great way to use your nesting energy.
With all of your attention on a new baby soon, having a few meals ready will make all the difference.
Rather than order takeout that is costly and less ehalthy, you can rely on a family favorite in your freezer (a happy money saver)
And most importantly, with freezer meals for new moms, you always have healthy, nutritious foods at home!
What types of meals are best for postpartum recovery
Before you head right to the kitchen to start meal prepping freezer meals, it's important to talk about which types of meals are best to prepare for new parents. As a new mom, you will need to make sure that you are getting enough calories from your meals to have the energy to take care of your baby, particularly if you are breastfeeding. Some foods can even help you increase your milk supply, such as garlic, oats, poultry, and fenugreek. Thus, they are worth including in your meal plan.
In general, when it comes to your postpartum recovery, the best is to choose foods that are packed with nutrients and vitamins such as vitamins B, A, K, and D, omega-3 fatty acids (especially docosahexaenoic acid), and choline. Plus, high-iron foods (such as red meats), fish, and vegetable soups are also excellent choices.
Freezable meals for new moms: The best recipes
Now that you know why freezer meals for new moms can be a lifesaver, it's time to dive into some simple yet great freezer recipes (some of my favorites!). So you can start meal prepping immediately and fill your freezer with delicious meals.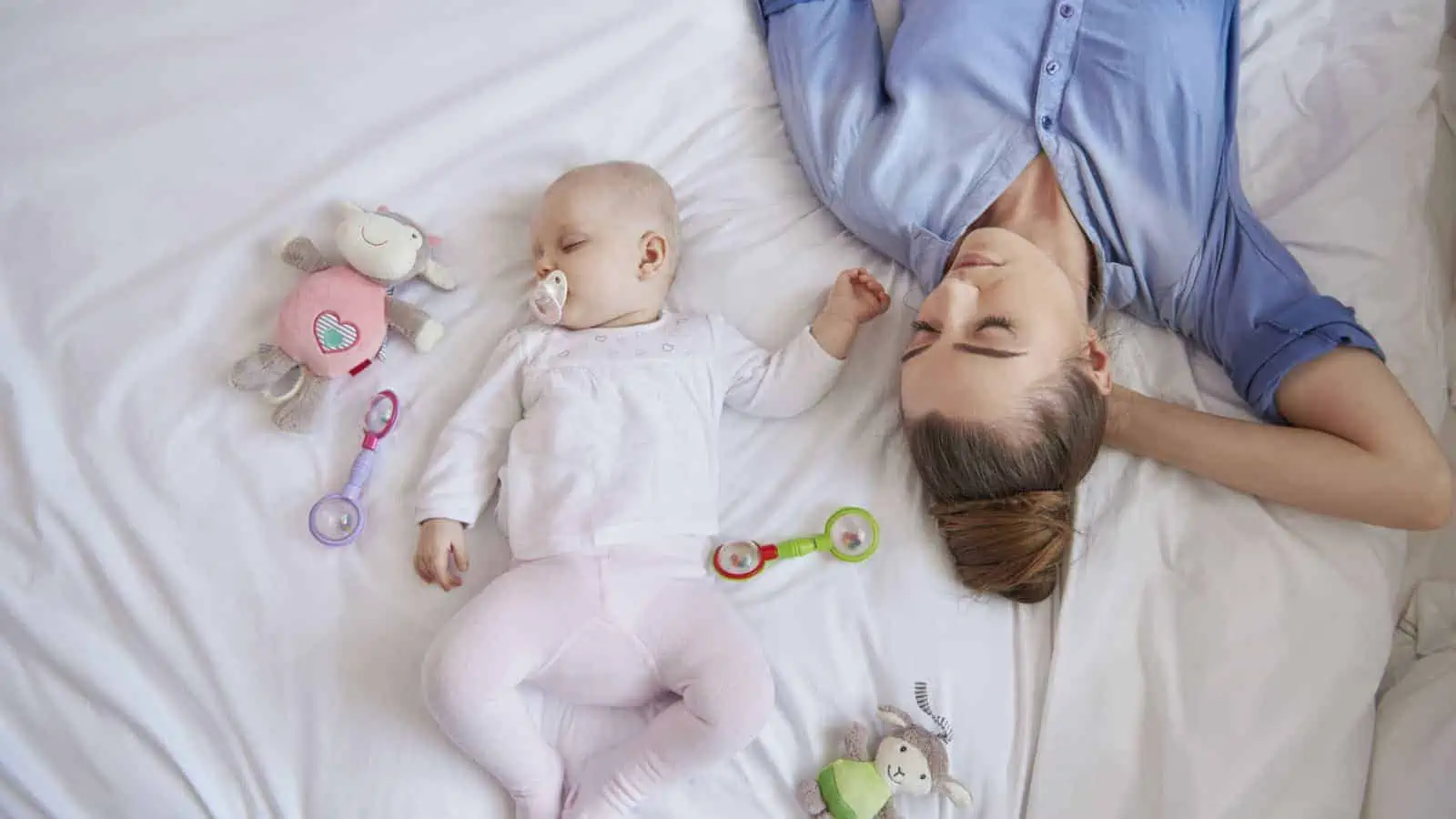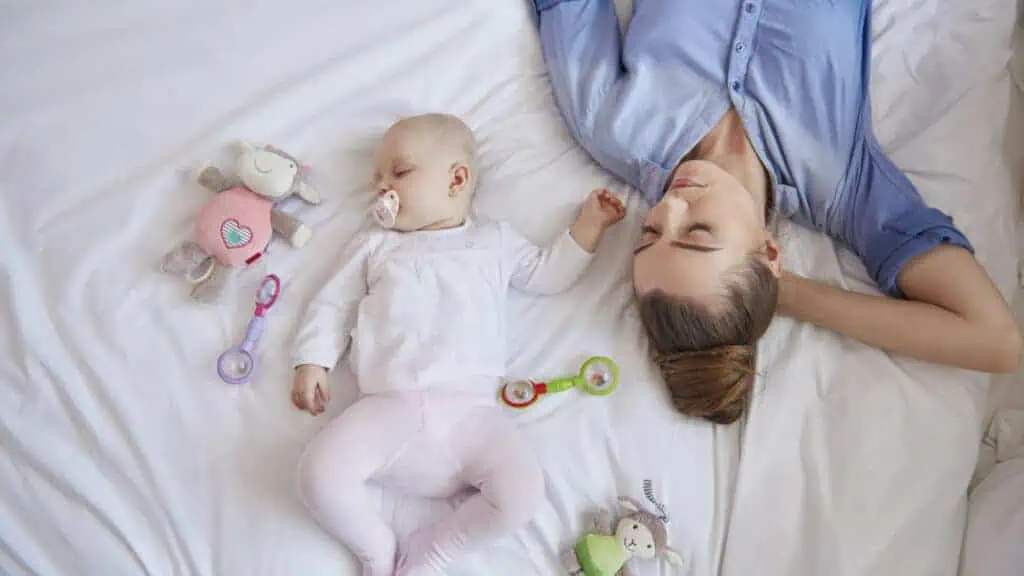 1. Tomato Florentine Soup
This first recipe is a super delicious soup recipe and comfort food called Tomato Florentine Soup that is easy to prepare (one of my favorite freezer meals). Since it's filled with many valuable nutrients like vitamins A, C, K, and iron, it's a great choice for every mama who just gave birth. What I love about this soup is that it takes only 20 minutes to cook, and it's a hearty meal.
The main ingredients include diced tomatoes, tomato sauce, spinach, and pasta- making it vegan-friendly too . Make sure to check out the detailed recipe here.
Once you have made a batch of Tomato Florentine Soup, pour it into containers and place them in your freezer. You can keep this meal stored there for up to 3 months. So you can certainly enjoy the wonderful flavors of this soup for a long time after giving birth!
Note: Any type of delicious soup tends to make some of the best freezer meals.
Related read: 10 Quick and Healthy Breastfeeding Snacks in Under 5 Minutes!
2. Pizza Stuffed Peppers
Do you often get cravings for pizza? Then why not give a shot to a healthier option that can outsmart your craving for pizza? (Not that you shouldn't just eat the pizza sometimes!) All you need to do is fill some bell peppers with all the goods you normally put on your pizza. Add toppings like chopped veggies (green pepper, olive, onion, mushroom, etc.), shredded chicken, fresh mozzarella cheese, ground meat, and more.
If you need some inspiration, take a look at this tasty Pizza Stuffed Peppers recipe. You will see that this freezer meal really tastes like pizza!
3. Whole Wheat Pumpkin Pancakes
If you want a delicious breakfast idea, try preparing whole-wheat pancakes with pumpkin and cinnamon. These pancakes will provide you with a lot of fiber due to the pumpkin puree and whole wheat flour they contain (I also like adding chia seeds, hemp seeds, and ground flax for an extra boost of nutrition and fiber). Plus, they are hearty, giving you enough energy to keep you going and breastfeed your baby. For a simple Whole Wheat Pumpkin Pancakes recipe, visit this page.
I love smothering these in whole-fat yogurt, a small pour of maple syrup, and/or a smear of almond butter to boost protein and flavor.
4. Chicken Marinade
There is nothing better than eating your favorite tender and juicy chicken after a long day at home with the new baby. Luckily, you can easily prepare a bunch of Chicken Marinade (with skinless chicken breasts) at once and toss it in the freezer for later. The key is finding a flavorful marinade recipe the whole family would like. Here are 7 freezer-friendly Chicken Marinade recipes to check out.
5. Freezer Oatmeal Cups
Another awesome breakfast option! Freezer Oatmeal Cups are my absolute favorite, as you can just simply reheat them on a busy morning. Plus, everyone loves them. Even kids!
Oats are a healthy choice for breakfast because they keep you full and are packed with fiber, B vitamins, and a lot of iron. To make Freezer Oatmeal Cups, prepare the oatmeal in a large batch. Then add the toppings of your choice and freeze the oatmeal in muffin cups. Once the cups are frozen, you can pop them out and put them into a plastic freezer bag. This way, you can keep them in the freezer until you need them. Don't forget to add your favorite toppings!
6. Asian Peanut Chicken
If you prefer Asian flavors, then this Asian Peanut Chicken recipe is definitely made for you! Put all the ingredients in a freezer bag, squeeze the air out of the bag, and place it in the freezer. Then, thaw it before cooking it in an instant pot, air fryer, or slow cooker. And finally, serve it with rice. Easy, right?
Related read: The Ultimate Guide to Baby Preparation
7. Freezer Meals for New Moms: Other Great Ideas
You can try and stock your freezer with many great recipes (if you have time and space). Some recipes are pre-cooked, while others are made with raw ingredients that you can throw straight into an Instapot or slow cooker (crock pot). Here is a quick list of other options that you can look up and try on your own! I know I will be!
Chili- with turkey, beef, or even vegetarian! (Pre-made in a slow cooker or instant pot)
Enchiladas smothered in green salsa (a personal favorite)
Spaghetti sauce- bolognese (just cook a pot of pasta or spaghetti squash for this easy freezer meal idea)
Veggie burgers
Breakfast burritos
Breakfast muffins
Yellow chicken curry
Pesto sauce (just add to pasta!)
Pizza pockets
Anything you can pre-measure or chop and throw in the instant pot
And more!
Remember, you can store in designated containers (that stack well in your freezer), grab a disposable aluminum pan (or many) from the store, or even use a good old large ziplock bag to freeze your meals. You can also try pre-making things in a muffin tin before freezing.
Focus on what's important
Next time you're cooking a freezer-worthy meal, simply make a double batch (or more!). Once you let it cool completely, throw it in the freezer for later. When you're hungry later, throw the pre-made meal in an instant pot, microwave, or let it un-thaw overnight. Talk about an easy meal- that is a huge win for a new mom!
I hope you found these meal ideas useful and will try some healthy freezer meals for new moms very soon. You will see that you can gain a lot from meal prepping, including saving time and money. Thus, you can focus on what's truly important after giving birth: taking care of your baby.
Which recipes did you like the most to make before baby arrives? Do you have other great freezer recipes you want to share with me? I'd love to hear more ideas for freezer meals for new moms!