The Ultimate Guide to Baby Preparation
This post may contain affiliate links. As an Amazon Associate, I earn from qualifying purchases.
Baby preparation may seem like a complicated – and most likely, endless – process (especially as a new mom!) However, it doesn't have to be like that! With the help of this guide and with some organization, you can make it way easier to prepare for your baby's arrival without wondering what the heck you're doing. 🙂
I remember in the last few weeks leading up to the due date of my daughter, I panicked and wondered what I should be doing to prepare. The honest truth is that it's hard to prepare and you will figure it out- because instincts 😉 There are a few things you can do to give yourself some piece of mind of course. But most importantly, surround yourself with a great group of people that will support and help you as you transition to life with a baby! (Trust me! I thought I could do it all myself and I was SO happy for the support I got from my mother in law and husband in those first few trying weeks.)
In the following, we will go through the most important steps you can follow when it comes to baby preparation. That way, all you have to do to be prepared is to follow each step in the guide! Easy peasy-ish 😉 Are you ready? Then let's get started, pregnant mama!
Creating a baby registry
One of the first things you can do after you have announced your pregnancy news to your family is to start to create a baby registry. A baby registry is a list that contains all the must-have items that you and your baby will need after your baby's birth.
You need to think about all the necessary items from everyday essentials to big-ticket items such as a stroller and crib. Make sure to cover all the following categories when you set up your baby registry:
Baby clothes (onesies, sleepers, pants, etc.)
Feeding (such as burp cloths, bibs, bottles, breast pump, and more)
Clean healthy baby items (baby towels, nose aspirator, nail clippers, etc.)
Diapering (like change pad, diaper bag, and more)
Nursery items (including crib, mattress, dresser)
Baby gear (for example, stroller, car seat)
Baby entertainment (play mat, rattle toys, etc.)
Since babies need so many things (although don't get too carried away- the basics are just fine!), building a new baby checklist can be an overwhelming task. Yet, it's worth the effort because this way, you can be assured that you will have everything ready for the time your baby arrives. Plus, you can use this list as an organizing tool as well. It can help you follow up on what you still have to buy once you see what you have received from your friends, family, and co-workers at your baby shower.
However, if you feel that setting up a baby registry is something you don't want to spend time with, you can get a ready-to-use baby registry checklist that can help you a lot! Where? For example, you can find one in our in-depth resource- The Ultimate Pregnancy Prep Bundle. 😉
Choosing a name
The next vital element of baby preparation is finding a name for your little one.
Probably, choosing the perfect name for your baby will be one of the most difficult decisions you have to make with your partner. After all, your child will use this name their entire life. So it must be excellent! 🙂 You don't want to end up with a name that they will hate.
Whether you are looking for a boy or girl name, here are a few tips that may help you find the right name:
If you want a trendy, modern name, try to avoid trends that will pass in a few years. Some names may seem pretty cool now but can sound ridiculous in 10-15 years.
Classic baby names are not necessarily boring, you may find many timeless names that you would love.
Check the meaning of the name.
Consider giving a middle name as well.
Think about all the nicknames possible.
Don't forget to take a look at the initials. Having initials like BJ, ASS, or FCK may not be the best idea ( maybe)!
Keep a list of your favorite names, it will help you choose in the end.
If you don't have a name before baby is born, don't stress too much about it. I found it's easier to decide one you actually meet your little one- which many parents agree with too.
Related read: Cute Foreign Names for Girls and Boys
Designing a nursery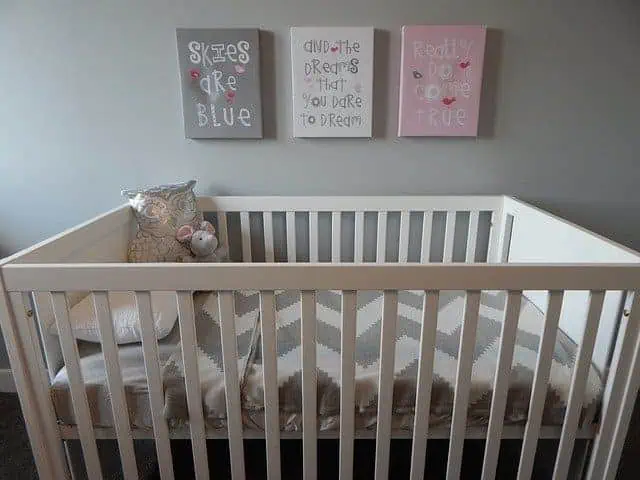 Planning your baby's room can be an exciting part of getting ready for the baby. Even if at first you plan to share your bedroom with your newborn baby.
When designing a nursery, beside choosing the color and the theme of the room, try to focus on the practicability as well. Typically, you will need a few pieces of furniture like a changing station, a dresser, and a crib with a mattress. Make sure to go for as much storage space as possible because you will need a lot for the baby essentials. Plus, it makes the organization much easier as well.
Regarding the lighting, avoid bright lights as they can disturb your baby, especially when you need to turn on the light for night changes and feeds. The best option here is most likely an adjustable night light that can better suit your needs. Also, it may be a good idea to install a blackout curtain that can help your baby sleep longer and more comfortably.
Related read: Changing Table Organizer Ideas for Baby's Nursery
Making the necessary steps for safety
Safety is extremely important for babies, therefore, you should not ignore this part of the preparation. In your home, there might be many things that can be dangerous for your baby. Many of them you would not even think about! Just to give you a few examples:
Different types of furniture (that can tip as they start climbing!)
Appliances
Outlets
Stairs
Doors
Windows
Harmful chemicals – you will need a thorough home detox!
By "childproofing" your home before your baby arrives, you can prevent various unintentional injuries or even death.
Nesting – Preparing your home
When it comes to baby preparation, the next thing we need to talk about is nesting. If you feel a sudden burst of energy in the last weeks of your pregnancy, it probably means that your nesting instinct has kicked in! 🙂 Most moms-to-be start to clean and organize the entire house to prepare for the baby. And when I say the entire house, I literally mean it! Many women are so productive that they even sweep out the garage, wash all the windows, and defrost the refrigerator. Crazy, isn't it?
However, it's good to take advantage of this extra energy and prepare your home for your little one's arrival, including the kitchen, bathroom, living room, master bedroom, and nursery.
Regarding nesting, you can also find a necessary nesting checklist in The Ultimate Pregnancy Prep Bundle that may be worth checking out.
Related read: 51 Things to Get Done Before the Your Baby Is Born
Creating a birth plan
Additionally, if you want to ensure that everything goes smoothly during labor and delivery, consider creating a birth plan. Of course, it doesn't guarantee anything but you will have more chances of having the birth experience you want. If you don't know how to make a birth plan, a lot of resources are available on this topic. Make sure to take a look at my previous blog post about the importance of a birth plan.
Just don't panic
I hope you've found this guide to baby preparation useful. The process of preparing for your little one can be daunting but don't panic. With the right information and a bit of patience, you will find that it is well worth it in the end!
Make sure you have all the necessary information – and checklists – at hand when it comes down to making decisions about how to prepare for life with an infant. You can start by checking out blog posts and books about motherhood and parenting, enrolling in an online birth class, or once again, you can take a look at my Pregnancy Prep Bundle (I promise it's awesome- I've been using it to prep for my own second baby!). Other things you may want to look into as you prepare is newborn care tips and breastfeeding tips as well.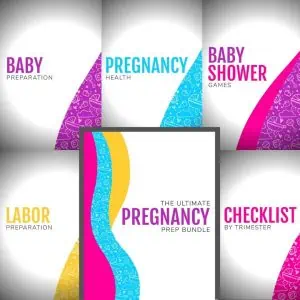 Did you find this post helpful? Do you have something else to add? Let me know in the comments!