Tips for Sharing a Small Bedroom with Baby
This post may contain affiliate links. As an Amazon Associate, I earn from qualifying purchases.
There are many reasons why you might decide on sharing your bedroom with your baby. Maybe, you are living in a small apartment where this is your only option, or you simply feel more comfortable knowing that your baby is close to you during the night (it's actually recommended for the first year of baby's life to reduce the risk of SIDs too!). Whatever the reason is, you may need some tips for sharing a small bedroom with baby.
Personally, I kept our daughter in our room for over a year. We all slept better that way, especially since I was still nursing her in the middle of the night until she was closer to 1.5 years old. Plus, we didn't have a choice in her first year of life when we still lived in a studio apartment– so space saving was a must! 🙂 
Fortunately, with a few simple changes, you can maximize your space so sharing the same room can be comfortable for all of you.
Check out my useful tips for sharing master bedroom with baby below.
1. Create a designated nursery space for the baby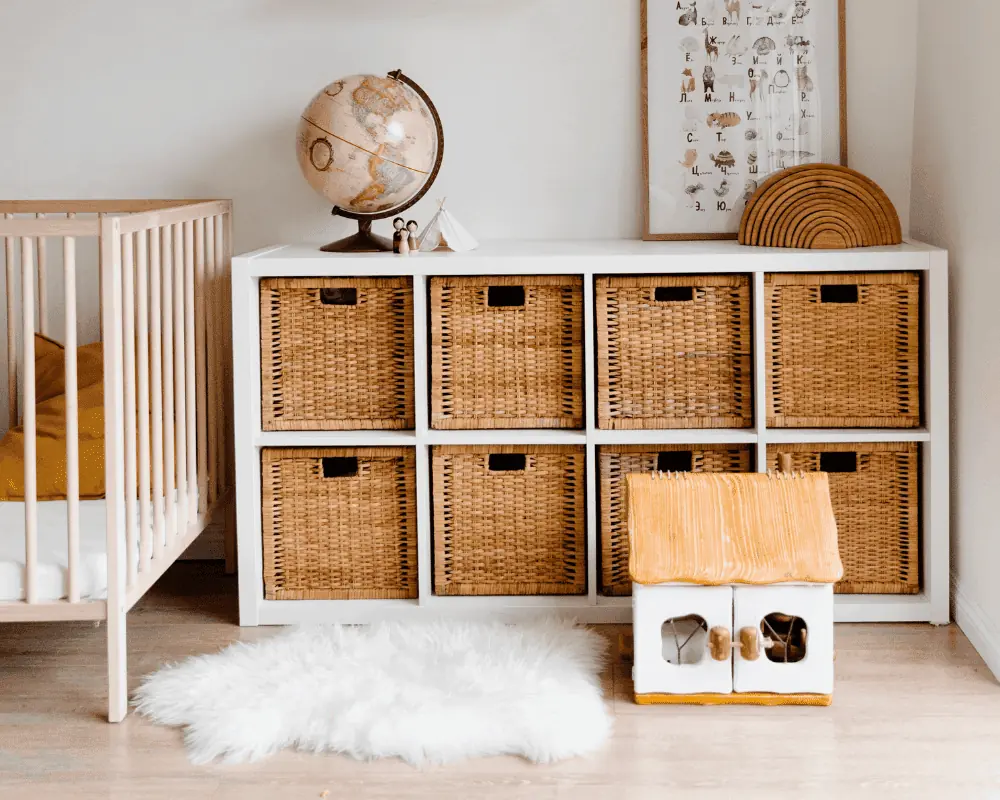 Even if your baby doesn't have their own room (or they at least don't sleep in it), you can create a designated nursery space for them. For example, in one of the corners or by transforming some of the dead space.
In case you have a large bedroom, consider yourself lucky because you can easily design an area which is only for your little one and their stuff. Simply, use a divider like a sheer curtain, or a bookshelf. (The bookshelf can also be used to store some of the baby's clothes or other necessary items.) By installing a room divider, you can keep your privacy and your baby will have their own distinct space as well.
However, if the bedroom is too small for a room divider, you can still try to divide the space by using different paint colors. For example, it may be a good idea to choose a color that goes well with the existing design of the room. Make sure to avoid dark colors as they make the room look even smaller. Once you have selected the perfect color, then simply paint an accent wall right behind your baby's crib, and add some accessories that complement this color.
You can also lay down a rug and use it as a divider. Since rugs can absorb sounds, it can be a great choice when having the nursery in master bedroom.
Related read: Newborn Baby Shopping List With Pictures
2. Declutter the bedroom
Before you move any baby furniture to the bedroom, you may need to declutter the room. Getting rid of unnecessary stuff can help you free up some space for your baby's furniture, clothes, and other important items. Thus, it is an important task that you should not skip. I'm sure you have some outfits in the closet you haven't worn in years, or some decorations or furniture you don't even love. Now you have a good reason to get rid of them. 🙂
3. Forget about having a traditional changing table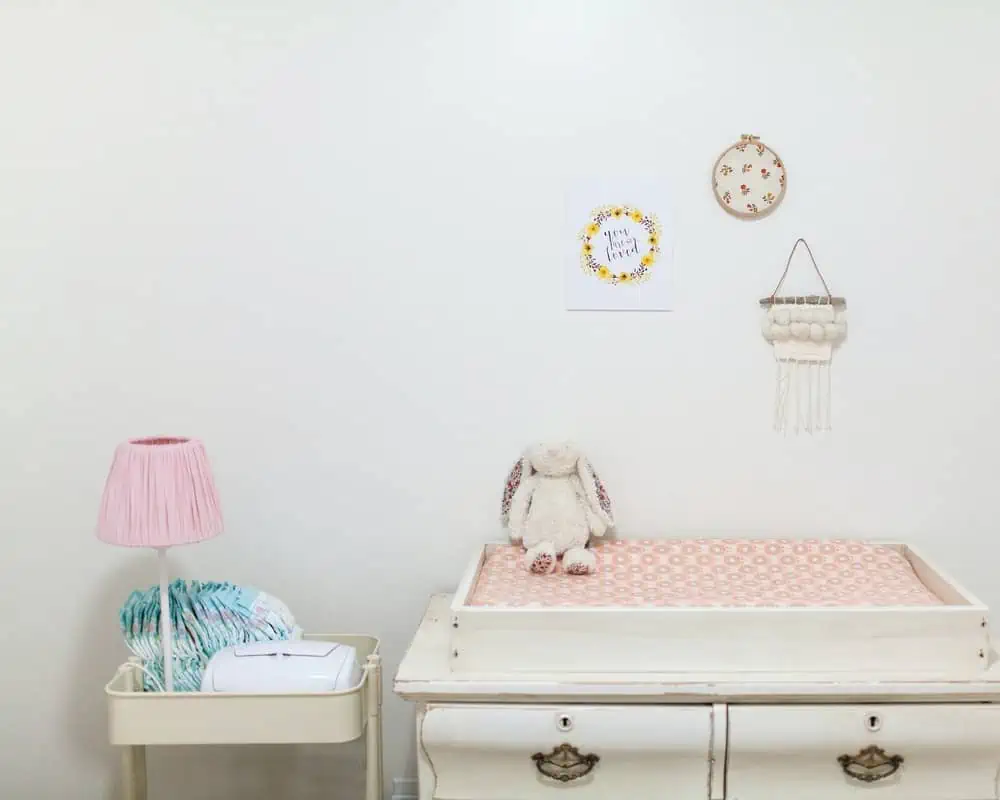 Unfortunately, when it comes to sharing small bedroom with baby, you have to give up some of the conventional baby items to save some space. This may also include a traditional changing table. Instead, you can use a folding changing table or come up with other innovative ideas. For example, you can add a dresser with a removable changing topper. This way, you can make the most out of the space. Store the baby's clothes in the dresser and change the baby's diaper on the top of the dresser.
Plus, if you already have enough furniture in the room, you can upgrade your existing furniture so it can be used for changing the baby.
Personally, I never used a changing table with my daughter- instead placing a waterproof pad on the bed, floor, or table when I needed to change her. I never found this bulky piece of furniture necessary in our small living quarters.
Related read: Changing Table Organizer Ideas For Baby's Nursery
4. Get a bedside sleeper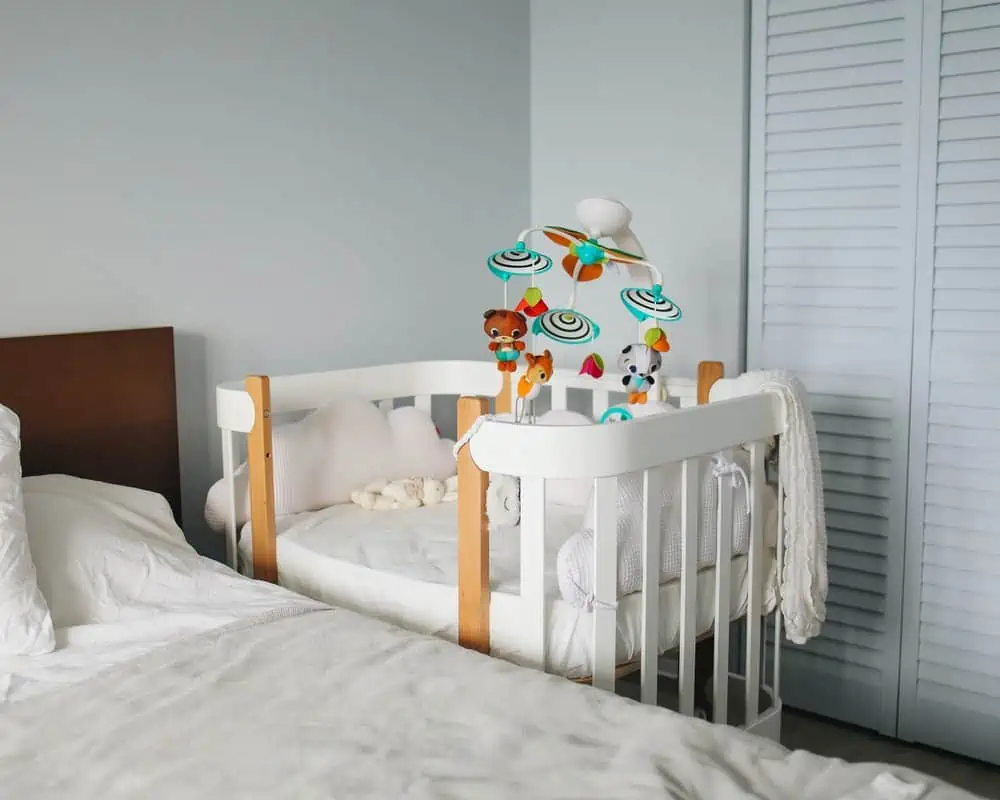 If your bedroom is really small and you have limited space, the best way to save some space is to get a bedside sleeper instead of a crib. This is because a conventional crib can take up a lot of space. On the other hand, bedside sleepers are smaller and easy to move. Plus, you can take advantage of co-sleeping as you don't have to get out of bed when you nurse your baby (just make sure you are well read on the safety issues, pros, and cons of co-sleeping to make an informed decision!).
It's important to note that most bedside sleepers are designed for small babies. Once your baby can sit up. you will have to upgrade to a deeper bed like a crib or pack 'n play for their safety.
5. Maximize your closet space
When you are sharing your bedroom with your little one, very often it also means that you have to share your closet. Therefore, you may need to maximize your closet space to store all the baby clothes. Since your baby's clothes are tiny and don't require as much hanging space as adult clothes, you can install a second rail in your closet or take advantage of the floor space and place a few storage bins into the closet. Also, you can store seasonal items that you currently don't need in vacuum-sealed bags.
Another great idea is to invest in under-the-bed bins or stackable storage bins, so you can get a little extra storage space.
Related read: Baby Clothes Organization Ideas
6. Use other areas to save space
Sometimes, even if you maximize the space in the bedroom, it might feel like you can't fit all the baby items into the room. Then, the best you can do is to use other areas within your home.
You can set up a breastfeeding station in the living room with a nursery chair, nursing pillow, and all the nursing essentials. Thus, you will have a comfy place to nurse your baby.
And if you need some extra space to store some baby items such as toys, diapers, wet wipes, or any other baby products, you can use the bathroom counter, the bathroom linen closet, or any other storage areas in the house. For toys, you can always throw a toy bin in the corner of your living room or other larger space. However, try to keep everything organized because I don't think you want to run around the house all day long looking for something. 🙂 Everything should have a dedicated place.
7. Get a white noise machine
White noise machines are very useful when it comes to baby sleep. These machines can not only help soothe the baby but also cover up other noises such as environmental noises and conversations. As you will sleep in the same room with the baby, there might be some conversations going on between you and your partner (or snoring, getting up to use the bathroom, etc.). Therefore, if you don't want to wake up the baby, it may be worth investing in a white noise machine. This way, you can also move freely around the bedroom without needing to tip-toe.
We just used a free white noise app from Google Play to keep it simple. Honestly, we started it for baby but I slept better with it on too! 🙂
Safety first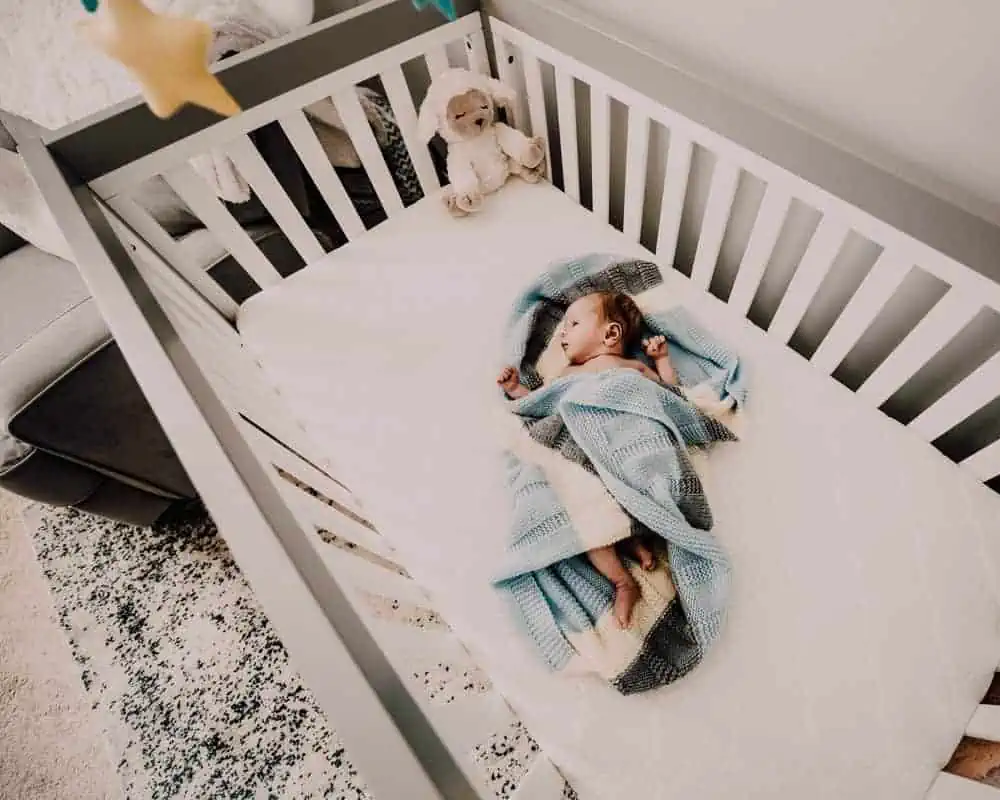 Ultimately, having a nursery in master bedroom is completely fine for a while. According to the American Academy of Pediatrics (AAP), it's ideal for babies to share the same room with their parents for about a year, or at least for 6 months, as it can help reduce the risk of SIDS (sudden infant death syndrome) by up to 50%. Therefore, regardless of why you have decided on sharing your bedroom, it may be a very good idea after all. Especially when it comes to safety.
Hopefully, the above-mentioned 7 tips will make cohabiting easier and even more convenient for all of you.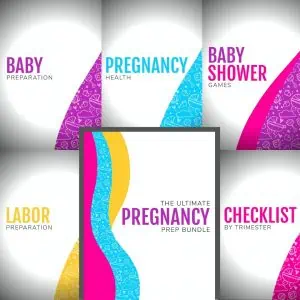 Which tip did you like the most? Do you have any other ideas for sharing small bedroom with baby? Share your thoughts with me in the comments.