24 Ways To Prepare For Baby On A Budget
This post may contain affiliate links. As an Amazon Associate, I earn from qualifying purchases.
Congratulations mama you're pregnant!
But I bet you're here because you're wondering…
✔How much money will the baby cost?
✔How will you afford everything?
You've probably heard babies are expensive a million times, am I right?
That's pretty scary, isn't it?
I admit, the cost of a baby IS a little intimidating but don't worry – you can prepare for a baby on a budget – no matter how nervous you may be feeling right now. And I want to help you realize that babies aren't actually that expensive, too!
I was in your shoes not too long ago so I'm living proof that you CAN prepare for a baby on a budget.
No, don't worry – we got nice things for our baby girl AND we still managed to live our lives without feeling like we were missing out on anything.
That was a relief.
They say babies change your life and boy is that true but in my experience, it was all for the better.
By planning and preparing for your baby now, you'll transition into mamahood without feeling like you're going to the poor house.
Now, that's not saying you aren't going to spend anything and it also doesn't mean there won't be things you need to cut in order to save money.
So let's take a look at how you can prepare for a baby on a budget…
24 Ways to Prepare for Baby on A Budget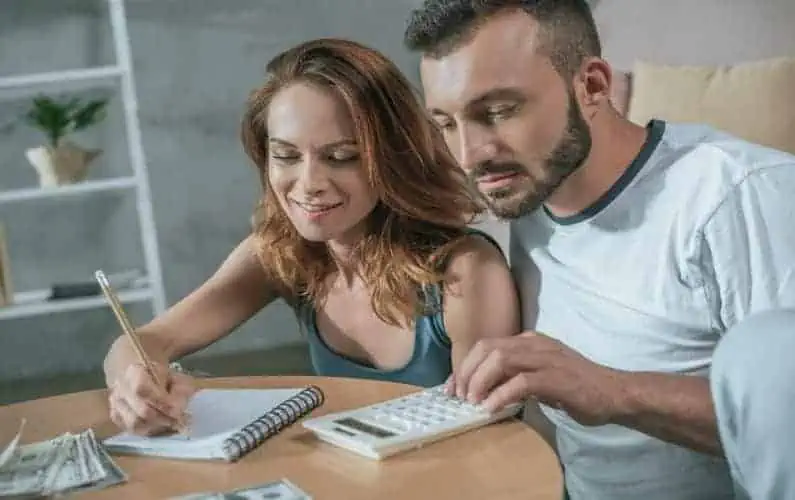 1) SIT DOWN AND LOOK AT WHERE YOU'RE SPENDING YOUR MONEY NOW
As you prepare for a baby on a budget the most logical place to look at first is your current budget.
Where does your monthly income go?
Take account of everything you spend money on.
List monthly expenses that are necessary – ie. your mortgage payment, car insurance, debt repayment, etc.
Then take a hard look at everything else you're spending your money on.
Do you grab a Starbucks every day?
Do you eat out a lot?
The outcome of this budgeting activity will be a clearer understanding of your spending habits.
In order to prepare for baby on a budget, you need to know exactly where all of your money goes.
RELATED READ: Budgeting Advantages for Families
2) WHERE CAN YOU CUT DOWN ON YOUR BILLS?
Now that you have an understanding of how you spend your money take a look at your monthly bills.
Is there a way to cut down on those expenses?
For example, when my husband and I were preparing for our baby girl, we cut out our cable bill completely.
We opted to go with an internet service that was significantly cheaper.
What options do you have?
Does your phone need all that data?
Can you drop the temperature in your house by a couple of degrees and wear more clothes?
Sit down with your partner and see where you can save money on your monthly bills.
RELATED READ: 64 Best Frugal Tips for Families
3) CONSOLIDATE YOUR DEBTS
If you have credit card debt and/or any other debt sitting on different lines of credit etc, then now is the time to visit your bank to see what they can offer you.
Banks will often consolidate debt at a reasonable interest rate.
If you're lucky and your mortgage is up for renewal, consider rolling your debt into the mortgage.
What's the benefit?
Lines of credit have a lower interest rate than credit cards so consolidating will put money in your pocket.
It's also much easier to budget for one monthly payment instead of several.
When we consolidated our debt I felt better.
I felt like we had a better handle on our finances.
So take away the needless stress and get all your debt into one area.
4) DO YOU NEED A SIDE HUSTLE?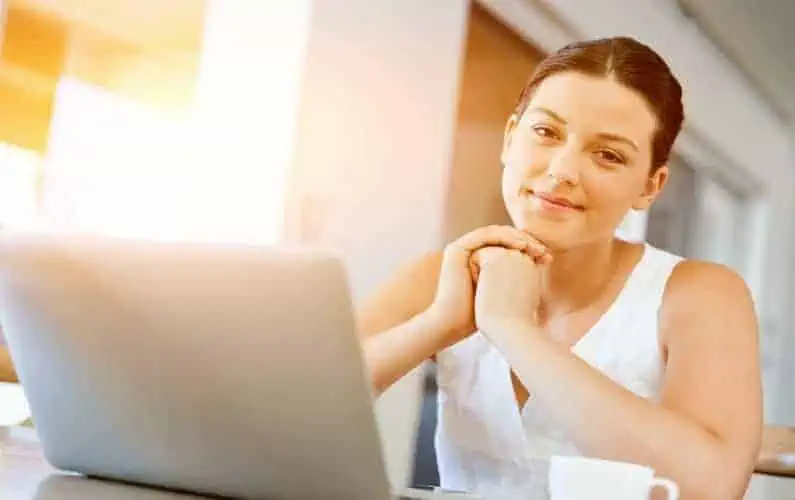 Okay, now that you have a handle on your financial picture it's time to take a look at how much money you're making and if you need to start a side hustle to cover the additional cost of your baby.
Perhaps cutting down on your bills and eating out is enough to make room in your budget but, honestly, having a side hustle is a great way to earn even more money.
We live in a world where we're lucky to have so many online opportunities to make money from home.
(Helping moms make money from home is actually a passion of mine, so make sure to check out The Work from Home Mom Series if working at home on your own terms sounds good to you!)
I started blogging on the side (I now blog full time!) to help bring in some extra cash as we prepared for our baby on a budget.
Check out my post 40 Side Hustles for Stay at Home Moms for some ideas on what side hustle might fit into your life right now.
5) WHAT CAN YOU BORROW?
If you have family and friends who are also having babies right now then it's time to take inventory of what you can borrow.
That's the thing about a lot of baby stuff – you only need it for a short period of time.
For example, we borrowed my sister-in-law's tummy time mat because she was pregnant with her second and didn't need it for several months.
By the time she was ready to take it back, we were more than done using it.
So, take inventory of what your family and friends have and see if you can borrow some items to save money on baby stuff.
RELATED READ: The Complete First Trimester To Do List
6) START MEAL PLANNING NOW
I love meal planning.
It's literally saved us a bundle of money.
No more second guessing what's for dinner or running out to buy more food because we aren't taking inventory of what we already have.
You might be thinking "well meal planning sounds wonderful but where will I get ideas in order to meal plan?"
It's a great question and one that stopped me from meal planning for years.
I didn't want to get bored with the same old recipes every week.
I found TheDailyDinner.com and let's just say meal planning as I knew it changed.
I now save time and money – something pretty important to master as you prepare for a baby on a budget.
(It's also REALLY helpful when you're a busy work from home mom! 🙂 )
TheDinnerDaily.com plans your meals and shopping list based on sales in your local area.
Yup, that means you'll save money AND time.
Which leads me to…
7) EAT AT HOME AS MUCH AS POSSIBLE
This, of course, goes hand in hand with meal planning.
My hubby and I love to eat out but the problem was we were doing it way. too. often.
It doesn't take long for eating out to add up (easily $300/week if you eat out 3 times during the week) so as you prepare for a baby on a budget make sure you start eating at home as much as possible.
If you want to feel like you're going out somewhere why not take turns cooking and setting the mood with candles?
Add in some of your favorite music and you've turned an ordinary meal into a date night (important to get those in before your baby is born! 🙂 )
RELATED READ: 52 Fun Cheap Date Night Ideas for Couples on a Budget
8) START A BABY FUND NOW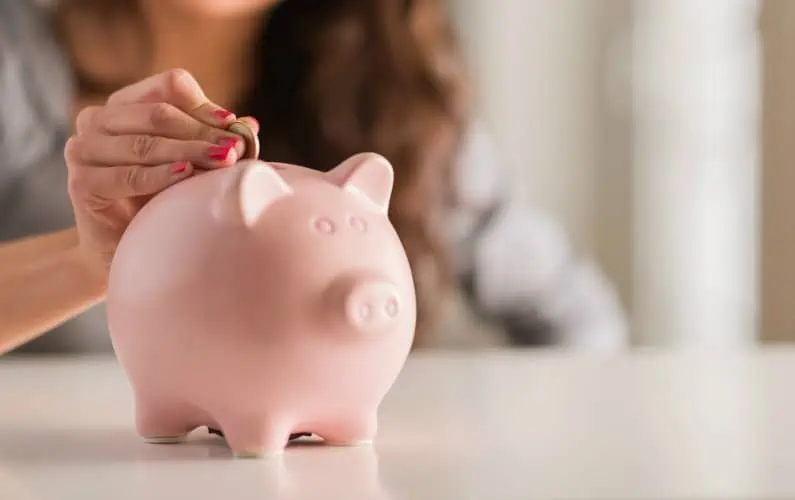 Starting a baby fund while you're pregnant is plain smart.
Think of a baby fund as a safety net – it'll help you out if you come into tough times and it'll give you peace of mind as you get ready for your baby.
My hubby and I started one the minute we found out I was pregnant.
We so desperately wanted that peace of mind.
We went over to our bank and set up a separate account to receive weekly deposits.
It's up to you how much you put into the baby fund – you need to figure out an amount you're both comfortable with. You can come up with extra funds by trying a no-spend month challenge.
For example, say you start to put in $25/week.
Over the course of your pregnancy, you'll save up 1000 dollars!
The more you can free up to put in the better. 🙂
RELATED READ: The Complete Second Trimester To Do List
9) SECOND-HAND STORES ARE YOUR FRIEND
We have an amazing second-hand store called Once Upon a Child. They have baby and toddler clothes (some still have the original tags on them!) that are gently used for cheap.
I'm talking name brands that you pay major dollars for brand new.
If you're on the fence about buying baby clothes secondhand, remember that babies grow quickly which means they only use clothes for a short period of time.
Do some research and figure out a second-hand store close to where you live. You can also look on Facebook marketplace and garage sale posts to find killer deals for bulk baby clothes.
10) SKIP THE BABY ITEMS YOU DON'T REALLY NEED
This piece of advice might be a bit controversial. There are a lot of baby products on the market so how are you supposed to know what items are worth getting and which ones aren't?
My advice is to look at your own situation and less at what everyone tells you to get.
For example, lots of people say don't bother with a diaper genie but my hubby and I found having one very convenient.
How did we handle the expense of the pricey refill bags? (Often an argument for not getting a diaper genie). We didn't buy the refills.
We saved the original ring that's given as part of the refill (it holds the bag in place) grabbed your every day black garbage bag and secured it with an elastic. Yup, we saved tons of money and had a convenient place to discard dirty diapers.
We loved that the diaper genie masked the smell of the diapers and didn't take up a lot of room in our daughter's nursery.
You need to look at how you live and how you plan to handle life with your baby.
Get items that will help you with your plans and make with baby life easier.
Check out my post 51 Things to Get Done Before Your Baby is Born for a complete list of what we felt we needed for our baby.
In order to prepare for baby on a budget review the list and remember the advice, I mentioned above.
What can you borrow? Is there anything you can get second-hand?
If you decide to buy new think of it as an investment – you can use the items again with future babies. 🙂
11) TAKE ADVANTAGE OF FREE STUFF
Did you know that many companies offer free samples? I didn't either! Make sure you take advantage!
Along with baby freebies, many companies will offer you a discount for signing up.
Here are some great freebies/discounts to help get you started:
✔Sign up to Amazon Family and get a 20% discount on diapers, baby food and more.
✔If you use Amazon's Baby Registry you get a 15% completion discount AND a FREE welcome box. 🙂
✔Check out this free prenatal course taught by a labor and delivery nurse. (There is a paid version but you can get tips in the free one!)
✔Join Similac Club and get $175 in freebies and coupons.
✔Join Enfamil Family Beginnings and get $160 in freebies and coupons.
Keep on the watch for more freebies and it never hurts to ask if a company has free samples to give you etc. You don't know until you ask! 🙂
12) CONSIDER USING CLOTH DIAPERS
I'm the first to admit cloth diapers aren't for everyone. But if you want to prepare for baby on a budget then cloth diapers deserve some research. There are some people who are skeptical about how much money you save using cloth diapers which is silly if you ask me.
After the initial purchase of the cloth diapers, they'll keep giving back.
And if you have more children in the future your cost will go down even further.
There are also the environmental benefits – you won't be adding all those disposable diapers to the landfill.
My hubby and I didn't opt for cloth diapers and I regret it. As a new mom, I couldn't fathom having to worry about cleaning diapers along with everything else that goes into being a new mama.
We plan to expand our family with another one (or two!) kids so I'm now paying attention to the cloth diaper route. I've told myself even if I use cloth diapers for overnight or during the day. Do your research to see if cloth diapers will fit into your budget.
13) BE SMART WITH YOUR DIAPER PURCHASES
We've gone over cloth diapers but if you want to use disposable diapers then you just need to be smart with your purchases. Since you're preparing for your baby on a budget, why not ask for diapers on your baby registry?
Also, if you join Amazon Family you'll get a 20% discount on diapers and numerous other baby items. That's amazing!
Over the course of your pregnancy, stock up on diapers when you see a sale.
Now, don't go totally crazy on one size. For instance, babies aren't in newborn size diapers for very long (if at all in some cases!) so it would be smart to maybe have a couple of boxes in that size.
Babies spend more time in sizes 1-5 so stockpile those, mama!
RELATED READ: The Complete Third Trimester To Do List
14) TRY BREASTFEEDING
I'm sure now that you're pregnant you're planning to breastfeed. Most mamas do and it's GREAT for your pocketbook.
Where else can you get free food for your sweet newborn baby? Do keep in mind that not all babies latch properly or take to breastfeeding in general.
It's OKAY mama if you can't breastfeed. You can pump your milk (I used this breast pump) and supplement with formula. That's why having a baby fund is important. It's there in case things don't go as planned.
15) DON'T BUY SHOES FOR YOUR BABY
Preparing for a baby on a budget means skipping the frivolous baby items. Yes, that means not buying shoes for your newborn baby, haha! What many new mamas don't realize is that they won't actually be dressing their baby in cutesy outfits for the first few months.
You're tired. You're new to being a mama. And your baby spends most of the time sleeping, eating, pooping and then sleeping some more.
Who needs tiny baby shoes during that time?
Half of planning and preparing for a baby on a budget is making sure you don't get those small baby items that are actually useless. Save money by skipping the needless baby items for the first year.
RELATED READ: 10 Must-Have Baby Products for the First Year
16) MAKE YOUR OWN BABY FOOD
It's not long until your baby starts on solids – right around the 6-month mark. So, make sure you make your own baby food! Or ditch purees altogether and try baby-led weaning.
I used the Baby Bullet (yes, it was worth the money because it saved me so much on buying baby food!) and portioned out homemade baby food into the storage containers that come with the blender.
I batch made food and froze it so I didn't have to make it all the time.
MOM HACK: Buy ice cube trays with lids and portion out your baby food for the freezer. When you're ready to use the food, pop it out and heat until ready for your baby!
17) ASK FOR DEALS ON NURSERY FURNITURE
Bet you haven't thought of actually asking for deals on nursery furniture, am I right? But you can and you just never know what will happen.
When we were shopping for our baby girl's crib we asked for a deal and they happened to have last year's model on hand for a really low price. This wasn't being advertised.
We asked what was so different and they let us know the color of the crib was now slightly lighter in the new version. We didn't care because we saved so much money and we were looking for a dark-colored crib anyway!
Go ahead, mama, ask for what you want! 🙂
18) LOOK INTO BABY ITEMS THAT CAN DO DOUBLE DUTY
We didn't buy a changing table for our nursery. Instead, we bought a refinished dresser (it's super cute!) second hand and added a changing pad like this one.
Once we're finished with diapers (tear!) our baby girl will have a really nice dresser that will last years. As you prepare for a baby on a budget, look around at things that can do double duty and grow with your child.
19) TAKE HAND ME DOWNS
Have family or friends who are done having kids? Are they looking to get rid of their baby stuff?
Most baby items are gently used because babies outgrow things quickly. So, if your friend is offering that high chair or all those baby toys take them! You will be saving a bundle.
All you need to do is give the items you take a wash – then they're basically brand new! 🙂
20) USE ONE CAR IF POSSIBLE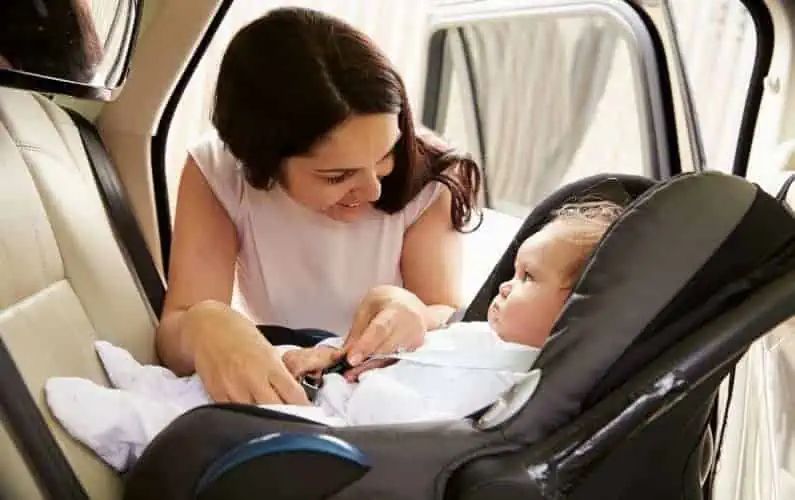 Dropping down to one car was one of the best things we could have done to prepare for baby on a budget!
I'm not sure if becoming a one-car family is viable for you but if you can make it work then PLEASE consider it. We're still a one car family and I think we've been able to go so long because I work from home.
I know it can't work forever, because, well, kids BUT we've saved a bundle of money doing it. Take a look at your lifestyle and see if you can make one car work.
You'll be thankful you did even if it's for a short period of time! 🙂
21) SHOP THE CLEARANCE SECTION
My friends and family joke all the time that I'm the clearance queen. Yes, I admit I hit the clearance section of any store before shopping in the other areas. But I often find what I'm looking for and I save money while I'm doing it.
Go to your local baby store and shop the clearance section. Even if bigger sizes are the only things on clearance remember your baby will grow quickly and you'll be using them before you know it.
22) GO TO MOM TO MOM SALES
I LOVE mom to mom sales. I've gotten really awesome toys for DIRT cheap.
These sales are filled with gently used baby and kids items that are in great shape. I've bought toys that would have ordinarily cost $40 new for $3?!
That's amazing! Make sure to research where and when mom sales happen in your area!
23) LIVE IN A HOUSE YOU CAN MORE THAN AFFORD
We live in a cute semi-detached house that we can more than afford. So what does this have to do with preparing for a baby on a budget?
It means we don't sweat our mortgage payment because we didn't spend at our max for our house. It means we are not house poor. It means that if there are unexpected expenses we have more than enough money to cover them without feeling stressed.
It means that we feel comfortable with our expenses. It means we are prepared to handle the costs of having a newborn baby!
Living in a house we can more than afford was also a big factor for me being able to stay home with our baby after my maternity leave was over.
This leads to…
24) CONSIDER STAYING HOME WITH YOUR BABY
Childcare after maternity leave costs a lot of money.
When we looked at me going back to work after my maternity leave we quickly realized I would be working to pay for childcare and the car I needed to commute back and forth. That didn't make any sense at all.
We felt good knowing that I would be the one caring for our daughter and since I had dreamed of working from home it was time to ramp up the effort on my side hustle.
Not only did we save a ton of money but I'm happy to say I have a successful business that keeps me creative (that's something I NEED in my life, do you?).
RELATED READ: 10 Tips for Living On One Income Successfully
You Can Do It: Babies Don't Have to Be Expensive
There you have it, mama – 24 smart ways to prepare for a baby on a budget.
The key to saving money while having a baby is to evaluate your lifestyle and make choices based on what makes good financial sense to you. Cut costs where you can, shop smart and don't hesitate to pick up some gently used items.
Try to stay away from all those needless baby items (like baby shoes!) they're a waste of money and you likely won't use them anyway!
Good luck as you prepare for a baby on a budget! You can more than do it.
What did you think about my money-saving tips?
Let me know in the comments!