6 Easy Pregnancy Lunch Ideas
This post may contain affiliate links. As an Amazon Associate, I earn from qualifying purchases.
With the famous saying, "you are what you eat,"- you might already know that everything you eat impacts your unique chemistry.
As a pregnant mom, the effects on your developing baby are even more profound. What you consume directly supports their formation, and the right diet substantially increases your odds of a healthy birth.
This article will review healthy pregnancy lunch ideas (and healthy snack ideas) that will provide your body with essential nutrients and energy.
Note: We all have enough stress in our lives as pregnant moms; please don't stress about our food choices. Instead, focus on ways you can nourish your body that make you feel good! Always talk to your doctor if you need specific nutrition advice.
The Challenge of Eating Well During Pregnancy
It can be challenging to eat right when you're pregnant. You might be one of the many Americans working longer and harder than ever and already find it challenging to fit adequate nutrition in among your other responsibilities. Plus, you're dealing with rapidly changing hormones and nurturing a growing life.
Everyone has only so much energy, and your reserves may be depleted well before the dinner bell rings.
You need lazy pregnancy meals that are easy to make and aren't heavy on all the nasty stuff found in ultra-processed convenience foods. Let's review hot and cold pregnancy lunch ideas.
The Importance of Nutrition for a Healthy Pregnancy
Your caloric needs typically increase in pregnancy — you need to eat more to keep up with your body's demands. Most pregnant women average an extra 300 calories per day, although needs may vary slightly. The types of fuel you consume matter as much as the calories you consume.
Unfortunately, many quick and easy meals you may crave are filled with stuff like white flour, sugar, and unhealthy fats (I feel you, mama!). Unfortunately, it's the biological equivalent of putting diesel fuel in a gasoline-powered vehicle. You might fill the tank, but you'll only make it a few miles down the road before pulling into the nearest service station for some heavy-duty repairs (low energy, nausea, poor mental health, etc.).
3 Cold Lunch Ideas for Pregnancy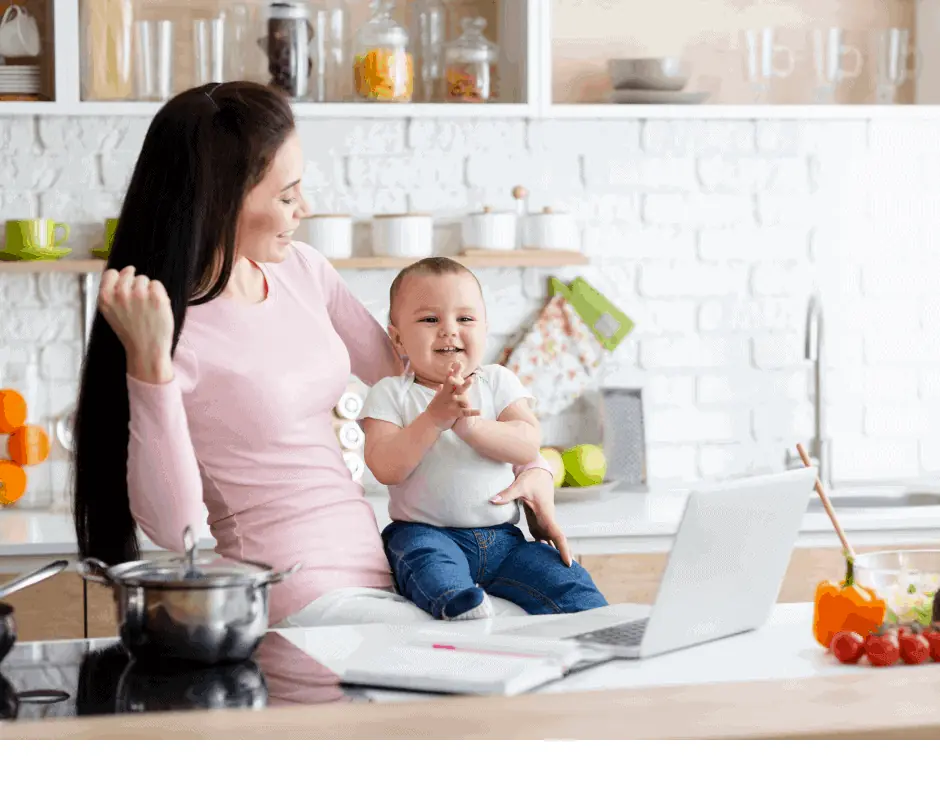 So what are some healthy pregnancy lunch ideas that will nourish your cravings and help baby grow?
We have you covered with these healthy pregnancy meals. Here are three cold lunch ideas for pregnancy that you can ready the night before and grab and go in the morning.
1. Salmon Salad With Oranges, Pepitas, Avocado and Kale
This salad is chock-full of nutrients your developing baby needs. Salmon provides healthy omega-3 fatty acids. Dark, leafy greens are rich in folate, an essential nutrient for helping your child's neural tube development. Pepitas are high in iron to stave off pregnancy anemia, oranges contain vitamin C, and avocados are laden with vitamin E to help prevent some of those stretch lines. All you have to do is shred the greens and salmon and add it to the bowl with the other ingredients.
What about dressing? Store-bought versions can contain questionable ingredients like canola oil that are best avoided during pregnancy, at least in high amounts. Instead, try this simple mix you can make and keep in your fridge — perhaps repurpose an old dressing bottle?
2 tablespoons plain unflavored yogurt or plain cashew yogurt (whole fat for a dose of nourishing healthy fats)
2 tablespoons olive oil (an excellent source of healthy fats)
1 tablespoon balsamic vinegar
1 tablespoon red wine vinegar
1 teaspoon Braggs 24-herb blend (or your preferred herb blend)
Not a fish fan? You can also try a chicken salad (swap the salmon for chicken).
2. Whole-Grain Southwest Chicken Wraps
Do you meal prep? It can be a pregnant mama's best friend, and it doesn't have to consist of cooking full meals so that your entire week's menu contains little room for variation. Instead, devote some time to chop harder veggies like peppers and onions into usable portions and store them in individual containers to make it easier to assemble these healthy pregnancy lunch ideas.
You'll need the following:
Cooked cubed or shredded chicken (or chicken salad)
Whole grain or chickpea tortillas
Baby spinach
Red pepper
Roasted corn
Red onion
Salsa (optional)
Shredded cheese (optional)
Add your spinach leaves to your tortilla and top with chicken, pepper, corn, onion, including salsa and cheese if desired. This recipe sparkles because it helps you eat the rainbow, ensuring your growing baby gets a wide array of phytonutrients from this cold lunch idea for pregnant women.
3. Vegetable Gazpacho
"Wait a second — soup isn't a cold lunch idea for pregnancy!" It can be when it's gazpacho. This classic Spanish dish is served chilled instead of piping hot, making it perfect for those sultry summer days and unsettled tummies.
This recipe requires a bit more prep work than the others. Here's what you'll need:
6 ripe and chopped tomatoes
1 peeled and chopped cucumber
1 chopped red or green bell pepper
2 chopped celery ribs
2 tablespoons chopped parsley
2 tablespoons chopped chives
1 clove minced garlic
2 cups tomato juice
¼ cup red wine vinegar
¼ cup extra virgin olive oil
1 tablespoon fresh lemon juice
1 teaspoon Worcestershire sauce
2 teaspoon sugar
Salt, pepper, and Tabasco to taste
Place all ingredients in a large bowl if using an immersion blender, or do batches in a regular model. You can make this blend as chunky or creamy smooth as you like. Once everything blends, simply chill and serve. Put it in individual containers to make it a snap to grab in the morning.
Other Easy Cold Lunch Ideas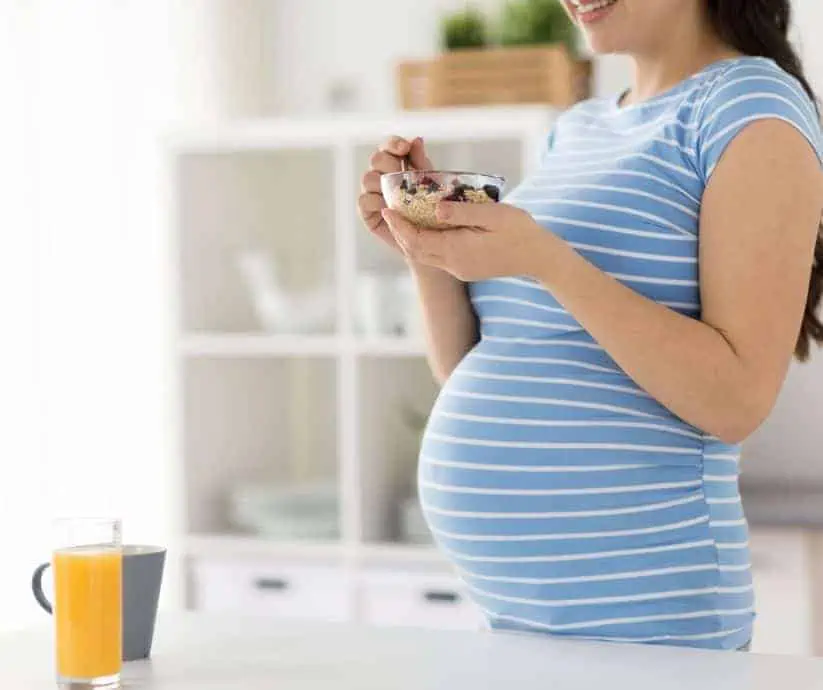 Here are some other great ideas for your pregnancy meal plan. Some may require a little bit of prep for the week but it will be easy to grab and go after that.
1. Egg Salad Sandwich
2. Chicken or Tuna Salad Wrap
3. Veggie Pita Pocket with Hummus
4. Avocado Toast with Feta and Tomatoes
5. Cheese and Avocado Sandwich
6. Yogurt Parfait with Granola and Fresh Fruit
7. Green smoothie (when food doesn't sound good, this is perfect!)
8. Broccoli Macaroni Salad
9. Caprese Pasta Salad with Tomato, Basil, Mozzarella (pasteurized), and Balsamic Vinaigrette
10. Cobb Salad with Hard-boiled Egg
Easy Pregnancy Meals to Eat for Dinner and Freeze: Hot Edition
What about hot pregnancy lunch ideas? After all, soup, salad, and wraps get old after a while.
Your solution? Look for easy pregnancy meals that freeze well, like the following. Take your leftovers in your lunchbox the next day.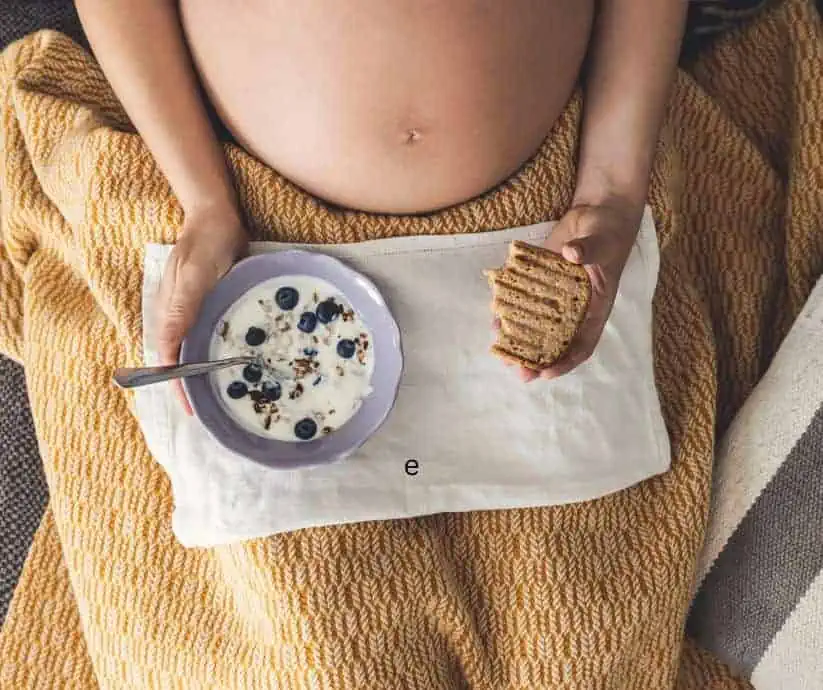 1. 4-Ingredient Baked Pesto Chicken
Hey, it's okay to cheat sometimes when making easy pregnancy meals. This recipe calls for prepared pesto to make it simple. Pesto is typically nothing more than ground basil and pine nuts with a touch of olive oil, but read the label to ensure healthy ingredients.
You'll need the following:
1 can diced tomatoes
4 thin boneless skinless chicken breasts
½ cup prepared pesto sauce
½ cup shredded mozzarella cheese
Spread the tomatoes on the bottom of a baking dish. Add the chicken, coating it lightly with pesto and then adding the mozzarella cheese. Bake for about 25 minutes at 350 degrees F, using a meat thermometer to ensure your chicken reaches 165°. It's enough for a couple to share at night and take leftovers the next day — or double the recipe for families.
2. Easy Pot Roast With Green Beans
While it's best to eat red meat in moderation, it's okay to occasionally indulge (especially since pregnant moms are notoriously iron deficient). Make this recipe for Sunday dinner and take the rest during the week. You'll need the following:
2 pounds boneless chuck shoulder roast
½ pounds fresh green beans
1 pound potatoes
1 packet onion soup mix
1 cup water
Store all ingredients in a freezer bag until needed to help the flavors blend. Thaw the night before and cook in a slow cooker for eight hours or until the beef shreds easily with a fork.
3. 5-Ingredient Vegetarian Freezer Black Bean Burritos
What if you follow a vegan or vegetarian lifestyle? Beans are an excellent source of plant-based protein, and you can make this recipe cruelty-free by substituting cashew cheese shreds. You'll need the following:
1 cup dry brown rice
10 – 12 whole grain or chickpea tortillas
2 cans drained black beans
1 cup salsa
1 ½ cups Mexican shredded cheese, cheddar cheese, or cashew cheese
Cook rice. Add all ingredients to the tortillas and roll them into burritos. Place them in a ziplock freezer bag, take them out, and microwave them for a minute or two, or use a toaster oven to add a nice crisp. Add sour cream, avocado, hot sauce, and other favorite toppings to enjoy a delicious and healthy lunch!
Other Easy Freezer Meal Ideas for Pregnancy
Here are some other great ideas for your pregnancy meal plan:
1. Grilled Cheese Sandwich with Tomato Soup
2. Broccoli and Cheese Quiche
3. Baked Potato (or Sweet Potatoe) topped with Salsa and Sour Cream
4. Grilled Chicken Caesar Salad
5. Curried Chicken Wraps
6. Baked Sweet Potato topped with Spinach and Feta Cheese
7. Vegetable Stir-Fry over Brown Rice or Quinoa
8. Vegetable soup
9. Chili (vegetarian or beef)
What About Cravings and Changing Tastes During Pregnancy?
You'll probably experience different cravings during pregnancy. Additionally, many women experience morning sickness starting around the fourth to eighth week, although the exact timing varies.
Cravings sometimes signify clues about what nutrients you lack, but they can be tricky vixens. If you're accustomed to the typical American diet of ultra-processed foods — defined as those made from substances extracted from foods like hydrogenated fats, starches and added sugars — what you desire might have little relationship to what your body needs the most.
For example, your mind might turn to sugary foods if you need a quick energy burst. However, you know that consuming them will provide only a temporary boost, followed by a debilitating crash that leaves you craving even more. You may unwittingly consume far too many calories while taking only scant amounts of your body's needs.
On the one hand, it's okay to indulge- but also be mindful!
The best general rule is to stick to whole foods that resemble their natural forms — an apple should look like an apple or at least a sliced one. However, certain substances pose unique dangers during pregnancy.
Related read: Morning Sickness Remedies
Foods to Avoid for a Healthy Pregnancy
Leave processed meat sandwiches off the menu when planning cold lunch ideas for pregnancy. While expecting, you want to avoid deli meats, which can carry bacteria like listeria that may invoke premature delivery and stillbirth. Likewise, you should avoid raw sprouts, as healthy as they can be, and any foods left out at a buffet or banquet for similar reasons.
Please don't think, "Fine, I'll have a tuna sandwich." While canned light tuna may seem like an easy pregnancy meal, the fish is potentially high in mercury (when consumed more than once a week or so). Salmon and cod are better choices, and it's just as easy to whip up a container of salmon salad to eat throughout the week.
Related read:  Foods to Avoid in Early Pregnancy
Healthy Pregnancy Lunch Ideas
If you have a baby on board, you need easy healthy pregnancy meals that meet your nutritional needs and support your growing infant. What healthy lunches can you grab and go on the fly?
Try the above ideas for cold lunches for pregnancy or make one of the easy freezer meals and take the leftovers the next day. With a bit of creativity (and a pregnancy meal plan), you can nourish yourself and your child without spending tons of time and energy.