What To Pack In Your Natural Birth Hospital Bag
This post may contain affiliate links. As an Amazon Associate, I earn from qualifying purchases.
Embarking on the beautiful journey of natural childbirth comes with its own set of preparations and plans, and at the heart of this readiness is your hospital bag.
In the whirlwind of emotions and excitement, packing your bag becomes an art that blends practicality, comfort, and the embrace of nature's wonders. As you prepare for the empowering experience of a natural birth, let's dive into the essential guide that ensures your hospital bag is not just a bag, but a treasure trove of support, serenity, and the promise of new beginnings.
H2
I recently wrote a post on natural pain relief methods for labor and delivery and it prompted me to write a post about what you should pack in your hospital bag for a natural birth experience.
(P.S. We also have a full guide on The Benefits of Natural Birth now!)
What follows is a hospital bag checklist for the mom who wants a natural birth.
The items on my natural birth hospital bag list will help you manage the pain of labor and make you feel comfortable and secure.
This natural birth hospital bag packing list is for all the mamas who want a natural labor and delivery experience but don't want to birth at home.
You can control your birthing experience no matter where you choose to deliver your baby.
If you're intimidated by the hospital atmosphere, don't be.
More and more hospitals have become progressive and openminded to the needs of the laboring mama.
Take a hospital tour and speak to the L&D nurses if you have any concerns.
Here's what to pack in your hospital bag for a natural birth.
46 Things To Pack In Your Natural Birth Hospital Bag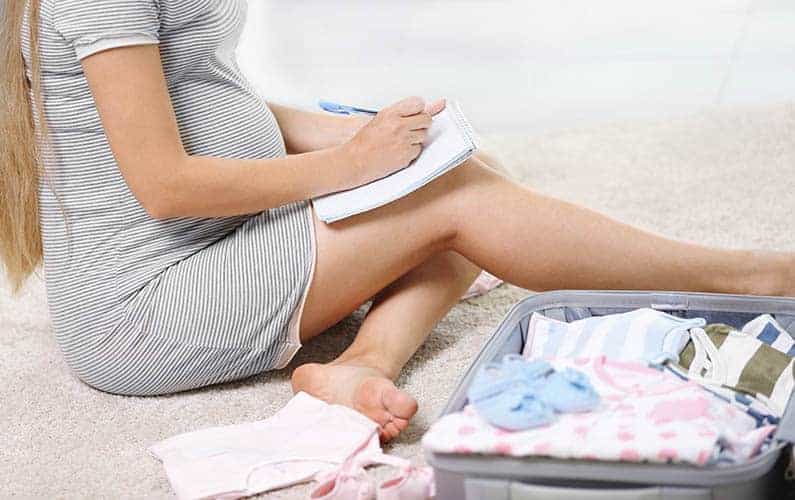 COMFORT ITEMS FROM HOME
Your own pillows with coverings that you don't care about.
A favorite blanket.
Your own towels (something so nice about having your own stuff!)
RELATED READ: How to Manage Labor Pain Naturally
CLOTHING ITEMS FOR MOM
Maternity nursing bra (I LOVE these ones).
Loose and comfy clothing (think maternity dresses and big pants!)
Your own hospital gown (because the hospital ones are yucky).
A maternity bathing suit if you plan to spend some time in the birthing tub.
Cozy slide on slippers (like these ones).
A robe
TOILETRIES
Lip balm (you'll be surprised at how dry your lips can get!)
Shampoo and conditioner
Toothbrush and toothpaste
Soap
Your own towel and facecloth
Hair ties
Hairbrush
FOOD ITEMS
No, you don't need to eat hospital food. You can pack yourself healthier food choices that make sense to you.
A large water bottle with a straw (like this one).
Coconut water.
Fresh fruit.
Dried fruits (might be easier to transport).
Juice
Snacks of your choosing.
RELATED READ: What to Expect During Labor and Delivery
CALMING ITEMS FOR ACTIVE LABOR
ORGANIC LAVENDER SPRAY
I LOVE the lavender spray pictured above. There are so many uses but the biggest reason it needs to be in your natural birth hospital bag is that lavender is soothing and calming – spray it on your pillow and linens to reap the benefits.
ORGANIC ESSENTIAL OILS
Grab the following essential oils to aid your birthing process:
Lavender – helps calm and soothe. Up to you if you want to get it in oil form. Having the lavender spray might be enough.
Peppermint – make sure to use the oil with a carrier oil (I love using coconut oil) and spread the mixture where you are feeling pain – this is really ideal if you experience back labor.
Frankincense – this can help when the baby's head is crowing. Some even say it can help prevent tearing by aiding your perineal.
COCONUT OIL
Organic coconut oil is a great carrier oil for any essential oils you may use during labor and delivery. If you happen to be reading this and you have a few weeks left in your pregnancy, consider using coconut oil as a stretch mark cream alternative. 🙂
YOUR FOCUS ITEMS
If you plan to use birth affirmations (I recommend these ones) or other visual distraction during birth make sure to pack it in your natural birth hospital bag.
RELATED READ: Postpartum Recovery Checklist
NATURAL PAIN MANAGEMENT ITEMS
HOT WATER BOTTLE
It's nice to have a hot water bottle on hand in case you experience back labor. Place the bottle on the pain for instant relief.
MASSAGE BALLS
I brought massage balls along with me when I delivered my daughter and they were a lifesaver! You can also consider bringing an electric massager but it might be too much.
STRESS BALLS
These stress balls will help you manage pain during active labor and they have motivational sayings on them that will remind you, that, yes you can birth your baby naturally!
YOUR BIRTH PLAN
If you have any specific requests that you would like to see happen during your labor and delivery process, write a birth plan and make sure to pack it in your hospital bag.
BIRTHING POSITIONS BOOK
Make sure to pick up a copy of the book pictured above. There are instructions AND pictures which will be helpful when you're going through active labor. Of course, if you can, practice your birthing positions before labor but bring the book with you in case you're unsure or forget!
Related read: KOPA Birth vs Mama Natural Birth Class: Which is Better?
ITEMS TO CREATE A NATURAL BIRTHING ATMOSPHERE
Essential oil diffuser – great for creating relaxing and calming scents in your room.
Flameless candles – to help create a darkened room that will help you feel at ease.
POSTPARTUM ITEMS FOR MOM
The hospital will give you some supplies for postpartum recovery, but depending on their budget, you may find they don't give you enough. The last thing you want is to feel uncomfortable, mama!
Make sure to pack:
ITEMS FOR YOUR NEWBORN BABY
Here is a list of must-have baby essentials:
Lots of newborn diapers.
Baby wipes
Zippered sleepers
Muslin blankets
Coming home outfit
ITEMS FOR DAD
Pillow and blanket
A change of clothes
Toiletries
Change for the snack machine
Phone charger
There you have it, mama!
Exactly what needs to be in your natural birth hospital bag.
Don't be intimidated by the atmosphere at your hospital – you have more control over your birthing experience than you think.
When you're packing your bag, the key is to bring items that will help you manage pain, make you feel secure and comfortable, and aid in the birthing process.
The above are the items that will be coming along with me during my next labor and delivery.
What did you think of this natural birth hospital bag packing list?
Too much?
Too little?
Let me know in the comments, mama!
FlexOffers