What to Put on Your Baby Shower Food Table
This post may contain affiliate links. As an Amazon Associate, I earn from qualifying purchases.
Planning a baby shower is an exciting task that includes looking for some simple yet delicious food ideas. However, as a host deciding on what to put on your baby shower food table can be challenging because you certainly don't want to disappoint any of your guests. (Although I wouldn't get too wrapped up in the details- everyone will just be happy to celebrate baby and mama!)
To help you find the perfect choice for your baby shower, today we will review some great finger food ideas that are extremely popular nowadays. Whether you prefer traditional foods, or you would like to try something completely new, you will find some interesting ideas in our collection to make this event special for your guests- and mama!
Let's see how you can set up a baby shower food table and which amazing baby shower recipes are worth trying!
How to Set Up a Baby Shower Food Table and Design Your Menu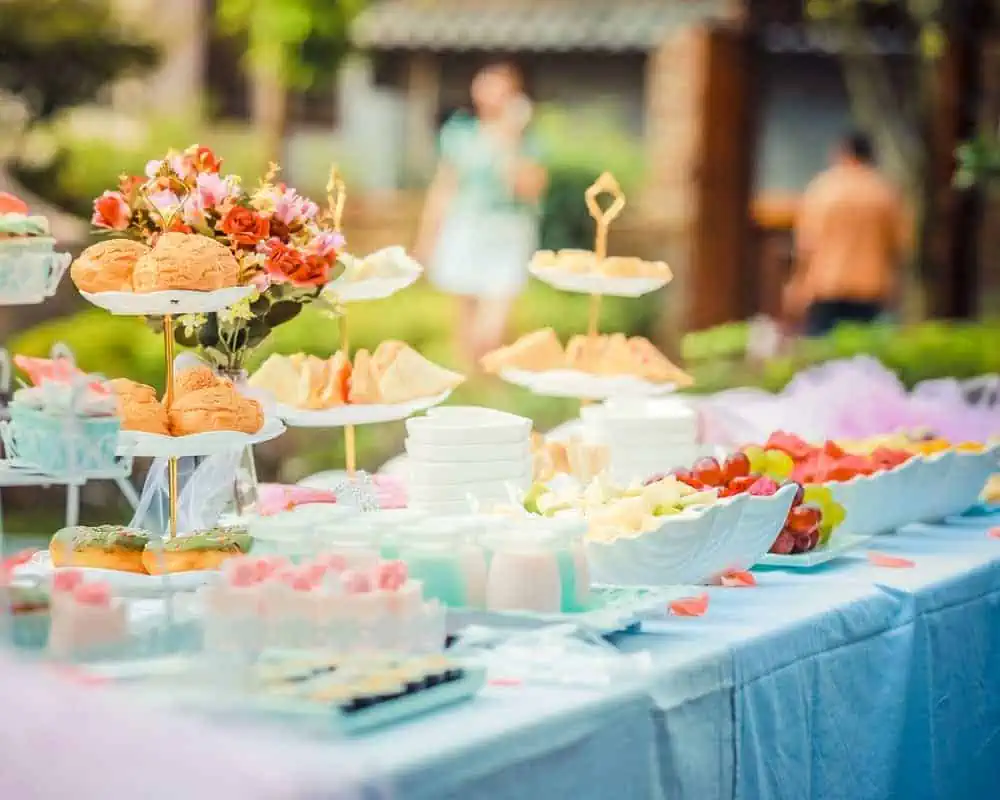 When it comes to setting up a food table for your baby shower, you must consider a few factors to make everything looks perfect. Below we will review briefly the most important things you should take into account when planning the setup of the table and the shower menu.
Theme: If you have already chosen the theme of your event, make sure that you design a table that matches your theme. For example, if you have a unicorn-themed baby shower, you can add some napkins and a centerpiece with a unicorn design or other decor items.
Time of day: If you organize the baby shower between meal times, you can opt for a light menu with finger foods. However, if you are having the shower at lunchtime or dinner time, it's better to have a heartier menu.
Guests: In the case of a high number of guests, select some easy recipes that don't take too much time to prepare, or consider making certain dishes in big batches. This way, meal prepping will be much easier and faster. But if you have only a few guests, you can take your time and try some more complicated recipes.
Budget: Providing a wide variety of foods can be costly, so calculate what you can afford before getting into menu planning.
Serving style: Depending on the chosen serving style, you can serve different, simple finger foods or sliders that guests can grab from the table. However, if you host a sit-down style baby shower, you need to provide hot foods with at least one main meal item.
Additional considerations: Make sure to ask your guests whether they have some dietary restrictions or food allergies, and take into consideration these factors when deciding on which foods to serve for them. Plus, since raw fish- and other foods- is dangerous for pregnant women, leave sushi and other foods containing raw fish out of the menu.
Related read: Baby Shower Gifts DIY
Easy Yet Delicious Foods to Put on Your Baby Shower Table
Baked Ham & Cheese Roll-ups
Our first food idea is the super delicious baked ham & cheese roll-ups which are a huge hit at every event. Thus, no wonder that they are so popular at baby showers as well. To prepare this appetizer, you need only a few ingredients like smoked ham, swiss cheese, crescent dough, poppyseeds, and mustard. The whole process will take only about 35 minutes.
Check out the recipe here to make these easy roll-ups for your baby shower guests. They will love them!
Charcuterie Boards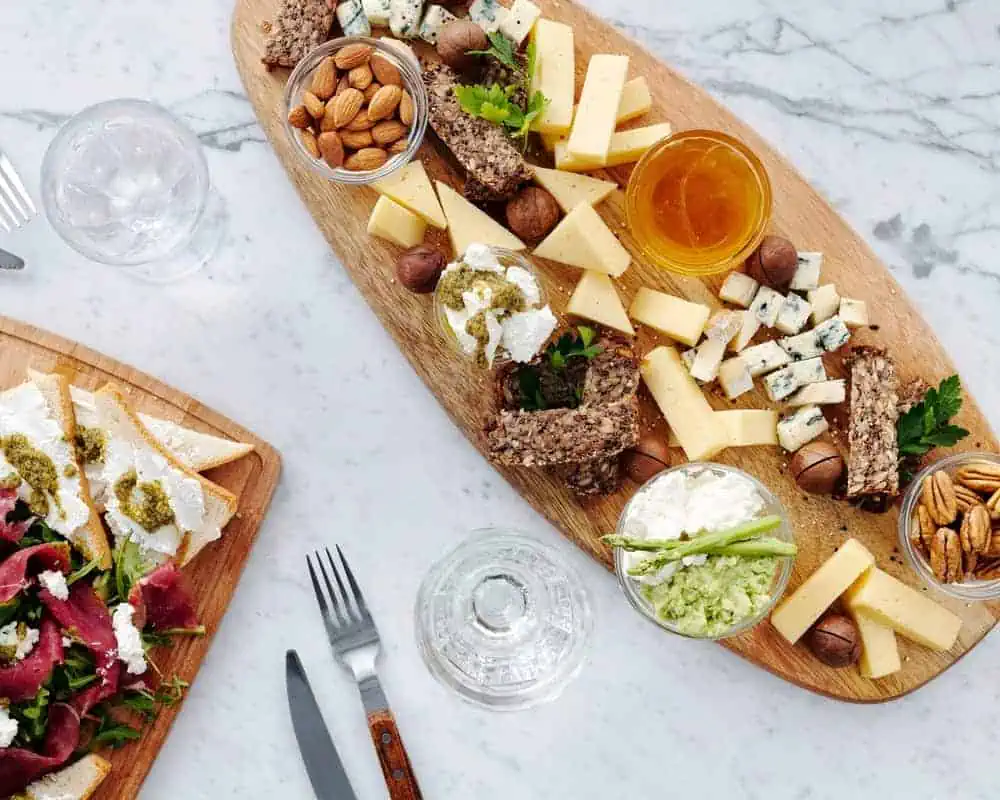 If you are looking for a simple yet popular food idea, then consider adding one or two charcuterie boards to your menu. While these boards or platters usually consist of meats, cheeses, fruits, crackers, and slices of bread, you can freely complement these foods with dried fruits, nuts, olives, and dips. The best is if you make your charcuterie boards as diverse as you can, containing different kinds of soft and hard cheeses, and various types of meats, such as finocchiona, salami, and Capicola. This way, your platter will look also visually pleasing to the guests.
Since the cheeses and meats have a salty flavor, consider bringing some sweetness into your charcuterie board by adding some preserves or seasonal fruits.
If you are wondering how you can make a charcuterie board, it's super easy! Just follow these steps and be as creative as possible when choosing the ingredients:
Put all dips, preserves, and jams into small bowls, then place them on your board.
Add the sliced meats and blocks or slices of cheeses. Make sure to place the larger items first on the board.
Spread out some bread and crackers on the board.
Fill in every gap with fruit (fresh/dried) and/or nuts.
Finally, add some garnish to make your charcuterie board complete.
For some inspiration, take a look at these great recipes.
Related read: Foods to Boost The Immune System
Veggie and Dip Cups
Probably, one of the easiest baby shower recipes on our list of foods is the famous no-mess veggie and dip cups. You can prepare some fresh and healthy mini veggie cups in only a few minutes. How? Just choose some colorful vegetables from the grocery store or your garden (for example, baby carrots, cucumbers, celery, bell peppers, asparagus, and cherry tomatoes). Wash, peel, and slice all the veggies. – The best is if you cut the vegetables a little bit larger than the cups you would like to serve them in.
Once you cut the vegetables, put about 2 tablespoons of dressing in the bottom of your cups. Then, place the veggies in the cups. It couldn't be easier, right?
Watermelon Snacks
I think we can all agree that on a hot day there is nothing better than eating some refreshing, cold watermelon. Fortunately, having a baby shower in the summertime gives you a great opportunity to offer some fresh watermelon snacks for the guests. However, you don't need to make things complicated. You can just simply cut a watermelon into triangles and cut a small slit on the green rind of each one to stick a craft stick through the slit. And that's it! Your watermelon sticks are ready to consume.
Of course- you can do this with other fruit too!
Related read: Healthy Family Meals for Summertime
Buffalo Chicken Meatballs
Another delicious food you can serve to your guests on the baby shower food table is buffalo chicken meatballs– or any kind of meatballs for that matter. They will have huge success!
You can easily prepare this appetizer by mixing ground chicken, chopped carrots, celery, scallions, panko, egg, salt, garlic, and pepper. Then, try to form balls from the mix and bake them in the oven. Once they are baked, add some hot sauce and pour some blue cheese dressing on them. It's that easy!
Spinach and Ricotta Rolls
By using only a few ingredients you can prepare the popular spinach and ricotta rolls that would look great on your shower table. Plus, it's also a great vegetarian option for those who prefer not to eat meat at the baby shower. All you need is some baby spinach, ricotta, parmesan cheese, egg, nutmeg, puff pastry sheets, salt, and pepper.
Mix the ricotta, parmesan, egg, salt, pepper, and nutmeg. Then toss the baby spinach into the mix and stir it. Cut the pastry in half and brush the edges with the egg. After that, you can add the filling and roll the pastry to enclose. When you are done with this, cut the whole pastry into pieces (you can decide which size you prefer) and brush the pastry with an egg. Bake and your spinach and ricotta rolls are ready!
Mini Cheeseburgers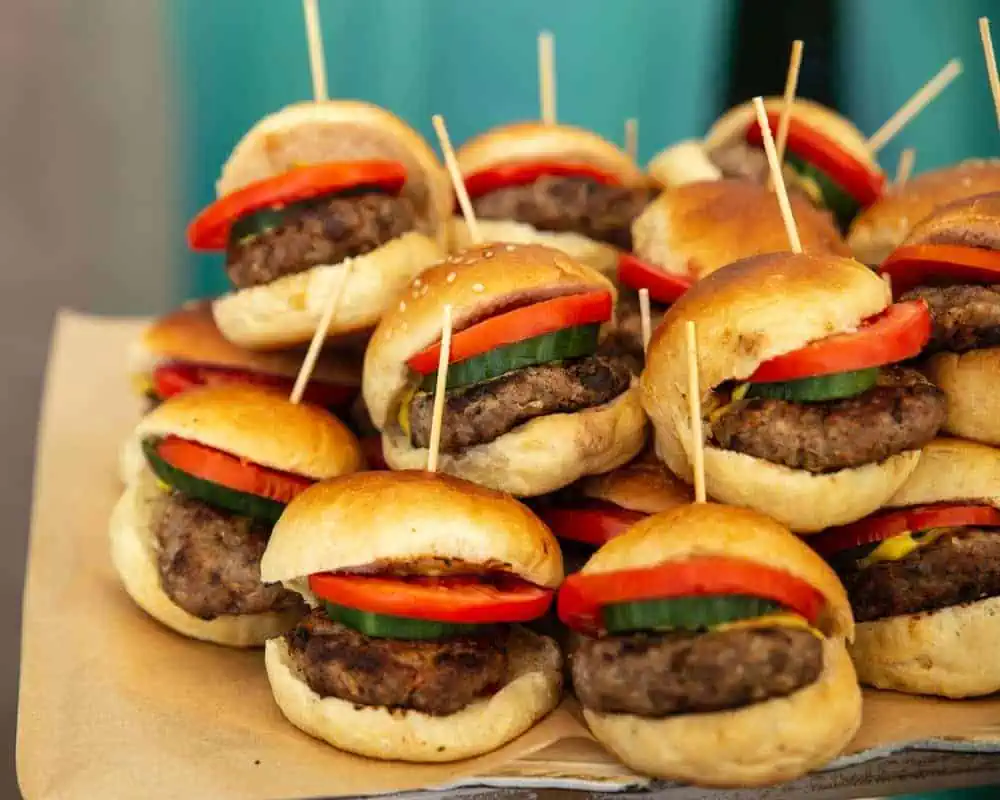 It's always a good idea to create smaller versions of some of your beloved dishes. For example, you can make mini cheeseburgers that are easier to grab and eat than their traditional counterparts. However, the taste remains the same!
To prepare this party appetizer, you will need some creativity. But when you see the result, I'm sure that you will say that it's worth the effort. Take a look at this recipe to know how to create mini cheeseburgers.
Related read: The Ultimate Guide to Baby Preparation
Hopefully, by now you have gained some inspiration and know what you will put on your baby shower food table. All these baby shower food ideas are great. So if you prepare one or more foods from these, your guests will certainly leave the shower feeling full!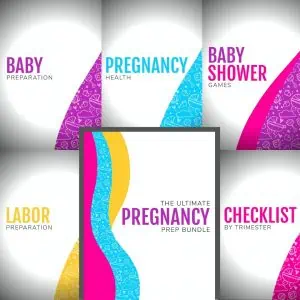 Which baby shower food will you try? Let me know in the comments!