The Heartfelt Connection: Father Bonding With Newborn in 6 Ways
This post may contain affiliate links. As an Amazon Associate, I earn from qualifying purchases.
Congratulations on your newest addition to the family! Becoming a parent is a transformative experience filled with a whirlwind of emotions, from the joy of holding your newborn for the first time to the challenges of sleepless nights.
A new baby can bring many mixed emotions, including joy, excitement, and anxiety. You spent months preparing for the arrival of your new baby. Now that the baby has arrived, it might feel like you and your baby are an exclusive pair, and you wonder how the new dad can be more involved. Moms are often seen as the go-to for newborn baby care, but that doesn't mean that dads must be left out.
If you involve the dad more, you will get much-needed breaks and precious opportunities for the dad and new baby to bond. There are some things to get done before your baby is born, too. Below are six ways to help a father bond with a newborn.
How To Get The Father to Bond With The Newborn
1. Try to Include Your Husband in Feeding the Baby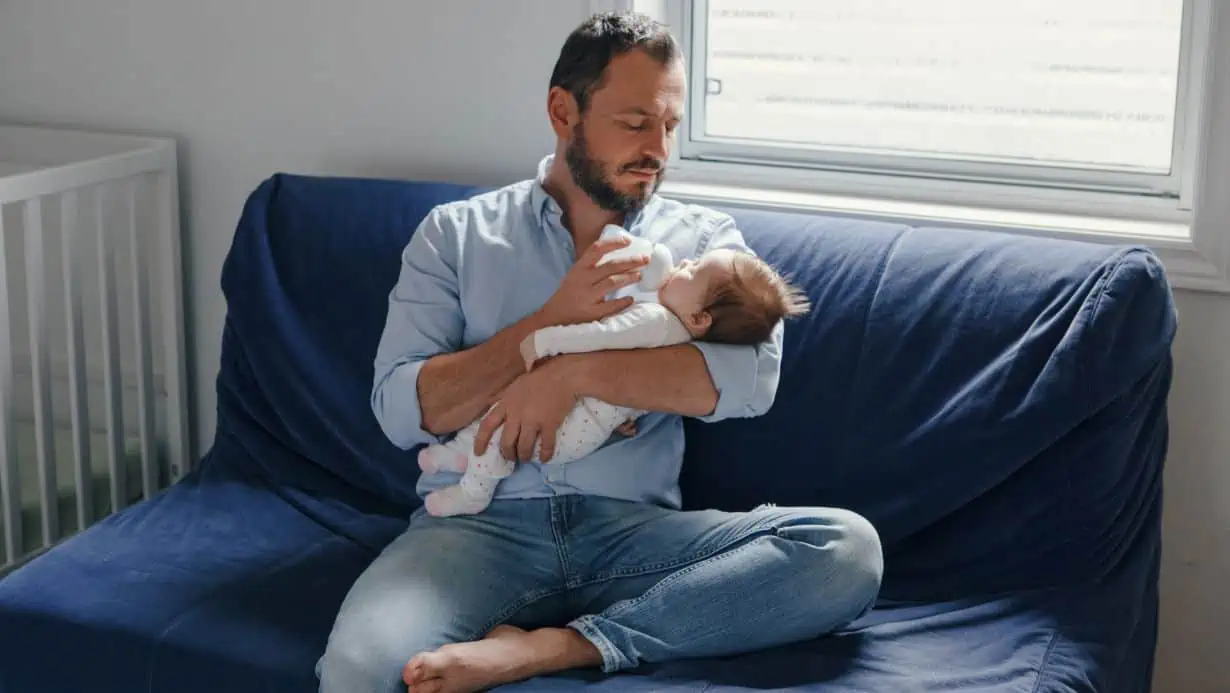 One of the most crucial aspects of newborn care is breastfeeding. It not only provides essential nutrients but also creates a strong maternal bond. Skin-to-skin contact immediately after birth promotes this connection and helps regulate the baby's body temperature and heart rate.
Ensuring your baby is well-fed and comfortable means checking their diapers regularly, as changing diapers is a routine part of caregiving. Getting the dad involved in this diaper-changing routine may give you some relief.
Most infants sleep only for a few hours at a time, which can cause new parents, especially new mothers, to experience extreme fatigue, which may later lead to postpartum depression. If you are feeding with baby formula, let the dad participate in feeding the baby so you are not doing it around the clock. 
If you are still struggling to put the baby to sleep, these best tips for baby sleep music may work wonders for you.
However, if you only feed the baby breast milk, there are options to help get dad involved with the new baby. Consider using a breast pump so you can have a milk supply ready. This allows you to get a break, much-needed sleep, and an opportunity for the dad to feed the baby breast milk in a bottle.
2. Have Dad Come To Doctor's Appointments with You
You can get Dad involved with the new baby by having him attend the baby's wellness appointments. This is an excellent opportunity for him to ask the doctor any questions.
This includes:
Baby Sleep Patterns: To help your infant sleep peacefully, establishing a bedtime routine is crucial. Consulting with a pediatrician can provide guidance on creating the ideal sleep environment and schedule for your little one. Swaddling, a technique of snugly wrapping a baby in a blanket, can also promote better sleep by giving them a sense of security reminiscent of the womb.

Feeding schedules and eating: Whether your baby is breastfed or bottle-fed, their nutritional needs are essential. Pediatricians play a crucial role in monitoring your baby's growth and development, offering guidance on feeding, vaccinations, and overall healthcare.

Immunizations: Also known as vaccinations or shots, play a vital role in protecting an infant's health. Vaccines are designed to prevent various diseases and infections, providing long-term immunity for the baby. It is essential to follow the recommended immunization schedule provided by healthcare professionals to ensure the baby receives the necessary protection.

Growth (such as weight and height): Babies grow at different rates, but tracking their growth is essential to ensure they are developing properly. Regular visits to the pediatrician allow for monitoring of growth milestones and early identification of any potential concerns.

Baby Bathing Patterns: Bathing not only helps keep the baby clean but also provides an opportunity for bonding and relaxation. It is important to establish a bathing routine that suits the baby's needs and preferences while ensuring their safety and comfort.

Newborn Care: Newborn care encompasses various aspects beyond immunizations and bathing. It includes feeding, diapering, soothing, sleep patterns, hygiene, and safety. Understanding and managing these essentials is essential for first-time parents.
Many new moms tell me that dads frequently ask questions, wondering if something about the baby is expected. For example, one dad asked if the baby was eating enough because the baby seemed to want to eat every other hour. Doctor's appointments are great for dads and moms to ask questions and learn together.
3. Write Lists Together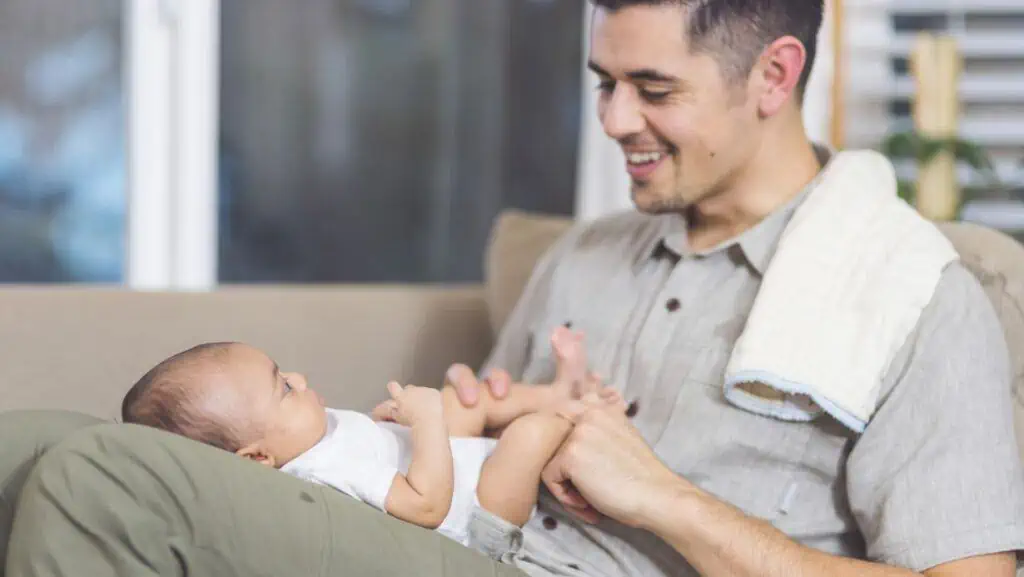 When you write the to-do list or chore chart, get Dad involved. As a new mom, it's too easy to get caught up in doing everything. Involve Dad in deciding which tasks you both will do. A few weeks ago, I spoke with a couple who divided up the to-do list and chore chart according to what they thought each person was better at or would like better. This is an example of first-trimester to-do list.
For example, the dad likes taking the dog out for walks but doesn't like to cook. Mom wants to cook but doesn't always like taking out the dog. In this situation, it's easy to delegate tasks. When it comes to baby tasks, it's a similar process. You and Dad may decide that he changes diapers every evening while you change diapers during the day.
4. Get Dad Involved with the New Baby Through Exercise
I saw a dad running with a baby stroller at the park last week. Having dads exercise with the new baby has so many benefits. First of all, dads get a workout in. Second, it allows dads to bond with the newborn infant. It also gives you rest as a new mom.
I've heard some parents tell me about baby yoga, so that's another option for dads and babies to spend time with each other. In addition, yoga should help dads feel a reduction in stress and increase flexibility.
Newborn Baby Pilates is another option for dads to get involved with their babies through exercise.
5. Have Dad Read Books To The Baby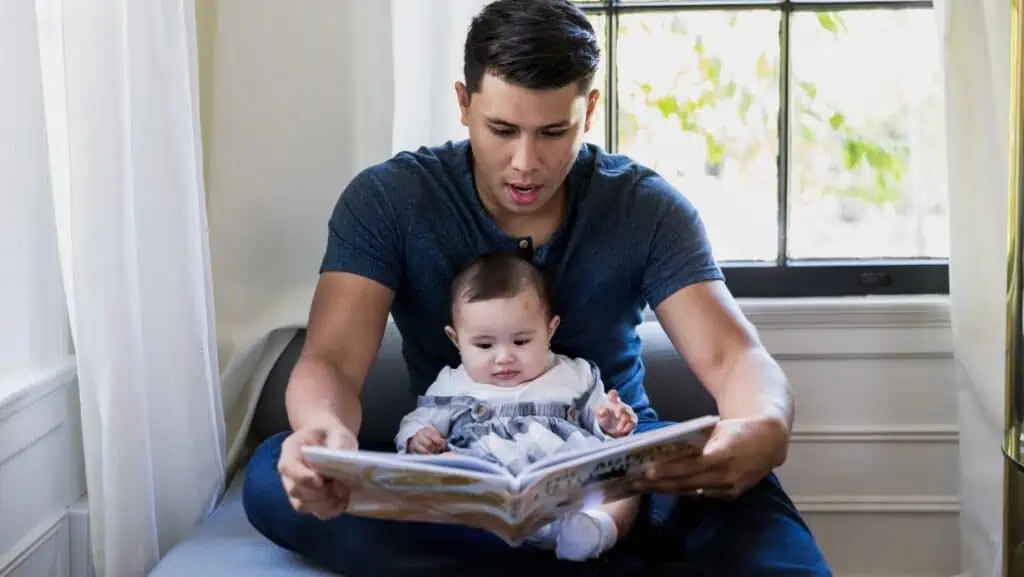 Research suggests kids will have more solid parent-child relationships if they are read to before kindergarten. In addition, they learn valuable language and literacy skills. Having the dad read to the baby is also another great bonding activity.
Some books I recommend for dads to read to their babies are:
Welcome Little One. This is the perfect first book to read to a baby. The board book celebrates and welcomes a baby's new arrival.
Lamaze Peek-A-Boo Forest: This book is filled with beautiful and colorful images. It also has fun peek-a-boo flaps that are perfect for showing the baby.
Giraffe and Friends: A Soft and Fuzzy Book for Baby (Friends Cloth Books)This book has cute animals to show your baby and sensory benefits for your baby. The pages have crinkle and rattle sounds that give your baby stimulation opportunities. Babies love to use their hands to touch and grab things, so this is the perfect book for dad to read to the baby.
6. Get Dad Involved With The New Baby By Creating A Photo Book
We live in an age where we can capture almost any moment on camera. Dad can get involved with the infant by taking pictures of the baby in different moments and situations. Pictures at the park, mall, festivals, and nature settings are perfect places for dad and the baby.
Once Dad takes pictures of the Mom and the baby, he has several options for creating a photo book. Shutterfly is one option where dads can make baby photo books.
Our family used Shutterfly to make my baby's first photo book years ago, and I was delighted with the results. Shutterfly would be a good choice if Dad doesn't want to spend time designing the photo book. Another option for Dad is to purchase prints and insert them in a baby or family photo album.
Doing a scrapbook is also a good choice, especially if Dad wants to write information about the pictures.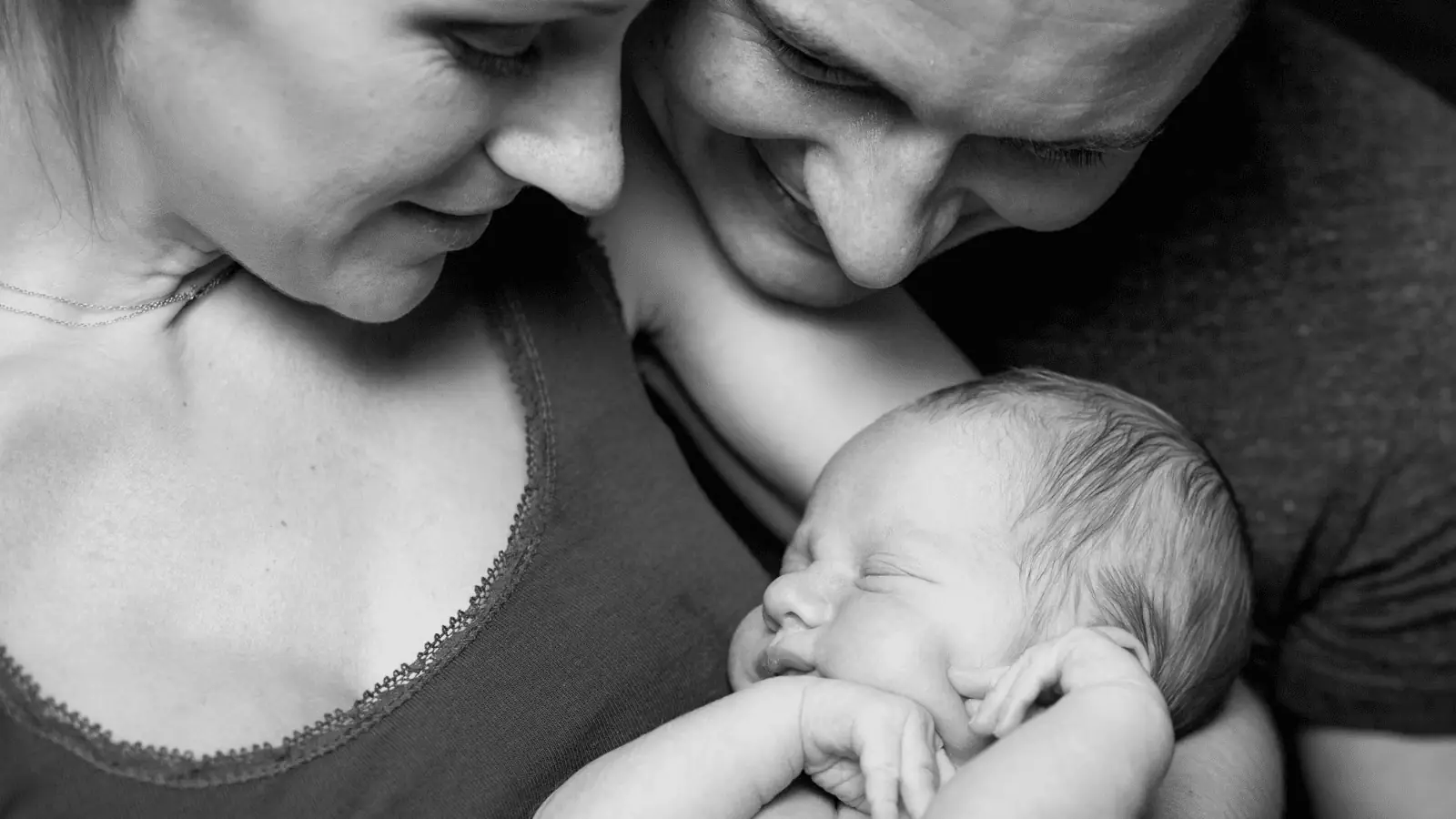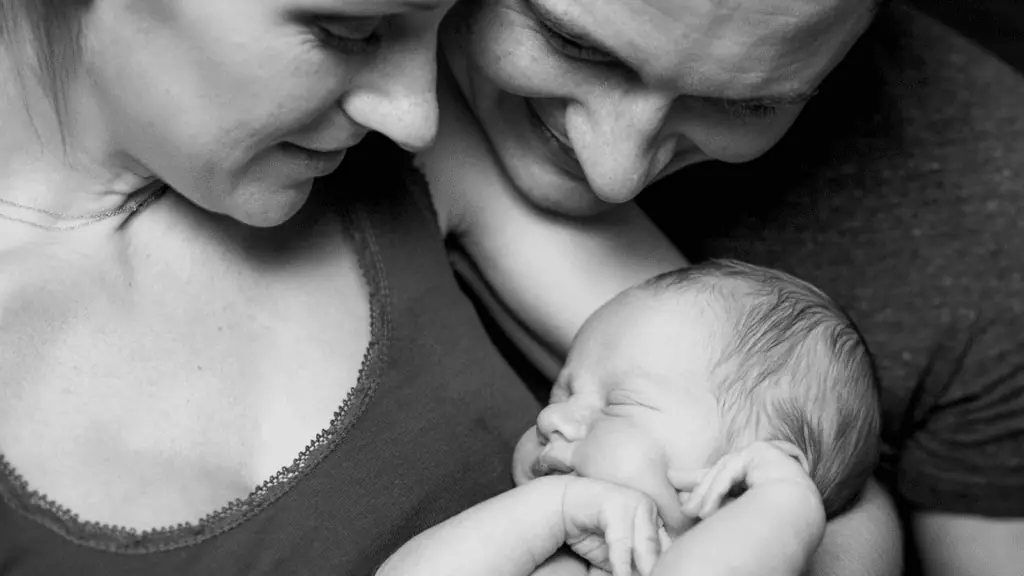 Grace is Key as Everyone Adjusts
As you navigate the challenges and joys of motherhood with the new dad, remember that every baby is unique. Establishing a routine that works for both mom and dad and your little one is key. Embrace the precious moments of watching your baby peacefully asleep, swaddled snugly in a soft blanket. Cherish these early days as they pass by quickly, and treasure the incredible journey of being a parent.
These six ways to help dad bond with his baby will help get things started! It can be hectic, especially in the beginning, but having your husband connect with your baby as early as possible is ideal for your newborn's well-being.
When your baby arrives, you will be trying to figure out a routine and schedule for the first few weeks. Remember that you and Dad are partners in raising the baby! (If you're having a baby for the first time, these baby must-have products can make your life easier.)
Do you plan to help your husband feel involved with your newborn baby? Comment and share below! This article on "How to Prepare for a Baby Financially" will help you make budget plans and relieve financial stress.
By Joyce Felix from CelebrateMomsForever.com. This post was originally published in 2019 and updated in 2023**.