Comfort After Birth: Exploring the 6 Best Postpartum Underwear
This post may contain affiliate links. As an Amazon Associate, I earn from qualifying purchases.
Are you a mother still adjusting to some of the woes accompanying childbirth? (Aka- bleeding, soreness, exhaustion, etc.) Or are you pregnant, preparing for the postpartum stage, and wondering how to manage bleeding?
After a vaginal birth or c-section delivery, all women experience heavy bleeding and regular periods. The bleeding can range from mild to moderate without warning, so only the best postpartum underwear is adequate – one that is stretchy and comfortable, designed to absorb blood flow properly, and cost-effective enough to replace frequently.
However, if you are a first-time mother, finding the right postpartum underwear can be perplexing simply because you don't know where to start looking or what to look for. I also felt awkward to ask friends for advice. As if giving birth wasn't strenuous enough.
You're in the right place, though, because by the end of this article, you'll know exactly which postpartum underwear suits you best. I've scoured the web for the best postpartum undies and gathered them all in one place, and I am certain you'll find what you need to make your life easy and stress-free.
Five Best Postpartum Underwear
The Purpose of Postpartum Underwear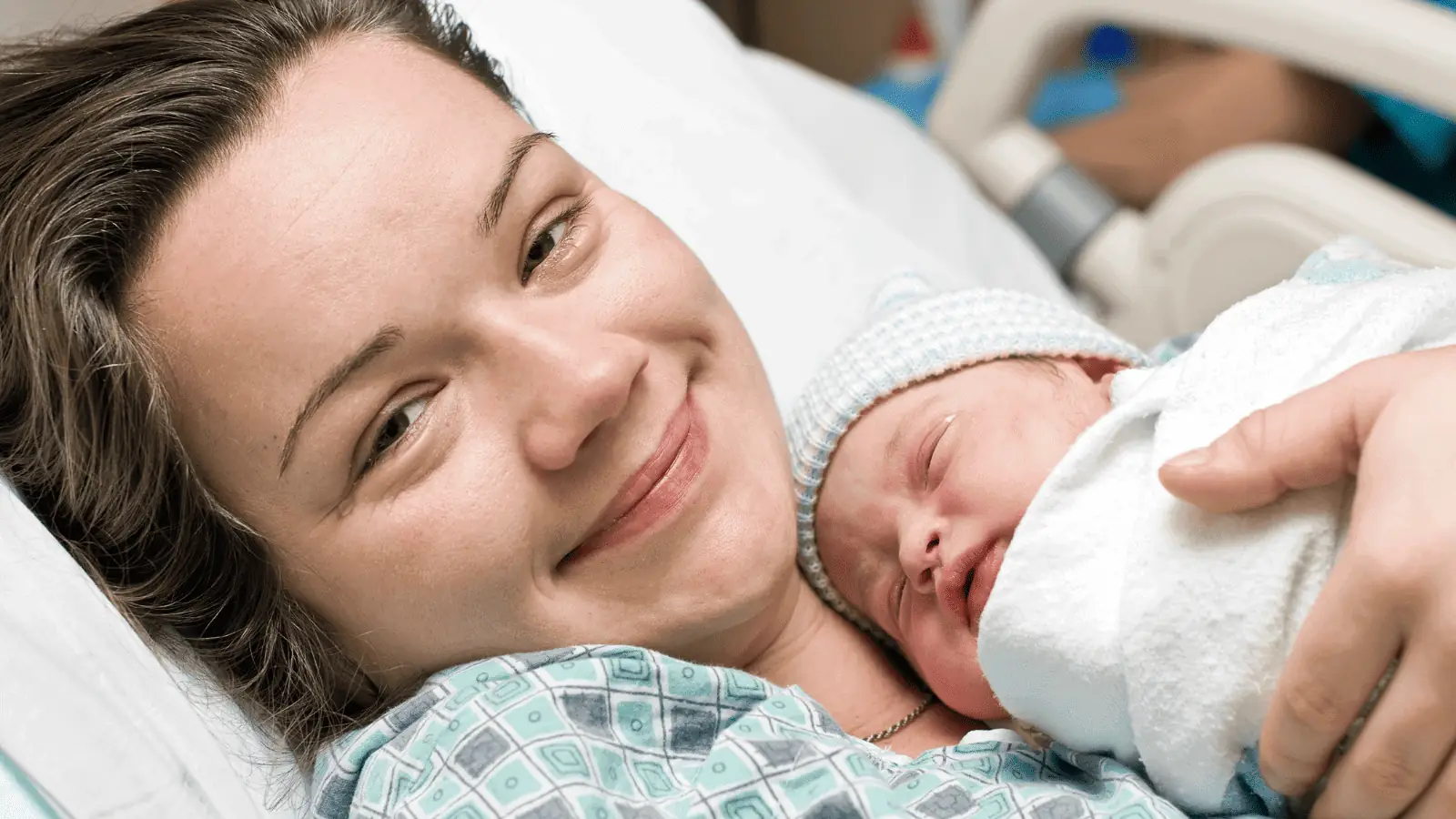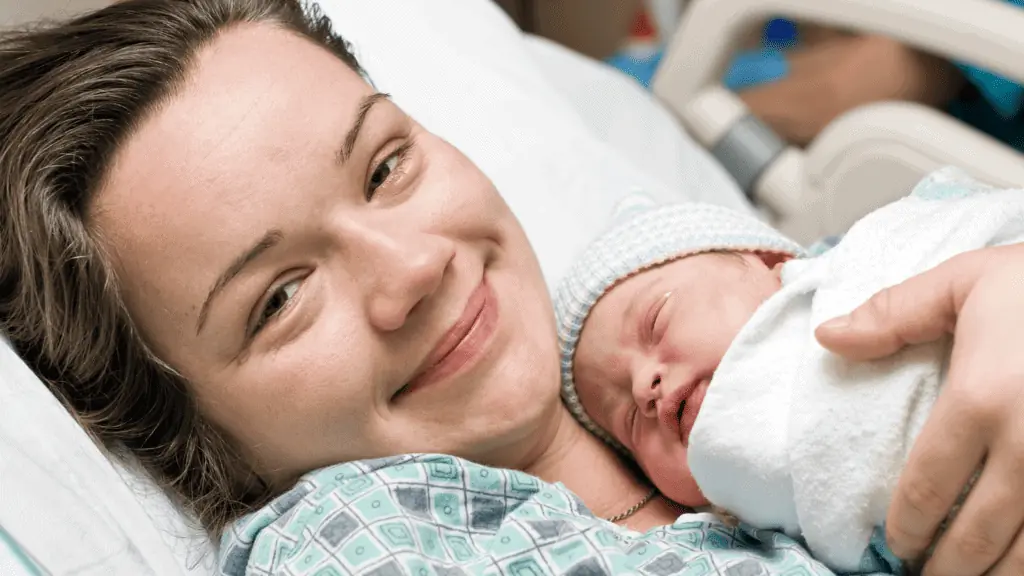 The best Postpartum underwear serves a crucial role in supporting new moms during the period immediately after childbirth.
After giving birth, a woman's body undergoes significant physical changes, including soreness, swelling, vaginal discharge, and postpartum bleeding, known as lochia. By offering a secure and comfortable fit, postpartum underwear promotes healing, reduces swelling, and helps prevent infection in sensitive areas.
Additionally, it provides a sense of confidence and body support, which can be emotionally reassuring during the postpartum recovery period. 
1. Best Postpartum Underwear Overall – Kindred Bravely Fourth Trimester Postpartum Panty
Whether recovering from a C-section or natural birth, these Kindred Bravely Fourth Trimester Postpartum Panties have your back.
I used them right after my second one was born and loved them. First of all, these panties are a breeze to put on, with none of those bulky belly bands or annoying velcro. It comes with just a comfy pull-on style that simplifies your healing journey. 
And if you are a c-section mama, the high waist is a total game-changer. It sits comfortably above your incision site, offering gentle support that makes a difference.
Now, let's discuss the most interesting feature – those gel packs! You get two of them, and you can choose between warming them up in the microwave or chilling them in the freezer.
They fit into three different pockets in the panties! Pop them in the gusset opening for perineal pain relief after vaginal delivery, in the stomach opening for C-section recovery or breastfeeding discomfort, or in the back opening for post-delivery cramps. That's genius.
Just a heads up, follow the instructions: never place the gel packs directly on your skin, and don't use them if they're punctured. Safety comes first.
What I Like The Most
Comfortable and soft fabric
Accommodates large pads
Versatile and adjustable fit
C-section friendly
What I Dislike
Prices are higher as compared to other postpartum panties
Available in one color only.
2. Best Budget Postpartum Underwear – Always Discreet Adult Incontinence & Postpartum Underwear For Women
Always Discreet Adult Incontinence & Postpartum Underwear is a highly convenient and budget-friendly solution that ensures dryness, comfort, and peace of mind without breaking the bank.
First, they promise up to 12 hours of dryness protection, day and night. So, no more worrying about leaks! Moreover, these panties have a super absorbent core that turns liquid into gel in seconds.
Also, with the exclusive OdorLock Technology that neutralizes odors instantly and keeps doing it, these postpartum panties are here to save you from embarrassing moments.
But what I love is how comfy they are. The cottony, soft, 4-way stretch fabric feels just like real underwear. They form to your body, so you hardly even notice you're wearing them.
And for all busy moms out there, they come in easy-open bags for convenience. No fuss, grab and go.
Plus, they're designed to fit all kinds of curves, from dress/pant sizes 2 to 26W+! Check out their size chart to find your perfect fit.
What I Like The Most
Long-lasting dryness and freshness 
No need to put multiple layers of pads
Soft and gentle material
Secure fit to prevent leaks
Range of sizes to cater to various body shapes
Economical
What I Dislike
Comes in only one color
Disposable and less eco-friendly than some of the other choices
3. Best Postpartum Disposable Underwear – Frida Mom Disposable Boyshort Cut Postpartum Underwear
Frida Mom Disposable Postpartum Underwear offers a hassle-free experience for new moms, as they can be easily discarded after use, eliminating the need for laundry during this busy and exhausting time.
 With their one-time use convenience, these undergarments allow mothers to focus on their baby's care and a quicker postpartum recovery without worrying about additional tasks.
These undies are super stretchy and are designed to keep all your recovery layers, including pads, in place while still giving you the comfort you need. No worries about anything shifting around.
Made from mesh-free microfiber and spandex, it's soft and breathable. And the best part: it's latex-free, unlike those hospital versions that feel like fishnet.
Two sizes are available: Size Regular, which fits the waist 28″ to 42″ when stretched, and Size Petite, which fits the waist 23″ to 34″ when stretched. They even have a high waist C-Section cut for those who need it.
What I Like The Most
Made from a gentle and breathable blend of spandex and microfiber
Boy short style provides extra support
Absorbent Underwear
What I Dislike
Lack of style variety
Available in only 2 Sizes
4. Best Postpartum Underwear for C-Section – UpSpring C-Panty C-Section Recovery High-Waist Underwear
If you've had a C-section, you know the challenges that come with it, and this UpSpring C-Panty C-Section Recovery High-Waist Underwear is here to make your recovery more comfortable and supportive.
With a two-part system, these panties are specifically made for C-section moms. First up, the comfortable, upward compression gently pushes fluids away from the incision area. No more discomfort or irritation around that sensitive area.
The built-in silicone panel provides targeted support to your incision and may even help reduce the appearance of scars. No need for velcro, sticky strips, or granny panties that don't do much.
But make sure that you don't use the C-Panty on open wounds. It's meant for fully closed and healed incisions. If you use it earlier in your recovery, you can cover the silicone panel with a panty liner.
This high-waisted underwear is slimming and shaping too! It means not only does it provide support, but it also helps you feel more confident as you recover.
However, with all these amazing features, these panties aren't intended for postpartum weight loss or reducing waist circumference. 
What I Like The Most
Silicone panel for incision protection
Soft fabric
Seamless design that prevents irritation and chafing
It can be used after the initial recovery period.
What I Dislike
It may not be as beneficial for moms who delivered vaginally as it is for C-section moms
It is more expensive than other postpartum panties
5. Best Plus-Size Postpartum Underwear – Wirarpa Women's High-Waisted Briefs
If you're searching for the comfiest underwear, check out Wirarpa Women's High-Waisted underwear. I assure you these panties are all about comfort, style, and functionality.
They're made of 95% combed cotton and 5% spandex, the perfect breathable cotton blend! They keep their shape, even after multiple washes and trips through the dryer. Plus, the seam lines are smooth and won't irritate your skin.
One standout feature of these briefs is their super high-waisted design. They provide full coverage to the entire belly. The wide waistband stays securely in place, preventing rolling or slipping during movement.
Moreover, unlike most brands that offer limited sizes, these cotton briefs also come in plus sizes, accommodating a wider range of body types.
Not only that, The double-layer crotch adds extra protection and keeps you feeling fresh all day.
They're breathable and wick away sweat, making them perfect for any activity. No ride-up, no chafing, just pure comfort. And with multiple color options, you can add a pop of joy to your daily life.
What I Like The Most
Breathable cotton material
Suitable for sensitive skin
Can also be used as regular period panties
What I Dislike
Elastic may lose its stretch over time with repeated washing and wearing
6. Best Mesh Postpartum Underwear – Spklands Mesh Postpartum Panties
Spklands Mesh undies are a thoughtful addition to a new mom's postpartum life-seeking recovery. Whether you're recovering from childbirth, a C-section, a hysterectomy, or dealing with incontinence. You should give them a try!
Since a new mom's body tends to shed water retained during pregnancy to return to its pre-pregnancy size, some new moms find themselves more sweaty at their postpartum stage than usual. Mesh panties are specially designed to provide better breathability and comfort.
What's even better is that they're both washable and disposable. They're a must-have post-birth, just like the mesh undies you get at the hospital.
But guess what? They're not just for postpartum recovery. These undies are versatile. You can use them to hold incontinence liners, shaped diaper pads, or even regular maternity pads in place.
With a size range from M to XXL, you don't have to worry about finding the right size. If you're in between sizes, it's recommended to go for the larger size for the best fit.
What I Like The Most
Available in many sizes to facilitate all body shapes
It can be washed and reused multiple times
More comfortable underwear than hospital panties
Large space to hold heavy flow maternity pad or ice pack
What I Dislike
Style and color are not very attractive.
Types of Postpartum Underwear
Various types of postpartum undies are available in the market, but I have listed the general types to help moms.
Disposable Postpartum Underwear
These are single-use, disposable panties designed specifically for the immediate postpartum period when bleeding is heaviest. They have a high waistband and a wide crotch area to accommodate postpartum pads and offer comfort and support during the recovery period.
High Waisted Light Compression Underwear
These postpartum panties gently compress the abdominal area, supporting the weakened abdominal muscles after childbirth. The compression can help reduce swelling and provide a more secure feeling during recovery.
Mesh Underwear
Postpartum mesh underwear is breathable and designed to accommodate postpartum pads like disposable underwear. Hospitals often provide them after delivery, which can be worn during the initial postpartum period.
Adjustable Postpartum Underwear
Some postpartum underwear comes with adjustable features like adjustable waistbands or closures, allowing new moms to customize the fit according to their comfort level and changing body shape during the postpartum recovery period. This type of underwear is super stretchy and can be particularly useful as the body gradually returns to its pre-pregnancy shape.
Choosing the Best Postpartum Underwear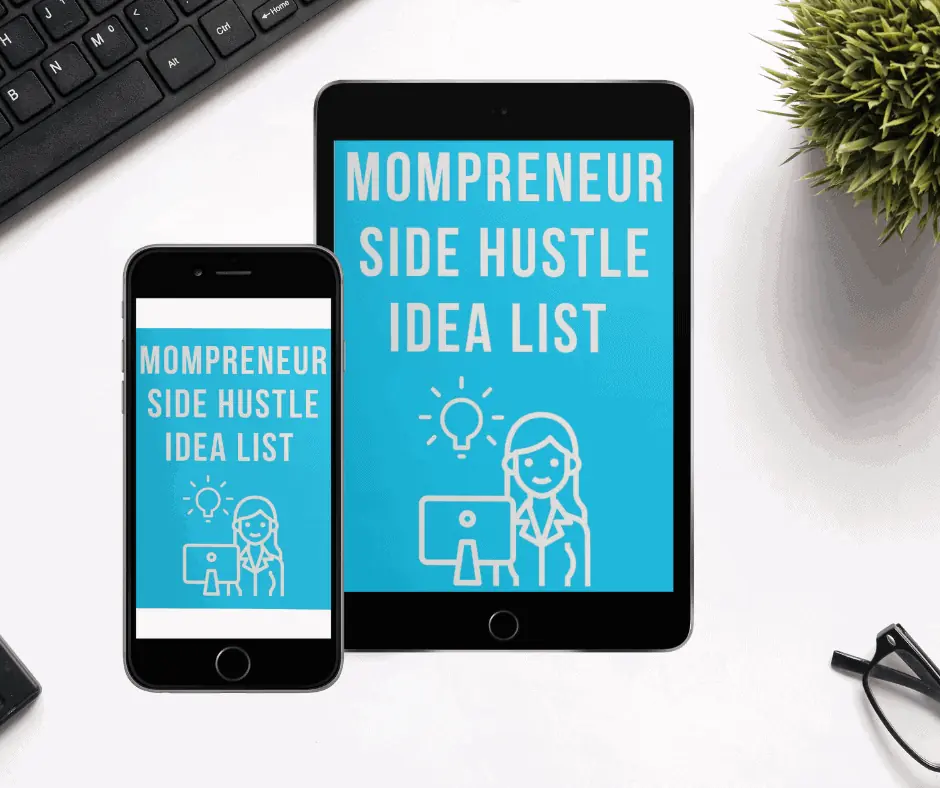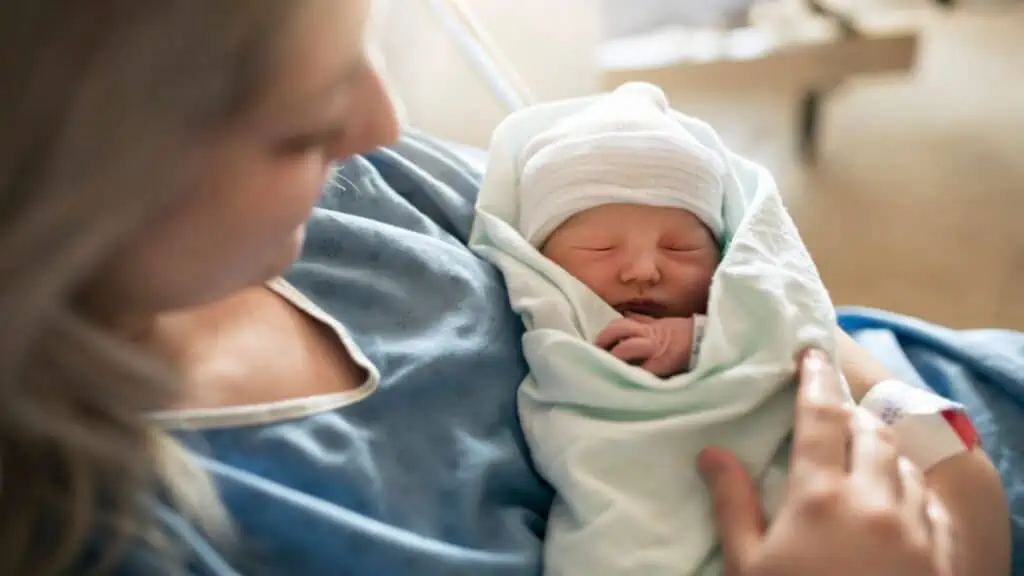 So the question arises: How do you choose the best pair of postpartum underwear when there are so many different styles available in the market? Consider these factors and then decide:
Comfort and Softness
Look for postpartum wear made from soft, breathable, and stretchy materials to provide maximum comfort during recovery.
Supportive Design
Opt for underwear with a high waistband that offers full coverage for the postpartum belly with gentle compression to support the weakened abdominal muscles and reduce swelling. Seek underwear with moisture-wicking properties to keep the vaginal area dry and breathable fabrics to prevent discomfort and potential infections.
Size Adjustability
I usually look for adjustable features like waistbands or closures to accommodate changing body shapes as the postpartum period progresses.
Cost Effective
The best postpartum underwear is easy on the pocket, yet tick all the boxes you need, so you can get as many pairs as you may require.
Best Postpartum Underwear: Conclusion
Finding the best postpartum underwear is an absolute game-changer for new moms. The journey of motherhood comes with its challenges, and having the right underwear can make a significant difference in comfort, support, and convenience. That's why I have curated this list with the utmost consideration for you mamas to enhance the beautiful and transformative phase of your life.
Ultimately, the best postpartum underwear for you will depend on your specific needs, body type, and personal preferences. Consider what matters most to you and choose the product that aligns best with those priorities. Happy postpartum recovery, moms!