Baby Halloween Costumes: DIY
This post may contain affiliate links. As an Amazon Associate, I earn from qualifying purchases.
Will it be your baby's first Halloween? Then chances are that you want to make this event as memorable as possible.
One way to do that is to create your baby's Halloween costume on your own and take some adorable photos of your baby while wearing your DIY costume. – Trust me, it will be a nice addition to the family's photo album! Plus, baby costumes are the absolute cutest! 🙂
This is why today we will dive into some super cute yet easy baby Halloween costumes DIY that you can make even while your baby is napping. Check out these costume ideas and get creative for this Halloween. All you will need is some stuff you most likely have at home and a few craft supplies!
I have broken up the categories into more traditional costumes for boys and girls. However, by all means put them on any cutie you want 🙂 I personally love gender neutral costumes for my girls (and boy costumes- my own favorite costume to date was when I dressed up as Mario in college!), so don't feel limited by the categories mama!
Baby Halloween Costumes – Boy(ish)
Superbaby Costume
The first one of our amazing baby Halloween costumes DIY is Superbaby. Luckily, you don't need too many things for this costume. So it can be a life-saver right before Halloween!
Just get a Superman t-shirt or onesie, a pair of black pants, a white shirt, a necktie, and black frame glasses. When dressing your little boy, unbutton a few buttons in the middle of the shirt. Thus, the Superman sign will be visible under the shirt. How cute is that?!
Mario Costume
If you were a fan of Super Mario as a kid (who still remembers Super Nintendo?!), then most likely, you will love our next costume idea.
Dress your baby as Mario this Halloween using a pair of denim overalls, a red t-shirt, a red baseball cap, a mustache pacifier (or you can use an eyeliner to draw a mustache). Then, finalize the outfit with a few yellow and white felt circles and a black fabric marker. How? Check out this page and you will understand what you need to do with the felt circles and the marker. One thing is sure: the result will be stunning!
Extra tip: If you have two boys, your other son can dress up as Mario's brother, Luigi for Halloween. – Just instead of a red t-shirt, use a green one!
Stick Figure Costume
Do you need a simpler Halloween costume idea? How about a stick figure? Just look for a white jumpsuit or a pair of white pants and shirt, a paper plate, electrical tape, marker, string, and scissors.
To create a costume from these items, first, take the paper plate (you can use cardboard as well) and draw a smiley face on the plate. Then cut out the eyeholes and attach a string to the plate (glue and popsicle stick works too). This will serve as a mask for your kid.
Once you are done with this, you can start to place some electrical tape on the jumpsuit in the shape of a stick figure. And that's it! The stick figure costume is ready!
Money Bag Costume
Our next baby Halloween costume idea for boys is literally worth 1 million dollars: it's a money bag costume.
What I love about this costume idea is that it's so simple. It can be done only in a few hours! Just get a white pillowcase, black fabric marker, green felt, and some rope, and follow these instructions.
Related read: Fun Mommy and Me Costumes for Halloween
Garden Gnome Costume
You can make a homemade garden gnome costume in a matter of an hour. And the best is that you don't need anything special for it!
Get an oversized sweater (preferably blue, but any other color is fine as well), some bulky pants, a pair of boots, a belt, a few big buttons, and some felt (red and white), and turn your baby boy into a super cute garden gnome. If you need a good tutorial, take a look at this one.
Baby Halloween Costumes – Girl(ish)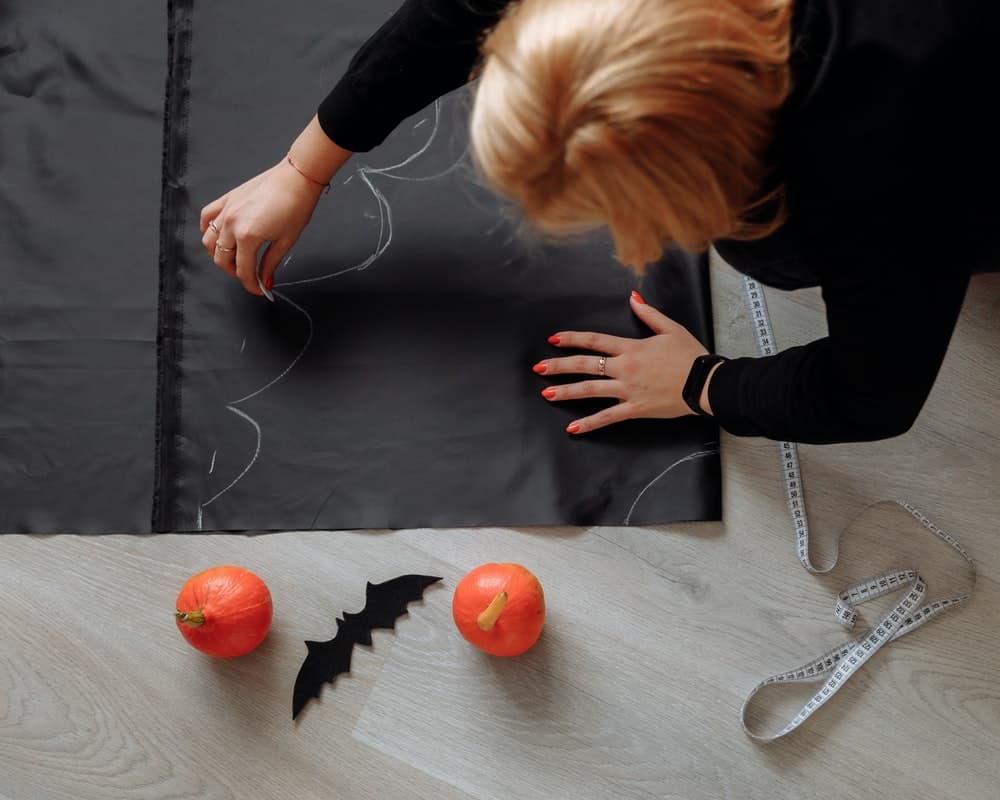 Old Lady Costume
Probably, transforming your baby girl into an old lady is one of the most hilarious baby Halloween costumes DIY. I can't help it but I love this costume idea!
All you need is a white baby hat, a hot glue gun, a lot of cotton balls, a dress, a sweater, tights, slippers, and a pair of baby-sized glasses. For a step-by-step tutorial visit this site.
Ariel from The Little Mermaid Costume
I don't think I can imagine something more adorable than a baby girl dressed up as Ariel from The Little Mermaid. If you want, you can also create a homemade Ariel costume on your own.
What will you need? A beanie, some yarn, elastic sequin fabric (for the top), netted blue sequin fabric (for the tail), a headband, a plastic fork, and some creativity, of course!
Cotton Candy Costume
Turn your daughter into a giant cotton candy for this Halloween. This way, you can be assured that she will be not only the youngest but also the sweetest participant of the Halloween party!
If you are wondering what you need for a cotton candy DIY Halloween costume, here is a list:
A pink long-sleeve t-shirt
Pink pants
Adhesive
Pink spray paint
Cotton filler
White paper (tape together to create a cone)
Elastic (to hold the cone on the head)
To see how you can create a cotton candy costume from these items, make sure to take a look at this source.
Also, please keep in mind that for safety reasons this DIY costume idea is better for toddlers (or older kids). However, if your daughter is younger, you can still use this costume idea with some changes.
Related read: Halloween Costumes for Kids
Cloud Costume
The next one of our baby Halloween costumes for girls is the lovely cloud costume. This outfit is super easy to make and doesn't require sewing skills, so it's worth checking it out.
To create a cloud costume for your baby girl, first, gather some supplies. You will need thick sparkly white felt fabric, false eyelashes, no-sew fabric glue, poly-fil stuffing, glue gun, and some nice clothes to wear underneath the cloud (a blue long-sleeve onesie, pink pants, a pink hat, and white socks/shoes are perfect!). For detailed instructions, visit this page.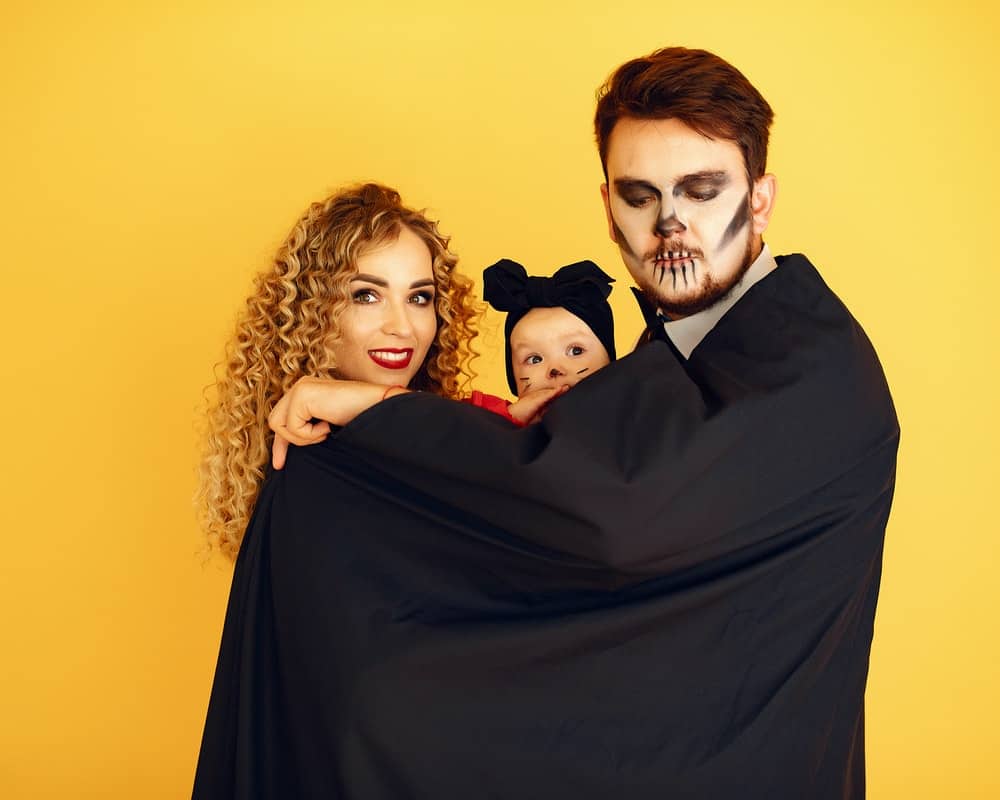 There you have it! Now you are ready to look for your craft supplies and get started with some cute baby Halloween costumes DIY.
Regardless of which costume idea you choose, you will look adorable with your baby at any kind of Halloween party or when handing out sweets to trick-or-treaters.
Have fun with your baby boy/girl and don't forget to take a few photos!
Which Halloween costume ideas did you like the most? Which one will your little one wear this year? Let me know in the comments!