Halloween Costumes for Kids: Costumes with a Cause
This post may contain affiliate links. As an Amazon Associate, I earn from qualifying purchases.
This chaotic year is nearly over, and I don't think any of us are sad to see it go! Now, many of the nations favorite holidays are approaching like Halloween, Thanksgiving, and Christmas!
In this unique time, you might be wondering:
How are we going to celebrate Halloween?
Are we going to celebrate Halloween?
Can we have fun while staying safe and healthy?
Am I going to make Halloween costumes for kids this year?
Of course you can! From passing out candy the right way to finding the best Halloween costumes for kids, your family can have a fun and memorable Halloween while doing your part to keep yourself and others safe. Plus, wearing a mask was made for this time of year- right?! 🙂
A fun and festive Halloween can help bring a sense of normalcy and fun to a year when those things have been hard to find. Use this time to show your kids that even though many things have been different this year, not everything has changed.
Related Article: Mom Hacks for Building Routines
Costumes with a Cause: The Story of Little Adventures Costumes
Little Adventures is an online stores that was started by two moms, Jenny and Heather. Between the two of them, they had fifteen children and no idea how to dress them up for Halloween (or any other day of the week)! They came together to create Halloween costumes for kids that were easy to slip into and out of, comfy to wear (especially for kids who love to run, jump, twirl, and play), and easy to clean.
Costumes that are cute and comfortable is a dream for us mamas. That way when your son or daughter wants to wear their Halloween costume for the entire month of October- you won't fret too much 😉 All the costumes in this article are brought to you by this awesome mom company.
The added bonus is that they have a great cause they partner with!
The Little Adventures Little Heroes Program
What I love most about this company is that each year Little Adventures creates a costume and a doll with one critical goal in mind: raising awareness of childhood cancer. They work with a young cancer patient, or "Little Hero," to create a gown others can buy. The proceeds from each dress and doll go to paying the child's medical bills.
Click here to learn more about Little Adventures most recent Little Heroes, Zoie and Ava.
The Best Halloween Costumes for Kids
I've collected some of the best costume ideas from this awesome company and listed them all for you here. While it's fun to get creative some year- the truth is that most kids love to be their favorite princess or heroes. So grab your children and have them each pick a favorite!
Princess
Let your child unleash their inner royal with one of these beautiful costumes, inspired by the princesses of their favorite fairy tales.
Popular princess costumes include:
Adventurer
Girls and boys can rule a kingdom, cast spells, sail the high seas and more with these fun and adventurous Halloween costumes for kids.
Popular adventurer costumes include:
Related Article: Fun Mommy and Me Costumes for Halloween
Fairies
Your child will whirl, swirl, and twirl with these delightful fairy tutus!
Popular fairy costumes include:
Superheroes
Your children can don their best capes and save the world – for Halloween at least!
Popular superhero capes include:
Don't forget accessories!
NO Halloween costumes for kids are is complete without finishing touches like:
Crowns: For topping off princess costumes. They come in a variety of colors, including gold, pink, and silver, and in a wide selection of styles.
Gloves: For completing a glamorous costume. You can get silky princess gloves in white, red, and pink, as well as in a unique blue and silver swirl.
Hair Accessories: These are a great choice if you want to elevate your costume without attracting too much attention. Choose from an array of floral headbands in many colors.
Hats: Cap off a great princess or wizard costume with a hat to match.
Shields & Swords: Help your little adventurer protect their kingdom with a sword and shield set.
Dress up more than once a year!
Costumes shouldn't be a once-a-year treat. Make them part of your child's regular routine with a costume they can wear all year long!
Nightgowns send your child off to sleep comfortably and stylishly.
Twirl dresses are floaty and feminine, and perfect for all-day wear.
Related Article: 21 Fun Christmas Gifts for Your Toddler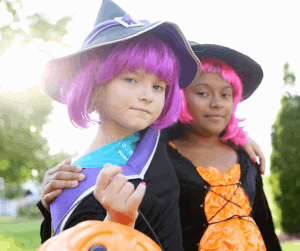 The Best Halloween Costumes for Adults
Halloween isn't just for kids anymore! (OR was it ever? ha)
Although we tend to think of the holiday in terms of Halloween costumes for kids, adults can – and should – get in on the fun too. According to Psychology Today, dressing up for Halloween as an adult has these benefits:
You can show off your creativity.
It lets you try out new identities and characters.
It's just plain fun.
Especially during this difficult year, a costume can provide a fun and welcome escape from your worries and let you be someone else for a little while.
Get inspired with these adult Halloween costume ideas! They can even match your kid's costumes (that is if you want them to).
Related Article: 61 Self-Care Ideas for Moms Who Don't Have a Lot of Time
Other Halloween Necessities
Make sure you've covered all your bases when preparing for Halloween! Grab a candy bucket, consider alternatives to candy, and plan some fun Halloween games to play with your family at home.
Candy buckets are available on Amazon! Find one that fits your child's costume and/or their sensory needs.
If you want to offer a health-conscious alternative to candy, try one of these suggestions:
Halloween party games make staying indoors fun! Bust out one of these for thrills and chills with your children on Halloween night.
Let Halloween Bring Some Joy to Your Fall!
This year has been challenging for all of us, and we've all had to miss out on some fun things because of it. With these tips for costumes, healthy treats, and family-centric games, Halloween doesn't have to be one of those things! We'd like to wish you and your family a fun and safe Halloween.
What are you dressing up for Halloween this year? How are you keeping your kids happy and safe?