18 Baby Hacks That Make Mom Life So Much Easier
This post may contain affiliate links. As an Amazon Associate, I earn from qualifying purchases.
Baby hacks are where it's at, mama!
No matter how many baby prep books you read or advice you took from friends, nothing prepares you for actually taking care of a baby 24/7.
Being a new mom is one of the hardest jobs in the world and that's why I'm going to share 18 baby hacks to make your daily mom life so. much. easier.
These baby hacks and tips are real sanity savers – information all first-time moms need in their lives (and honestly, the baby tips are pretty helpful for mom's who have been mommying for awhile!)
So, let's dig in!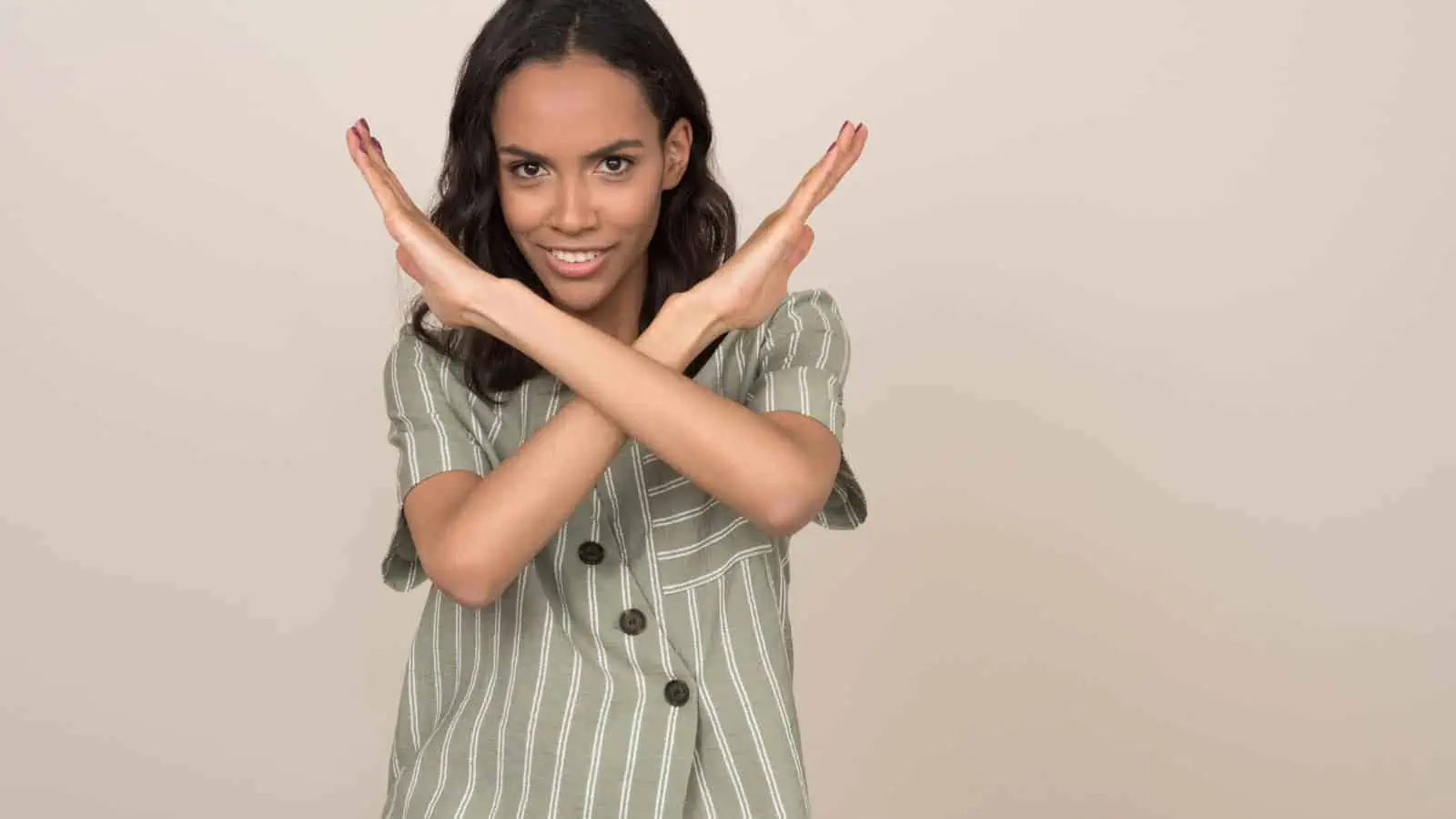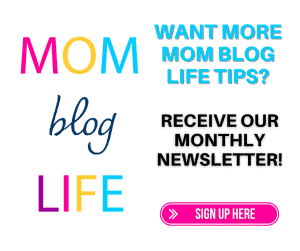 18 Baby Hacks That Make Your Mom Life Much Easier
1) HAVE A PORTABLE BABY CHANGING COMMAND CENTER
Mama, you NEED to set up a diaper changing command center that can easily transfer to all the main rooms you hang out in.
Pick up a large divided tote like the one above and fill it with your baby changing essentials.
Grab the handles and change locations with ease.
This isn't only a huge time-saving baby hack, it's also a postpartum recovery tip that will save you a ton of energy.
(The last thing you want to do is run up and down the stairs to change your baby!)
RELATED READ: Essential Baby Products for the First Year
2) PLACE A NEW DIAPER UNDER THE OLD ONE BEFORE CHANGING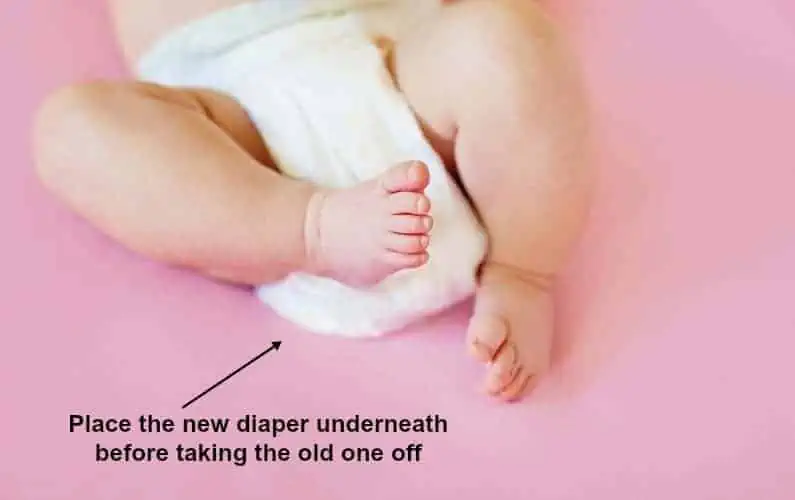 Slide a new diaper underneath the old one before taking it off.
This helps prevent accidents and messes on your change pad cover or anywhere else you happen to be changing your baby.
You just never know when more poop and/or pee is coming your way, haha!
Related read: Changing Table Organizer Ideas
3) GO ONE SIZE UP IN DIAPERS FOR OVERNIGHT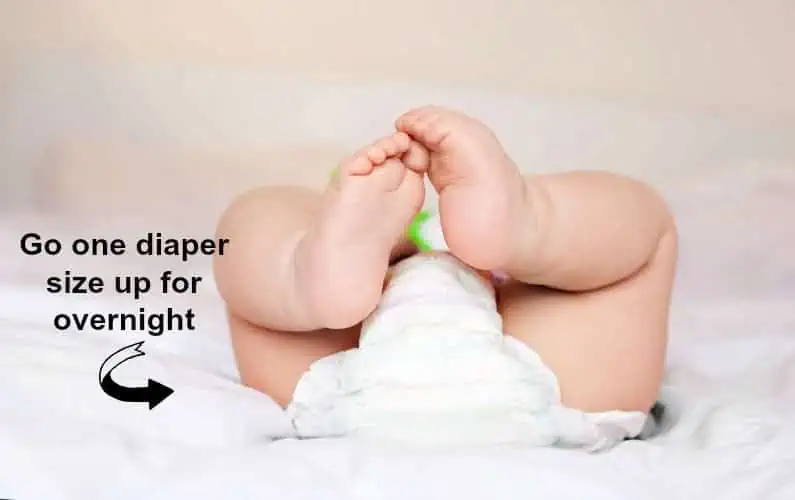 Since baby will be sleeping for a longer stretch of time overnight (hopefully and eventually, mama!), go one size up to provide more leak protection.
This baby hack really works!
I have to admit I was a little skeptical but, nope, it definitely works – no more accidents on the crib sheets. 🙂
4) USE ONESIES THAT CAN BE REMOVED FROM THE TOP DOWN
There will come a time in your mom life where you have to deal with a diaper blow out that will leave you wondering how your baby managed to produce so much….poop.
It will be everywhere and you'll wonder how you're supposed to get that onesie off without getting poop on your baby's face.
I'm not kidding.
It happened to me.
I ended up grabbing scissors and cutting the onesie in half to rescue baby girl from her poop party. (All while she smiled and cooed at me, haha!)
Then I learned to only use onesies with flaps on the shoulders (like the one in the pic above).
They're made like that so you can slide the onesie off from the top!
Brilliant.
RELATED READ: How to Help Dad Bond with Baby
5) SPOON BABY FOOD INTO ICE TRAYS

Grab yourself a few ice cube trays with lids for easy baby food storage.
It'll take up less room in your freezer and help you make the right size portions for your baby.
Just grab what you need and heat it up.
Or place the frozen cubes into a travel container if you're on the go.
The food will be unthawed by the time you need it!
6) USE FROZEN BABY FOOD TO SOOTHE A TEETHING BABY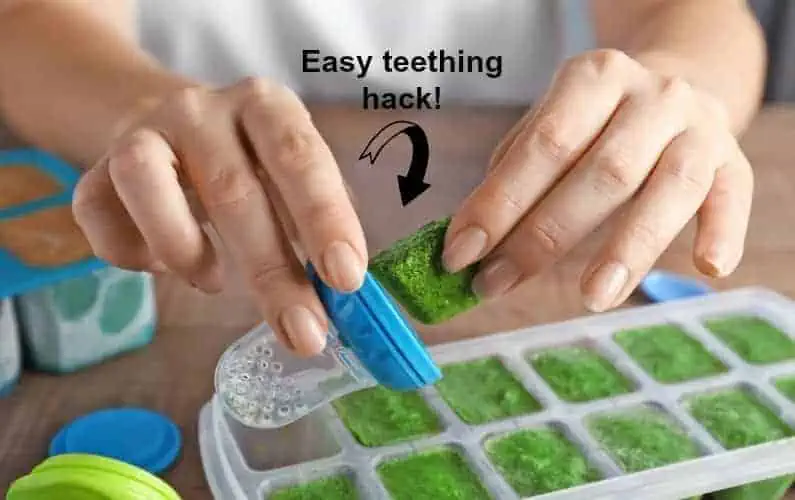 You'll probably be researching teething baby hacks soon so I thought I would throw this tip in now.
Take your frozen baby food and place it in a feeder (like this one) and let baby suck and chew safely to relieve sore gums.
You can also freeze your breast milk the same way and use it instead or a combo of both.
This baby hack was by far the best thing I did to help my baby girl through her teething phase.
It was also a way to make sure she was getting vitamins and nutrients during a time where many babies find it difficult to eat comfortably.
7) ONLY CHOOSE ZIPPERED SLEEPERS
Mama, zippered sleepers are a must-have baby product that will save your sanity.
I'm really not sure why so many companies insist on making sleepers with buttons.
If you've been dealing with buttons in the middle of the night while you're changing the baby half asleep, do yourself a favor and pick up a few zippered sleepers and watch how much easier mom life gets!
8) STORE CLOTHES AND TOYS IN DIAPER BOXES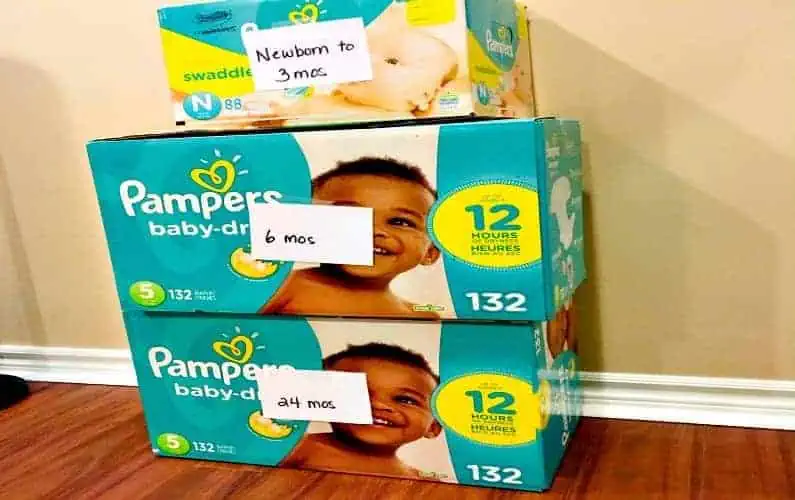 If you're using disposable diapers hold onto those empty boxes!
Diaper boxes are a great size to store clothes and toys that your baby has grown out of.
They easily stack and can't be filled to the point where they're too heavy.
I taped a small piece of paper onto the box and labeled what's inside.
This baby hack is a great way to practice reusing and can be recycled down the road when you no longer need your baby items.
It's also a great way to save money instead of buying expensive storage bins from a store.
RELATED READ: Ways to Prepare for Baby on a Budget
9) WRAP A BLANKET AROUND THE ARM OF THE CARSEAT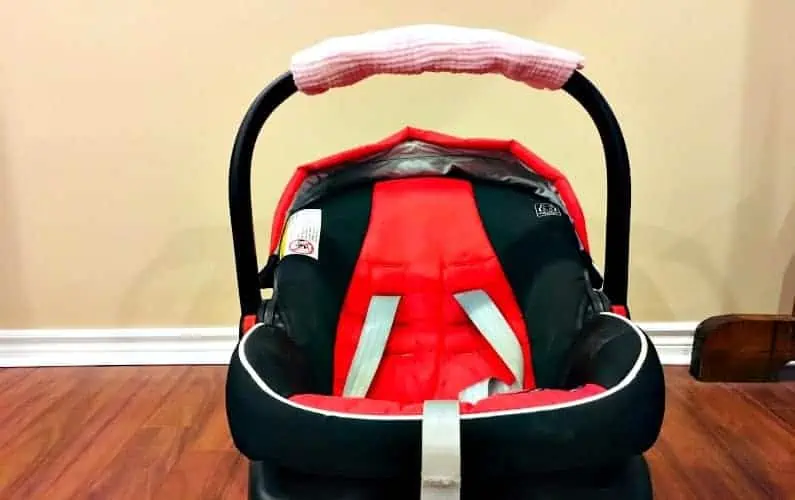 This baby hack saved me so much grief and pain.
Carseat are safe for sure but they're pretty awkward and heavy to carry.
I wrapped and taped a blanket around the arm so that when it was resting on my arm (you know while you're grabbing 50 0ther things from your car) the seat didn't dig in.
I've since seen another baby hack that suggests you use a pool noodle instead of a blanket and, well, honestly that's brilliant.
All you would do is cut the pool noodle to size, slice it down the middle and place it around the handle.
Viola – comfort!
10) USE A SYRINGE TO GIVE MEDICINE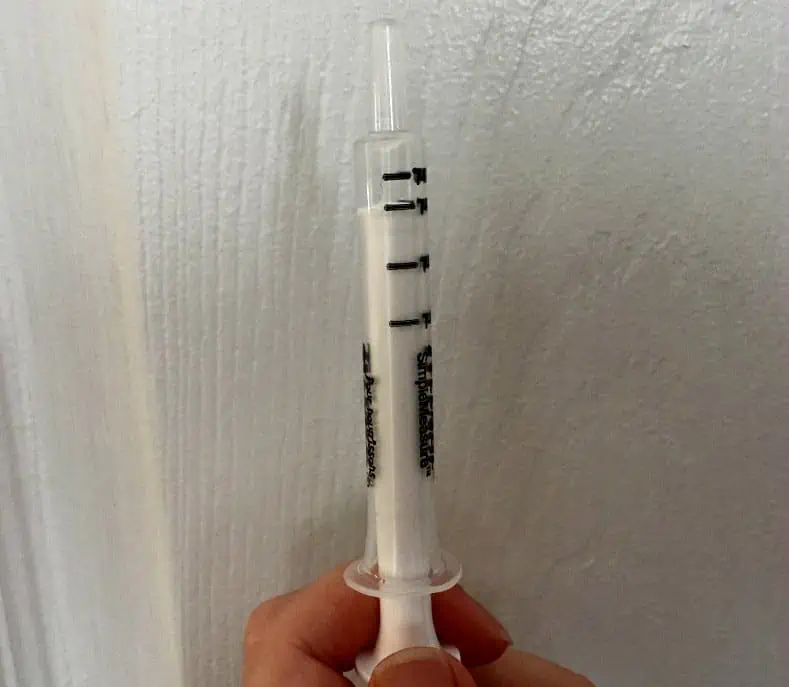 At some point, you may have to give your baby medicine which can be very hard to do.
I have seen other baby hacks that suggest using a soother or nipple but I always used a syringe like the one in the picture.
I simply place the syringe in baby's mouth and squeeze a small amount into the mouth.
Always have a burp cloth around because some may be drooled out.
This baby hack might be a bit time consuming but I have had success with it so definitely worth a try!
11) CARRY PLASTIC BAGS IN YOUR DIAPER BAG
It's no secret that baby companies will market a lot of different products to new parents – some of the products you need and others you really don't.
If you're wondering why on earth I'm suggesting dog poop bags as a baby hack hear me out, haha!
These doggie bags are scented, strong and durable (important!), come with a dispenser, are earth friendly and a great thing to have in your diaper bag when you're changing baby on the go!
Some of my mom friends say they use them at home instead of a diaper genie or garbage pail.
Yes, there are bags specifically for diapers but none of them held up to my stink standard, haha!
And, durability was an issue too.
I found many of them flimsy and easily split apart – something you don't want to deal with when you're changing one of the blow out poops, haha!
The doggie bags also don't take up a lot of room in your diaper bag which is really good!
RELATED READ: Things You Should Get Done Before Baby is Born
12) SEAL THOSE ANNOYING HOLES IN PLASTIC TOYS WITH HOT GLUE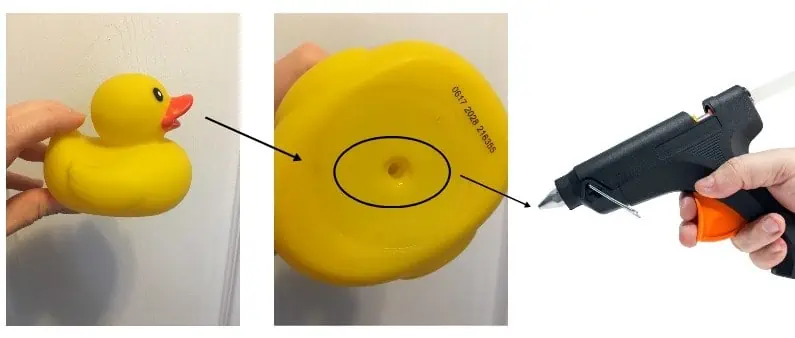 How annoying is it that a lot of baby toys come with a little hole in the bottom?
Especially the ones that go in the tub during bath time!
It doesn't take long until mold starts forming and the toys need to be tossed out.
Then I tried this baby hack and it worked.
Take a hot glue gun and place a bit of glue in the hold, let it dry and boom those tiny holes are no longer an issue!
13) USE ALOE VERA GEL FOR YOUR SORE NIPPLES
When I was creating this list of baby hacks, I was hesitant to put this tip in because it's more for mom but wanting you to feel the same relief I did won, haha!
There are numerous products on the market promising to soothe your sore nipples if you're breastfeeding and a lot of them work.
The problem is they can be pricey!
I started using organic aloe vera gel in between feedings and, mama, the relief I felt was ah-mazing!
You don't need to use a lot of the gel in order to reap the benefits.
Something to consider if you can't seem to give your nipples some relief.
Just make sure to wipe off before your next feeding.
14) USE AN ELASTIC TO KEEP YOUR CABINETS CLOSED

It's amazing how fast babies start moving!
It happened before we had even thought of securing out cupboards with a product sold at the store.
I needed something fast, so I grabbed some elastics out of the drawer and placed them around the handles.
Don't worry your baby isn't strong enough to break them and, to be honest, trying to get the doors open and watching them shut again kept baby girl entertained.
So, this baby hack was a win-win!
15) BABY PROOF YOUR FURNITURE WITH STRAPS
Safety baby hacks can make a difference!
When your baby is a few months old they will start pulling themselves up using furniture.
They don't realize they shouldn't grab just anything so there's a very good chance they'll grab that cabinet that easily tips over or reach for the TV trying to stand up.
I grabbed baby proofing straps and used them to secure furniture in place.
It gave us peace of mind, mama!
All it took is my own mom telling me about my brother pulling a dresser on top of himself when he was a baby to make me realize this is one of the most important baby tips you can know about!
(Stay tuned I will be writing a post on exactly how to baby proof your house!)
16) MAKE A DIY BUSY BOARD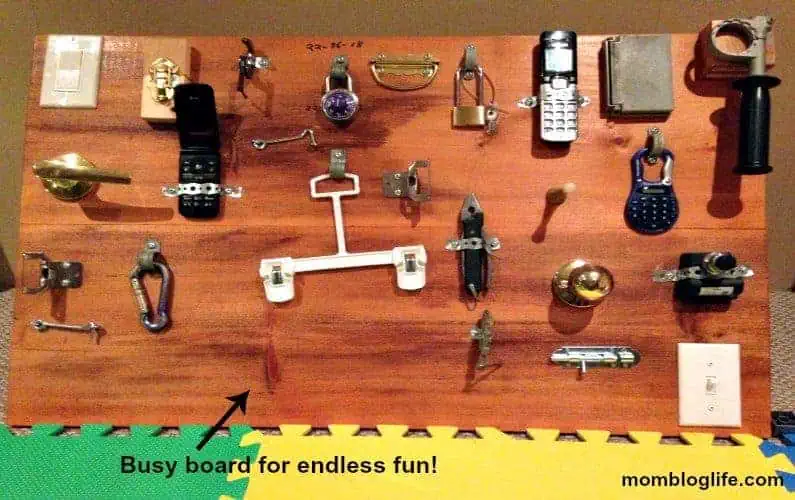 I'm not sure if you've heard of a busy board before but they sure are a great thing to have!
How do you make a busy board?
Grab old (and safe) items from around your house and fasten them to a piece of wood.
(Door locks, handles, an old phone, light switch – you get the picture!)
Yes, it's really that easy!
Place the board in front of your baby during tummy time for something to look at!
Once your baby is old enough to sit up, they will love touching, pressing and hearing the different things on the board.
These boards grow up with the baby too – our girl is now a toddler and STILL loves playing with the board. 🙂
17) USE A BOTTLE NIPPLE INSTEAD OF A SOOTHER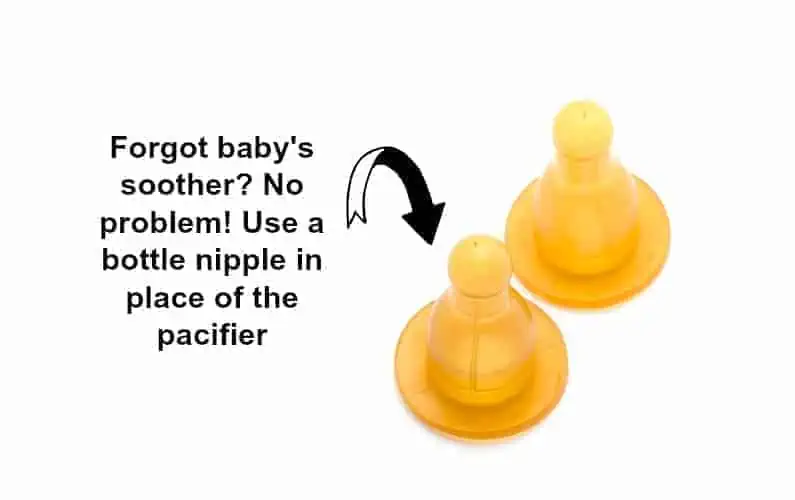 This baby hack is good to know if your baby takes a pacifier, soother, binky or whatever you call it, haha!
Don't fret if you're out and forgot the soother!
Simply take a bottle nipple and use it in the pacifier's place.
Babies are generally looking for something to satisfy the sucking reflex so this baby hack will solve the problem in a pinch!
18) USE A SIPPY CUP LEASH TO AVOID BIG MESSES
One of the best baby hacks I can tell you about is this sippy cup leash, haha! (It's handmade!)
Place the suction cup under the tray of your high chair and when your baby knocks it over, the cup won't hit the ground and make a mess.
(By the way, babies are similar to cats – they love to knock things over so this baby hack will definitely help you keep your sanity!).
There you have it, mama!
18 genius and easy baby hacks to make your mom life so much easier!
Over time, I will add to this post but tell me, do you have any baby hacks that other moms need to know about?
Comment and share below!