The Best Online Jobs for Moms in 2021
This post may contain affiliate links. As an Amazon Associate, I earn from qualifying purchases.
Finding online jobs for moms is much easier now than it was a few years earlier. This is because in recent years many new opportunities have opened up for stay-at-home moms to work from home.
And I'm not just talking about MLMs, spammy "jobs" that claim they will train you for a small fee, or (my least favorite) the endless time sucking surveys that might make you a few bucks. I'm talking REAL income building jobs that can even replace a career!
Thus, if you would like to earn some money, you can easily find some legit work from home jobs for moms. You just need to know where and what to look for. 🙂
The good news for you is that today we will dive into the best online jobs for moms. So you will have an idea of what you can do while staying at home.
How I Got Started Working "Online"
Quite honestly, the possibilities are endless for working online. I think this is the biggest realization when you start looking into options. I always assumed that online work wasn't for me- I didn't know anything about IT or graphic design. So at first, I thought I'd try my hand at transcription since I'm a fast at typing. But I quickly realized I HATED that.
Only when I started making a list of my strength and interests, was I able to think way outside of the box- which landed me my first gigs as a freelance writer. And I haven't looked back! I have found an entire niche of writing that surrounds my passion for motherhood, health, and my career by trade- physical therapy.
Three years later- I am making more per hour than I ever did as a PT- which is pretty darn amazing. It may have taken some work to get to where I'm at- but I can say without a doubt that it was TOTALLY worth it for my flexible 10 hour work week that pay ALL our bills. Pretty cool, right? And I am confident you can do the same when you find your niche.  
Where to look for online jobs from home for moms
If you're new to working online, the best places to look for online jobs are certainly freelance websites. On these websites, you can find work or offer your services in various niches, such as writing, web development, graphic design, customer service, marketing, translation, admin support, and many more.
If you are wondering which are the top websites where you can start freelancing right now, take a look at the following list:
Upwork (my personal favorite)
Fiverr
Contra
Of course, there are many other freelancing websites but it would be impossible to list them all.
Besides freelancing sites, you can also use normal job research websites and filter the results for work-from-home jobs. This way, you can find some job opportunities where you can work remotely.
I'd recommend doing a little research and sticking to one platform. That way you can build your resume and get reviews that help you build your credibility. For example, now that my resume is dialed in and I have high quality reviews on my profile on Upwork- a lot of my best clients have actually found me!
Related read: How to Design an Office for Home
But don't forget about networking!
While freelancing websites are a great starting place, the reality is that they can be quite saturated. Plus, many platforms like Upwork take a pretty large chunk of that hard earned money (from 10-20%). That's where networking and reaching out to companies or individuals personally can also be of a great advantage.
Make sure you know exactly what you can offer than and why they should pay attention to you. Make it work their time to respond to your messages! This will look different with each market. But I've found clients through Facebook groups, email newsletters, and more. You just might be the person a company has been looking for- they just don't know it yet 😉
Best online jobs for moms
When it comes to choosing an online job as a stay-at-home mom, it's best to find something that is flexible and can be done part-time. This is because you and your kids already have a schedule you should take into account. Plus, being a mom alone can be considered a full-time job too- right?!
So what are your options then? Below, I will show you a few great work-from-home jobs that may be worth checking out. (Remember: these are just a great starting point to get some ideas.) Are you ready? Then let's get into it!
Writer or blogger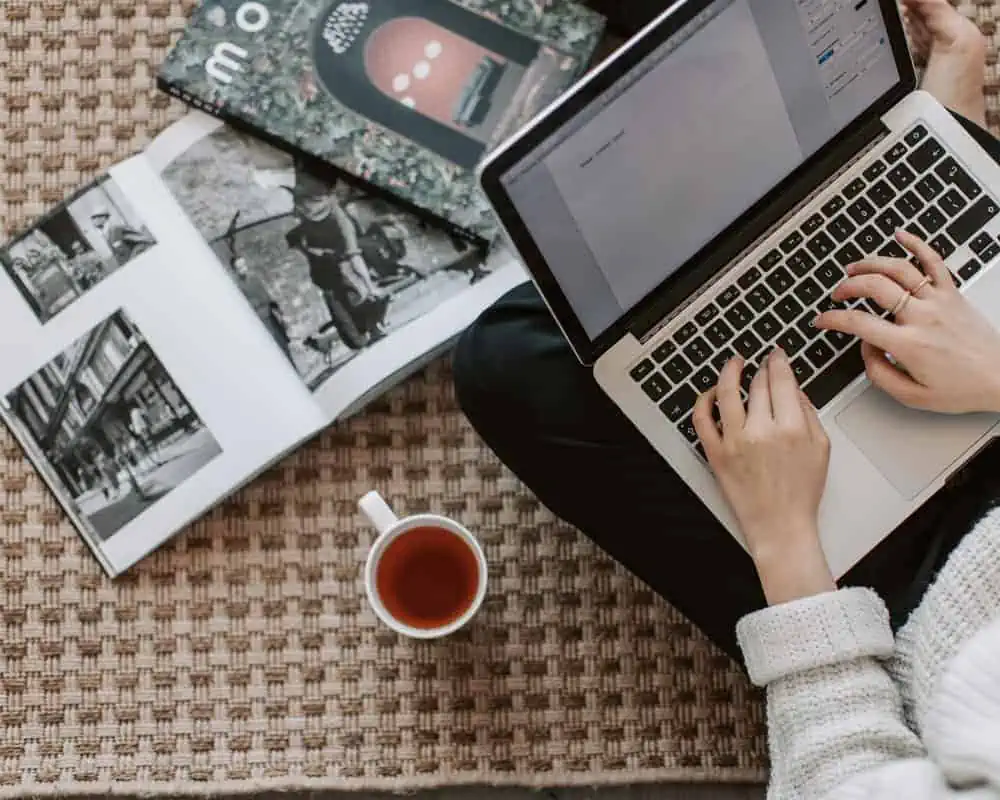 Freelance writing is absolutely in demand in 2021 – and will be in the upcoming years as well -, thus, it is a job you may want to consider. Being a writer or blogger has many advantages, including that it doesn't require special experience. Plus, it provides huge flexibility since you can work anytime as long as you pay attention to the deadlines (aka nap times, waiting for pickup, etc.!).
As a mom, you can use your knowledge of parenting to write blog articles about motherhood (like this one!). Or you can specialize in any other subject you are interested in: lifestyle, health, technology, finance, and many more. If you have any special certifications or knowledge, you can totally use that to your advantage.
When it comes to writing services, you can offer SEO expertise, blog writing, ebook writing, press releases, website content, product descriptions, or even social media post writing. There are endless opportunities in writing!
If you want, instead of selling your services on freelance websites, you can start a blog and make money with your site. This is definitely a more long term process than freelance writing is- but can also be very rewarding if you are clear on your goals getting into it!
Related read: How to Become a Freelance Writer
Proofreader
You can apply for proofreading remote jobs or offer proofreading services as a freelancer if you have outstanding abilities to spot even the tiniest errors in a text. Of course, you need to be detail-oriented and able to focus for the long term to do this kind of work.
Most proofreaders fix the spelling, grammar, and punctuation within the text, and they also check the text regarding consistency and formatting. Very often, they also need to do fact-checking.
Virtual assistant
The next popular online job is being a virtual assistant. Virtual assistants do simple administrative tasks (or sometimes complex too!) to support a company or an individual. These daily tasks may include sending emails, making calls, handling social media, scheduling meetings, travels or other events, doing research, etc. Since all these can be done from home, it may be a good choice for stay-at-home moms as well.
Related read: How to Become a Virtual Assistant
Graphic designer
Graphic designer? I can hear you saying "but I don't even have a Bachelor's degree or certificate in graphic design, how could I design anything?!". Fortunately, in many cases, you don't even need a qualification.
If you want to learn some graphic design skills, you can start by watching some tutorial videos on YouTube or taking an online course on Udemy or Skillshare. Plus, nowadays there are many free, easy-to-use software programs available for designing (for example, Canva is great for image editing) that can make designing easier for you.
Practice each day, so you can become better at designing each day. As a beginner freelancer, you can start offering basic design services such as leaflets, business cards, logos, ads, or social media content. If you have a creative eye and love to work with people, experience and credentials won't matter!
Related read: 6 Online Side Hustles That Are Easy To Start
Social media manager
Social media is extremely important for online marketing purposes. Almost every company and brand that would like to sell some kind of product online has a social media profile. However, managing these kinds of profiles can be challenging – especially for older generations- and time-consuming as well. This is why many people hire someone to manage their social media profiles for them.
You can become a pro in social media management in a relatively short time, especially with all the templates and scheduling platforms like Tailwind available for streamlined use these days. Thus, if you like making posts and interacting with people, it may be a great work-from-home job for you!
Data entry specialist
Another one of the most popular online jobs for moms is a data entry specialist. It's easy to see why: most data entry positions are super flexible. Thus, you can work on the data entry tasks whenever you have time (when the kids are sleeping or they are at school). Plus, data entry jobs don't require too many special skills. If you are good at using a computer and you can pay attention to details, you are a perfect applicant for these jobs.
Related read: Best Jobs for Stay-at-Home Moms with No Experience
Transcriber
If you can type fast, you can try some of the transcription jobs available on the market. Although these jobs may seem super easy, they require a lot of concentration. This is because a transcribers' main task is to listen to audio files and then convert what they hear into text format. Certainly, in the case of transcriptions, precision is the key!
Life coach
In the last few years, life coaching has become a trending job among moms. This is because most moms like helping others. If you are interested in personal development, it may be an ideal job for you as well.
Becoming a life coach is not so complicated, there are many great online courses out there that offer a Life Coach Certification at the end. A huge advantage of becoming a certified life coach is that you can make your own schedule. Thus, you can still fulfill your duties as a mom while working from home.
Related read: How to Be Productive When You're a Mom Who Works From Home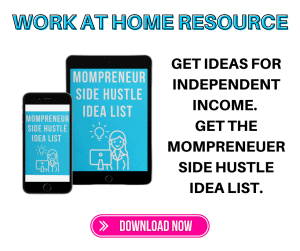 We have arrived at the end of our list. Hopefully, you have found a few job ideas that are a good fit with your interests. If not, don't feel disheartened- just get creative! I can't recommend enough that you should make a list of your interests and strengths on paper that can help give you some clarity on what would best bit your lifestyle.
Ultimately, all the above-mentioned online jobs for moms are high in demand and can help you make a decent living. Therefore, don't hesitate to try out any of them.
And remember, the important thing is to get started. If you don't like the first job you have chosen, you can still change to another one later. 🙂
Which job idea would you like to try? Let me know in the comments.