Mompreneur Series: Starting A Pinterest Virtual Assistant Business
This post may contain affiliate links. As an Amazon Associate, I earn from qualifying purchases.
Welcome to the Mompreneur Series!
We've been looking into viable business ideas that you can start today so that you can stay home with your kiddos or leave the 9 to 5 job you don't want to be at anymore.
This post is going to cover how to start a Pinterest Virtual Assistant business.
This work at home opportunity is near and dear to me because I run my own Pinterest management and strategy business. 🙂
If you like playing on Pinterest then becoming a niche-specific VA who helps entrepreneurs grow their businesses using Pinterest might just be right up your alley.
I'm not going to lie, mama – being a Pinterest VA is tons of fun!
So, let's dig in and see if being a PVA is your step to running your very own business.
EVER WANTED TO START YOUR OWN SIDE HUSTLE? LET'S BE MOM BOSS FRIENDS 🙂 – STAY IN TOUCH AND GET THE SIDE HUSTLE WORKSHEETS!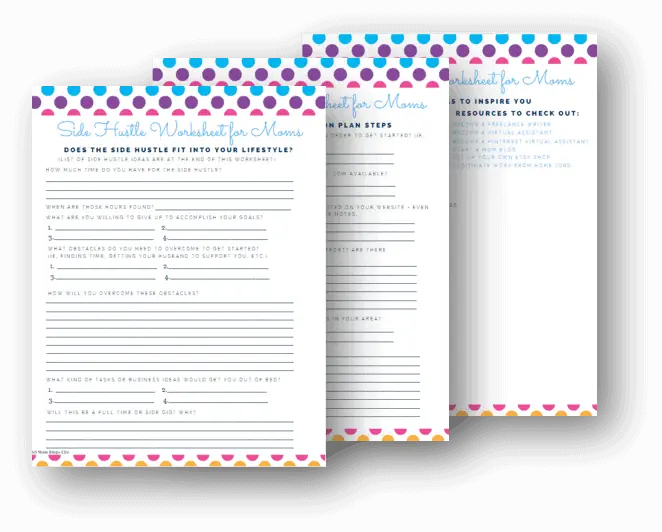 Become A Pinterest Virtual Assistant
Becoming a Pinterest VA is a very lucrative work from home opportunity.
Why?
Because a PVA is actually in demand.
Pinterest is an awesome platform for any business to grow their business but the problem is – it's a HUGE time suck.
And time isn't something that entrepreneurs have.
So…
What is a Pinterest Virtual Assistant?
What exactly is a Pinterest virtual assistant?
A PVA is someone who manages a Pinterest business account on behalf of someone else and gets paid to do it.
Who is looking for Pinterest virtual assistants?
✿ Bloggers
✿ Entrepreneurs
✿ Small businesses
✿ Local businesses
✿ Coaches
✿ Podcasters
✿ Online entrepreneurs
Basically, as business owners, they know it's smart to get in front of over 300 million active monthly users and grow their business.
So, Pinterest is valuable but there is a lot that goes into growing an account – so much that it's pretty overwhelming.
It also takes a fair amount of time – we're not talking a few days or weeks, we're talking months to see good growth on Pinterest.
That's where you, as a Pinterest virtual assistant come in.
You literally take their account and make it your business to grow it.
Business owners are very willing to pay for the service and because of the work involved.
If you land a couple good clients that might just be enough for you to transition to running your own business.
Out of all the opportunities we're looking at in the Mompreneur series, this one is the most exciting.
The business model is in demand and there are endless amounts of clients to choose from.
But…
What Does a Pinterest VA do?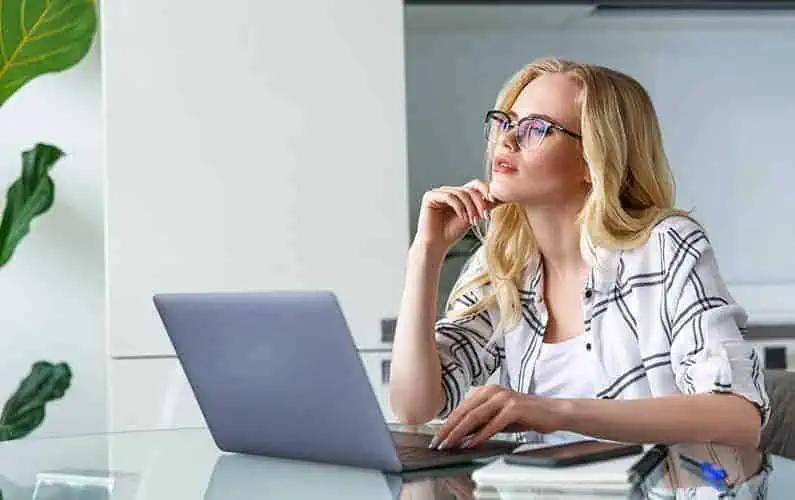 Now that we know starting a Pinterest VA business is a viable opportunity, let's peel the onion back and see exactly what a Pinterest virtual assistant does.
What are their daily tasks?
Do you need to be versed in everything Pinterest to make this work from home business successful?
What kind of services do Pinterest virtual assistants offer?
Here is a sample of the kinds of services you could offer as a Pinterest VA:
✔Complete Pinterest account management.
✔Schedule pins on Tailwind if the account uses a schedule.
✔Create new pins.
✔Pin descriptions.
✔Finding and joining Pinterest group boards.
✔Starting group boards and attracting contributors.
✔Repin 3rd party pins.
✔Analytics reports to show what's working or not.
So, what does a day in the life of a Pinterest virtual assistant look like?
Here is a sample of some daily tasks a Pinterest VA work on:
✔Create pin images to pin to Pinterest.
✔Schedule pins if the Pinterest account you're managing uses a scheduler (like Tailwind).
✔Analyze Pinterest analytics to see what's working.
✔Create performance reports as needed.
✔Find and join group boards.
✔Create a new group board and find contributors.
Do you need to know EVERYTHING to get started?
You can get started growing your business but for long term success, I highly recommend you learn about the platform.
How Do Pinterest Virtual Assistants Make Money?
Pinterest VAs make money by offering service packages businesses and entrepreneurs – think of a PVA as a niched down virtual assistant.
To start, you might want to barter your services to build your portfolio.
Once you're established, it's not hard to charge $30 to $50 per hour through packages or customized services depending on your clients.
How to become a Pinterest VA
Becoming a Pinterest VA isn't hard and you can definitely get things started today.
Below is my quick-start action guide to help you.
STEP #1
Brainstorm a name for your Pinterest virtual assistant business.
Set up:
✿ A Pinterest business account in that name.
✿ Register the domain name (make sure to get the .com!).
STEP #2
Start pinning to your PVA Pinterest business account.
There is no better way to showcase your abilities than your own Pinterest account!
For now, pin 3rd party content until you can create your own content.
STEP #3
Start your Pinterest VA website.
Make sure to register the domain name that matches your business name.
Get the .com because, well, it's still the most trusted extension online.
Need help setting up a website? Here's my tutorial for starting a blog. The steps are the same. 🙂
STEP #4
Start reading and learning about Pinterest to build your knowledge.
TIP: As a blogger, I took this course so I could understand how Pinterest works and what kind of strategies to use to start building my reach.
Taking that course will move you from a beginner Pinterest user to advanced – a skill that will be a huge asset to your Pinterest virtual assistant business.
Read this post about becoming a Pinterest virtual assistant – it's one of the best I've found for information.
Register for this FREE Pinterest VA Workshop to start building your skills.
STEP #5
Check out the Pinterest VA Today course (I love the course – it literally shaved months off of building a successful PVA business) to lay the foundation for your Pinterest virtual assistant business.
Check out the Pinterest VA Facebook page – so much good information shared about becoming a successful Pinterest virtual assistant!
That's it, mama!
Hopefully, you're as excited about the business opportunity becoming a PVA presents as I am!
Running my own PVA business represents half of my online business and I can tell you first hand the possibilities in this business are endless.
Don't worry if you don't have a clue about Pinterest – follow my 5 quick-start action steps to get your feet wet and start building your business today.
Pinterest isn't going away and neither are bloggers and entrepreneurs who NEED Pinterest to drive traffic to their blog or brand.
Remember, Pinterest is a HUGE time suck for bloggers, entrepreneurs, and business owners so they'll be eagerly looking for ways to offload the work.
That's where you come in with your services.
Starting a Pinterest business is a great way to become a work at home mom. 🙂
So far, as I write my mompreneur series, becoming a Pinterest VA is one of the most in-demand businesses you can start.
There is some serious money to be made!
All on your own schedule and from the comfort of your home.
What do you think about working from home as a Pinterest virtual assistant?
Do you have any questions about becoming a Pinterest VA?
Let me know in the comments!