Exactly How To Start A Side Hustle While You're Pregnant
This post may contain affiliate links. As an Amazon Associate, I earn from qualifying purchases.
Wondering what it takes to start a side hustle or business while you're pregnant?
Yup, I've been there too.
I always dreamt about starting my own side hustle business (if you want to call growing a business a side hustle) before I became pregnant – I wanted to live on my own terms and have time for my kiddos.
I couldn't imagine leaving them every day for hours on end.
When I became pregnant, I realized those plans needed to happen pronto.
Mama, if you don't want to return to work after you have your baby then your pregnancy is the time to get started on your side hustle.
That may not be what you want to hear – although I'm thinking because you're here, it's exactly what you need to hear.
It's time to roll up our sleeves and get to work so that we can kick that 9-5 job to wear it belongs – the curb.
Staying at home and still doing something for yourself is the perfect way to make designing your own life work.
Let's be honest there are many reasons you need to start that side hustle while pregnant – a two-income household world, hating your job, wanting to have time for your baby but the biggest one of all is becoming a mom and still doing something creative for yourself.
That's what carving out your own business will do for you.
Don't worry – we're going to look at exactly how to start that side hustle so you can get the ball rolling.
It's going to take some work on your part but I promise the benefits far outweigh the sweat equity.
So, welcome to the mom boss revolution – you're going to love it here.
Finding the Right Side Hustle Business to Start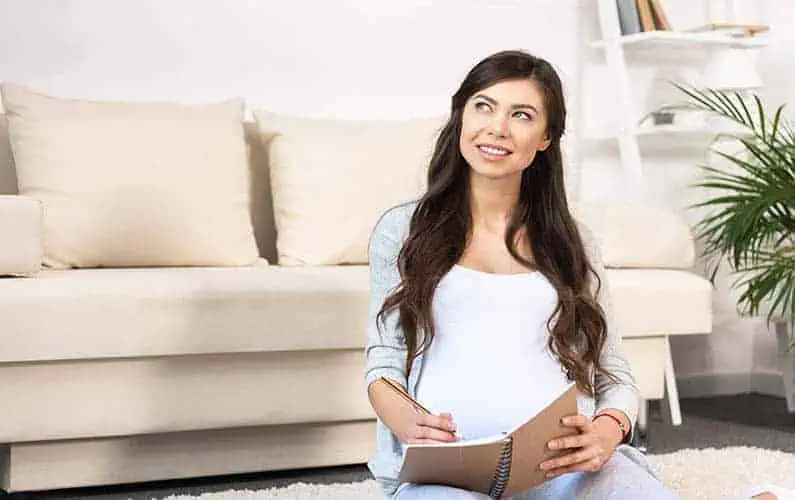 You know you want to start a side hustle business but how do you know which one will work for you?
I'm going to guarantee that the "side hustle" you're about to start needs to eventually become a full-time income stream from home, am I right?
There are three important factors to look at when choosing a side hustle, so let's get to it.
Does it fit your lifestyle?
You'll find time to work on your side hustle if it fits into your lifestyle.
Starting a side hustle that fits your life is basically setting the platform for your success.
So, how do you know what side hustle fits your life?
Figuring out the answers to the following questions:
✿ How much time every day do you have to dedicate to working your side hustle?
✿ What time of day can those hours be found in?
✿ What are you willing to give up to find the time to work on your business?
Giving up things really means putting them on the back burner until you get to where you want to be.
It's unrealistic to think that you start a business and keep everything else the same in your life – so if you're the kind of person who makes every social outing, you might have to learn to say no.
If you're working a day job, you'll probably fit in time during the evening or when you get home from work.
If you opt to work in the morning do you need to go to bed at a reasonable time so you can wake up earlier?
Basically, you're looking to see what side hustle suits your lifestyle but also what you're willing to do to make sure it fits if the business feels like the right one.
RELATED READ: The Big List of Work at Home Business Ideas
Does it get you out of bed?
If you're actually going to stick to your side hustle you better enjoy it, right?
So, what kind of business or work will motivate you to jump out of bed on a tough day?
Because there will be days where you question things or wonder if you're doing the right thing – you need to be sure you'll be able to push past those days.
Hence why you need to be excited enough about the business to get out of bed.
If you're an organized person maybe you should start a bookkeeping business or become a virtual assistant to help others stay on top of their tasks.
If you love to write and the thought of doing that daily motivates you, why not looking into becoming a freelance writer or starting a blog?
Still don't know what will get you excited every day? Do these activities:
✿ Write a list of things you love to do or have enough interest in to learn more and make something of it.
✿ What are your strengths? How can you use them? (if you look at a blank sheet of paper when you do this activity, ask your family and friends what you're good at to get the juices flowing).
✿ Write a few paragraphs about things that bring you joy and happiness.
Take your answers – are there any themes emerging?
If you're having trouble, read my post about side hustle ideas for moms and see if one speaks to you.
If you're just plain stuck here – shoot me an email at [email protected] and let's chat about it!
Will it stay a side hustle or become your full-time gig?
Most new moms I speak to would love to build a side hustle into a full-time gig.
Side hustling is good when you're a brand new mom (or pregnant in your case) adjusting to mom life but it gets old once you're a super mom, haha.
Deep down you know you want to be a mom who has time for her kids but doesn't want to lose themselves in "being a mom".
I also see a lot of motivation come from the desire to contribute to the household income in a major way.
No playing it safe, you know?
The last step to find the perfect side gig while you're pregnant is to know it can be grown into a full-time business.
Okay, so how do you know which ones are good, right?
A side hustle that is worth it is one you can scale once you have more hours to spend working on it.
What does it mean to scale?
It might be taking on more clients or expanding your product line.
Essentially scaling your business is growing it bigger than it currently is and continuing to do so.
Actually Starting That Side Hustle While Pregnant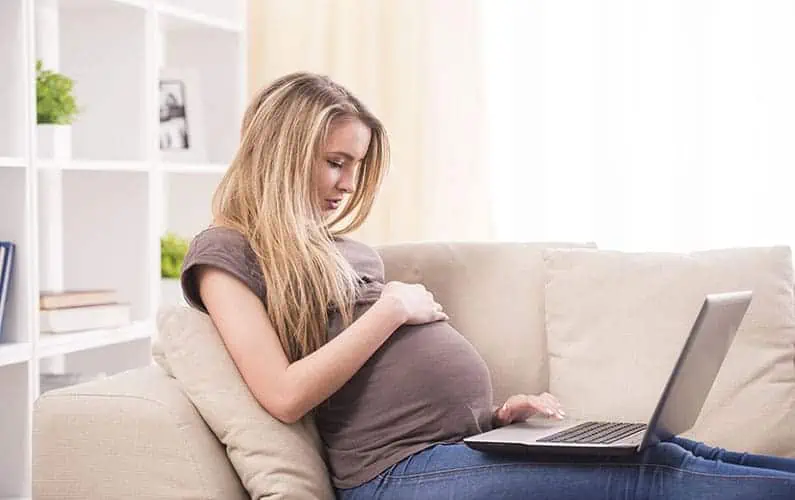 You know what side hustle you're going to pursue but what are the steps to take to actually get it off the ground and growing all while you're pregnant?
I put together a quick action start plan to get the ball rolling for you. 🙂
Your Quick-Start Plan
It always amazes me when I talk to my other entrepreneur friends – the steps to planning your business can be quite similar.
I've outlined some key steps – I find if people have the steps laid out they're more likely to take action.
Step 1
Do the research, reading, and learning you need in order to feel comfortable starting the business.
STEP 2
Are there any courses you can take to speed up your progress?
For example, I run a Pinterest Management agency as part of my online business so I took the course Become a Pinterest VA when I wanted to fast track my results and get the ball moving on that side hustle now.
I get it – you're preparing for a baby financially so you might be a bit hesitant to spend money on things but you need to look at courses as investments and not expenses.
(Plus they become tax write-offs once you're making money)
Taking a course that moves you to your end goal faster is money well spent.
In fact, it might just be the life-changing move you make that brings you success.
STEP 3
People expect to find you online so now it's time to brainstorm your business name and secure the .com web address for your new website.
So you know – people trust a .com website more than any other extension and that's probably because it was first so they're used to it – do yourself a favor and just get the .com.
(If you absolutely fall in love with a name and the .com isn't available choosing .net or .org is your next best bet).
STEP 4
You've got your domain so now it's time to get a website up that lists the services, products or features you're going to offer.
Include portfolio information, rates and packages, and anything else your ideal client or customer will need to know.
STEP 5
Join Facebook groups and check out LinkedIn for opportunities that align with what your side hustle is about.
You can connect with others who are building a similar business or find people who are looking for the services or products you're offering.
This might sound intimidating but it is powerful – you need to attend in person networking events whether you can see the value right away or not.
I am a firm believer in connecting in person with others and have found many successes doing so in my own business.
A Note on Networking
Putting yourself out there can literally make you or break you.
You need to tell people about what you're doing no matter how you might be feeling about your new venture.
I'm slightly introverted myself and I've seen the power of networking.
There are all kinds of ways to network so don't think you have to do them all.
Choose one, try it out, get comfortable and expand from there.
Join like-minded groups on social media.
Share your business when someone is looking for it.
Get involved in the conversation.
Doing these activities will boost your confidence and you'll find you actually enjoy in-person networking events.
By networking, you could be shaving off months of work – you just don't know the connections you will make.
Okay, I'll move on from this point but get out there and network!
Working Your Side Hustle While Pregnant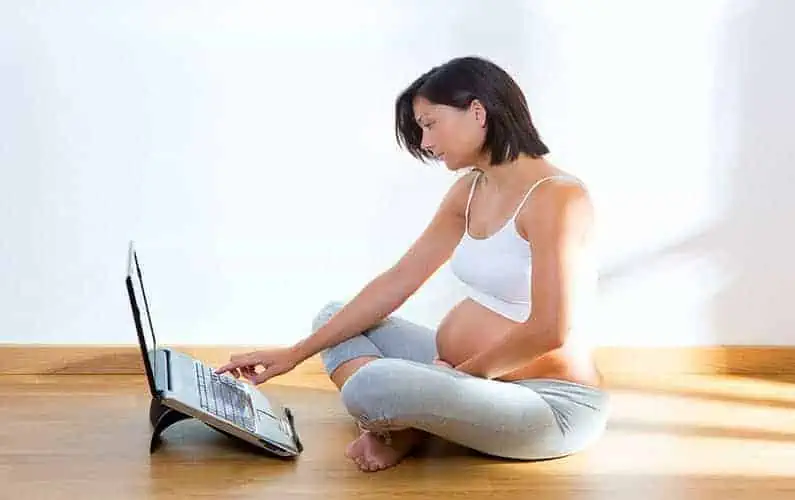 Productivity and Time Management Tips for Every Trimester
I get it – you're really interested in starting a side hustle while pregnant but how the heck will you actually manage your time and have the energy to dedicate to a new business?
It's completely normal to be concerned.
As a full-time entrepreneur who works completely for herself, I can tell you that starting and building a side hustle while you're pregnant can be done.
I started mine when I was pregnant.
My pregnancy actually kicked my behind into gear.
That said, there will be challenges but it's doable, okay?
Here's some advice on how to be productive and manage your time during every trimester.
FIRST TRIMESTER
If you've just found out you're pregnant you're probably surprised at the pregnancy fatigue you have or the never-ending feeling that you're about to throw up breakfast.
The first trimester is definitely challenging but there are ways to still get some things done.
Productivity during the first trimester:
✿ The first trimester is hard but it's the perfect time to get the legwork started. Do your research and learning and get the quick-start plan accomplished.
Even if that's all you get done you should feel good knowing you're much closer to achieving your goals.
✿ If you're going to work early in the morning make sure to go to bed earlier. If you're going to stay up a little later at night make sure to squeeze a nap in where you can – even if it's a power nap!
✿ Drink water and then drink some more. Water helps you feel awake and helps with morning sickness and when you don't have to deal with those things, being productive is much easier.
✿ Starting a side hustle business means you have a long to-do list. Break it down into small tasks that can be achieved easily. Small efforts lead to big results, trust me.
SECOND TRIMESTER
There's a reason moms love the second trimester.
You go from being completely drained and sick to feeling better and sometimes it happens overnight.
The first day you feel more like yourself is the time to ramp up your side hustling efforts.
You're now in go mode.
Productivity during the second trimester:
✿ Take advantage of your energy by figuring out when you're most awake and get the work done.
✿ Plan ahead – your to-do list will be long but if you know what you're sitting down to work on you'll get more accomplished and feel motivated as you watch your list get shorter.
✿ Tell your husband and close friends what your goals are. They'll help keep you accountable.
THIRD TRIMESTER
The big ol' belly trimester.
During the third trimester, you'll wonder how on earth your belly can stretch that far, your energy takes a nosedive, and let's not even talk about the penguin walk.
By this point, you've got a good start on your business – you've laid the foundation for success and you might even be making a bit of money.
Productivity during the third trimester:
✿ Use the productivity and time management tips from the second trimester and adjust them depending on how you're feeling.
✿ Plan what you can do while you're on maternity leave – don't set crazy goals because you will be recovering postpartum and adjusting to new mom life.
Starting a side hustle during pregnancy may seem daunting but it can be done.
If you want to get rid of your dreaded 9-5, let that feeling be the motivation you need to keep working on your side business.
Hard work pays off – I'm talking from experience. 🙂
If I didn't work as hard as I did during pregnancy, I wouldn't have as much time for my girls and family.
I'd be miserable because I'd be commuting to a job I hated.
The key to becoming a stay at home entrepreneur is starting while you're pregnant.
Of course, planning ahead and getting started before pregnancy is more ideal but not a requirement.
Okay, mama, over to you – what side hustle are you thinking about starting?
Do you have any questions about the journey to success?
Comment and share below or shoot me an email: [email protected]