Spring Clean Up Checklist: Spring Cleaning Tips for Busy Moms
This post may contain affiliate links. As an Amazon Associate, I earn from qualifying purchases.
Winter will be over soon (it's always a love-hate for me hah). And this means that it's time to get ready for the big spring clean up.
I know that for a lot of moms (especially for busy ones), spring cleaning is a huge frightening task that we tend to postpone continuously. But it doesn't have to be that way this year! I've got you mama- take a moment to breathe and read through this list 😉
I decided to put together the ultimate spring clean up checklist that makes everything simpler and easier! Deep clean your home and yard following this checklist, and save precious time for doing something else, while feeling clean and organized as we adjust to warmer weather.
Home spring clean up checklist
Let's start the spring clean up with your home first. With the following cleaning tips, you can spring clean the whole house in a more organized way because the tasks are divided into different categories. Therefore, it is easier to follow this list and accomplish (and delegate) all the duties!
Related read: How to Organize Your Life at Home
Every room
First, start with those tasks that you can apply to every room in your home. Then you can go to each room for more specific cleaning. Here are the things you can do in all rooms:
Wash the windows (inside and outside as well)
Clean the doors, walls, baseboards, window sills, floors
Remove marks on the walls and floor with a tennis ball (it's a great cleaning hack, just gently rub the scuff marks with the tennis ball)
Wash the curtains
Dust blinds
Dust light fixtures and ceiling fans
Disinfect the light switches, doorknobs, and cabinet handles
Note: Did you know lurking dust and mold can lead to poor health and allergies in your family? This is why spring cleaning is so beneficial!
Kitchen
After you go through all the rooms in your home and accomplished the above-mentioned tasks (congrats!), you can now start deep cleaning your kitchen. You will want to clean every surface and appliance in your kitchen following these tips:
Empty your fridge and clean the fridge inside and outside. Don't forget about cleaning the shelves inside the refrigerator, and vacuuming and mopping behind and beneath the fridge.
Clean your appliances (coffeemaker, microwave, blender, etc.)
Clear out the kitchen cabinets and wash them
Scrub the stovetop
Deep clean the oven
Sanitize your sink
Don't forget to clean the pantry too.
Related read: 10 QUICK AND HEALTHY BREASTFEEDING SNACKS IN UNDER 5 MINUTES!
Bathroom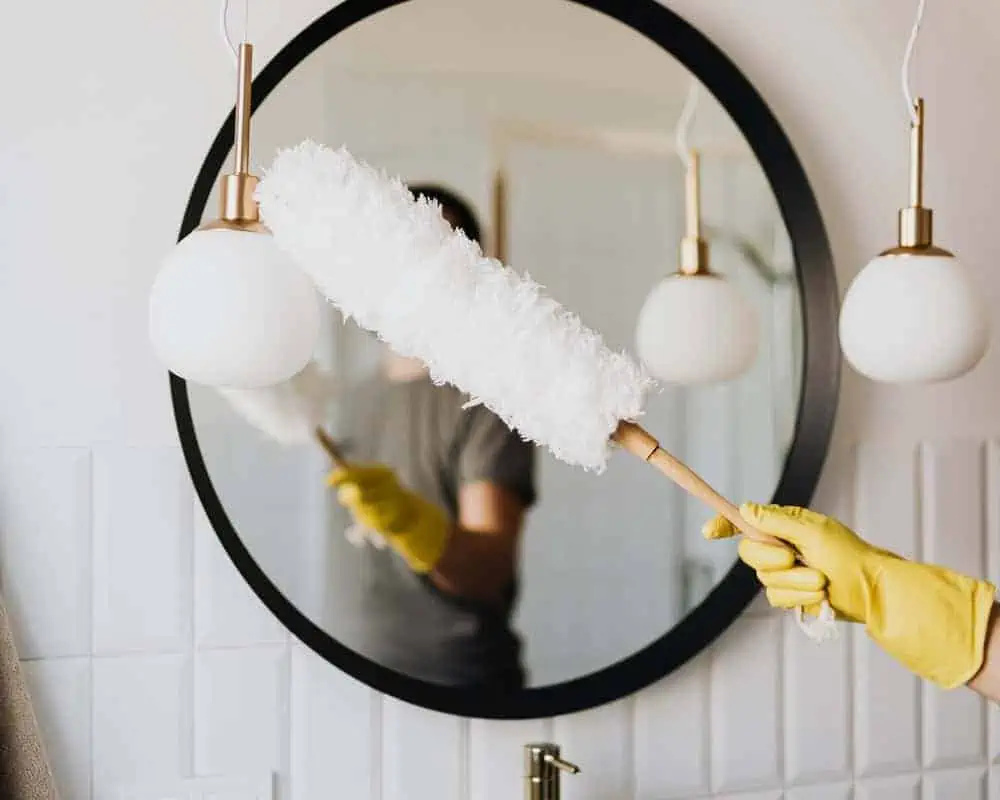 After you've cleaned the kitchen, it's time to move on to the bathroom (anyone else's least favorite or it it just me?) Continue the spring clean up with the following tasks:
Disinfect the sink and the bathtub/shower
Wash the shower curtains
Wash the bath mat
Scrub and sanitize the tiles
Clean out the drawers and cabinets
Get rid of old personal hygiene products and medicine, then organize the rest
Discard expired makeup
Clean and disinfect the toilet
Dust the decorative items
Clean the mirror
Bedroom
The next step is to clean the bedroom. I think it is very important to keep our bedroom clean and organized to give us the feeling of comfort for a good night's sleep. I always notice a big difference in my mood when my room is organized rather than in chaos for sure. Go through this bedroom cleaning list, and you will see that you will sleep better after!
Wash the bedding and the pillows
Clean and flip the mattresses
Empty and organize the closets (here are special tips for your baby's closet!), sort out your clothes, shoes, and accessories
Donate clothing and shoes you know longer want or need
Declutter the kid's toys, organize and disinfect those you want to keep
Vacuum and wash the carpet
Sort out everything you store under the beds
Related read: HOW CAN I HELP MY BABY SLEEP? BEST TIPS FOR BABY SLEEP MUSIC.
Living room
The living room should always look organized and cozy because this is the place where we spend most of our time, and also where our guests sit when they come over. Plus, it just feels good to have this room organized! Here are the most important tasks you should do to make the living room look cleaner:
Dust and wash every decorative item, including frames and mirrors as well
Clean and polish the furniture
Dust electronics (for example the TV, PlayStation, etc.)
Vacuum the upholstery
Wash the blankets and throw pillows
Vacuum and shampoo the carpet or rugs
Laundry room
From time to time it is necessary to deep clean the laundry room. A spring clean up is a great occasion to do that! First clean and mop the floor behind and beneath the washer and the dryer. Then, clean the washer and the dryer thoroughly (inside and outside), including the lint traps as well! (Although- remember this should be done between each use to prevent fires!)
Additional tasks
Congrats! You've done a pretty good cleaning job at this point. But just in case you're looking for more… 😉
Here are some additional tasks you can do during a spring clean. These are the things that we tend to forget about, but sometimes we should do them. So why not during the spring clean up?
Once in a while, you should check and change the batteries in the carbon monoxide and smoke detectors.
Check the electronics whether they are plugged in correctly, and organize the cords.
If you have a home office, clean (remove crumbs and dust) and disinfect the keyboard and the mouse.
Declutter your home of anything you aren't using (furniture, kitchenware, crafts, toys, etc.)- donate what you can, take old appliances to the scrap yard, and throw small broken items in the trash or recycling
Related read: 6 TIPS TO HELP YOU SET UP A SMALL HOME OFFICE
Yard spring clean up checklist
During the spring clean up, most of us are focusing on cleaning the inside of our house. However, besides freshening up your home, it's important to take some time to also prepare the yard for the growing (in in the case of your kids- playing!) season. Let's see what we can for a spring yard cleanup!
Lawn
When the last snow has finally melted away, you can start to survey the yard for any kind of trouble spots. If you found something, you can fix the problem and do a yard cleanup with the following tips.
For ruined grass: put soil over the ruined area with grass seed and some fertilizer. Soon, seeds will start to sprout into grass. This is a great solution for lawn maintenance and lawn care if pet messes have destroyed your grass.
For a lawn filled with debris: When the grass is dry, start to pick up the branches and other objects that don't belong there, and clean up any pet messes.
If you loathe caring for you lawn, it might also be a great time to start shopping around for lawn maintenance and landscaping companies. They can be quite affordable.
Related read: HOW TO HAVE A PRODUCTIVE DAY AS A MOM
Trees, bushes, and perennials
When it comes to your plants, cut every diseased, dead, or almost dead branch. Also, cut back those branches that are blocking the walkways or driveways. This will make your yard look more pleasant and sunnier.
Flower beds
Remove the fallen leaves, twigs, dead foliage, dead plants, and weeds from your garden beds to make room for your flowers to grow. Put all your yard waste in the compost or garbage bags for pickup.
Patio and pathways
One of the best things about spring is that you can sit outside on the patio and enjoy the good weather and the sunshine (with a good cup of coffee of course). But before you can do that, you need to make your patio and pathways are ready for outdoor activities. Here are some useful tips on how to spring clean these places:
Clean your outdoor furniture with a mixture of dish soap and warm water. It works well on plastic and metal patio furniture as well.
Refresh rattan and wicker furniture by dipping a soft cloth in soap and water, and then wiping off the surface of the furniture. Just let it dry in the sun and it will look great.
Sweep the patio to remove any kind of debris, then mop it or power wash it.
Sweep the pathways as well.
Bonus: clear up any areas that are a potential for pests- like wasps or mice. This will save you a call to pest control halfway through the summer!
Related read: STAYING SAFE WITH OUTDOOR ACTIVITIES FOR KIDS
Feeling overwhelmed with all your home cleaning and organization tasks? I feel you mama. That's why I highly recommend a crash course in home organization is the Organized Home Program by Hilary Erickson with Pulling Curls. She is a mom of three, labor and delivery nurse, and passionate about organization hacks. Her course is all about practical tips that you can start today.
Spring cleaning may seem like a scary task, especially for us moms. But I would like to reassure you that planning can be a real game-changer in deep cleaning. Use this easy-to-follow spring clean up checklist to clean your whole house and yard step by step.
Did you find our checklist useful? Do you have some other cleaning tips?