The Best Baby Beach Tent: How to Choose One for Your Little One's Summer Fun!
This post may contain affiliate links. As an Amazon Associate, I earn from qualifying purchases.
Summertime is a great time to take your little one to the beach! There's nothing like feeling the sand between your toes and enjoying the sun and cool water. But if you're like most parents, you don't want to spend all day worrying about whether your baby is getting too much sun. That's where a baby beach tent comes in handy!
In this blog post, we'll discuss what to look for when choosing a baby beach tent, and give you our top five choices for this summer's fun!
A Review of the Best Baby Beach Tent Options
Here is a quick list of all of our best baby beach tents:
What to Look for in a Baby Beach Tent
There's a lot to consider when choosing a baby beach tent! Here are some of the most important factors:
UV protection (look for at least UPF 50 sun protection)
Size
Material quality
Setup and takedown difficulty
Price
Storage pockets
Stakes
Etc.!!…
Top Choice: WolfWise UPF 50+ Easy Pop Up Beach Tent Sun Shelter
There's a lot to love about our top choice beach and sun tent for baby. The primary reason we love this is for its practical features at a reasonable price of under $50.
Top Features of the WolfWise Sun Shelter- Best Baby Beach Tent:
Easy to throw in your beach bag at 3.8 lbs
Simple pop up tent design for the beach or anywhere else you're going with your child
The open size and "front porch" comfortably fit 2-3 people (or more if you opt for their bigger size options!)
Brilliant sandbag design that allows you to use sand (or even rocks)- and ropes if needed- to keep your tent grounded and steady in the wind
Protection from the elements with UPF 50+ water-resistant material
Excellent ventilation options with a zippered rear door and mesh windows- without this extra feature tents can get SO hot
You can use it for more places than just the beach. Take it to a concert, the park, a game, or even a pretend playhouse in the backyard.
Get the WolfWise Beach Tent HERE
Best Budget Choice: Sunba Youth Beach Pop Up Shade
Having a tight budget doesn't mean you have to compromise on great features when it comes to baby beach shade. This product has over 2,000 happy customers!
Top Features of the Sunba Pop Up Shade Baby Beach Tent:
This pop up baby beach tent comes in at a low $34!
The perfect baby tent for traveling and on-the-go outdoor time at just 2.2 pounds.
UV protection rating of 50+
This easy to set up tent can comfortably hold 2 to 3 people
Easy to pop open and takedown (once you get the hang of it!)
Ventilated with mesh windows to promote airflow and prevent your tent from blowing away
Comes with 8 metal ground stakes for windier days
Comes in two fun colors: blue and green.
Best Beach Tent for Travelling: Multifun UPF 50+ Easy Pop Up Beach Tent
This sleek beach tent is perfect for taking with you anywhere. Take it on the plane to get to your beach vacation. Or throw it in your car for fishing, camping, and hiking.
Top Features of the Multifin Tent Beach Tent:
My favorite part about this product is all of the pictures of happy napping babes in the reviews- that's a sign of some happy customers!
Easiest to set up and fold by far (they claim you can throw it in the air and it will open itself!)
Fiberglass frame for lightweight yet sturdy construction
Well ventilated with mesh windows, a zippered rear, and a large entrance to keep you and baby cool
It easily fits 3-4 adults
This beach tent provides UV protection 50+, waterproof, and windproof to keep you safe from the elements
Sand pockets to keep it in place
This is one of the only tents I've seen that also comes with a 1-year customer warranty
Best Beach Tent for Young Babies: Fisher-Price On-the-Go Baby Dome
These amazing products for young babies are not just for beaches. It can be your best friend for extra space to let your baby lounge in the house and on the go. Parents LOVE this product! It's also a lot safer than the portable bed tents (aka baby-sized tents)- which are not safe for sleeping babies.
Favorite Features of the Fisher-Price Dome:
This is the only baby tent I found with full sun and bug protection to protect your baby
Protection from the sun's harmful rays
Designed for babies 0-12 months for lounging, playing, observing, and- most importantly- napping! (Be sure to check to size- some babies will grow out of this before 12 months.)
Great for both indoor and outdoors
Provides a safe space for both playing and napping- it even comes with removable toys to keep baby entertained
Baby Dome arrives in packaging that reveals what's inside. To keep it a surprise, select "Ship in Amazon packaging" at checkout.
2-in-1 portable infant play tent and napping spot, perfect for at home or travel with your baby
Easy to fold flat and store anywhere (back of the car or a closet)
Best Baby Beach Tent for Families: WhiteFang Deluxe XL Pop Up Beach Tent Sun Shade Shelter
This larger tent is great for growing families. That way beach time can be enjoyed by all without sunburns or getting overheated.
Top Features:
One of the larger beach tents on the market for up to 4 people- making it a perfect tent for your family- the whole family!
Easy pop-up design to avoid annoying pole setup
Keep your tent in one place with sandbags and stakes
Lightweight and easy to carry to the beach
Adjustable air opening to allow airflow when it's getting too hot
Extra "front porch" space (extended floor) for relaxing and hanging out as a family while still avoiding direct sunlight and UV rays
Get Your Family Beach Tent HERE
Best Combo: Monobeach Baby Beach Tent Pop Up Portable Shade Pool
A baby beach tent that doubles for entertainment is taking the market by storm. These types of baby beach tents feature a small designated area that can hold water, toys, or a blanket to cradle baby for a nap.
Top Features of the Shade Pool Beach Tent:
The only sun tent for baby that features a built-in pool with thousands of happy customers
Keep your baby protected while still having lots of fun!
50+ UV protection
Durable and sturdy enough to withstand windy conditions
Easy to set up, take down, and store
This baby beach tent comes in fun colors
Best for Moving Babies and Toddlers: Summer Pop 'n Play Deluxe Ultimate Playard
Wanting something a little more heavy-duty for your baby or toddler (or both)? Playards are a great option for this. This particular model is the best for the outdoors with its portable shade.
Top Features of the Summer Pop 'n Play Playard:
Full coverage from the sun above with a portable shade
Great for keeping the babies and toddlers safe and in one place (no wandering off!)
The top choice for a safe play tent
Comfortable padding to keep baby happy while he or she crawls, rolls, or walks and explores
Easy to set up and take down in second
Great for indoors and outdoors
An excellent travel accessory with a portable bag and shoulder strap
Mesh sides for breathability and easy viewing
Best for Napping Toddlers: Baby Delight Go with Me Bungalow Deluxe Portable Travel Cot
This final choice caught my attention as a toddler mom. While my daughter doesn't always need a nap, she plays hard at the beach and often needs some rest time from the sun's rays! This travel cot with a sun canopy is perfect for that. I can also imagine her sitting under it with a friend playing a game while staying out of the sun.
Top Features of the Portable Travel Cot:
Great for toddler nap time on the go (or quiet time, game time, etc.)
Can double as a portable bed for your toddler when traveling
Features side rails to keep your toddler safe and in one place
Comes with a built-in canopy to keep your toddler safe from the heat and sun
Compact fold for portability with a carrying case
Strong, stable metal frame
Most importantly, easy to clean!
Get Your Travel Cot with Canopy HERE
How to Choose a Baby Beach Tent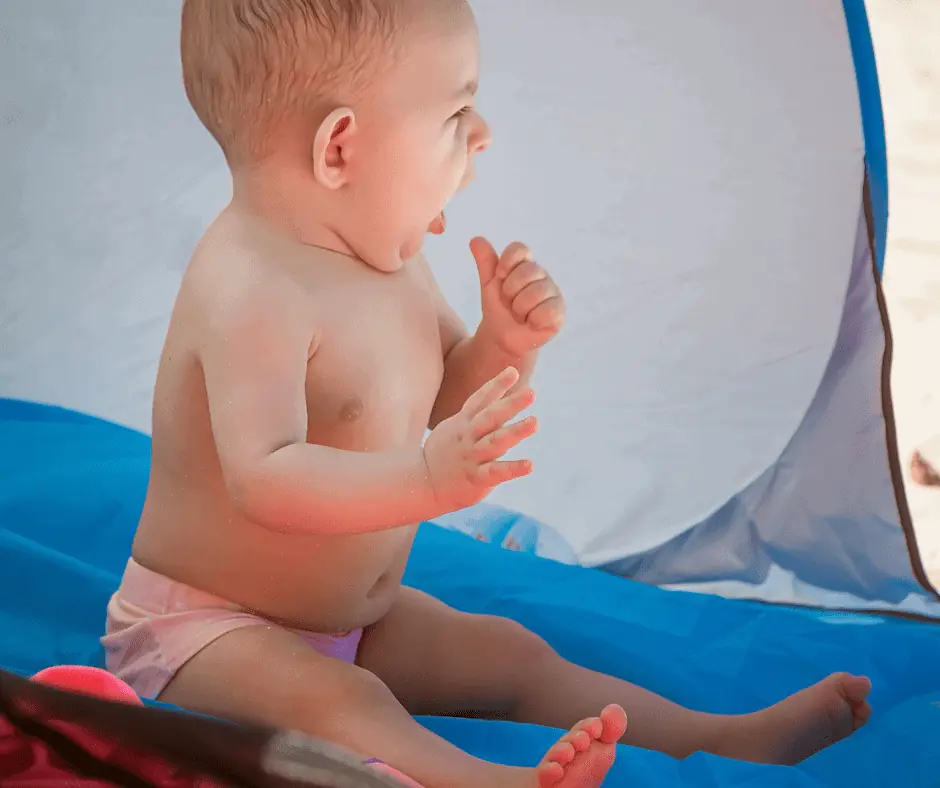 Once again, when choosing a baby beach tent, there are a few things you'll want to keep in mind.
First, consider how much sun protection you need. If you're looking for full coverage from the sun, then make sure to choose a tent with a canopy to reduce your sun exposure on beach days.
Second, think about how easy the tent is to set up and takedown. You don't want to be struggling with a complicated tent when you're trying to enjoy the beach! (it's why I love and hate popup tents at the same time ha- they're easy once you get the hang of them!). This should also include an easy carrying case!
Finally, consider how comfortable the tent is. Make sure there's enough room for your little one to move around, and anyone else sitting in the tent.
Since you will most likely be using this tent in the hot summer months, also consider its ventilation setup- it can get hot quickly in the tent if it's not well designed. Look for a mesh window and zipper doors that allow you to feel the sea breeze.
Versatility- do you want a tent that can also be used at the park or inside for a fort? Consider what style works best for your little one(s).
Budget- choose an option that you are comfortable spending money on!
Safe Summer Fun Made Easy with a Baby Beach Tent
With these top baby beach tents, you're sure to have a safe and fun summer with your little ones. Don't let the sun and heat keep you inside this summer! Babies (and you) will benefit from fresh air and outdoor time this summer while still getting the UV protection you need.
What's your favorite way to enjoy the sun and sand? Do you have any tips for choosing the perfect baby beach tent? Let us know in the comments below!
And make sure to check out our other summertime posts for more ideas on how to keep your family safe and cool this summer!
Here are a few more of our favorites: