5 Pinterest Marketing Tips to Get More Traffic to Your Website
This post may contain affiliate links. As an Amazon Associate, I earn from qualifying purchases.
**This week's article is written by the amazingly talented Marissa Abao of marissaabao.com. She helped aduit and re-structure this website's Pinterest account and it is doing amazingly. She knows her stuff 😉
Pinterest is an amazing platform to share your content because it is a visual search engine. Pinterest users are always searching for new ideas, inspirations, or solutions for their problems.
As of the first quarter of 2020, Pinterest had 367 million monthly active users worldwide. During that period, the visual bookmarking platform had 90 million MAU in the United States, compared to 277 million international monthly active users.
Find out more: https://www.statista.com/statistics/463353/pinterest-global-mau/
This is why Pinterest is a great source of traffic!
The popular Pins for content creators are the ones that start with "How to" and "Tips" such as:
In this blog post, I am going to share 5 Pinterest marketing tips that will help your website get more traffic.
Create content for your target audience.
Blogging is the foundation of Pinterest marketing success. Before you create a Pinterest account, you should have some blog posts already that solve your target audience's problems. You have to be clear on what you want to write about because this will affect your whole Pinterest marketing strategy.
If your content is all over the place, your Pins and Boards will be the same thing and you might not be able to attract your target audience on Pinterest. Your Pinterest account and blog should be 100% consistent with each other to ensure that you are a reliable source of information and build authority in your niche. When Pinners click your Pins, you should be able to deliver what they are expecting.
You also need to constantly do some research to make sure that what you are putting out there is relevant to your target audience. You have to keep up with what's trending and adjust your content especially nowadays. Since the pandemic happened, everyone's lives have changed and it is also applicable to Pinterest. Pinners are looking for Pins about stress relief activities.
Find out more here: https://newsroom.pinterest.com/en/post/new-priorities-pinterest-insights.
Optimize your Pinterest account.
Your Pinterest account should truly reflect your business. When someone visits your Pinterest account, they should be able to identify if it is for them or not.
Make sure that you have a Pinterest business account which allows you to check out the total engagements your Pins are getting, and more.

Add your photo. You are your business and it is so much better if others can see who is behind your blog posts and business. Your target audience can also easily recognize you.

Put relevant keywords in your display name. If you are a blogger, be more specific of what type of blogger you are. For example, Vegan Food Blogger | Plant-Based Diet Recipes on a Budget. Through these keywords, your target audience can easily find you on Pinterest.

Your username should be the name of your business and this is going to be your Pinterest account's URL.

Add your business statement or what you do in the About section. Don't forget to add relevant keywords as well. You can also add the link to your email opt-in/freebie or what you are currently promoting such as your latest online course, program, webinar, and so on. Shorten the link by using

https://bitly.com/

. Even though the link is not clickable when you put it to your About profile, Pinners can copy and paste it to their browser.

Claim your website to get access to website analytics and let people know where they can find more of your content. Your profile picture will show up next to any Pins that come from your site, and the globe icon will appear next to your website URL on your profile.
Apply for Rich Pins.
If your Pins appear as Rich Pins, it would be very helpful for your target audience to know what to expect before they click your Pins.
On the other hand, if a Pin is not a Rich Pin, Pinners will probably not click it because they do not know what it is all about. See the example below. You cannot figure out if this is a stock photo or something else. I did not show the name of the Pinterest user.
Related Article: Starting a Virtual Assistant Pinterest Business
Create Pinterest Pins.
There are 3 important elements of a Pin design.
Use high-quality, vertical images that will stand out in people's feeds. Pinterest recommends a 2:3 aspect ratio (example: 1000 x 1500 pixels or 600 x 900 pixels). 85% of all Pinners use Pinterest on mobile, which means your Pins should be optimized for the mobile space. Source: Pinterest, Global analysis, 2017

Add text overlay to clarify your message, showcase an offer, or make your call to action loud and clear. This is usually the title of your blog posts.

Include your URL or logo. Branded content on Pinterest can provide credibility and promote action.
Add a Pinnable image at the top of each of your blog posts. This will help to encourage your readers to share your Pins to Pinterest.

When you upload your Pin to Pinterest or schedule via Tailwind, you need to add title, description, and link to your blog post.

Pin title tips:

Include a simple, compelling headline as your title (up to 100 characters) to help your Pin stand out. Use keywords that your audience would be searching for.

Pin description tips:

Make it conversational. No keyword stuffing. Add a few relevant hashtags.

Check out some samples of Pinterest Pins that I have created here:

https://marissaabao.com/projects
Related article: How to Start a Side Hustle When You're Pregnant
4. Distribute Pins to Relevant Pinterest Boards
Boards should be relevant to your content to ensure that you would be able to pin your Pins to them. This will help you to schedule your Pins easily and be consistent. They are like categories of your blog. For example, if you are a business coach, you might have different categories on your website for your blog posts such as mindset, strategy, productivity, messaging, business tools, and so on.
Keywords are also very important when it comes to your Board titles and descriptions. Take a look at the Pinterest Board below.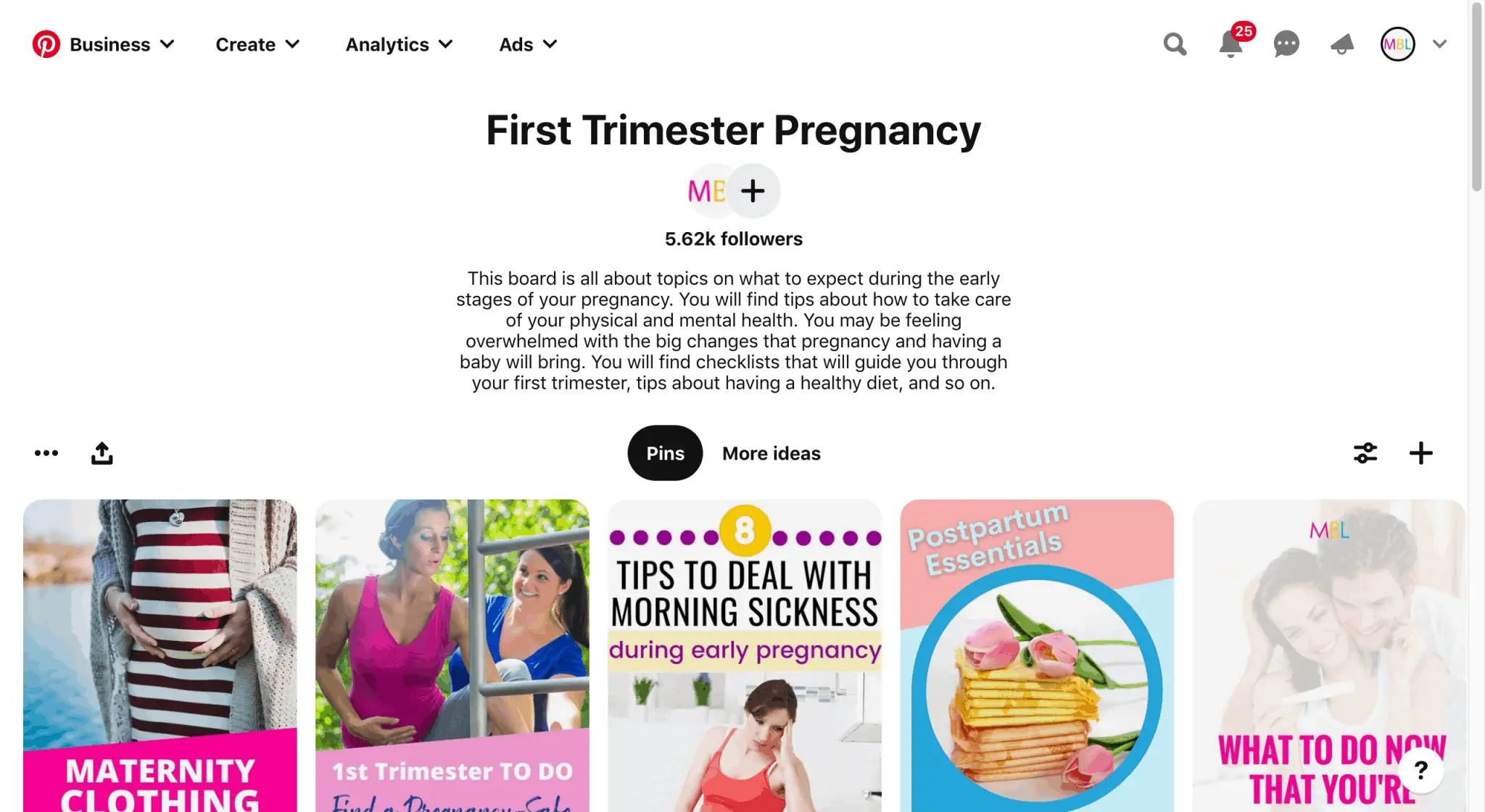 When I worked with JayDee as her Pinterest Strategist, one of the things that I did was, I searched for her popular blog posts and share them again to Pinterest by creating new Pins. One of the blog posts that I created Pins for is "20 Foods to Avoid During Pregnancy."

I created new Pins via Canva by using different background images, text overlays, color combinations, and fonts. Then, shared them to all relevant Boards. You might be wondering why I had to create different Pin images. Why did I not use one Pin design and share it with all relevant Boards? The answer is that "

Pinterest's algorithm favors content that's relevant and timely, so pinning more Fresh Pins means more exposure for you to your followers, in users' home feeds, and in search results — helping you to maximize your reach and traffic potential on Pinterest. What is a "Fresh" Pin exactly? Fresh Pins are defined by Pinterest as images or videos that they haven't seen before." via

https://support.tailwindapp.com/en/articles/3702827-pinterest-best-practices-faq#what-counts-as-a-unique-or-fresh-pin-and-why-are-fresh-pins-important

Fresh Pins also mean that you can reshare your old blog posts to Pinterest by creating new Pin images for them. And that's amazing!
See the illustration below.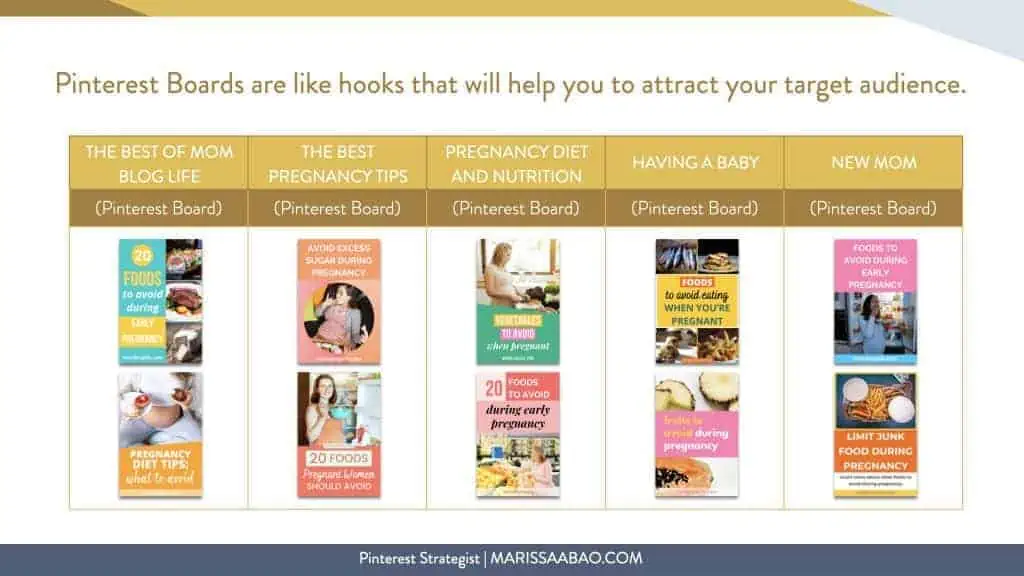 Implement a pinning schedule.
Getting traffic from Pinterest to your website takes time. Aside from that, you have to embrace that Pinterest is a dynamic platform. There are things that you simply cannot control so you need to be open in testing and tweaking your Pinterest marketing strategy which includes having a pinning schedule or content calendar.
Before you plan on how many times you would pin every day, you should take into consideration how many blog posts you have at the moment, the number of new blog posts you can create per week or month, and how much traffic you need. The important thing is consistency.
If you can start pinning 1 Pin every day, that's great! Increase the number of Pins gradually. You need to check if you are hitting your goals as well every month. You can do this by checking your Google Analytics. You would find out which of your Pins are driving traffic to your website. It will also help you to plan your content and identify what resonates with your target audience. If you have not set up Google Analytics yet, find out how to do it via this link.
The amount of traffic you need will change as you grow your blog. Then, make some adjustments such as creating more blog posts, Pins, and so on.
Considering using a scheduling tool
One of the ways that can help you with sharing your Pins to Pinterest is by using a scheduling tool such as Tailwind. It will distribute your Pins at the best times, help you follow the best practices in using Pinterest, grow your reach, and measure the results of your Pinterest marketing strategy. One of my favorite features of Tailwind is called the "Smart Schedule." To get you started, Tailwind already added some optimized time slots to your pinning schedule based on when your audience is most engaged.
Get a FREE Tailwind trial for a month! Find out more: https://www.tailwindapp.com/i/marissaabao. When you get your free trial of Tailwind, you will be able to schedule 100 Pinterest Pins. If you only schedule one Pin a day then your free trial lasts for 100 days. Even after you have scheduled and published your Pins, you still have access to your account.
Related article: 6 Online Side Hustles that Are Easy to Start
Conclusion:
Pinterest is a marketing tool that will help you increase your visibility online, expand your reach, and drive more traffic to your website. Before you use Pinterest for marketing your blog posts, you should have a clear goal of how much traffic that you want to achieve and the level of commitment you can do consistently in terms of creating content to solve your target audience's problems.
What I shared above are some of the things I address with my clients in my Pinterest Marketing 1:1 monthly management program that helps established bloggers get more traffic so you can get more page views and money!
Your Pinterest marketing strategy would also be more organized and well-maintained. You would work less, have peace of mind, and be more profitable!
Please send me an email at [email protected] if you are interested in this program and we will chat to see if you're a good fit; if so, we can get you started right away.